Julia Mityaeva's six-year-old daughter Sophia refuses to talk about the things she saw before the family escaped the fighting in Ukraine. Sophia, a vivacious kindergartner who likes to dress up in costumes and played a fox in her school ballet recital a couple weeks before Russia invaded her country, won't let anybody else speak of it in her presence either.
After sharing her family's harrowing tale of escape with Newsweek during a nearly two hour interview recently, Mityaeva had a few questions of her own for the reporter: When the sounds of the playground are replaced by the thump of artillery shells and explosions hitting nearby, when a child is forced to leave behind everything she knows and loves including a cat named Garfield and a father named Sascha, can she ever truly recover? How much, Mityaeva wanted to know, can a child endure?
"Is Sophia going to be okay?" she asked. "How can you tell if your child is emotionally okay? How can you help your child live a normal life again? How will this experience affect my child in the future?"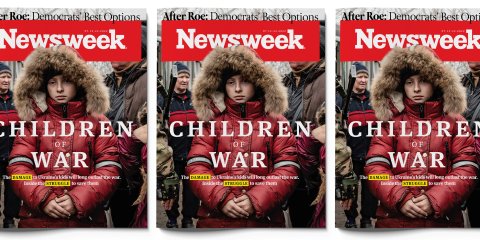 Truthful answers to these questions aren't always what parents want to hear. For children displaced by long, bloody, ongoing conflicts—not just in Ukraine but also in countries like South Sudan, Yemen, Afghanistan and Syria—war often doesn't end once they have reached safety. A vast body of literature on survivors of war, from as far back as 1944, has established that war is among the worst traumas a child can endure.
The more time children spend in a war zone, the more vulnerable they will likely be to physical diseases and mental health problems later in life. War can also stunt their height, derail education, permanently disrupt earning potential and leave those who make it through with invisible scars that will endure into old age.
Yet in 2020, more than 450 million children worldwide—or 1 in 6—were living in conflict zones, the highest number in 20 years, according to a recent report from the NGO Save the Children. That was before Russia's 2022 invasion of its neighbor, a nation of 44 million with the second largest country by landmass in Europe. Within weeks, an estimated 15 million Ukrainians, one third of the nation, close to the entire population of the Netherlands, were on the move, the largest displacement of people the continent has seen in more than 75 years. More than 90 percent of these refugees were women and children. The United Nations Children's Fund (UNICEF) estimates 60 percent of Ukraine's children have been driven from their homes—two million have fled the country and another 2.5 million are displaced internally.
The Ukraine crisis is providing the most powerful opportunity to date for humanitarian agencies to demonstrate what they have learned in recent years about how to rescue children from the worst effects of conflict and the limits they still face in doing so. Not only is Ukraine the largest humanitarian disaster in Europe since World War II, it's also the target of the "fastest and most generous" outpouring of support ever seen for a conflict, according to the UN. The amount of money available for interventions in Ukraine—roughly seven to eight times that available for Syrians, Afghans, South Sudanese or Rohingya—is unprecedented.
These funds are helping the small army of aid workers, child protection specialists and social workers, who have mobilized to help children like Sophia escape the worst effects of conflict, expand their toolbox of interventions. Ukraine is also the first big conflict to take place in a nation primed to implement remote learning on a large scale, courtesy of the two-year pandemic.
Even so, millions remain trapped behind the shifting front lines, inaccessible to those able to help them, highlighting the limits of even the most well-funded efforts in times of war.
"There are so many kids going through these things in the world," Sara Bordas Eddy, UNICEF's chief of Humanitarian Field Support Section in the Office of Emergency Programs, says. "They need a lot of support. But the support is available. It's not all a bad story. We know now much better how to deal with traumatized kids. We know what to do. We just need the access and and the funding to be able to do it."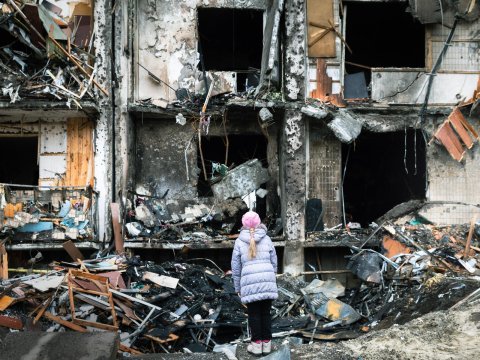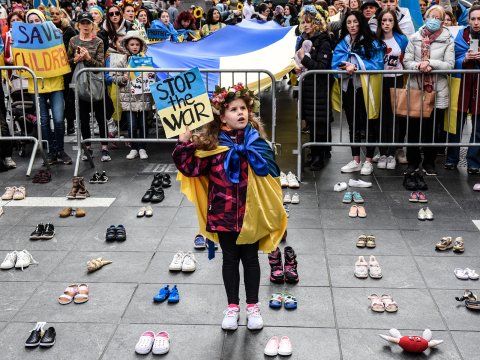 A Safe Place
When Russia invaded Ukraine on Thursday, February 24, Sophia and Julia Mityaeva awoke in their 16th floor apartment to the sound of what they thought was an unusually loud thunderstorm. When Mityaeva looked outside, she realized the sounds were explosions caused by Russian bombs. Kyiv was under attack.
That night the air raid sirens were constant. For safety, the family hunkered down in a nearby basement with three other families. The apartment was near a military base, and six-year-old Sophia was terrified, clutching Mityaeva's hand tightly and staying close.
The next day, Sascha, Sophia, Julia, Garfield and Julia's parents packed into the car and escaped the city. On the way out, they passed long lines of refugees on foot towing belongings behind them, and other cars with furniture and bags tied to their roofs. They drove an hour to the family's weekend cottage 40 miles east of Kyiv. Once there, they purchased two weeks-worth of groceries in a nearby village, turned on the television to watch the news, and settled in to decide what to do next. The cottage was located not far from a tributary of the Dnieper River, near a Ukrainian village called Bucha.
"We had a feeling that we were in a safe place," Mityaeva recalls. "We decided to stay there for a few days to see how the situation will evolve and then to decide what to do."
Two days later, the distant thump of shelling, semi-automatic weapons and bombs exploding grew noticeably louder. Their cottage was in the no man's land between the Russian and Ukrainian armies. Soon, they lost electricity, mobile phone reception and any connection to the outside world. They were cut off and trapped.
When there was a break in the fighting and it was quiet, Sophia played outside under the close watch of her grandmother or dressed up in costumes from a big bag of oversized children's clothes someone gave her. At night, the family huddled together in the dark. The noise from battles nearby made it difficult to sleep. Soon they began to run out of food.
One day, the Mityaevas tried to escape. They loaded up the family car and affixed white flags and signs that said "CHILDREN." By then, Mityaeva had lost about 5 kilos, roughly 11 pounds. Sophia was still getting enough to eat, but the once energetic child who loved to dance spontaneously had grown subdued. She hadn't danced in weeks. She cried a lot and Mityaeva was worried about her.
Along the road, they passed a car stopped on the shoulder, and spotted another car stopped ahead. Mityaeva recognized one of her neighbors standing in the middle of road frantically trying to wave them down. Just ahead, the Russians had opened fire on their car. They needed help.
Mityaeva took Sophia in her lap, and an eight-year-old boy and his 13-year-old brother climbed in, bloodied, their hands swathed in bandages. The younger one was quiet, in shock. The older one tried to convince little Sophia "it was just a scratch." They dropped them off at a makeshift hospital in the area, then headed back in the cottage outside Bucha to regroup.
Sooner afterwards, Sascha learned from a radio that "green corridors" had been opened up where safe passage had been negotiated. It was dangerous, but now they felt they had no choice. They set out again, eventually joining a caravan of 15 cars, which merged into a larger, slow-moving caravan of about 100 cars. Sascha spotted a Russian solider and realized they were passing through a Russian checkpoint.
And then, miraculously, they were out. When they arrived in Western Ukraine, their friends were shocked at how much weight they had lost, how dirty and exhausted they looked. Sophia kept asking why there were so many soldiers, why Russia had invaded, why they were trying to kill people. Back then she still wanted to know.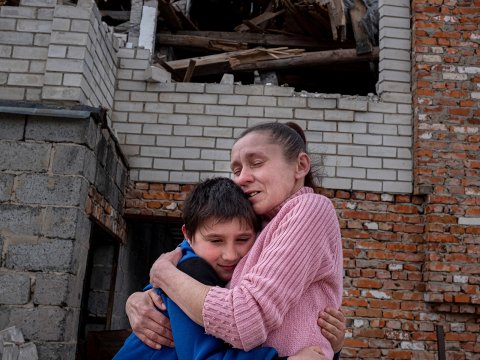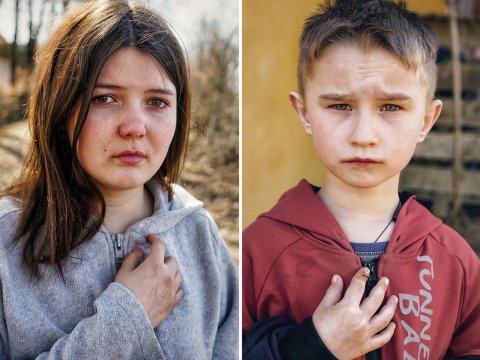 Lingering Shock
One of the key lessons of the wars of the 20th century is that time is the enemy. Just a few weeks in a combat zone can permanently and irrevocably alter the trajectory of a child's life, according to numerous studies going back to World War II. Which is why the primary goal of organizations like UNICEF is to get as many children out of harm's way as possible. In that sense, Sophia is likely one of the lucky ones. She got out on May 10, after roughly three weeks, before the situation deteriorated further. She never had to go hungry. She didn't get sick.
The most pervasive impacts of war are often not from direct exposure to violence itself, explains Patricia Justino, an expert on political violence and development, at United Nations University World Institute for Development Economics Research. But rather the hunger and disease that those attempting to avoid the violence must endure to stay safe. It's what happens when the salted pork runs out, as it almost did for the Mityaevas. It's the weeks spent huddling without electricity often in wet, frigid basements or amidst rubble, terrified as many did in Mariupol and millions are now doing in Eastern Ukraine. It's the destruction of the infrastructure needed to sustain a population. The lack of sanitation, health care and a functioning police force, and the anarchy and evil that breeds in the wreckage. Most of all, it's the constant stress that can exact the most brutal toll.
The research on war survivors from places like Burundi, Rwanda, Bosnia, South Sudan, Banda Aceh is clear and well-established. Those involved in the Ukrainian relief effort knows that every time the front lines shift, the effort to save the children newly trapped behind them is an urgent, race against the clock.
Research shows that parents play a crucial role in attenuating the effects of what pediatricians call the "toxic stress response," a biological cascade driven by the stress hormone cortisol that is linked to a wide range of health problems later in life. Prolonged stress can turn on genes that flood the system with enzymes that prime the body to respond to further stress by making it easier to produce adrenaline and reactivate the fight-or-flight response quickly, which can make it harder for children with toxic stress to control their emotions. It also diverts resources, placing the body in a state of constant hypervigilance, which can disrupt normal development.
The hugs and the reassurance of an adult caregiver can flood a terrified child's body with oxytocin, the love drug, which has a calming effect, restores a sense of safety and reactivates the parasympathetic nervous system. Child psychologists and trauma experts call this phenomenon "emotional buffering."
"A basic insight or a guiding principle is that even when the shocks are temporary—and by that we mean exposure to violence during a few months—for young children, this exposure will have long term consequences," says Philip Verwimp, Professor of Development Economics at the Université libre de Bruxelles and co-director of the Households in Conflict Network. "A child who is 16 or 17 years old when the war starts can miss one or two years of education and miss their high school graduation, but they can catch up later. This will not be the case for a two-year-old child. Lack of food, bombing, anxiety and stress hormones will have an effect on the physical growth trajectory of the child and also on their brain development that will be very difficult to undo even when the child grows up."
Research on childhood survivors of a wide range of conflicts has found that those who endure prolonged conflict often grow up shorter and smaller than those who escape early. The disruption to education, meanwhile—school is usually too dangerous in a war zone—is often never fully recovered. Many children of war never go back to the conflict zone, but those that do, particularly the youngest survivors, face an uphill battle. They have missed out on key social developmental periods. Stress hormones have begun to flip genetic switches and alter their body's chemistry. These challenges appear in economic studies documenting lost wages, higher unemployment and poorer work outcomes for adults who survived war as children
It's almost impossible to study an individual child continuously over the decades needed to document the impact of war on adulthood, says Verwimp. Most researchers study individual children at distinct ages and then connect them to children in other age groups who have endured conflict to document the effects over time and then piece them all together. In his studies of children in Rwanda and Burundi, he found that exposure to conflict in the 1990s was associated with significant and lasting reductions in height and weight later in life. And the academic literature, he notes, includes many studies that associate this reduced height and weight with poorer educational and income outcomes later in life—a few centimeters lost in height was linked with half a year of lost education and significantly lower wages. A July 2021 report by McKinsey and Company warned that unless steps were taken in the U.S. to address disruptions in schooling during the COVID-19 pandemic, American students would earn $49,000 to $61,000 less over their lifetimes and cost the economy as much as $188 billion a year.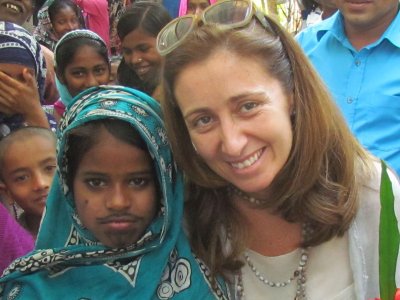 A Window of Normalcy
The Ukrainian government has launched an aggressive campaign to keep children linked to their schools by mobilizing the remote learning infrastructure built up during the pandemic. Some children have been calling in from bomb shelters on tablets, while others have reconnected with classmates by calling in to remote learning sessions even after leaving the country and settling in Europe.
From the beginning, aid workers on the ground in Ukraine from organizations like UNICEF and Save the Children, have been working not just to place food, water purification tablets, hygiene kits and medical supplies in areas that may soon become hard to reach, they also have pushed out what they call "recreation" and "education" kits in areas near the frontlines. Education kits are meant to be mobile, and include not just pens and paper, but also instructional manuals for how to teach math and other subjects, so it can be taught by whoever is on hand. Recreation kits come in large tin boxes, about the size of traditional steamer trunks, and contain a half dozen types of balls, game boards, pumps, valves, nets and even colored team bibs, that allow children, during respites from bombing, to form teams and play soccer, volleyball and other games. Studies have shown that any efforts to relieve stress, such as providing just a small window of normalcy, will reduce the release of cortisol and other stress hormones.
"What can you offer to communities and groups of families when they've lost everything? And how do you give the kids a moment not to be thinking or hearing about the war?" says UNICEF spokesman James Elder, who recently returned from a tour of areas near the front lines. "That's a recreation kit. I saw a lot of these in shelters in the east where huge numbers of people end up in one place. They travel with nothing. It can make a big difference."
UNICEF also has deployed more than 50 "mobile teams" to places like the metro stations of Kharkiv, where many civilians are hiding out. These teams, a mix of health workers and child protection specialists, offer on-the-spot support and counseling. Some put on puppet shows and dress up as superheroes—anything to give children a respite from the constant stresses of war. They also look for the quiet children, or children exhibiting other signs of trauma, and try to connect them with counseling, even if it can only be temporary.
The outpouring of funds for Ukraine threatens to divert resources from other conflicts and lead to what those in the aid community call "donor fatigue," officials at the UN, NGOs and other aid agencies warn. This comes at a time when the needs of children caught up in conflicts in non-white, non-European nations such as Afghanistan and Yemen are greater than they have perhaps ever been. Although there's no direct evidence that donors have contributed to Ukraine at the expense of other nations, there are worrying signs. For instance, the International Committee of the Red Cross told NBC News that as of May it had funded only 42 percent of its humanitarian projects, compared with 52 percent the same time last year.
UNICEF estimates that 50 million children in conflict zones around the world are experiencing life-threatening malnutrition and projects that number to increase by as much 9 million more children in 2022. The affected areas span the globe. In the horn of Africa, historic droughts are causing growing hunger, displacement and what aid workers say is a dangerous lack of access to safe drinking water, nutrition and health services, with humanitarian programs in Somalia, Ethiopia and Kenya, facing the largest ever funding gaps. Across the African subregion, "millions of children are living in severe vulnerability, many facing catastrophic conditions that threaten their immediate survival," a recent UNICEF report warns.
Ominously, many of these countries rely on Ukraine and Russia for the wheat they have been using to feed their citizens. The wars have caused prices to spike, disrupted supply chains and threaten to make the situation even worse.
Of course, behind the front lines, the situation for many Ukrainian children remains just as dire as it is elsewhere. Millions remain trapped in areas of active fighting. And helping them is not so easy. In the eastern part of Ukraine, a modern-day iron curtain has fallen. Aid agencies have little visibility into what is happening on the front lines and in Russian held areas. And the negotiations to reach them are fraught with diplomatic pitfalls; it requires getting Russians and Ukrainians to work through complex logistical issues together and agree on something, which at the moment is not easy.
For those areas, aid workers can only hope they have prepositioned supplies nearby. And that the survivors can eventually make it out and reach designated aid areas on the edges of the battle zones.
The evacuees of the Mariupol steel plant were received in a parking lot located on the edge of the war zone in Eastern Ukraine in a city called Zaporizhzhia, where aid workers had set up a sprawling transit center to welcome an estimated 2,000-to-3,000 people arriving every day from the frontlines. Many came by bus, as was the case of those evacuated from the steel plants of Mariupol, or after driving two days in cars bearing shrapnel, with nothing but the clothes on their backs, says Elias Diab, an emergency specialist at UNICEF who recently returned from nine weeks on the frontlines. Teams of medical, nutritional and psychological counselors were there to greet them and explain "in a calm manner" what was happening.
"Many of those kids are quite petrified at that moment, they don't really understand anything," Diab explains. "The counselors are often some of the first people to greet them. I met children coming in who had been in a bunker for the past two months and told me, 'We haven't seen the sun.' They haven't been out for fresh air. People are losing everything in seconds, and all they want is just to get out. All the kids are suffering from some degrees of stress."
Once off the buses, the refugees have access to clean clothes, food, water and showers. Ambulances are on hand, ready to take those who need emergency care to hospitals or nearby medical support areas. Unaccompanied children are identified for special attention. Most of the other children and their families are taken to what UNICEF and other aid agencies call a "child friendly space." These areas are places where parents can sit down and have a cup of coffee, children can get a bite to eat and where, most of all, kids can attempt to be kids again. Most are presented what are called "children on the move kits," a bag with coloring books and other toys. The emphasis is on de-stressing the new arrivals and creating a sense of safety and normalcy, with plenty of room to process what has just happened.
In these places, social workers can keep their eyes out for those in need of help. Unni Krishnan, global humanitarian director for Plan International, who recently returned from the region, says he looks for the quiet kids. Trauma often causes people to retreat into themselves, explains Krishnan, an expert on the psychosocial effects of war on children—particularly the young. Amidst the rubble, and destruction, amidst the killing and the blood, it's easy for a child—or anyone, really—to lose faith in humanity. Many who live through war see the worst human beings can do to one another. Children often don't have the words to explain what they have experienced.
"Sometimes a child's silence is their story," says Krishnan, a soft-spoken Indian-born physician and psychologist with a salt and pepper beard and a reassuring bedside manner. "They have lost trust in the world. Humanity has failed to protect them from the unspeakable horrors they have witnessed."
For those children, it's essential to create friendly spaces where they can express their feelings and emotions, blow off steam and speak with trained counselors who can draw them out, he says. Often, he explains, the mind works "like a balloon."
"If we don't actually create opportunities for them to take the steam away, you know what happens to a balloon: it pops," he says. "So creating those opportunities for children to express themselves—through play, through music, through artwork—is really important."
Often their stories come out in drawings. Diab and Krishnan described seeing pictures of soldiers firing guns, dead bodies and a Ukrainian flag speckled with blood.
Sometimes children are so traumatized that they need counselors to draw them out. Krishnan is still haunted by a pair of sisters he met at a camp in South Sudan, in a child-friendly space designed for 4-to-10-year-olds. As children played around them, the sisters stood alone silent, he recalls, hugging each other every few seconds, almost reflexively, as if to make sure the other one was still there. With the help of a social worker, Krishnan was able to begin providing psychological trauma intervention, and their story began to emerge. Just a few days earlier, the children had been playing outside their home when a mob of armed soldiers and civilians marched in carrying rifles and torches, firing indiscriminately at the unarmed villagers and lighting houses on fire. The two children ran and hid, and a few minutes later saw their parents dragged into the village square and shot.
"Sometimes shocks and trauma can numb people," Krishnan says. "Sometimes the fight or flight kicks in. They run from the location where they were bombed or where they've seen gender-based violence or rape. They run until they get to a place of safety. But it's quite sad. For any child anywhere in the world, the safe place should be their home and it should be their school. Not somewhere else."
Play time
Confronting such horrendous tragedies is not easy for the relief workers on the front lines. Still, UNICEF's Diab, for one, believes in the power of human resilience. His proof comes from his own childhood. Diab, a trim, boyish 40-year-old, with closely cropped brown hair, and thick, arching eyebrows, was born in Beirut amid a civil war in 1982 and grew up a war refugee, moving from city to city. When he was three months old, soldiers shot up the family car, injuring both his parents. (Somebody carried baby Diab into a nearby building and shielded him until the shooting stopped.) A few years later, Diab lived in a shelter with his family for two months while street-to-street battles raged in his neighborhood. The family returned to their apartment to find the walls pockmarked with bullet holes and not a single window intact.
At 17, Diab trained as a medic and paramedic with the Lebanese Red Cross, later joining UNICEF and devoting his life to saving other kids from the ravages of war. He has since earned a masters and a law degree. Diab credits his parents for his ability to lead a functional, meaningful, productive life, despite growing up on the frontlines of a series of protracted military conflicts.
"I recall my mom and my dad telling us, 'look, we're going on a trip, this is gonna be fun!'" He recalls. "Even though they knew deep inside there was always a chance that they will lose us on the way. But they had no choice, so they made sure that we were playing all the time."
Diab's success and mental health are a testament to the power of childhood resilience and the essential role parents can play in attenuating the destructive psychological impact of war trauma. UNICEF's efforts are focused not only on assisting with evacuations and getting supplies to those trapped on the front lines, but also to investing in family reunification efforts outside war zones and supporting the parents or caregivers when families are still trapped behind the frontlines. The idea that investing in resilience and well-being of adults reduces the risk to children has been well established. For instance, the pressures that come with war can lead to spikes in domestic violence. A 2016 study by RAND researchers Italo A. Gutierrez and Jose V. Gallegos found that the internal conflict in Peru during the 1980s and early 1990s was correlated with an increase in domestic violence between 2004 and 2012.
The best way to prevent that is to do everything possible to make sure those trapped in war zones can meet the family's basic needs for food and a safe place to wait out the fighting. That is not always possible, of course. UNICEF supports many ways of getting information to parents about how to manage stressful moments and how to get through them without resorting to violence. Through in-person and on-line support groups, WhatsApp messages and other means, they remind parents to take a deep breath and when suggesting and how to walk away.
These efforts also help parents prepare for when their children become rebellious, particularly adolescents, which is more likely under duress. When families are on lockdown in a basement and any sound could draw the attention of the armed men who might harm the family, the desire to protect a child can cause even the most peaceful parents to act out in ways that could end up making the situation worse for the child. Even something as simple as taking what child protection specialists call a "positive parenting approach"—moving away from physical discipline, de-escalating situations, and diverting attention—can have a powerful impact.
That is why Julia Mityaeva has reason to be optimistic about Sophia's future. Recently, she, Sophia and her parents arrived in Cologne, Germany, where they are staying with friends. Sophia is attending local kindergarten once a week. Social workers say her unwillingness to discuss the war is not unusual. She'll talk about it when she is ready. The most important thing is that she is playing and laughing again.