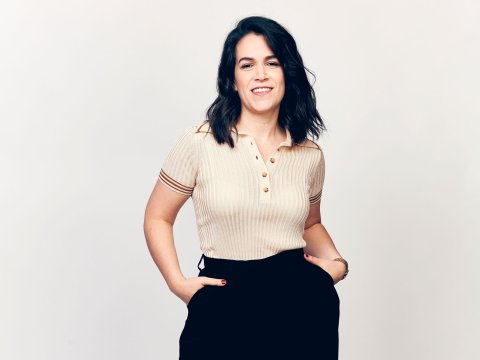 "Listen, this is people's favorite f**king movie. There's so much pressure."
Using a beloved film like A League of Their Own as source material for a new Amazon Prime series of the same name comes with more than just anxiety, as co-creator and star Abbi Jacobson is acutely feeling now. "This is people's favorite f**king movie. There's so much pressure." Not based on the film, the dramedy (August 12) explores a more diverse set of stories about the women who made up the All-American Girls Professional Baseball League in 1943. "It was really important to us to get to tell those stories that were missing from the film, but also try to maintain the spirit and the energy." The show explores the queerness of some of the players, the stories of Black women denied entry into the league and the treatment of Latinx women, among other stories. "Balancing the comedy and the drama is definitely a challenge." One familiar face from the film does make a pivotal appearance in the series: Rosie O'Donnell. Meeting O'Donnell was "f*cking insane," Jacobson says. "I wrote to her, 'We have a role for you. Would you ever consider?' She was like, 'I'll do it.'"
SUBSCRIBE TO THE PARTING SHOT WITH H. ALAN SCOTT
ON APPLE PODCASTS OR SPOTIFY
Were you as obsessed with the original film as I was?
Yeah, I loved it as a kid. I was really obsessed with all the '90s sports movies. I was such a tomboy. I followed my older brother around, did everything he did, and he was always playing sports. There was no other film like [A League of Their Own], where it's women playing and playing so well. They're funny and they're a team. I was on a lot of teams as a kid, and I just related to a lot of the film. Hilariously, as a kid, I don't think I was picking up on any of the queer undertones. I didn't pick up on that for a while but it's an iconic queer film even though no one's gay in it. But I think that vibe, there's like a queerness to the film and a queerness to Penny Marshall's stuff that is deeper than just a character being queer, it just had this energy to it that I think I loved.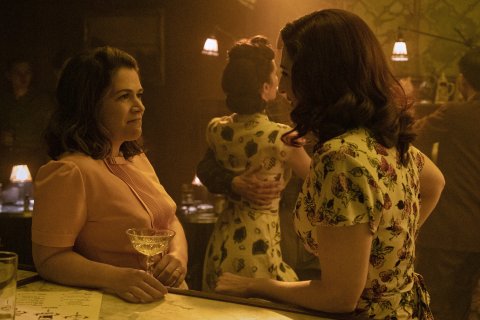 In her own way Penny Marshall kind of blazed her own path. Starting as a comedic actress and then turning herself into a major Hollywood director.
We got to talk to her right before she died. Pretty beautiful.
How did you find the balance between making your version unique while also fitting in those iconic nuggets from the film?
Listen, this is people's favorite f**king movie. There's so much pressure. And it's one of our favorite movies. But it's made already, and it's made that way. Why would we try to make it exactly like that? It was made in the '90s when there were things Penny Marshall couldn't really lean into and we can. I think she was trying to nod to some stories, whereas she didn't feel like she could tell all the stories, and I think we're really trying to tell a lot more stories about women who dreamed of playing baseball. So we really break it open. It's not just the All American Girls League, we really ping-pong in between two worlds. There was so much history. None of the same characters [were] from the film, but the women on the league are very loosely inspired by a lot of women on the league. Max's character [played by Chanté Adams] was inspired by three women who went on to play in the Negro Leagues with men, which is just fascinating. It was just really important to us to get to tell those stories that were missing from the film, but also try to maintain the spirit and the energy and that thing that you love about the film. There are a lot of stories we're attempting to tell, so balancing the comedy and the drama is definitely a challenge.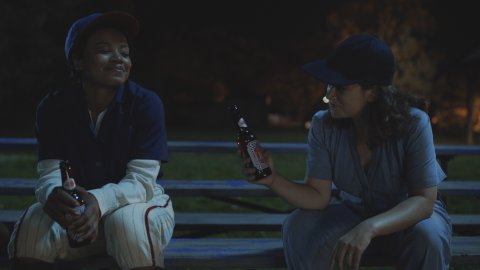 What new things were you most surprised by in your research?
It's 1943 when the season takes place, and I think that showing characters in the period and attempting to be able to relate to them now. We were very interested in showing people in 1943 were, in so many ways, just like us, dealing with all the same sh*t. But the historical part of it was such an important aspect. We had a couple of researchers on full time to help the entire writers room to make sure this was being told as accurately as possible. It's sort of learning along the way. Like I know a lot of this stuff, I know women couldn't have a credit card, open a bank account without your husband letting you, etc. And we're in an interesting moment right now where we should not be taking any of those rights for granted. Some of the things [I learned] that I kind of have been taking for granted [about women in 1943], all these little things add up to create what it was like to be a woman in 1943. And what it was like to be a white woman in 1943 versus what it was like to be a Black woman in 1943, versus what it was like to be a Latinx woman, all of these things are so different.
The way in which the women speak is unlike any other period piece I've ever seen. Was that intentional?
That was kind of controversial because I often felt like the way in which the characters speak, I didn't want to adjust it. I hope you're not brought out of the period by every once in a while hearing my "likes," you know what I mean? But the modern way in which a lot of the characters speak was intentional. I felt that whenever you watch an old-timey movie and they're like speaking old-timey, you don't relate to them as much, they feel a little bit disconnected. Maybelle [Blair, former All-American Girls Professional Baseball League player] was a big consultant. She would always call me "a little sh*t," but I do think the way in which we say "f*ck" now is a little bit different. Maybe I'm wrong, like we haven't done a deep dive into the historical way you say the word "f*ck," but I think that we take a little bit of liberty in some of the language and how outgoing our women are with it. But that's the voice that we wanted to go with because I think their rebellious nature, they would be talking like that. Maybelle was there every once in a while and would say something like, "We didn't talk like that." There was a scene that we actually cut that was truly hilarious, talking about dick size, and Maybelle was like, "Oh my god, no, we would never announce that." I like to think women were talking about dick size. [Laughs] I know it. I know it in my heart.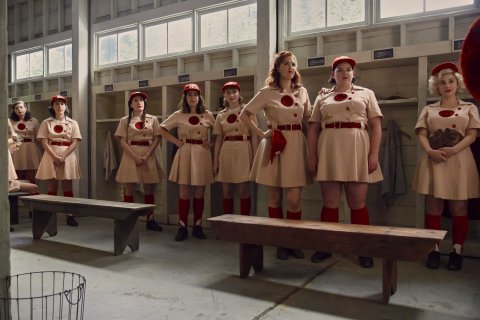 On Broad City you were so associated with your character, in many ways it was a reflection of the real you. This, however, is pretty intense acting. In one episode your characters asks themselves, "What if I am somebody important?" It was such a beautiful delivery of a line. How did it feel to focus more on the acting?
I hope at some point I do roles that are even more of a departure, but I still do very much feel that Carson has a lot of my DNA, just in a very different way than the Abbi on Broad City does. That was a big, very heightened version. With Carson, I feel like I really had a chance to get very internal. That line is almost her whole arc. Like, "what if I am somebody important?" But you kind of need someone like a Greta [played by D'Arcy Carden] who will push you out there. And Greta is also like Ilana [Wexler on Broad City, played by Ilana Glazer]. You need someone to say you're the hottest person here. You just need that friend or that lover or that someone to see that in you. And then you can kind of fake it till you can go for it. That was such a meta thing for me, with the Broad City of it all, that was very much a meta experience. And coming into my sexuality is very much in the DNA of Carson, very late in life and very much like, "whoa, wait, what?" Like figuring oneself out. And so all that is to say, I do still feel like a lot of me is in her but I was really excited about this character and was excited to write her this way. I was very scared about the acting part. I have a hard time even just saying I'm an actor. I'm like, I'm in the show. Yeah, but...I fully have impostor syndrome, especially about that part of it, and I worked really hard to try and get some tools in my tool belt for this role. I am not a trained actor, and I didn't do all that, but this was pretty incredible. I feel really good about this experience. It's a weird thing, like I'm learning on the job, but I hope I get better with every role I play. I just felt really lucky. Also, with my scene partners, I've known D'Arcy for 15 years now, and she's one of my best friends. But I couldn't have asked for a better person to do that with. I think actors who don't know each other can be incredible, but I do think there's just something to that chemistry.
How much baseball training was involved?
Everyone had very different skill sets. Some people had played and were pretty good and just athletic in general. But listen, none of our players could be professional baseball players, so there were always going to be baseball doubles, stunt doubles, visual effects, there was always going to be those elements. But we did do a boot camp before the pilot, and then another boot camp before we shot the season. We did it with real women baseball players and trainers. It was a team-building experience with the cast and with the intention of having everyone be able to look like you can play. We had a lot of training, we worked with this coach, Justine Siegal, who runs Baseball For All, which is this incredible women's baseball organization and a lot of real legitimate professional baseball players were our doubles. They're like other Peaches [the team on the series]. So it was really cool to have them all.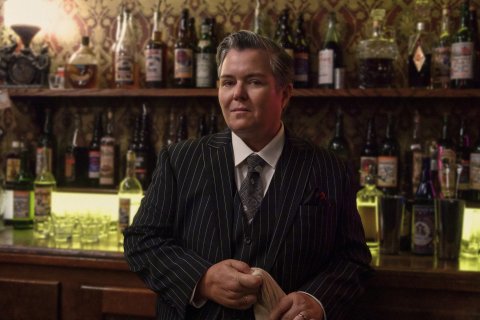 What was it like to be acting in the presence of the great Rosie O'Donnell?
It was just f**king insane. I went to dinner with Rosie. I was like, "What am I doing?" But then it's also like she's so normal. She's so sweet. And so I was in the beginning stages of the show, I think it was like 2018 or 2019, and my friend is telling me Rosie is all about making the show. And then we started talking. And then we were in the writers' room and I wrote to her, "We have a role for you. Would you ever consider?" And she was like, "I'll do it." She was so sweet. It was a virtual writers' room because of COVID and she came on Zoom, a couple of hours, talked to all the writers, told us all the production [of the film A League of Their Own]. We talked a lot about queerness and we told her a lot about what we're making, what we're doing with the show, why we really felt like it was important to do it differently than the film and what stories she's in and she was just like, so excited and helpful and just telling her own story. It was so fun. Just a dream.
One of the things Broad City did was serve as a voice for many young Americans, and, of course, people want more of the show, but I think many are curious about how the show would tackle the reversal of Roe v. Wade. So I just wanted to check in with you and see where you're at?
Yeah, I mean, it's devastating. It's the thing Barbara Kruger said, "Anyone who is shocked by what's happening has not been paying attention.'"But it's still like what? It's sort of like, how many times can they do this? Does our country have to show us who it is before you're like, right, this is who we are. It's over and over again, these things that are like, "What the f*ck is this?" So it's devastating. It was really interesting when we made Broad City because we were never really able to comment so quickly. We did a couple of very quick little things like inauguration day. I think we did like a quick thing. I was just telling someone we did [on Broad City] a cold open where we ordered a mass quantity of Plan B. When we wrote it, it was in reaction to something, I don't know exactly when, but I was like, "Wow, like, that was a joke." And now we're in that reality, posting where people can get abortion pills. It wasn't funny to have to think about buying an abundance of Plan B but there was an angle to it that, at the time, hit the end of the button there. I don't really know how to find the funny in this right now, to be honest. We [on Broad City] always tried to lean into these things that we were thinking about, and I think we were able to find that stuff. Like what is it like to be a Planned Parenthood escort? And I don't know now. I'm not going there at all right now. It's just sort of like, hold on, what are we going to do?
Listen to H. Alan Scott's full conversation with Abbi Jacobson on Newsweek's Parting Shot. Available on Apple Podcasts, Spotify or wherever you listen to podcasts. Twitter: @HAlanScott