This story is the first in Newsweek's "Covert China" series exploring how China is working to expand its influence in order to achieve global preeminence by 2049.
The Tel Aviv political scientist was skeptical about the message that popped up on his social media feed offering attractive rewards if he came to work in China. "I just ignored it," he told Newsweek. "It was kind of funny."
Yet the message from the Zhejiang Torch Center in Hangzhou was completely serious—part of a multiyear, multi-prong effort by the Communist Party of China (CCP) to transfer human talent and top technology to fuel its "China Dream" of global preeminence by 2049, the 100th anniversary of the Communist revolution.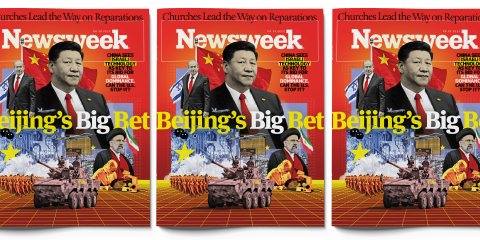 In messages on WeChat, China's main social media app, "Casey Xu" presented himself as an "international recruiter." Xu shared examples of people from "past projects" identified only by a three-letter country code and three-digit number. One blurry photograph showed "GBR 004" (Great Britain), a specialist in microwave photons used in cooking but also quantum physics and radio communications in hard-to-reach spots such as tunnels or jungles. "NZL 002" (New Zealand) was an expert in nanomaterials that are important for aerospace and defense. "IND 004" (India) specialized in integrated circuits, key to the "Internet of Things" that is increasingly connecting people and devices everywhere. Since China also values inside information, the Israeli policy expert could perhaps have had a future as "ISR 007."
The Zhejiang Torch Center boasts that it hosts a unit of China's national science and technology development "863 Plan," making it likely it seeks military applications, as that's what the plan was set up to do. The pitch promised "attractive rewards and benefits." The center was an official project of the local government, "supported by the Chinese government," Xu said helpfully. He added, "If you travel to China, you might not get a visa. However, if you are a member of a talent introduction project, the company and local government will assist you with this issue."
The Israeli analyst, who spoke to Newsweek on condition of anonymity, rejected the approach. It wasn't the first he'd gotten from China. The Chinese party-state operates hundreds of recruiting networks targeting intellectual property (IP) around the world, and Israel has a flourishing sector in emerging technologies like laser optics and augmented and virtual reality. It is one of the world's foremost innovation hubs, with around 4,000 active start-ups, spending 5 percent of its annual GDP on research and development—the highest in the world, according to the Washington, D.C.-based Center for Strategic & International Studies. Israel is uniquely attractive in its combination of highly advanced defense and security-minded tech and research, plus still-weak safeguards. In the past 20 years, 97 percent of known investments in Israel from the People's Republic of China (PRC) were in the technology sector.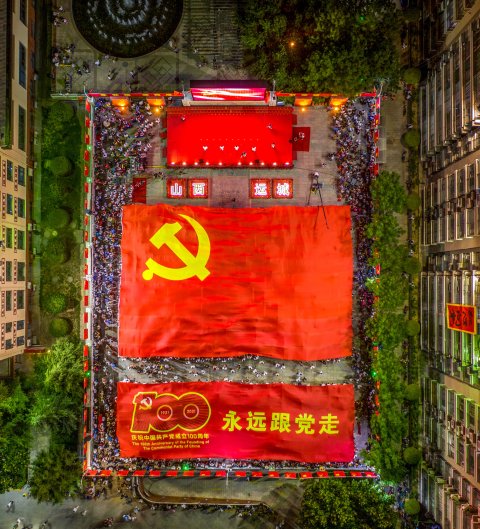 Other countries, including the U.S., work to lure top IP talent for government and private-sector projects, of course, but Beijing's efforts stand out for their inventiveness and scale. They're a key part of a determined state effort to expand China's economic power and accelerate the development of military applications, cyberweapons and spyware that support the rising power's geopolitical ambitions.
"Technological innovation has become the main battlefield of the international strategic game," Xi Jinping, general-secretary of the party, told hundreds of the nation's elite scientists in a major speech in the Great Hall of the People on Beijing's Tiananmen Square in May 2021.
Israel's Ties With China Raise Concerns About a Back Door to U.S. Tech
Washington is watching its key ally in the Middle East closely. Israel and the U.S. share deep defense and innovation ties in areas such as drone technology and artificial intelligence, so China's focus on acquiring emerging digital technologies raises concern about backdoors into U.S. technology and unwanted tech outflow—leaked secrets— from Israel. Washington's nightmare is that the PRC, by partnering with or buying an Israeli company, could obtain a critical technology that gives it an advantage in the military or other sensitive field.
Beijing's intense focus on a crucial security partner of the U.S. is a tricky balancing act for the small nation. Israel is proud of its start-up culture and doesn't want to nix promising commercial opportunities. China is also investing heavily in the region's infrastructure as part of its "Belt and Road Initiative," a geopolitical push to promote Chinese interests internationally, so Israel needs to manage its influence among neighboring Arab states and Iran, too. On the other hand, Israel's close friendship with Washington—its security guarantor—is nonnegotiable.
U.S. priorities are clear. In a strongly worded statement, the State Department told Newsweek, "We have been candid with our Israeli friends over risks to our shared national security interests." In diplomat talk, the word "candid" means people yelled.
"The PRC has declared that it is seeking to acquire foreign technologies to dominate the critical and emerging technologies of the future and to support its military-civil fusion policy of using civilian technology to give the PRC a military edge," the State Department said. "The PRC has been willing to do whatever it takes to gain a technological advantage, stealing intellectual property, engaging in industrial espionage, and forcing technology transfer."
Israelis are aware that Washington sees China as a growing threat, and say they are reacting—quietly. "People here don't live in a cave. It's part of our culture now, we know about the risks," said Tuvia Gering of the Jerusalem Institute for Strategy and Security. "But we aren't pushing it to U.S. levels of alarmism."
Ilan Maor, president of the Israel-China & Hong Kong Chamber of Commerce, put it more bluntly. "I don't agree with the American definition of 'strategic technologies,'" he said. "Because basically it covers everything other than toilet paper, I guess."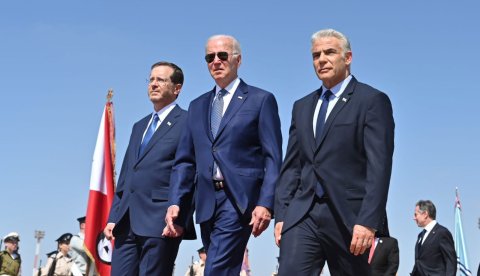 Biden and Prime Minister Yair Lapid announced in July a high-level technology dialogue that will focus on safeguarding shared national interests in critical and emerging technologies. A first area of cooperation will be quantum, a field of physics creating unbreakable communications, among other things. Significantly, the effort is led by national security teams on both sides. "It has China written all over it. Not explicitly, but implicitly," said Gering.
"Coming from an Israeli point of view, it's like parallel universes," Assaf Orion, a director of the China program at Israel's Institute for National Security Studies and former Brigadier-General, told Newsweek. "With the U.S. we have a full-blown strategic relationship across the spectrum. But it's not our No. 1 trading partner."
That would be the European Union, a single market of 27 nations, with the U.S. as No. 2 (but still the biggest if measured by individual country), and China catching up fast. Israel's January–June trade with the U.S. was $10.71 billion; China trade was a smidge less at $10.68 billion. If current trends continue, China may overtake the U.S. this year.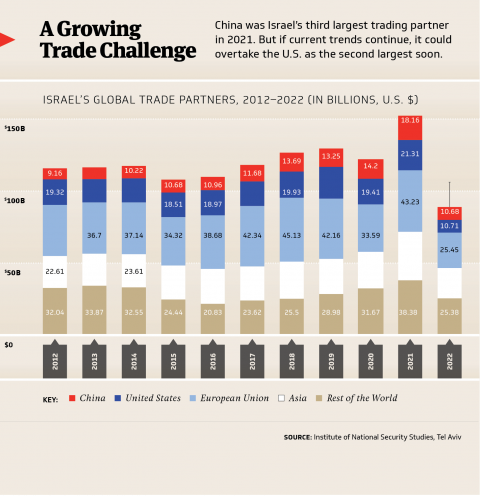 China-Israel ties deepened during the corruption-dogged tenure of former Prime Minister Benjamin "Bibi" Netanyahu, who declared the two countries were "a marriage made in heaven." In 2017, they signed a tellingly titled "Comprehensive Innovation Partnership."
On the Chinese side, the push was led by Communist Party grandee Liu Yandong. She isn't just a leading Communist, but also a former head of the United Front Work Department, a secretive organization under the CCP Central Committee whose job it is to deepen the party's influence in China and around the world. The innovation partnership specifically sought "closer exchanges among young technological personnel and cooperation in joint labs, a global technology transfer center, innovation parks," China's state news agency Xinhua reported.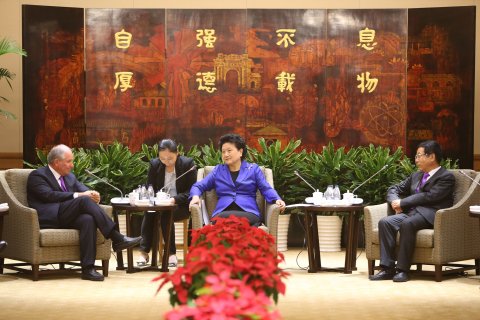 On the Israeli side, the political dialogue with China was led by Tzachi Hanegbi, a controversial former government minister and Netanyahu confidante known for his right-wing views and extensive intelligence links. Hanegbi today is chairman of the Israel-China Parliamentary Friendship Group, a position where he meets with high-level Chinese officials such as Zhai Jun, its special envoy to the Middle East, to talk "bilateral relations, the Palestinian question and other international and regional hotspot issues," according to China's foreign ministry. Hanegbi did not respond to interview requests from Newsweek.
Israel deepened its economic and tech ties with China at precisely the time that the U.S. was moving in the opposite direction. In 2017 the White House issued a pivotal National Security Strategy spelling out the ways in which China's economic rise posed a threat. The paper deepened a rethink begun under President Obama, whose administration complained about cyber theft by hackers from the People's Liberation Army (PLA), China's military, against companies such as Westinghouse Electric and SolarWorld, and "warned China against using its military might to intimidate others," as Clayton Dube noted for the University of Southern California U.S.-China Institute. That intimidation includes claiming the entire South China Sea, intrusions in Japanese waters, and flying air force planes, as well as in early August, conducting live fire exercises, missile launches and drone activity close to Taiwan, which Beijing claims.
These days China is celebrating projects the U.S. is unhappy about. "China-Israel ties bloom spectacularly," Xinhua announced on the website of China's State Council in March.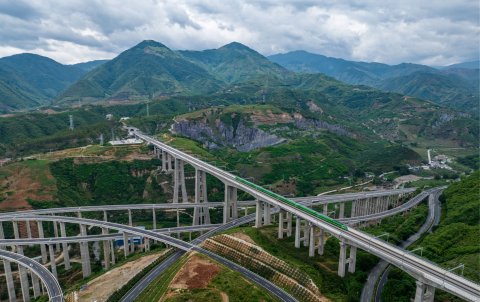 Infrastructure is the most visible evidence of the burgeoning relationship. Chinese state-owned companies have built sorely needed facilities at the Israeli ports of Ashdod and Haifa, are building a hydropower project in Kokhav Hayarden in the north of the country, and a line of the Tel Aviv light rail for the traffic-clogged city on the Mediterranean. Of particular concern to U.S. officials is Haifa's Bayport which opened in late 2021, where Shanghai International Port group, owned by the Shanghai government, has operating rights for 25 years, potentially giving Chinese officials access to sensitive administrative and online networks. The Communist Party has branches in all state-owned enterprises including those overseas, raising questions about where the information goes.
China's economic activity and infrastructure push is viewed positively by governments and people in the region from Egypt to Iran, Saudi Arabia, the United Arab Emirates and Iraq.
"Nobody in the region sees China the way the U.S. does," meaning as a threat, said Jonathan Fulton, a professor at Zayed University in Abu Dhabi. "And I think it's troubling for Israel, as their relationship to the U.S. is so close."
Chinese Spying and Access to Military Technology a Particular Worry
Yet in terms of future power, technology, more than infrastructure, is the key. Of 507 Chinese deals with Israel between 2002 and May 2022, 492 were in technology including IT, communications, clean and agricultural tech and robotics. While it is significant that the overall number of deals has dropped in recent years as Israelis have become more sensitive to U.S. concerns, the proportion of tech remains extremely high: 43 of 44 investments in 2021 through to May 2022.

It's higher than in other countries such as the United Kingdom, where tech investments from China ticked upwards in recent years to reach about 40 percent of the total over the last decade, British media and companies estimate. There are no exact figures. In response, the U.K. has begun scrutinizing and can intervene on national security grounds in acquisitions in 17 "sensitive areas of the economy," mostly in tech, including data infrastructure, AI and robotics, as well as energy and transport.
So it's perhaps surprising that a mechanism to screen deals established in the office of the Chief Economist of Israel's Finance Ministry in 2020—under U.S. pressure—does not cover technology. There are good free market reasons for that, some Israelis say.
"The high-tech sector is a private sector in Israel and the government does not want to interfere," says Galia Lavi, a China researcher at the Institute for National Security Studies.
"Actually it's kind of interesting because we are doing what the Americans are supposed to do—give the market freedom, but the Americans now lately decided that the market maybe is too free and they need to kind of change it," Lavi said. "American companies, high-tech companies, are still doing business with Chinese companies. So the U.S. has a problem coming to Israel and telling it 'beware' or 'don't do that with China.'"
China's access to Israeli military know-how is of particular concern to the U.S. There's a history. "Israel's national defense industry has given our country many useful revelations in developing our defense industry," said a 2006 article in the Journal of Xidian University, part of China's defense and public security apparatus. "We should actively cooperate internationally, taking the road of absorbing, retrofitting and developing." In the 1990s, China purchased Israeli-developed Harpy unmanned aerial vehicles (UAVs) and requested upgrades in 2003. Under massive U.S. pressure, Israel canceled the upgrade deal.
Speaking unofficially, Israeli security experts say China is certainly spying for defense technologies with "some success occasionally."
"We may have the occasional thing where someone got through," one expert said.
Picking his words carefully to share in public, Nir Ben Moshe, a former director of security in the Israeli Ministry of Defense, wrote in February it was likely that "a substantial focus of interest in the eyes of Chinese intelligence is the complex system of relations between Israel and its ally, the United States."
"The objects of these efforts would include major weapon systems in Israel that are developed in cooperation with the United States or produced by it," Ben Moshe wrote.
In January, Arie Egozi, editor-in- chief at iHLS, an Israeli security company and website, said the U.S. has warned of Chinese "straw companies" attempting to partner with Israeli companies "to create corporations that can look very legitimate but, in fact, are aimed at moving Israel defense technologies to China."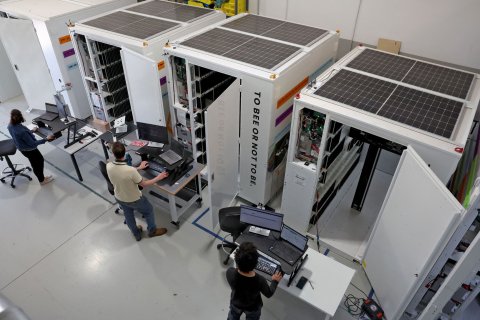 A scandal that broke last year highlighted that. Prosecutors charged Ephraim Menashe, a drone pioneer, for illegal sales to Chinese companies of "loitering munitions," or suicide drones—so named because they loiter until they spot a target, then explode on contact, a cross between a UAV and a missile. The Harpy is one such example. Menashe has previously been in trouble with the law over similar activities.
The case provoked a scoffing, unofficial denial in China on www.guancha.cn, a website that runs party-approved content and is affiliated with the Shanghai Chunqiu Institute for Development and Strategic Studies.
"Israel's cruise missile technology [sic] is simply not as good as India or Pakistan's, or even the Houthis'," wrote Major General You Jin, referring to the Iran-backed, Yemen-based, Islamist militia that fiercely opposes Israel.
"Is there really any need for such sloppy technology to be worth buying and researching?" You Jin asked. "Professionally trained PRC intelligence officers wouldn't do it even if their heads were kicked by a donkey. This report seems to be hype or fabrication," he wrote, trying to shift the blame to Taiwan. "There is probably only one reasonable explanation for this—those who bought the missiles are indeed Chinese, not the gentle mainland China people but some extreme Taiwanese Chinese."
An Israeli security expert, speaking on condition of anonymity, told Newsweek it was "rock solid" that the case involved Chinese, not Taiwanese, companies.
Israel's Expertise Could Contribute to Every Part of China's Buildup
Whiz-bang technologies like suicide drones are not the only or even the largest concern. China's access to less flashy technologies could shift the global power balance via economy and tech.
"Israel's advanced capabilities, in particular regarding elite technology, cyber, medicine and agriculture, have the potential to contribute to almost every aspect of China's buildup plans," Ben Moshe wrote. "Consequently, it is imperative to become apprised of China's patterns of intelligence activity and to reduce the level of exposure of targets in Israel to these efforts."
Israel's emerging technologies may be acquired through legal business deals or joint research. While technology transfer through legal means is happening in the U.S. too, Israel has drawn special attention because of its highly developed security economy, which has produced controversial technologies such as NSO Group's Pegasus spyware that can infiltrate any smartphone.
China practices economic statecraft, not a free market, meaning business deals often serve political ends. As the U.S. tightens controls on chips and other items it exports to China, Beijing is looking to Israel as an alternative tech source. "As a new global semiconductor R&D center, Israel's multinational and domestic chip companies are of strategic significance to China's semiconductor industry," said an article in April by the Intellisia Institute in Guangzhou, China's southern Guangdong province.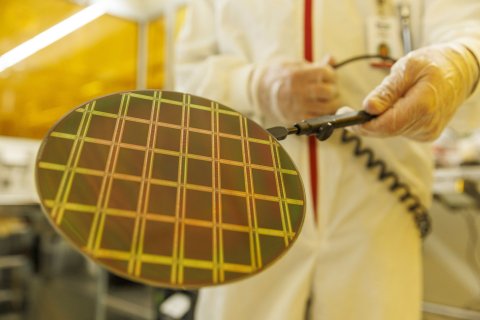 Meanwhile, Israel exports billions of dollars worth of chips to China from local branches of multinational corporations such as Intel, creating possible backdoors into U.S. technology. An Israeli with knowledge of the matter, who requested anonymity as it was highly sensitive, offered an example: A Chinese company that legally purchases a kind of chip from an Israeli branch of a U.S. manufacturer asks Israeli engineers for tech solutions for an ostensible design flaw, "a technical problem in the architecture" of the chip. "The Israelis were able to solve it for them," the source told Newsweek. It wasn't clear what the problem was, or if it was an attempt to expand capabilities in ways that may have violated U.S. sanctions.
"There is this potential for Israeli know-how to solve Chinese tech problems," the expert said. "It was maybe a tiny step for China being able to achieve self-sufficiency in semiconductors."
The concern is not just backdoor deals, but also under-the-radar ones. In 2020, a Chinese state investment company in Jiashan, Zhejiang province, organized the purchase of an Israeli company that makes optical components capable of transmitting massive amounts of data at high speeds through data centers, needed to power the future Internet of Things—5G, autonomous driving, AI and more. The purchase of ColorChip is still not recorded on IVC, Israel's most comprehensive website of high-tech companies.
In March this year, the deal moved into the U.S. when the company (Guangcai Xinchen in Chinese) signed a "strategic partnership" with Skorpios Technologies, a semiconductor company in Albuquerque, New Mexico, to jointly develop and manufacture ever-faster parts for customers, including in China. As it did not export dual-use technology—tech developed for civilian use that can also have military applications—the deal was legal, said David Huff, Skorpios' senior vice president for sales and marketing. Having a factory ready and waiting in China saved having to build "a whole bunch of manufacturing facilities" in the U.S., he said.
The goal of all this activity is tech transfer, said Nazak Nikakhtar, a former assistant secretary for industry and analysis at the U.S. Department of Commerce, now a partner at the D.C. law firm of Wiley Rein, in an email. "That's how China does business," she said.
If China's Huawei were involved in ColorChip, things might be different, Huff told Newsweek, adding that his company had checked and it was not. The U.S. and other countries have blacklisted the telecom giant and scores of Huawei affiliates, saying the Shenzhen-based company spies via tech backdoors and software upgrades. But a Chinese-language report on the website of a Shenzhen-based company, Hua Ventures, says Hua Ventures "is supporting ColorChip to become a world leader," and ColorChip is listed in its portfolio. Other Chinese company reports say Hua Ventures (Huaye in Chinese) has a Huawei management team.
There's a history of hidden Huawei deals in Israel. In 2016, Israeli journalists exposed a secret purchase by Huawei of Toga Networks, an R&D company with offices in Hod Hasharon and Haifa, that today is Huawei's outpost in Israel. The number of Israeli engineers at Toga has grown since, reaching about 500 today, the Israeli business media Globes reported in July—with about another 55 positions open. Huawei also owns HexaTier, an Israeli data security company.
U.S. Trying to Tighten Up Its Own Controls
Spooked by targeted purchases in its own critical infrastructure and tech sector, the U.S. in 2018 strengthened its own inbound investment screening mechanism, the Committee on Foreign Investment in the United States (CFIUS). Other countries have followed suit. Now the U.S. is going further, in a move some security experts say is long overdue. It wants to scrutinize the tech leaving the country via deals private companies make when they invest overseas—for example in China. Again, other countries, such as Germany, are watching closely.
A draft National Critical Capabilities Defense Act would have the power to check and nix such "outbound investment" deals on security grounds. It has bipartisan and White House support but faces opposition from influential figures including Senator Patrick J. Toomey, a Republican from Pennsylvania, and John Murphy, a senior vice president of the U.S. Chamber of Commerce. They say it will hurt U.S. business.
Until such a law is in place, the U.S. too will continue to bleed emerging technology to China, making it even harder to persuade allies such as Israel to change, security officials say.
"You have to do this simultaneous dance, and it takes time," Matt Turpin, a former U.S. National Security Council China director, told Newsweek. "You have to persuade your own companies, and then allies' companies. You kind of have to keep talking about it at multiple levels until they take things seriously."
In its statement to Newsweek, the State Department said, "President Biden's view is we all need to play a better defense, which must include holding the PRC accountable for its unfair and illegal practices and making sure that American and Israeli technologies are not facilitating the PRC's military buildup or human rights abuses."
In early July, U.S. and allied security officials took the unusual step of going public with their concern.
The Chinese government uses intelligence officers "to target valuable private sector information, multiplying their efforts by working extensively through scores of 'co-optees,' people who aren't technically Chinese government officials but assist in intelligence operations, spotting and assessing sources to recruit," FBI Director Christopher Wray warned in London alongside Ken McCallum, director of Britain's domestic security service MI5.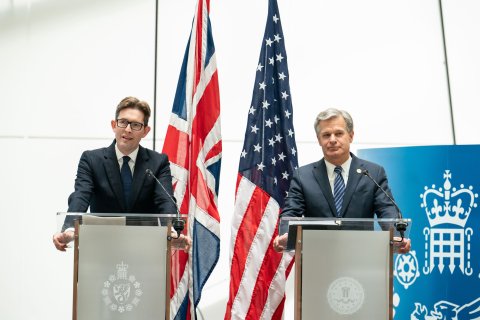 Wray drew attention to regional bureaus of China's Ministry of State Security, which he said "key in specifically on the innovation of certain Western companies...from Fortune 100s to start-ups, folks that focus on everything from aviation, to AI, to pharma."
McCallum, in turn, told of a British aviation expert who "received an approach online, ostensibly went through a recruitment process, and was offered an attractive employment opportunity. He was then asked—and paid—for detailed technical information on military aircraft. The 'company' was actually run by Chinese intelligence officers."
Israel is unlikely to introduce formal tech screening mechanisms unless there is a scandal, said Doron Ella, a China researcher at the Institute for National Security Studies. "I think Israel won't do anything of significance until there is an explosion with the U.S. It could be the ColorChip deal, it could be another deal," Ella said.
"The rest of the world isn't where the United States is on China," said Nikakhtar, the former Commerce official. "For most of the rest of the world, businesses see China as an easy revenue stream. That will likely change once they too become the targets of China's economic warfare and coercion."
For Orion, the defense strategist, there are other ways of handling things. "We are not the U.S.," he said. "Our legal system is different. We do counterterrorism differently. We fight our wars differently. We'll safeguard ourselves from China's challenges in our own way, while learning from others."
To Maor, it's all rather overblown. He believes there's plenty of business and technology to go around. A managing partner of Sheng Enterprises, he began working with Chinese companies two decades ago as a diplomat in China. He dates current cooperation back to 2008, when the Communist Party secretary of Jiangsu province visited Israel.
"When he asked, what can we do together, we said let's have an R&D cooperation agreement, and he immediately said yes," Maor said in an interview. "Jiangsu is taking the lead on that and cities like Changzhou, like Wuxi, Suzhou, are very much involved and initiating cooperation with Israel."
A "China-Israel CCP branch" coordinates start-ups at the China-Israel Changzhou Innovation Park, which has about 160 Israeli start-ups or joint ventures, according to the Chinese ambassador to Israel, Cai Run, with scores more in Shanghai and other cities. The projects are funded by the Israel Innovation Authority. The agency did not respond to requests for an interview.
Business is flourishing, Maor said: Sheng Enterprises has done $2 billion in deals in two decades. But he was aware of the risks and said he rejects proposals involving dual-use technologies.
"We have been approached a couple of times in the past" by Israeli tech entrepreneurs "on technology that we estimated was dual-use and we decided not to deal with it. And this is something that Israel specifically has to be very careful about. We have a very strong strategic cooperation with the U.S. so we have to not only be careful, but be fair, to the Americans, who have been supporting Israel for many years," he said.
Orion, the defense strategist, says security circles are aware of the problem and working on it. "I believe once Israel tailors its own security suit, it will satisfy most U.S. security expectations over China. After all, we are quite good at this," he said.
Joint Research Projects Also a Conduit for Technology Outflow
Business, and espionage, aren't the only areas where valuable emerging and critical tech changes hands. Israeli scientists from at least four universities have engaged in joint research with at least five military research institutions in China, including the Northwestern Polytechnical University in the city of Xi'an, one of the "Seven Sons of National Defense" network that feeds China's defense industry and People's Liberation Army, research by Jeff Stoff, a former U.S. government official, shows. The projects range from new types of aircraft engines to speech and hearing analysis algorithms—for example reducing noise and blur in recordings, thus improving surveillance capability.
In 2015, the Hong Kong billionaire Li Ka-shing donated $130 million for a branch of Israel's storied Technion research institute in Shantou University, Guangdong province. Chinese authorities matched it with $147 million. Today, the "Guangdong Technion-Israel Institute of Technology" offers degrees in mathematics, chemical and aerospace engineering, biotechnology and more. Li previously made multiple investments in Israeli technology firms via his disruptive technology venture capital company, Horizons Ventures.
In another education deal, in 2021, Jiang Qingzhe, the Communist Party secretary—and thus the real boss—of a leading university in Beijing, the University of International Business and Economics, traveled to Israel to open a branch in the town of Petah Tikva. "The campus will foster greater opportunities for innovation and cooperation between the two countries," the Chinese embassy in Israel said in a congratulatory letter.
Across the Middle East, relations are shifting because of the Abraham Accords—a U.S.-led network of agreements seeking to normalize relations between Israel and Arab nations that began in 2020—but also because of China's growing involvement in the region. Trade and construction deals for Chinese companies in war-torn Iraq, including for much-needed schools, totaled billions of dollars last year; Chinese infrastructure and oil deals with Saudi Arabia are flourishing. Israel remains suspicious of China's warm relations with Iran, Israel's No. 1 enemy, but also wants cordial relations.
Said Orion, "China is not Israel's No. 1 threat. It's not an enemy nor a rival, but also not an ally. It's a partner, with some challenges to manage."
Israel's security establishment and the public are awake to the risks, he said. "I think the honeymoon is over."