With inflation recently hitting its highest rate in over 40 years, many Americans are dialing back ambitious post-pandemic travel plans. A July survey by Forbes found that U.S. vacationers, on average, have trimmed $1,636 from their travel budgets due to high flight costs and other financial concerns, mainly through such measures as picking cheaper destinations, staying closer to home and driving rather than flying.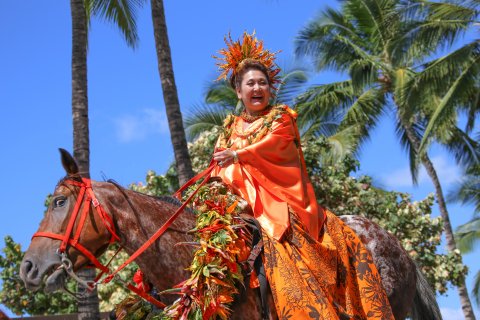 Skipping foreign shores for the delights of home can be a smart money move but you don't have to give up on your dreams of an internationally-themed getaway to accomplish it. As a nation of immigrants and diverse ethnic groups, the U.S. is filled with locales that allow you to immerse yourself in the food, music, art, history, culture and customs of various countries and communities. You just need to know where to find them and what to do when you get there.
Newsweek consulted experts from Lonely Planet and Rough Guides to identify the best multicultural enclaves in the U.S. to visit in the coming months. Here are the picks—all places that will expand your knowledge of the world and the diverse people that make up this country, while helping you stay within that tighter travel budget.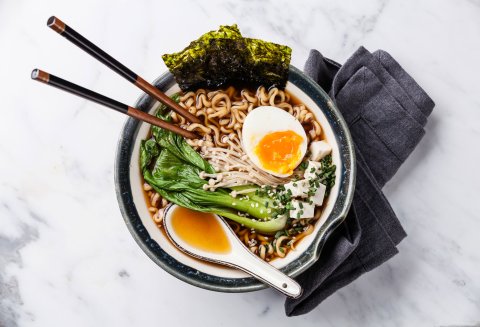 LITTLE TOKYO
Los Angeles, California
One of only three official "Japantowns" in the U.S., and a National Historic Landmark District, the 130-plus-year-old Little Tokyo neighborhood of Los Angeles was once home to the largest Japanese community in the nation prior to World War II and, today, remains a hub for the area's more than 177,000 residents of Japanese heritage.
What to Do: Visit the Japanese American National Museum's exhibit marking the 80th anniversary of the government order to intern about 120,000 Japanese-Americans living on the West Coast in "relocation" camps for the duration of World War II, running through October 9; the Higashi Honganji Buddhist Temple; and the Japanese American Cultural & Community Center to watch Kabuki performances at its Aratani Theatre or beef up your cooking skills through lessons at its Toshizo Watanabe Culinary Cultural Center. Fill up at famous ramen shop Daikokuya or try Suehiro Cafe, where you can sample agedashi tofu, tonkatsu and chazuke. For dessert, head to Fugetsu-Do, which has been serving up handmade mochi confections filled with traditional flavors like red sweet beans for 120 years. If you'll be in LA soon, you can catch the Nisei Week Japanese Festival (August 13-21), where you'll see a car show of vehicles decorated with anime, manga, and video game graphics, taiko drum performances and exhibitions of bonsai, calligraphy and ikebana.
Bonus Tip: For the full multicultural experience, check out other LA ethnic enclaves such as Little Armenia, Little Ethiopia, Historic Filipinotown, Koreatown and Thai Town.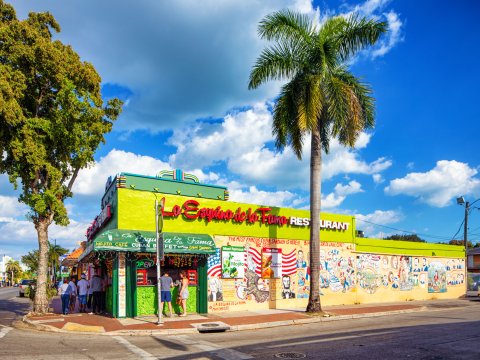 LITTLE HAVANA
Miami, Florida
President Joe Biden recently relaxed many of the Trump-era restrictions on travel to Cuba but visiting the island strictly as a tourist remains prohibited, so a trip to Miami's Little Havana neighborhood is the closest most Americans can get to experiencing authentic Cuban culture and cuisine. Settled by Cuban immigrants in the 1960s and '70s after the 1959 revolution that brought Fidel Castro to power, Little Havana is at the heart of a city that is home to nearly two-thirds of all Cubans who live in the U.S.
What to Do: Start with a cup of Cuban coffee from one of the neighborhood's many walk-up windows, called ventanitas, such as at La Colada Gourmet. Then check out Maximo Gomez Park where locals slam dominos, admire the many huge fiberglass rooster statues which dot the neighborhood, and watch skilled cigar-makers hand roll the tobacco product in "America's Cigar Central" as Cigar Aficionado called the neighborhood. Peruse Cuban art at one of the area's many galleries and studios like Futurama and Latin Art Core. Dine on palomilla steaks, maduros and ropa vieja at the popular Versailles restaurant or Cuban sandwiches and guava milkshakes at Sanguich de Miami before heading out for live music, dancing and drinks. Stop at Café La Trova—currently No. 28 on The World's 50 Best Bars list—to experience the "cantinero" style of bartending created in Cuba. The Cubaocho Museum & Performing Arts Center's rum-focused bar also hosts salsa bands, Latin jam sessions and Cuban jazz legends.
Bonus Tip: On the third Friday of the month, Little Havana's galleries stay open till 11 p.m. and a street party pops up.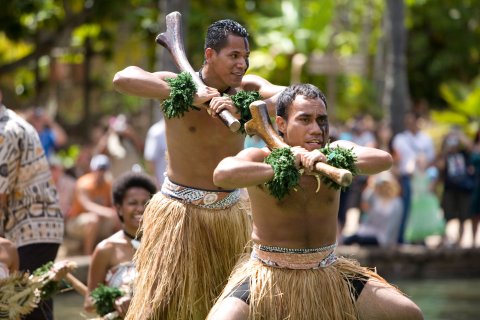 POLYNESIAN PARADISE
Oahu, Hawaii
Settled originally by Polynesian explorers from the Marquesas Islands as far back as 400 C.E., Hawaii has developed unique traditions and foods reflective of its Oceania origins that deviate greatly from those found in the continental U.S. Today, some 355,000 Native Hawaiians and Pacific Islanders in the state keep that heritage alive through activities largely centered on the state's most popular island: Oahu.
What to Do: Visit the Polynesian Cultural Center on Oahu's north shore to better understand the island's past. Step inside recreated Polynesian villages and learn how to hula dance, play ancient Hawaiian games and taste poi, a dish made with fermented taro root. At night, the center hosts luau dinners where you can sample fried salmon and kalua pork and enjoy a show. The nearby Waimea Valley nature park houses several historic places of worship, including Hale o Lono, built in 1470, that is still used by Hawaiians today, and a 45-foot waterfall you can swim in. Check out the Bishop Museum, which boasts the world's largest collection of Polynesian art and artifacts, and the Iolani Palace, the only royal residence in the U.S., home to Hawaii's former king, Kalakaua, who ruled the island some 130 years ago. On Thursdays, you can also step inside Washington Place, the mansion where Queen Lili'uokalani was arrested in 1893 during the overthrow of the Hawaiian monarchy, to learn about the islands' last ruler.
Bonus Tip: Come in September to attend the Aloha Festivals, which celebrate the island's unique traditions through events like the state's largest block party, called Waikīkī Ho'olaule'a on September 17, or the Floral Parade, on September 24, where traditional pāʻū horseback riders and hula dancers cut through the streets of Waikiki.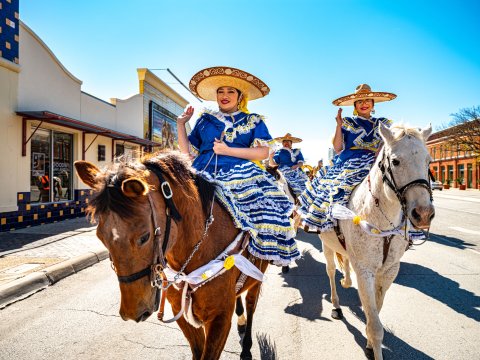 MEXICAN METROPOLIS
San Antonio, Texas
Reminders that Texas was once Mexican land abound in San Antonio—the phrase "Remember the Alamo!" was, after all, coined here, a rallying cry for state independence following the 1836 standoff in which 200 Texans died defending a besieged mission against thousands of Mexican soldiers for 13 days. The area was annexed by the U.S. in 1845 but retains deep Mexican roots, with 57 percent of residents being of Mexican descent today.
What to Do: At the city's Historic Market Square you can find artists selling their handicrafts in the plaza; retailers offering Mexican clothing, art and cooking supplies; and restaurants cooking up tacos, chilaquiles, pan de huevo and banderilla de coco. There's plenty of tequila and mariachi music to be had too. At the nearby Centro de Artes gallery, you can view artworks depicting Latino life in the U.S. across its two-story exhibit space. And the Mexican Cultural Institute, run by the Mexican government, continues to bring Mexican arts and traditions to the forefront of the city's mind.
Bonus Tip: Visit during late October (29-30) to attend Muertos Fest, marking the Mexican holiday Dia de Los Muertos. Listen to poetry readings and live music, visit art vendors and crafters, admire rows of beautiful ofrendas covered in marigolds and photos of the dead, and watch the skeleton-led dance, drum and puppet procession. At night, the city's famed River Walk lights up with 20 barges decorated in neon sugar skulls and fantastical creatures.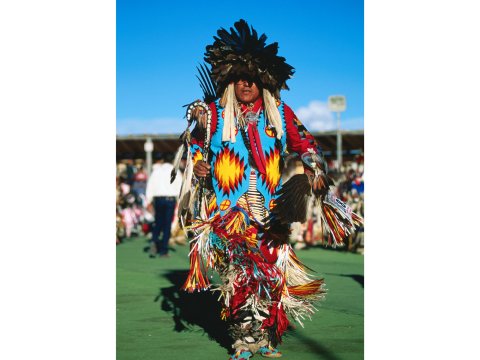 BLACKFEET NATION
Blackfeet Indian Reservation, Montana
Just east of the natural splendor of Glacier National Park lies the 1.5 million-acre Blackfeet Indian Reservation, home to Montana's largest Native American tribe. This reservation, while only a slice of the vast territory, from Edmonton, Canada down to Yellowstone National Park, that the Blackfeet once controlled, continues to be used by the tribe's more than 17,300 members for cultural and spiritual purposes, such as hosting summer's North American Indian Days Celebration.
What to Do: Visit the Blackfeet Heritage Center to see crafts using quill, bead or horsehair work, handcrafted jewelry, moccasins, carvings, pottery, drums, paintings, wood reliefs and dozens of other artworks made by more than 500 Native American artists from the Blackfeet tribe and 18 others. The Museum of the Plains Indian also showcases the artwork of the Blackfeet and several other Northern Plains tribes in addition to historic clothing, weapons and household tools. Book an herbal walk or horseback ride with a Blackfoot Culture Camp guide to learn about the tribe and region's history as well as spot pishkuns or buffalo jump sites, which are hills or cliffs where herds of bison were driven over. Adventurous hikers can scale Chief Mountain, a sacred site for the Blackfeet that has been used for ritual and ceremonial purposes for thousands of years.
Bonus Tip: Visit between now and October 29 to see the museum's "Connections" exhibition exploring the relationship between German-American modernist artist Winold Reiss and the Blackfeet people.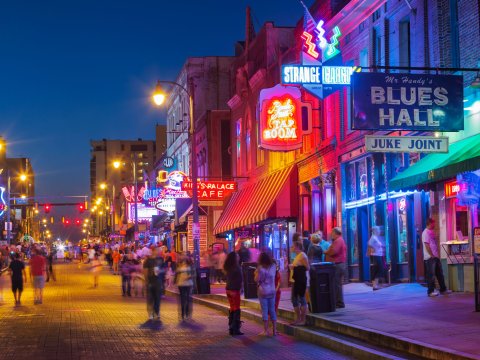 BEALE STREET
Memphis, Tennessee
Starting in the 1840s, Memphis and its iconic Beale Street became a hub for Black Americans seeking economic opportunity. Home to Ida B. Wells' anti-segregationist newspaper as well as Black-owned clubs, restaurants, shops and businesses, this National Historic Landmark District is the place during the 20th century where Black musicians developed the Memphis blues sound and residents marched for equality during the Civil Rights Movement.
What to Do: Celebrate blues, soul and rock 'n roll pioneers, like Louis Armstrong, W.C. Handy, and Muddy Waters, by taking in a live music show on the street where these musicians once played. Visit the Memphis Rock 'n' Soul Museum, which showcases the artists that defined the "Memphis Sound." Tour Sun Studio, where B.B. King, Elvis Presley and other major stars recorded, or the Stax Museum of American Soul to learn even more about the city's musical past. But Memphis is about more than music. In 1968, Black sanitation workers wearing the now-famous "I am a man" signs marched down Beale in protests that attracted the support of Martin Luther King Jr., who was then assassinated at the nearby Lorraine Motel. That motel is now the must-see National Civil Rights Museum, which covers five centuries of the fight for freedom, abolition, and equality.The Slave Haven Underground Railroad Museum offers another window into the city's past. Once home to an abolitionist who helped enslaved people escape to the north, the museum is full of secret passageways, trap doors, and artifacts that show the cruel conditions of enslaved life.
Bonus Tip: The Civil Rights Museum is just one stop on the city's Civil Rights Historic Loop, part of the Memphis Heritage Trail, a 20-block walking museum designed to highlight the contributions of African Americans who helped shape the business, cultural and musical heritage of the city.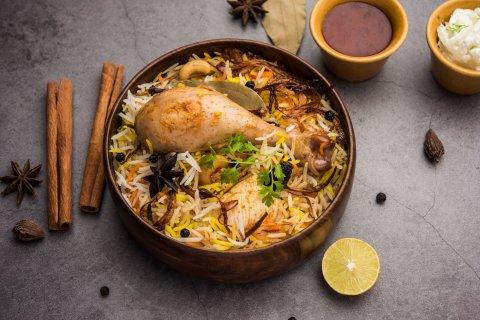 LITTLE INDIA
New York City
The Indian American population of the New York City metro area, numbering 711,000, is bigger than in any other place in the country. The greatest concentration of South Asian residents—Bangladeshis and Pakistanis, as well as Indians—can be found in Jackson Heights in the borough of Queens. But South Asian culture is spread across the city, from Manhattan's East 6th Street (sometimes called Curry Row) to Staten Island's Little Sri Lanka.
What to Do: Dine at the well-known Jackson Diner, which has been serving up Tandoori dishes and specialties from northern India since the '80s, or try Angel Indian Restaurant's biryani rice dishes and the chole bhature, made of curried chickpeas and fried bread. Vegetarians should head to Samudra to sample one of its giant dosas or other Southern Indian dishes like bisi bele bath and pongal. Among Jackson Heights restaurants, you'll find colorful sari shops mixing with those selling Indian sweets, gold jewelry, henna, Indian spices and other grocery staples.To experience India's biggest holiday, Diwali, the Hindu festival of lights, head to Times Square on October 15. The area transforms into a gathering place for those wishing to watch dance and musical performances from the different states of India, sample an array of Indian dishes and light the small clay lamps, known as diyas, to welcome good fortune. The Chhandayan Center for Indian Music in Midtown offers Indian dance classes so you can brush up on your moves beforehand.
Bonus Tip: As in Los Angeles, New York City is filled with other culturally diverse neighborhoods to explore. Among them: Little Italy, Chinatown, Little Guyana and Little Odessa.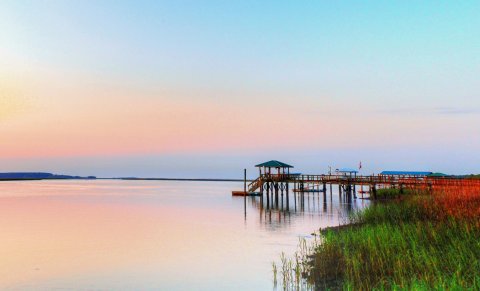 GULLAH GEECHEE CORRIDOR
Georgetown and Hilton Head, South Carolina
Along the Sea Islands and coastal plains of the Southeast, you'll find the Gullah Geechee people—descendants of enslaved West Africans forced to work on rice, cotton, and indigo plantations before the Civil War. Living on isolated islands and coastal areas helped the community stick together through the centuries and develop its own unique culture with deep African roots.
What to Do: While the Gullah Geechee Cultural Heritage Corridor stretches 12,000 square miles from Pender County in North Carolina, to St. Johns County, Florida, a good place to start is in Georgetown, home to the Gullah Museum, which explains the Gullah Geechee's enslaved and post-abolition history and showcases quilts, sweetgrass baskets, dolls and other artforms they've crafted. Head south to St. Helena Island to see The Penn Center, one of the nation's first schools for formerly enslaved people that became a meeting place for Dr. Martin Luther King, Jr. and the Southern Christian Leadership Conference in the 1960s. From nearby Hilton Head Island, you can take a two-hour Gullah Heritage Trail bus tour, where Gullah guides show you several historic sites, like Mitchelville, the first self-governed town of freed slaves in the U.S.
Bonus Tip: Planning a fall visit? The Lowcountry Fish & Grits Music Festival on October 1 will showcase music and local cuisine designed to bring awareness to the Gullah Geechee culture and its connection to the African diaspora.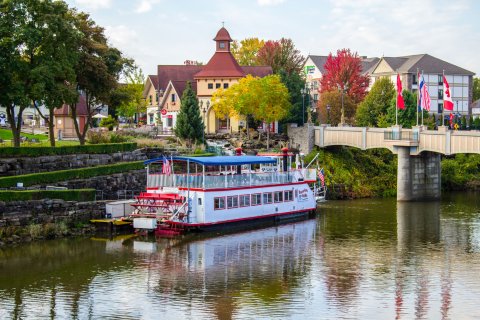 LITTLE BAVARIA
Frankenmuth, Michigan
Originally settled by Lutheran immigrants from the Franconia region in Germany in the mid-1800s, this town has held so steadfastly to its roots that its nickname is Little Bavaria. Its buildings are decorated with exposed wood frameworks and colorful shutters that mimic those you'd see in any Bavarian Alpine village.
What to Do: Come fall, the town adopts Bavaria's most well-known tradition: Oktoberfest. Aiming for authenticity, Frankenmuth's event has the blessing of the Munich original and imports its beer from the German city's iconic Hofbrauhaus brewery. Besides sipping steins, visitors can listen to German bands play alphorns and accordions, dance the polka, cheer on their favorite mutt in the Weiner dog races and munch on knockwurst and leberkase–all in lederhosen. The town's shops stock wooden Christmas ornaments, cuckoo clocks and Bavarian sausage specialties year-round, while the Frankenmuth Historical Museum celebrates the spot's German ancestors. After exploring, grab one of Frankenmuth's famous family-style chicken dinners from the Bavarian Inn Restaurant, where waiters in traditional German grab serve the fried meat with mashed potatoes, buttered noodles, vegetables and stollen.
Bonus Tip: Can't travel in time for Oktoberfest? You can still enjoy award-winning German-style Hefeweizen beers anytime you visit at the Frankenmuth Brewery, Michigan's oldest craft brewery.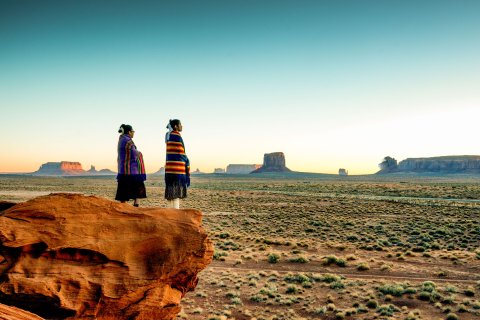 NAVAJOLAND
Navajo Nation, Arizona, New Mexico, Utah
Stretching for 27,000 square miles, this Native American reservation is home to the country's largest tribe, the Navajo people, who count almost 400,000 members. Its boundaries contain one of the West's greatest landmarks: Monument Valley, whose towering red sandstone formations have long been sacred to the Navajo, who first came to the area as early as 900 C. E.
What to do: In Canyon de Chelly, you'll find prehistoric rock art as well as the remains of ancient Pueblo villages all hinting at the gorge's history of housing people for 5,000 years, making it the longest uninterrupted inhabited place on the Colorado Plateau. Navajo families still live there today, raising livestock and tending farmland. Better understand the Navajo people's past with a visit to the Navajo Interactive Museum or Navajo Code Talkers Museum, which recognizes the tribe members who created an unbreakable code based on the Navajo language that the Marines used in World War II. Conclude your adventure with a stay in a traditional Navajo home, called a hogan. These one-room structures made of wood and dirt have no modern comforts but provide a taste of past living.
Bonus Tip: Visit Hubbell Trading Post, the oldest mercantile on the reservation. It has been selling dry goods, groceries, rugs, jewelery and Native American art since 1878.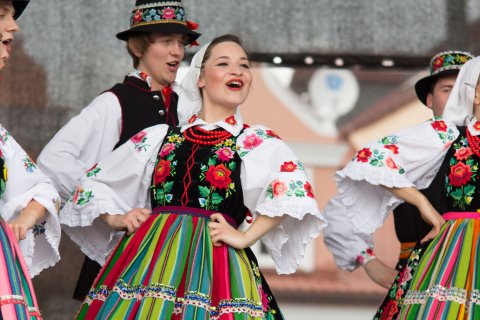 POLISH DOWNTOWN
Chicago, Illinois
In June, state leaders dubbed a 15-mile stretch of Milwaukee Avenue as the Polish Heritage Corridor in recognition of the hundreds of thousands of Poles who've made neighborhoods like Avondale, Jefferson Park and Niles their home since the 1800s. Today, almost a third of all immigrants to the U.S. from the Eastern European country live in Chicago.
What to Do: Step inside the Polish Museum of America to learn more about the city's Polish roots and discover what the area looked like in the 1850s. Fill up on pierogies stuffed with potato, cheese, sauerkraut or beef at Kasia's Deli, named by veteran restaurant critic and writer Mimi Sheraton as one of the best places in the world for tasting these savory little parcels. Sample other polish staples like stuffed cabbage, veal meatballs, borscht and blintzes atat Staropolska or old-school Podhalanka. Finally, pick up a sausage treat for later at either Kurowski's Butcher Shop and Rich's Bakery or Andy's Deli & Mikolajczyk Sausage Shop
Bonus Tip: If you visit between September 2 and 5, you can attend the Taste of Polonia Festival at the Copernicus Center, the city's Polish cultural center. More than 30,000 people turn out each year to watch 30-plus bands play, view traditional dance performances, browse crafts and learn how to cook Polish delicacies.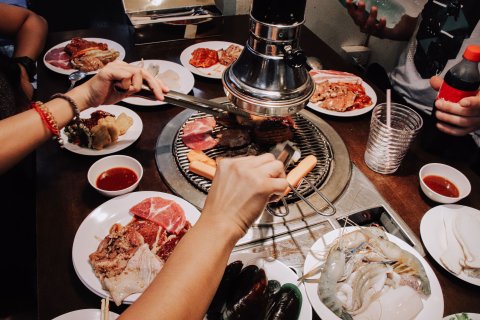 KOREATOWN
Palisades Park and Fort Lee, New Jersey
If you're after delicious Korean barbeque, karaoke rooms or some K-Beauty staples, head to the neighboring towns of Palisades Park and Fort Lee. Koreans make up more than half of Palisades Park's residents and almost a quarter of Fort Lee's in a county that boasts one of the largest total Korean populations in the nation.
What to Do: Broad Avenue in Palisades Park is home to dozens of Korean eateries. Cook up orders of bulgogi rib eye or samgyeopsal pork belly over small grills built into your table at So Moon Nan Jip; sample Korean noodles at Myung Dong; or taste Korean dumplings filled with pork and kimchi at You Chun. Finish with Korean shaved ice topped with black sesame or green tea at Cafe Leah or Cafe Mocha. In Fort Lee, dine at Bada Story for fish imported directly from South Korea twice a week, or Taste 1080 for Korean barbecue staples. After filling your belly, relax at the King Spa & Sauna, a 40,000-square-foot facility with 10 different Korean-style saunas and a food court offering bibimbap rice bowls and other Korean favorites. Pick up beauty supplies from Aritaum or K-Beauty Outlet or belt out K-Pop tunes from BTS or BLACKPINK at Rock 21 Karaoke, which offers private rooms and an extensive list of songs in English and Korean.
Bonus Tip: Into games? Head to Grand Billiard or Star Billiards, which have pocketless pool tables used to play a form of four-ball called sagu that's popular in Korea.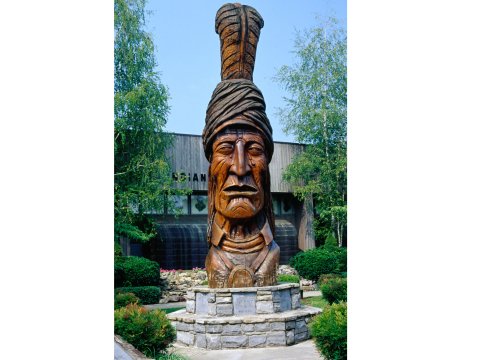 CHEROKEE NATION
Cherokee, North Carolina
Named for the Native American tribe that once controlled this area of North Carolina and several other parts of the Southeast, Cherokee serves as the capital of the Eastern Band of the Cherokee Nation and a gateway to discovering the history and culture of this tribe, most of whom were forced to leave this piece of ancestral land and move west of the Mississippi following the Indian Removal Act of 1830.
What to Do: At the Oconaluftee Indian Village, present-day Cherokee recreate the life their ancestors would have led back in the 1760s, demonstrating how to hull canoes using fire and an ax, chip flint to create arrowheads, weave baskets, and decorate clothing with beadwork. Discover more at the Museum of the Cherokee Indian, which uses special effects as well as artifacts to cover 13,000 years of history. You might even catch a pottery or stone carving demo or see the Warriors of AniKituhwa dance. At night, take your blanket to Oconaluftee Islands Park to listen to Cherokee storytellers spin tales and sing songs beside a warming bonfire.
Bonus Tip: Until August 20, you can watch a performance of Unto These Hills, which showcases key moments of Cherokee history.