John Yoon was expecting a two-hour trip home to Montreal after visiting family in Philadelphia. Instead, he got four flight cancellations over five days, a $500 car rental and a 10-hour drive.
Yoon was successively booked, canceled and rebooked on the same flight, something that would not come as a surprise to anyone who knew the flight's or the airline's history.
The flight Yoon booked was sold and scheduled by Air Canada and was to be flown by its largest Air Canada Express regional carrier, Jazz Aviation. With more than 37,000 scheduled U.S. flights in 2022, Jazz is the nation's busiest foreign airline and subject to both U.S. and Canadian regulations.
Jazz Aviation also has the highest rate of cancellations of any airline operating in the U.S., at 10.8 percent or more than four times the average for all U.S. flights, according to a Newsweek analysis of data provided by flight tracking firm FlightAware. More than half the airline's flights have been canceled or delayed this year. Around the Fourth of July, one of the busiest holidays of the year, more than a quarter of its flights were canceled and another 59 percent were delayed.
Even with this year shaping up to be a record year for flight cancellations, Yoon's flight stands out. It has been canceled about one out of every three times it has been scheduled since May, according to the analysis.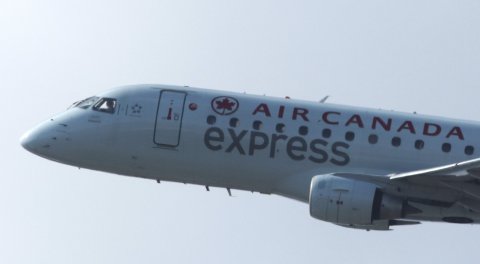 That's the kind of record U.S. Department of Transportation officials have said could violate rules against the unrealistic scheduling of flights, when airlines sell tickets for flights unlikely to depart. But there has been no public disclosure of any enforcement steps and as of Friday customers could still purchase seats on the flight for travel through October.
Yoon's flight may be an extreme example—from an airline with several of them—of what some experts say are the real reasons 2022 is on track to have more cancellations than almost any other. It is not bad weather, a shortage of pilots or COVID-19, but rather airlines failing to adjust schedules as a result of those challenges or regulators failing to stop them from doing so.
Consumer advocate and aviation expert William McGee, of the American Economic Liberties Project, said the transportation department has failed to use its power to enforce regulations in the face of an unprecedented summer of cancellations.
"A lot of this is squarely on (Transportation Secretary Pete) Buttigieg to step up and start protecting consumers because this has been unacceptable," McGee said.
Paul Hudson, president of the airline passenger advocacy group FlyersRights, said strong regulations and enforcement are key to preventing airlines from unrealistically scheduling their flights because it makes the practice more costly.
"They have your money and you have to go through a lot of exercises to get your money back," Hudson said. "And so it's actually profitable for some of these airlines to do this. They schedule based on demand, not based on their capacity to actually fly the flights."
But, Hudson said, "The DOT is eternally lax on enforcement."
Airports with Highest Rates of Delays and Cancellations
Flights were more likely to be canceled or delayed at Canada's Toronto Pearson International than at any of the other 100 busiest airports in the world between July 28 and Aug. 4, according to data provided by flight tracking firm FlightAware. Montreal-Trudeau International ranked third.
The Department of Transportation and Jazz Aviation did not respond to requests for comment. In a statement, Air Canada said it recently reduced some flight schedules and is committed to making improvements.
In June, Buttigieg met with airline officials to discuss steps being taken to reduce cancellations and delays over the July 4 weekend.
In a July 10 interview on Fox News, Buttigieg said the department has several ongoing air passenger protection investigations and that airlines showed improvement between the Memorial Day and Fourth of July holidays in setting realistic schedules. The cancellation rate of U.S. flights declined from 2.3 percent to 1.9 percent between the holiday periods, according to the Newsweek analysis.
"We've seen movement in the right direction. Definitely fewer cancellations and delays," Buttigieg said. "We really want to see them push toward 1 percent or so with realistic scheduling, responsible customer service and all the things airlines need to do to properly service the tickets that they are selling to passengers."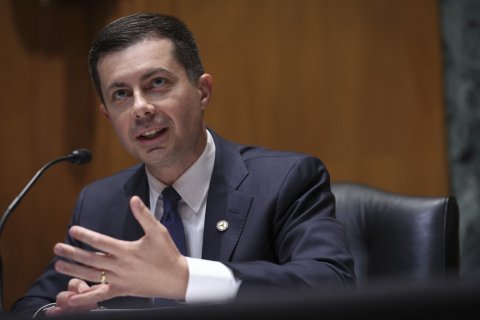 So far this year, more than 144,000 U.S. flights have been canceled, a year-to-date total that exceeds any on record other than for 2020, when the start of the COVID-19 pandemic resulted in a rash of flight disruptions, the Newsweek analysis found.
'Regulations are only as good as their enforcement.'
Jeff Guzzetti, a former U.S. Department of Transportation assistant inspector general with nearly four decades in the aviation industry, said the rash of cancellations is not primarily because of weather, a shortage of pilots or other factors airlines may face at varying levels in any year, but rather their attempt to maintain a flight schedule that is too aggressive given those challenges.
"I would just say they blew it in terms of forecasting the staff they needed," Guzzetti said. "They saw the crushing demand and said, 'Let's try to meet this demand.'"
Some airlines have fared better in 2022 than others, though, according to Newsweek's analysis. Among the 10 busiest airlines operating in the U.S., Delta has the lowest cancellation rate at 1.7 percent or more than 10,400 flights and Republic Airways, which is a regional partner of Delta, has the highest at 5.6 percent or more than 12,300 flights.
By comparison, Jazz Aviation has canceled more than 4,000 U.S. flights or 10.8 percent of its more than 37,000 scheduled departures. Many of its routes have experienced far more frequent cancellations.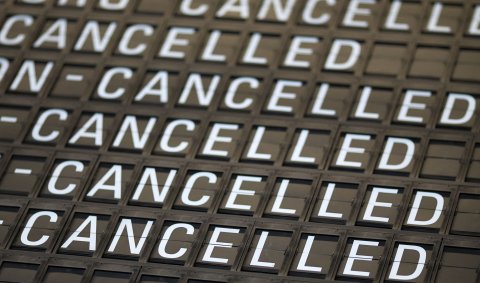 The airline's daily morning service from Pittsburgh to Toronto has been canceled 46 percent of the time it has been scheduled since May. Its daily morning flight from Newark to Toronto hasn't departed half the time since May. A daily morning flight from New York to Montreal has a cancellation rate of 33 percent since May.
Those flights' records come close to or exceed what the DOT has listed as examples of "unrealistic and deceptive scheduling," which is prohibited under U.S. regulations. Officials said in a 2009 update to the rule that it could include "a flight that is canceled 30 percent of the time for a sustained period of time."
The rule applies to all airlines operating in the U.S., including Jazz Aviation, but large U.S. carriers are required to submit reports to the DOT listing chronically delayed flights, which are those canceled or delayed more than 30 minutes more than half the time for a calendar month. Under the department's rules, one form of unrealistic scheduling is a flight that is chronically delayed for four months in a row.
The largest U.S. airlines reported 351 chronically delayed flights to the department for May, the most recent data available. None have been chronically delayed for more than two months.
According to Newsweek's analysis, Jazz Aviation had 87 chronically delayed flights in May, which is more than what Delta Airlines, American Airlines and Southwest Airlines reported to the DOT for that month combined.
None of Air Canada's Jazz Aviation flights have been chronically delayed for four consecutive months, the analysis found, but several may soon be. Only 38 of the 380 U.S. Jazz flights scheduled between April and July were flying for that entire period. Of the 125 flights that have been flying since May, 51 were chronically delayed in May, June and July. Of the 57 Jazz flights operating since June, 43 were chronically delayed in June and July.
McGee said the airline industry has a high rate of passengers not using vouchers they may have accepted for a canceled flight, something that could boost profits. He said no one outside the airlines knows whether the carriers are intentionally scheduling flights they cannot fulfill, but the DOT can find out through an enforcement action.
"Regulations are only as good as their enforcement. And, you know, we have not seen a lot of evidence of DOT enforcing it for U.S. airlines let alone foreign airlines, but they should," McGee said. "The fact is, if you're advertising the product, then you have to deliver it and that's what it comes down to."
Though the transportation department has said it has ongoing airline investigations, no public enforcement notices or actions related to unrealistic airline scheduling have been released.
That was not the case in 2020, when the department issued two enforcement notices to all airlines threatening action if they did not offer prompt, full refunds to the original form of payment for the many flights canceled because of COVID-19. Initially, many airlines were only offering vouchers for future travel, which the DOT has long said is illegal.
The DOT received more than 89,000 refund complaints from consumers in 2020, which was 57 times more than the total for 2019. It brought in retirees and personnel from other offices to process the onslaught and initiated investigations of 20 airlines, 18 of them foreign airlines. Ten of those investigations are ongoing.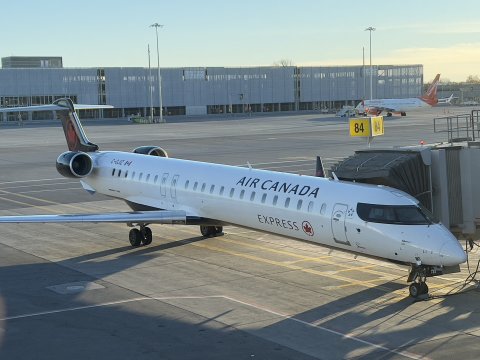 One of those refund investigations was of Air Canada, which was accused of failing to offer timely refunds. The department reached a $4.5 million settlement with the airline in November 2021, the highest it has ever assessed.
Air Canada and other airlines have questioned whether U.S. law requires refunds for canceled flights. The DOT holds that failing to refund fares for a flight that didn't fly violates a law forbidding unfair and deceptive practices, but recently began the process of incorporating its interpretation of the law into official rules. Similar rulemakings have taken more than a year.
Guzzetti, who oversaw audits of the DOT's office of aviation consumer protection, said even in normal times the office's small staff likely has to prioritize some investigations over others given their limited resources and how labor-intensive investigations of airlines can be. He said the onslaught of COVID-19 refund complaints only underscores those points.
"Just doubling or tripling their staff would be a drop of water in a gigantic bucket to look into all those complaints," Guzzetti said.
Consumer advocates, who are frustrated with the years it has taken for refund investigations to be completed, said the current situation is nothing new. The department has long known airlines were flouting the law when handling refunds and has long been lax in enforcing all rules, Hudson said.
"The number one reason is there is a lack of will and effort," Hudson said. "There may be some resources that are lacking, but they don't seem to want to fill that gap and this has gone on for many years."
Canadian airports struggling with cancelled flights and delays also
Air Canada said it recently reduced its July and August schedules and pointed to security screening delays, baggage system outages and air traffic control limitations as some of the causes of flight disruptions.
"Air Canada has committed to continuing its work with all third parties to further stabilize and improve all aspects of the air transport ecosystem," the statement said.
Flights of other airlines between the U.S. and Canada have not had the same cancellation rates as Air Canada's Jazz Aviation's flights.
For instance, two American Airlines flights flown by regional carrier Piedmont Airlines that provide daily morning and afternoon service between Philadelphia and Montreal—the same route as Yoon's flight—have been canceled once since May 12, according to the Newsweek analysis of FlightAware data. Yoon's flight has been canceled 28 times over the same period. Piedmont has canceled 2.5 percent of all of its scheduled flights since the start of the year while Jazz has canceled 10.8 percent.
Canadian regulations can in some cases require more of airlines when flights are canceled than U.S. law, including providing passengers with meals, hotel arrangements and a payment of up to $1,000.
Those are requirements similar to European Union regulations praised by many air passenger advocates, but Gábor Lukács, president of the Canadian air passenger advocacy group Air Passenger Rights, said they work dramatically differently in practice.
Lukács, who currently recommends avoiding Canadian airlines and airports because of massive disruptions, said Canadian law "provides so many loopholes that it looks good only on paper."
Unlike with E.U. cash compensation rights, Lukács said too many cancellation circumstances are exempted under Canadian regulations, including some maintenance issues and airport operations disruptions. Canadian regulations also don't guarantee a refund to the original form of payment for many canceled flights, unlike in the U.S. or the E.U.
Lukacs said airlines that are over-scheduling will only stop when it affects their profits.
"If it is just bad press, nothing is going to change," Lukacs said. "It has to be found directly on the bottom line before they actually start paying attention."
Canadian airports have struggled more than others with delays and cancellations this summer, with reports of security lines snaking out airport entrance doors, baggage going missing and massive crowds.
From July 28 to August 4, Toronto Pearson International Airport ranked first among the world's 100 busiest airports for its percentage of flights that were canceled or delayed (50.5 percent) and Montréal–Trudeau International Airport ranked third (49.5 percent), according to FlightAware data. Lisbon International Airport (49.9 percent) ranked second.
In a statement to Newsweek, the Canadian Transportation Agency said it primarily enforces passenger protection regulations by deciding individual consumer complaints, including ordering airlines to pay refunds or compensation. Of the 54,609 air passenger protection complaints received since Jan. 1, 2019, 17,530 remain unresolved, the statement said.
The many cancellation notices Yoon received for his disrupted trip to Montreal all gave the same explanation: "The impacts of COVID-19."
Yoon had been in Philadelphia visiting a sick relative with his mother, who also ended up with a day-long rental car drive back home with him after giving up on attempts to fly. Yoon received a voucher for his canceled flight, but is seeking a refund and compensation for the disruption.
"It was quite the experience. I don't want to do it again," Yoon said. "From now on, if I can drive, I won't take the chance. I will drive rather than fly Air Canada."
U.S. AIR PASSENGER RIGHTS
Consumer advocates say passengers on U.S. flights are often unaware of rules enforced by the U.S. Department of Transportation. Violations of the rules can be reported to the DOT, which has more detail about the rules on its website, including some exceptions to them. Advocates say reading airline policies is also important because they may guarantee more benefits than rules require.
Airlines are required to offer a full refund to the original form of payment if a flight is canceled or significantly changed—experiences a lengthy delay or diversion—and passengers do not wish to accept any alternative arrangements an airline offers.
On flights within or out of the U.S., passengers denied boarding because of an overbooked flight must receive another flight for free and a payment of up to $1,550. The amount depends on how much later they will arrive at their destination, whether it is an international flight and how much their original ticket cost.
With exceptions for safety, security and airport operations, U.S. airlines must allow passengers to disembark if a plane is delayed on the tarmac for three hours for a domestic flight or four hours for an international flight. Food and water must be provided within two hours in addition to medical attention and bathrooms.
Airlines must compensate passengers for costs incurred because the mishandling of bags, including the cost of purchasing replacement clothes or toiletries and the value of the bag and its contents. The limits are $3,800 for domestic flights and about $1,750 for many international flights.