The weight of Perry Blackburn's reality is most apparent when his voice cracks and as he rubs his eyes from exhaustion. It's not uncommon for both to happen when the former Green Beret is talking about Afghanistan or its people.
"I feel like our government betrayed us," the Tampa, Florida, resident told Newsweek. "Everybody that operated in Afghanistan. The people that have died. The parents, brothers and sisters of our combat vets that have died in Afghanistan. They all feel betrayed. How can you not feel betrayed? To leave that country the way we did? That wasn't a withdrawal. It was a retreat."
Blackburn was one of the "Horse Soldiers," the first U.S. boots on the ground in Afghanistan following the Sept. 11, 2001, terrorist attacks. He founded AFGfree.org, a nonprofit that focuses on supporting and helping evacuate Afghan allies, and part of the larger independent Afghan evacuation effort.
"We are able to push money, to push supplies, to push medical supplies and food to that entire network throughout Afghanistan," Blackburn said.
The network is more complex than a traditional NGO or developmental aid model with centralized leadership. Many of the people involved are Afghans - some of whom don't have any personal hope of getting to America, said Blackburn and others within the network. They provide intelligence or open their homes as stops on the underground railroad for allies in hiding.
Now, a year later, Department of Homeland Security data shows 160,000 Afghans eligible for Special Immigrant Visas are still waiting for their applications to be processed - each takes an average of three years. The government established SIVs for Afghans in 2009 to make a pathway for allies who had worked for the U.S. mission for at least one year. Other paths exist, though they also tend to be slow and complicated.
"It was well known at the time of the decision to withdraw ... that there was a major (Afghan immigration) backlog," said Asfandyar Mir, a senior expert in the Asia Center at the United States Institute of Peace. "There weren't enough resources being allocated and political bottlenecks that were not being attended to."
White House and State department officials said they had increased the number of staff working on SIV processing by more than fifteen-fold.
Newsweek spoke with more than a dozen volunteers, mostly veterans, who are handling the fallout.
"We didn't expect this involvement to be more than two weeks but here we are a year later," said Travis Peterson, a retired U.S. Air Force Master Sergeant and founder of the Moral Compass Federation, a network of 20 organizations supporting Afghan allies and veterans.
Many experience something that has been described as "moral injury." In other words, emotional, psychological and spiritual pain they've felt since Afghanistan returned to Taliban control.
"What was all that sacrifice for?" said Ben Owen, an Army veteran and founder of Flanders Fields, another nonprofit that has been supporting and evacuating Afghan allies.
"How have we raised an entire generation of Afghan girls to be equals and snatched that from them overnight?" he added. "How do we make sure America can be trusted again on the global stage to honor promises?"
U.S. Department of Veterans Affairs officials said outreach to the Veteran Crisis Line rose 7% last August. That included 35,000 calls to the VA's suicide prevention line in the two weeks leading up to the Taliban taking over, and nearly 2,600 when Kabul fell on Aug. 15, 2021.The U.S. pulled out by Aug. 30.
The allies left behind speak out
Newsweek also interviewed more than a dozen Afghans, uncovering stories of service, survival and being left behind.
Each person verified their service to the U.S. through a combination of documents, including government and contractor badges with photos, along with photo identification; certificates of service and achievement on behalf of the U.S.; personal letters from prior supervisors from their military or U.S. contractor employers, and photos of them alongside U.S. forces, among other evidence.
Most are in safehouses. All of them said they hold out hope that the U.S. will keep the promise that they felt was made when they became part of the American mission in their own country.
For most Afghans who served the U.S., "the assumption is 'we risked our lives, they will come for us,' there is honor," said Akbar Ahmed, a professor of the School of International Service at American University and an expert on Afghan culture.
The sheer volume of Afghan allies left behind "will confirm in the minds of lots of Afghans that 'we were not treated with honor,'" he added.
Mohammed: His U.S. visa stamp a death sentence
Mohammed, a pseudonym, disabled mines and improvised explosive devices for the U.S. Special Forces he protected as a part of the National Mine Reduction Group, the route clearance and mine reduction force in Afghanistan.
"My first priority was to defeat the Taliban, the second one was protecting Special Forces from the IEDs (improvised explosive devices)," he said, providing Newsweek with a photo of the SIV that he earned for many years of service to the U.S.
The State Department sent him an email in late August 2021, directing him to leave via Hamid Karzai International Airport in Kabul.
But Mohammed and his family were unable to get out via the airport by the day the U.S. made its final exit. Similar to many other allies, the widespread violence and chaos made it impossible for him to get through the airport gates.
"I risked my life during the missions for the American Special Forces," he told Newsweek. "It was very tough for me, you know, just left behind."
An American friend suggested he take his family and flee to Pakistan because his former job made him a high-value target for the Taliban. He entered the country illegally, not realizing that it would later prevent him from leaving. Now that he's in Islamabad, Pakistan is requiring him to first go back to Afghanistan, and gain legal entry to Pakistan at the Taliban-controlled border before he can use his SIV to get on a flight to the U.S.
To present the Taliban with a passport containing a U.S. visa stamp would be a death sentence, Mohammed said. The U.S. has refused to intervene on his behalf, he said.
"Don't forget, as we were in the fight alongside the American Special Forces," he told Newsweek. "We will take the risks, you know, to fight alongside them. I just want to say, don't forget us."
Abdu: A sluggish visa process has him in limbo

Abdu, a pseudonym, was part of a special reconnaissance unit that collected intelligence on the Taliban, ISIS and al Qaida, according to documentation provided to Newsweek, including his Bagram Air Field no-escort-required badge, a letter on his behalf to the State Department from the Joint Special Operations Command (JSOC), and a copy of his Special Immigrant Visa application. He also provided several certificates of appreciation he received from NATO and the U.S. military for his service in various operations.
His work had him gathering intelligence for a special joint unit of the CIA and JSOC, as well as Special Forces.
For 12 years, he was on the move, working undercover in various jobs as a taxi driver, a pharmacist, an English-language teacher or a shopkeeper. Along the way he would infiltrate the enemy and provide key intelligence to Americans about precisely where to find terrorist targets, what they looked like and what plans they had in the works.
The year since the evacuation has been a nightmare filled with hardship for Abdu and his family, who often go hungry. His youngest son recently died of starvation.
He applied for a Special Immigrant Visa in September 2021, but is still waiting for approval almost a year later.
"If I was U.S. I would be ashamed of myself, my government, I would be so ashamed," he said, adding that his criticism was only toward the U.S. government and its leaders. "I love all the American people."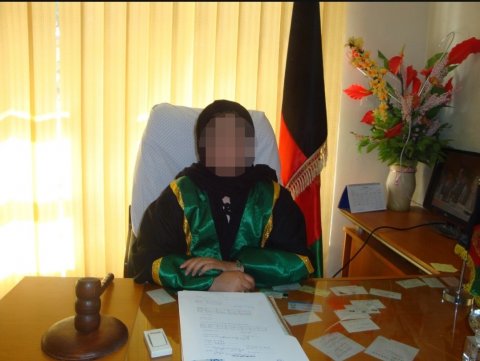 Freshta: A woman judge seeks a path to the U.S.
Freshta, 35, who wanted only her first name used, was one of the hundreds of women who became judges during the time that the U.S. was in Afghanistan, part of America's larger effort to bring Western jurisprudence to the region.
"The U.S. was aiming to promote democracy and equality in the society," Freshta told Newsweek.
Now, she and many other women judges are stuck in Afghanistan with a challenging path to America, according to the International Association for Women Judges, which is working with the State Department to try to get Freshta to America.
Many of these judges have sentenced members of the Taliban for things such as beating their wives, so they are vulnerable, according to IAWJ.
The judges didn't directly work for the U.S. However the program that brought women into the courtrooms as judges was a $773,000 investment in America's larger justice plan for Afghanistan, according to a 2015 report by the Special Inspector General for Afghanistan Reconstruction.
Women judges may go through the P1 visa program, which requires a referral - individuals can't apply for the visas themselves. Additionally, it requires the daunting task of getting to a third country before the visa is issued - a challenging prospect with the Taliban patrolling the border between countries.
Now Freshta can't work or access her bank account, and she is in constant fear that her former job could get her and her family killed.
"The suspects and criminals were explicitly warning us of revenge during the hearing sessions," Freshta told Newsweek. "Unfortunately, with the takeover of power by Taliban in Afghanistan, they have opened the jails and freed all prisoners, including the criminals. Now I am surrounded."
Mashal: Caught in an endless bureaucratic cycle
Mashal spent years of his life traveling around Afghanistan and selling local and regional governments on the idea of working with America on infrastructure and development strategies.
"I still believe in America," Mashal told Newsweek. "Still believe that they were working from the bottom of their heart for the betterment of the reconstruction and rehabilitation of Afghanistan."
Now he lives with his family in a safehouse in Pakistan, fearful of going outside. He asked Newsweek to only use his first name because he is a target of the Taliban for his work on behalf of the U.S.
"I do not feel safe at all here," he told Newsweek. "Our enemy has already been here. They can target me really easily. They could kill me really easily."
Mashal was a lead provincial public administration advisor to local and regional governments in Afghanistan on behalf of USAID, America's global development agency.
Now he worries about his family, who are miserable and often hungry.
"I would not say that America betrayed me," Mashal said. "It's not fair. I still believe in America's cause. But to be honest ... I would say, I'm deeply and highly discouraged."
Mashal has extensive documentation of his service to the U.S. and eligibility for a Special Immigrant Visa. But red tape and a lack of answers from the State Department and the U.S. Embassy in Islamabad has left him in limbo. He provided Newsweek with a half dozen emails from the U.S. Embassy in Islamabad, which informed him that his "immigrant visa case is refused for administrative processing," among other perplexing updates.
The U.S. Embassy in Pakistan said Mashal must have a medical exam within a year of using a visa to get to the U.S., so now he is worried because it has been more than a year since his last physical. He has no money to see a doctor, and is afraid he would be discovered if he had to provide identification at a clinic.
"Personally, I have not seen any assistance," he said. "Definitely, they broke their promise and they are not standing on their promise. That's why I want to call upon the White House, U.S. Congress, Department of State: This is not the promise that you have made us."