Throughout his long career, Bryan Ferry, best known as the lead singer of the legendary British rock band Roxy Music, has always projected a very cool and debonair persona—sort of rock and roll's version of James Bond. Yet the usually unflappable Ferry is genuinely amazed that his band's music continues to resonate with audiences five decades later. "I suppose we've always kept our heads down up to a point," he tells Newsweek. "So it's very gratifying that the music still has an audience. I'm blushing—I don't know what to say. It's great that people like it."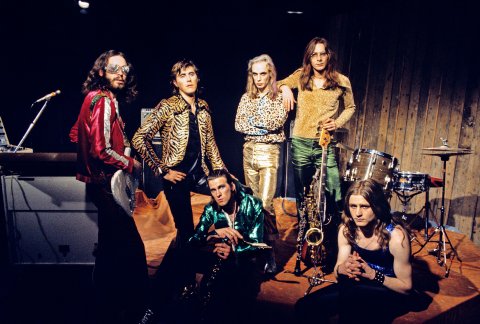 Over the course of eight studio records, the Rock and Roll Hall of Fame band achieved critical acclaim and recorded such memorable songs as "Re-Make/Re-Model," "Do the Strand," "Street Life," "Love Is the Drug," "Dance Away" and "More Than This." And like David Bowie and the Velvet Underground, Roxy Music inspired generations of musicians—among them the Sex Pistols, Chic, U2, Siouxsie and the Banshees, Duran Duran, Garbage, Goldfrapp and St. Vincent.
Marking the 50th anniversary of the group's formation and the release of their self-titled debut album this year, four founding members of Roxy Music—Ferry, guitarist Phil Manzanera, saxophonist/oboist Andy Mackay and drummer Paul Thompson—will tour together for the first time in over a decade. "It seemed something to celebrate," Ferry explains, "When the 50 years loomed up, it just seemed, 'Well this would be a very nice positive thing to do.'"
Manzanera says "Quite frankly, if we don't go out and play the songs, who the hell is going to play them? So we're going to breathe some new life into them."
Starting on September 7, the arena tour will cover North America and the U.K., with the setlist drawing from the band's '70s pioneering art rock and elegant early '80s pop. "There's a lot of songs to choose from," Ferry says. "Some people have preferences for one album over another or one song over another, and there are certain songs which are so much a part of the repertoire that we would always want to do. But it's nice to do one or two left-field songs as well. So we'll see which ones work best and try and give a good representation of all the records we've made."
"It's always really good to do some of those [early] numbers," says Mackay, "because they're quite quirky and they give quite a lot of scope for playing an interpretation—they weren't overworked out by formula, so they were often quite spontaneous. When you've been making records for a long time, you end up with a fair choice of material.''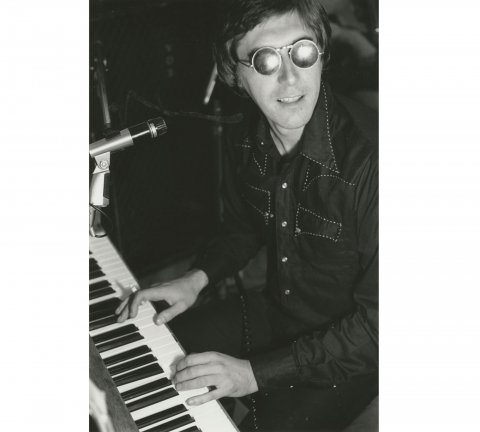 Formed in 1970, as glam rock was heating up, Roxy Music originally consisted of six distinct personalities—Ferry, Mackay, Manzanera, Thompson, synthesizer player Brian Eno and bassist Graham Simpson—who considered themselves inspired amateurs. Some of the members came from art-school backgrounds Those ingredients and more found their way onto their 1972 self-titled debut album, an unconventional mix of '50s retro rock, American R&B and experimental music.
"The first album owed a lot to my interest in collage visually," Ferry says. "It was touching on all the different possibilities and different futures we could have in music because there are quite a lot of different ideas on the album collaged together." In addition to Ferry's crooning, Manzanera's guitar heroics, Mackay's soulful sax playing and Thompson's powerful drumming, a key element of the band's early sound was Eno's synthesizer and use of tape effects. Ferry says, "Brian played a really big part on those albums."
From the start, visual style was as important as the music, from Ferry's dapper white-dinner jacket to the provocatively photographed models on the album covers. "When the [first] record was finished," recalls Ferry, it was like, "'Oh, let's do something interesting and different for the cover art.' I met this guy, [fashion designer] Antony Price. We combined forces and he helped a lot with creating a look for the album covers in the early days and also the clothes. We were all quite reserved in Roxy Music. And to go on stage and take on another persona made it easier for us to perform."
Roxy achieved U.K. chart success with their 1972 single "Virginia Plain." Mackay says of the song. "That turned us from being an art school band to being pop stars...That was a point at which we thought, 'This is not going quite the way we expected, but it's great.'"
Eno left Roxy after 1973's For Your Pleasure and was replaced by 18-year-old multi-instrumentalist Eddie Jobson. The next two Roxy's records, Stranded and Country Life, employed a more straightforward musical approach. Manzanera says, "We went from having a non-musician to having a musician. We were heading into a new sort of musical palette. And we needed to, because we wanted to change and do something different." Mackay adds, "The band did change a bit when Eno left. It was a change in a way from experimentation towards slightly more solid rock and roll values."
Roxy Music's fifth and perhaps most accessible album to that point, 1975's Siren, contained "Love Is the Drug," which became the band's first and only U.S. Top 40 hit. "I think every artist wants to kind of expand their audience," says Ferry. "We were trying, on our terms, to make a record that might work better in America."
After Siren, Roxy Music went on hiatus in 1976 and the members, most notably Ferry, worked on solo records. When the band regrouped three years later and released Manifesto, punk rock and disco were the popular music trends, yet Roxy experienced a second run of hit songs. According to Ferry, "[Manifesto] had some songs which are more European in feel and others which had a kind of an American aura. We made some of that record in New York. I guess that had an effect on it."
By this point, the sound of the band—whose lineup now consisted of Ferry, Manzanera and Mackay—grew smoother and more atmospheric, first with 1980's underrated Flesh + Blood album and a cover of John Lennon's "Jealous Guy," which went to number one in the U.K in 1981. The shift culminated with 1982's lush and magnificent Avalon, Roxy's swan song.
"Avalon, I think in some ways, is our best record," Mackay says. "There's a source of completeness about the mood. The aural kind of world of that record is very special. It's a record that I find very satisfying."
Roxy Music broke up in 1983 following the Avalon tour, and Ferry, Manzanera and Mackay resumed their solo careers. As the band called it a day, many younger British acts like Duran Duran, Spandau Ballet and ABC followed Roxy's sonic and style blueprint throughout the 1980s. In his 2012 memoir, Duran Duran's John Taylor recalled first seeing Roxy on TV: "Their debut on Top of the Pops in August 1972 changed everything for me....This was my moon landing."
"It was very nice to hear that people like what you do," Ferry marvels. "I owe so much to all the people who came before me, people who influenced me from all sorts of different directions. [I'm] very pleased that some young bands liked what we did."
In 2001, Ferry, Manzanera, Mackay and Thompson reunited as Roxy Music for a successful world tour; 18 years later, the band were inducted into the Rock and Roll Hall of Fame and performed at the ceremony. Ferry echoes the sentiments of Manzanera and Mackay when it comes to the group's chemistry after five decades. "There have been several phases of the band and Andy and Phil have been a part of all of those," he says. "They are both versatile and very good musicians with strong character. They have a sound, as does Paul Thompson. Everybody plays an important part." As for this 50th-anniversary tour, the singer says: "It's gonna be quite emotional to meet up with the audience again. It'll be great."
Further Listening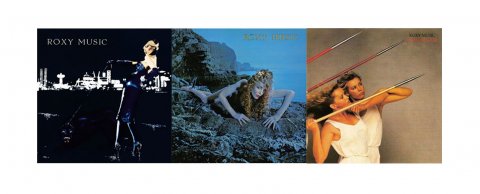 For Your Pleasure (Island, 1973)
Roxy Music avoided the sophomore jinx with their second album. For Your Pleasure paid homage to rock's past (the rockers "Do the Strand" and "Editions of You") while also foreshadowing its future (the haunting "In Every Dream Home a Heartache" and the epic "The Bogus Man"). "The second album is still one of my favorite records that I've been involved with," Ferry says. "It had character, it had a personality, which was very strong." Adds Manzanera: "It is my favorite album. I guess it was because that was the last one where we were all together as a band [with Brian Eno]."
Siren (Island, 1975)
Siren was Roxy's bid for mainstream appeal, combining art rock ("Sentimental Fool," "Just Another High," "End of the Line") with dance grooves ("Love Is the Drug," Both Ends Burning"). "I had written ['Love Is the Drug'] as a slightly slower, more stately kind of song," Mackay recalls of Siren's biggest hit, "Bryan would keep things close to his chest and not really give away too much and go away and write lyrics, and then surprise us all by coming in with a finished song. And so '"Love is the Drug" became a more up-tempo, kind of snappy kind of song."
Flesh + Blood (Polydor, 1980)
A somewhat underrated release in the band's catalog, Flesh + Blood presaged the pristine sound of Avalon. It yielded several notable songs in the romantic "Oh Yeah" and "Over You," the dazzling rocker "Same Old Scene" and the yearning "My Only Love." Flesh + Blood also found the band (whose lineup consisted of just Ferry, Manzanera and Mackay) tackling covers for the first time, including Wilson Pickett's "In the Midnight Hour" and the Byrds' "Eight Miles High."