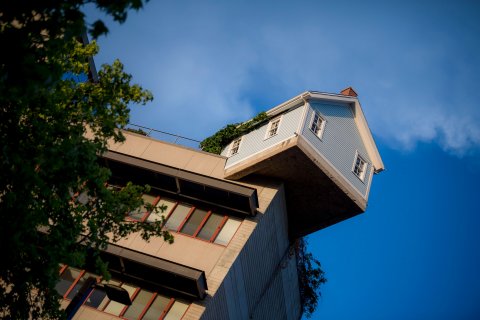 "Architecture should speak of its time and place, but yearn for timelessness," architect and designer Frank Gehry said. It's no wonder then that some of the most innovative designs are implemented on college campuses, where students learn from the past and grow from new perspectives. As students from all over reconvene for the school year, these campuses offer different points of view, not only through their curricula, but through their unconventional building styles. From a student center shaped like dim sum steamer baskets in Singapore, to a 36-story skyscraper in Russia, to a shipping center imitation in the Netherlands, here are college buildings around the world that present different angles.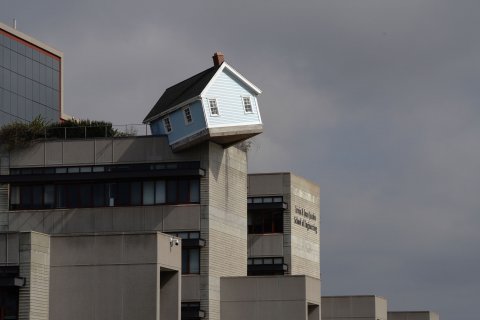 Spirited Sculpture Park
University of California San Diego
San Diego
Campus architecture here ranges from sixties-era concrete buildings to bright and airy contemporary ones, but what truly stands out are the otherworldly sculptures. Developed in partnership with The Stuart Foundation, the collection features site-specific pieces like Do Ho Suh's Fallen Star, a crooked cottage that hangs off the ledge of Jacobs Hall, and Niki de Saint Phalle's Sun God, a massive, brightly-colored bird perched atop a tall archway.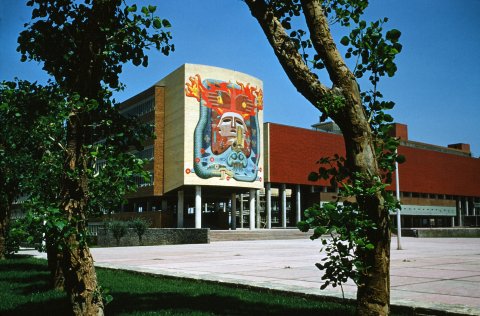 Painting the Past
National Autonomous University of Mexico
Mexico City
This campus doubles as a UNESCO World Heritage site, home to murals painted by some of the country's most celebrated artists, from Diego Rivera to David Alfaro Siqueiros. The art tells the story of Mexico's history, guiding viewers through curated scenes depicted on the building facades.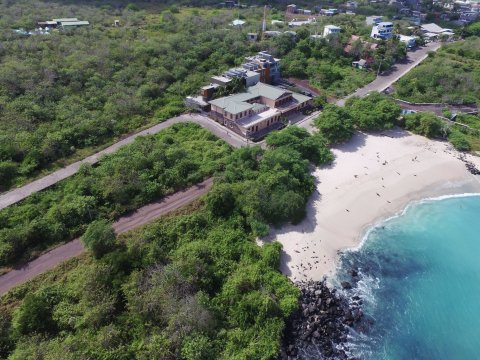 Discover Like Darwin
Universidad San Francisco de Quito/UNC Chapel Hill
Galapagos Islands, Ecuador
A joint venture by USFQ and University of North Carolina at Chapel Hill, the main classroom here is one of the world's most biodiverse islands—but the human-made ones aren't too shabby, either. Learn conservation skills in buildings nestled among tropical tree-lined quads.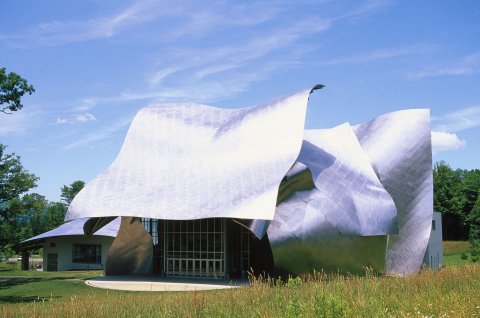 Acoustic Arcadia
Bard College
Annandale-on-Hudson, New York
Known for its fine and performing arts programs, Bard College took its reputation to the next level with the Fisher Center. Designed by Frank Gehry, the $62 million layered stainless steel-paneled building, which houses theaters and rehearsal studios known to have some of the best acoustics in the nation, is also fully powered by geothermal sources—rendering it free of fossil fuel emissions.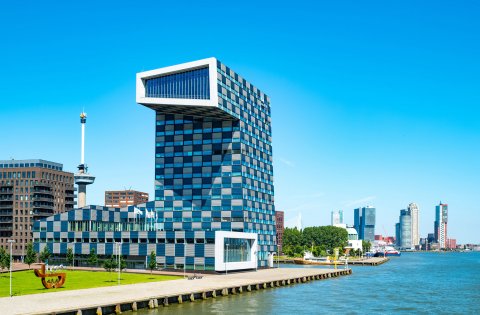 Supply Chain Style
Shipping and Transport College
Rotterdam, Netherlands
Where better to learn the nuts and bolts of maritime transport and logistics than a college built on a port, designed to emulate a shipping center? The architecture mirrors the curriculum, in which students complete simulations of real-life scenarios to gain hands-on experience in the industry.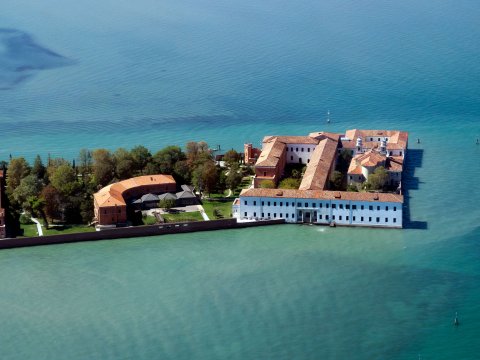 On Island Time
Venice International University
Venice, Italy
Running late for class? Call a water taxi. At VIU, located in a lagoon on the island of San Servolo, the only way to get to campus is by boat. The architecture is emblematic of the island's rich history—transformed from monastery to hospital, with remnants of the vineyards and gardens that once covered much of the land.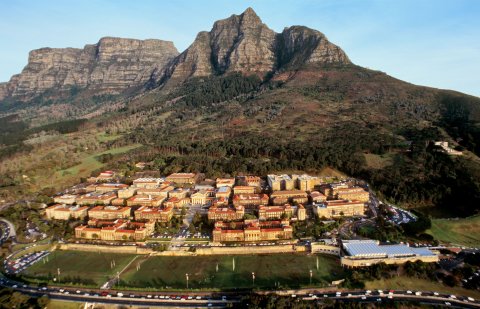 Mountain Construction
University of Cape Town
Cape Town, South Africa
Nestled just below Devil's Peak, this university uses geography as architecture, with the buildings melding into a mountainous backdrop. It's a setting that comes with risk, though; last year, a wildfire on the slope raged through the campus, destroying several historic buildings, including the library and its special collections. Restoration efforts are still in progress.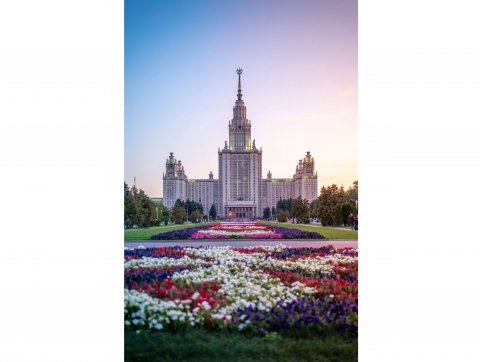 Classroom in the Clouds
Moscow State University
Moscow
If you have office hours in the Main Building, you might want to factor in some elevator time to your commute. At 36 stories, the skyscraper houses not only departments ranging from geology to performing arts, it also has a concert hall, theater, museum, swimming pool, hair salon, police station and post office. The star atop the tower weighs 12 tons alone.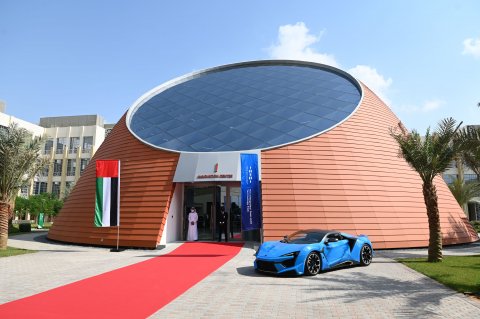 Innovation Station
Rochester Institute of Technology Dubai
Dubai, United Arab Emirates
Located in Dubai's Silicon Oasis, the city's technology hub, the new RIT campus has a futuristic look to match its forward-thinking ethos. At the Innovation Lab, designed to look like the core of a quantum microchip, campus members, start-ups and researchers come together to share ideas and showcase new technologies.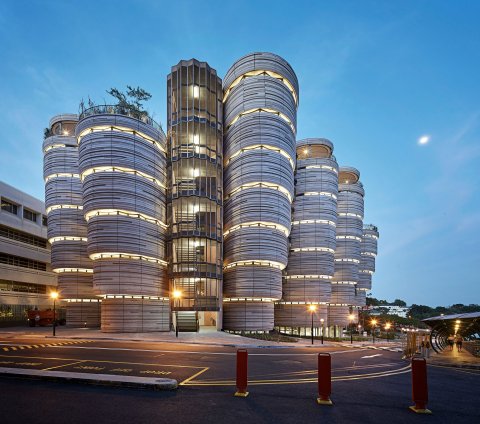 Dean of Dumplings
Nanyang Technological University
Singapore
If this student center has you craving dumplings, you're not alone—the building, actually named The Hive, is also affectionately referred to as the "dim sum building" for its similarity to stacked steamer baskets. Not everyone is sold though; The Architectural Review likened the building to "something of a forlorn car-park aesthetic."
Correction: 08/31/22, 12:27 p.m. ET: This article was corrected to clarify Universidad San Francisco de Quito's acronym (USFQ) and that the Galapagos campus is not built in the Spanish style, as a previous version listed.