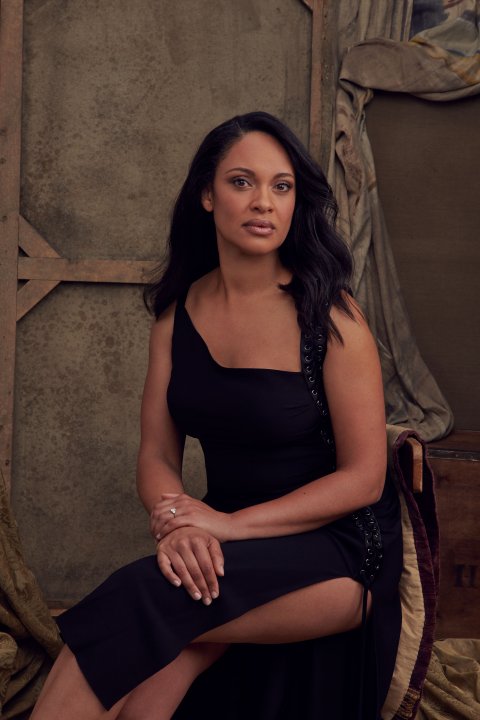 "I think people are hungry for, especially within fantasy, something that feels forward facing."
When Cynthia Addai-Robinson was cast as Queen Regent Míriel in Amazon Prime's highly anticipated The Lord of the Rings: The Rings of Power (September 2), she didn't have time to feel nervous.
"I felt just disbelief. It felt like winning the lottery." She went from isolating during the pandemic to shooting in New Zealand. "My first day filming I was on a mountain. So, a little different."
The show's time period is before the events of The Hobbit and the original The Lord of the Rings. "We're not trying to take away from the films in any way. The films are the films and they're classics."
But what does make the series different is the diversity among the cast. "I think people are hungry for, especially within fantasy, something that feels forward facing.... Just to be a woman of color in this world, it feels like if you're gonna tell this story now, you'd want to have that."
Ultimately for Cynthia, just being part of the legacy of the franchise is special. "There are a lot of people that this story is so precious to...it's the kind of story that gets people through different times in their life."
SUBSCRIBE TO THE PARTING SHOT WITH H. ALAN SCOTT
ON APPLE PODCASTS OR SPOTIFY
Are you nervous about joining the legacy of The Lord of the Rings?
I'm honestly not. And I knew it would come with all those things, the size of the project and the prestige around it. Everyone knows Lord of the Rings. And I think there's a lot of curiosity because of the size and scope of the project.
But in terms of my experience in making it and with the cast and creatives, creating this world from the ground up in a lot of ways, the physical production—I think we were really fortunate in having this bubble, being in New Zealand, and sort of being away from many prying eyes. So when you would go to the set or location, we would be toiling away, making what we ultimately made. It was nice because we were able to do that with no real sense of people watching over us or knowing what it is exactly that we were making. Obviously, the project had been announced quite a while ago, but all the mystery and protection around it does serve a purpose. And I believe the payoff absolutely is worth it.
I think there are a lot of people that this story is so precious to them, they really want to see something that lives up to what they have in their mind, what they've grown up reading.
The films really are a part of so many of our childhoods. It's like Harry Potter in a lot of ways, especially how the fanbase continues to be so big to this day.
I think it's the kind of story that gets people through different times in their life. It resonates with them in different ways. There are obviously a lot of adults that have this deep emotional connection to the material. I think what I'm also really excited about are the younger people that will approach this material. It really takes them to the books and it takes them to the literature. I think that's a really beautiful thing, and they don't necessarily have the same attachment to different interpretations. What I think is beautiful about Tolkien's work is that all the different adaptations and interpretations get to stand side by side. So as much as people love the films, we're not trying to take away from the films in any way. The films are the films and they're classics.
What was it like shooting in New Zealand?
I am very fortunate that this is the second time that I've gotten to work on a really big project in New Zealand. The first time was about 10 years ago. I worked on the series Spartacus. I was instantly blown away by the landscape, the people. But ironically, when I worked on Spartacus, I only worked on soundstages and green screens. So I never worked on location in New Zealand until Lord of the Rings: The Rings of Power. My first day filming on Rings of Power I was on a mountain. So a little different. [laughs]
You are boarding a helicopter to take to a mountain and you utter the first words as your character. Wow, on a literal mountain, looking over the vast stretch of land. That kind of experience is going to be burned into my mind forever. But I arrived in New Zealand when most of the world was still very much in lockdown during the pandemic. But New Zealand had managed to sort of keep COVID out of the community. So I literally landed, did two weeks of quarantine, walked out of the hotel, and it was back into something of a normal life.
When you have that taken away from you for many months, you really appreciate when it changes like a light switch. My husband and I traveled to New Zealand and I think just really appreciated all the mundane things like getting coffee with a friend or not having to be in fear of doing things like seeing friends hugging people. So I think I cherished that even more.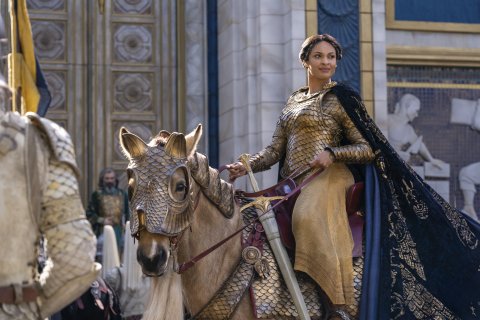 You play the Queen, which honestly is a flex. How do balance playing into the fantasy of being the Queen while also trying to keep it authentic?
I would say even if you are playing a queen from history, or a queen in real life, a queen is still a person. I think it always helps to try to circle back to the humanity of a person. Whether they are the manor born or the lowest of the low, you're trying to really get into common human emotions, common human dilemmas, human desires and starting from there. And sometimes you get a character or you get the good fortune of being gifted a character to play and there's this beautiful overlap of where your heart and your mind are at, at any given point in time and where that character's heart and mind is at.
I think when I left the U.S. and I arrived in New Zealand, I had the experience of spending most of 2020 in lockdown and experiencing the world as many other people were experiencing the world. Really feeling quite uncertain about what lay ahead for the world and for myself. So there was just that sort of swirl of emotions within myself. And literally, when I was told that I would be playing this character on this show, I felt just disbelief. Number one, I literally couldn't believe that this was happening to me. It felt like winning the lottery, to be honest. But I also felt a sense of responsibility, and a renewed sense of purpose even.
As a performer, it feels very frivolous to be an actor most of the time, even though I think entertaining people certainly holds value, allowing people to feel a sense of escape and joy and those positive emotions, you also hope that you're able to express things that connect with people in a really profound way. So whether it's connecting in a way that allows them a sense of empathy, I have always tried to figure out how can I feel that sense of purpose and that sense of importance.
So this character, for me, is navigating a lot in the same way that I felt like I was navigating a lot—it was very internal. And I think with a queen, there are very few people that a queen can confide in and be truly honest, and truly have their guard down or even be vulnerable. They're the public-facing leader and need to present calmness and authority. They have the answers and they're going to make the choices to guide society towards the greater good. So there's all interesting stuff to mind creatively.
How did you prepare? Did you watch the films or stay away from them?
For me, I sort of fall in the category of one of the characters that's in Tolkien's canon, but has not been presented on screen. I, as the Queen Regent Míriel, for a lot of Tolkien readers—the deep divers—they've read about Númenor. So there are elements that some people are familiar with, but the films don't portray that world or this character. And I knew that the showrunners' and the creatives' take on the Second Age was going to be very much their take but always referring back to Tolkien's. So if anything, it was really more about his writing and the literature that were going to be the places to turn to.
There's all kinds of things, there's music, there are the films, things that inspire and sort of get you pumped up and get you ready to be part of this world. But I think for me, it was about using Tolkien's writing as the foundation and feeling like I could bring something that resonated in 2022 and beyond, because we're choosing to tell the story now.
I think people are hungry for, especially within fantasy, something that feels forward-facing, both in female characters and having female characters that are three-dimensional and fully realized and not just there and supportive of male characters. They have their own lives and their own stories going on.
And then just the diversity that we see in the world we want to see in our stories. Just to be a woman of color in this world, it feels like if you're gonna tell this story now, you'd want to have that. It feels very organic to me that that would be how it would all sort of look and feel today.
Some of your co-stars wear some pretty wild prosthetics and makeup. Were you ever jealous you didn't get to wear such makeup?
I mean, my hat's off to all of the actors who portray creepy creatures, specifically orcs, because that is a skill set. I don't even know if I could put on full face and body prosthetics. It takes many hours to put all that stuff on. But there's also movement and there's sound of voice. I think it was more the juxtaposition of seeing an orc walking through the parking lot or seeing an orc on their cell phone or like smoking a cigarette.
Your upcoming film The People We Hate at the Wedding sounds great because I hate weddings. Do you hate weddings too?
I enjoy easy weddings. I actually got married during the pandemic. But I love the title of this film so much because it is so evocative, immediately you know who those people are. What was so great about getting a chance to be part of this film after I finished Rings of Power, after I left New Zealand, I sort of went, "Okay, that just happened and I can't tell anyone and I can't talk about it."
I came to London and I got to be part of this film and this world, which is a complete 180 from the fantasy of Queen Regent Míriel. I portray a woman who is having this namesake wedding and her American relatives are invited and come to show themselves, shall we say, amongst the upper crust Brits. And my family in the movie, Kristen Bell and Allison Janney, what a family! An incredible cast. And Claire Scanlon, our wonderful director, who's done a lot of comedy.
Just to get to shift from very serious fantasy to wedding family comedy drama in London. It's definitely a love letter to London, you see a lot of London iconography. Both of these roles are things that I haven't really gotten a chance to do in my career. I want to feel like I can stretch and show different sides of myself. I was born in London way back when, I know you can't tell, my accent is totally gone, but I never get asked to play British, so getting the chance to be British American and get the wedding that I didn't get to have during the pandemic was so exciting. It was a blast. I literally got to have an English countryside wedding [in the film].
Listen to H. Alan Scott's full conversation with Cynthia Addai-Robinson on Newsweek's Parting Shot. Available on Apple Podcasts, Spotify or wherever you listen to podcasts. Twitter: @HAlanScott