Dan Harmon and Justin Roiland's show about a grandfather and grandson who go on interdimensional adventures together has exceeded all expectations since it launched in 2013. What started as an animated cult hit, has developed into an international sensation, with the characters of Rick and Morty crossing over into mainstream media in various guises.
Season six of Rick and Morty launches on Cartoon Network's Adult Swim on September 4, returning after what the creators admit was a rough season five.
Ahead of the season premiere, Harmon and Roiland, along with producer Scott Marder and voice actors Sarah Chalke, Chris Parnell and Spencer Grammer, spoke to Newsweek about the loss they suffered during the last season, how Harmon is keeping cool to avoid behind-the-scenes blow-ups and why the Rick and Morty movie will happen.
"I think season six is better than season five, to talk in cynical fan language," Harmon says. "That's because there was a transitional period during season five, we had to focus on the job itself. I'm referring to the loss of our producer Mike Mendel, who was a father figure to the entire crew."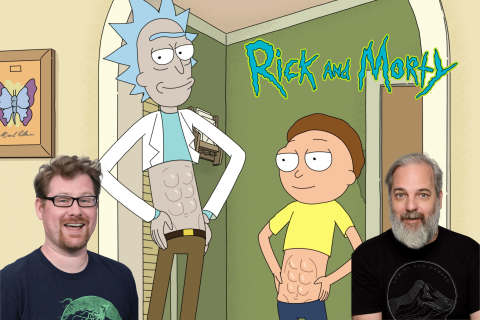 Former producer of The Simpsons, Mendel died at the age of 54 in 2019. Each upcoming episode of Rick and Morty features an ending title card that reads, "In Loving Memory of Mike Mendel."
"No one plans for the absence of the absolute hub of everything. It was his job to hire and fire, and keep the train moving, then one day he's just gone," Harmon says. "The very justifiable question the artists were terrified to ask out loud was 'Who's in charge of these knuckleheads, me and Justin, now?' The answer is his longtime protégé Sydney Ryan. She's had to step into her mentor's shoes at absolutely the wrongest time, but she's knocked it out of the park."
He continues, "I would compare it to a shopping spree after the death of a loved one, where you're determined to make life normal, but you're actually behaving kind of insanely. You can feel that energy in season five, and it's not there in season six. There's a stability to it, and we're moving forward again."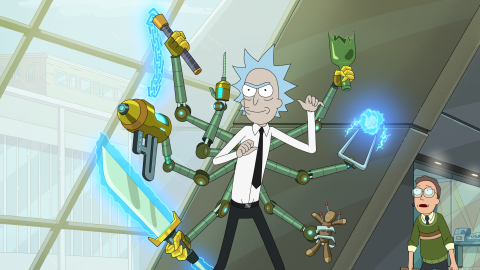 Harmon's fellow "knucklehead" Roiland was the one who conceived the idea of Rick and Morty back in the mid 2000s, initially as a twisted parody of Back to the Future, before it evolved into what it is today. He acknowledged the effect that losing Mendel had on the last season. "Season five was rough," Roiland says. "That was a rough time for everybody. It shook us. I think now we're settled, and we're back.
"Overall I think season six is one of our better seasons. There's some classic sci-fi Rick and Morty stuff here that hits some high peaks in terms of quality. Then there's some good serialization, some canonical moments, as well as some episodic adventure. It's just a really well-crafted season."
Roiland and Harmon's ability to critique their own work, they claim, comes from their humble upbringings.
"Oh, just because I grew up with a famous dad doesn't mean you can throw me under the bus. Jeez, I also grew up humble," Spencer Grammer (daughter of Kelsey) interjects. The actress has forged her own career away from her famous Frasier father, notably playing Casey Cartwright in the college comedy-drama Greek before landing the role of Summer in Rick and Morty.
"Fans don't recognize me from Rick and Morty obviously, I get Greek mostly. I don't get weird fan interactions. I do get people asking me to marry them a lot on Instagram, which I think is really nice." Grammer adds, "I'm not getting as many d*** pics as I'd like, but I'm definitely getting a lot of marriage proposals."
Comic actors Chalke (Scrubs) and Parnell (SNL, Archer) have voiced Morty's parents, Beth and Jerry Smith, since the show's inception in 2013. Looking at how far they believe the show can go on for, Chalke used a popular Rick quote, "Forever and ever, 100 years of Rick and Morty forever and ever."
"Season six is my favorite season that we've recorded yet," Chalke tells Newsweek, "Without spoiling anything, I love all the places the show goes this year."
Parnell says, "It's an exploration of the family dynamics and relationships in the multiverse, and all that is possible there."
Rick and Morty isn't confined to the constraints of the small screen on Adult Swim. Instead, it's used a "portal gun" to jump into alternative dimensions, including our own. Harmon has a Rick and Morty pinball machine that he cherishes while Roiland loved the Rick and Morty McFarlane toys, though he's calling on Lego to get involved next. Grammer, Parnell and Chalke all loved The Simpsons crossover animation with Rick and Morty, though Parnell holds out hope for a Dune crossover event. Producer Scott Marder's favorite Rick and Morty crossover? "The socks."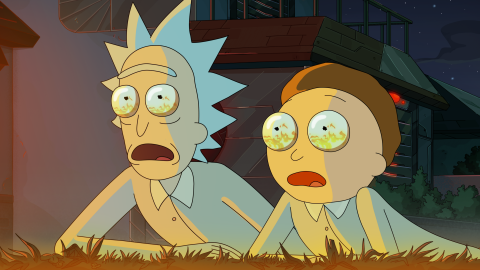 Marder is a co-creator of the long-running FX series It's Always Sunny in Philadelphia, but he's been part of the Rick and Morty team since 2020, with his first credited episode being the Emmy Award-winning "The Vat of Acid Episode."
In June 2021 he made headlines by suggesting a movie version of the show would work. Over a year later, Marder now thinks it's a case of when and not if a movie would happen.
"I believe it is a matter of time. I mean, there's certainly a fan base there," Marder says. "I think it just really falls in a matter of, when do the people internally have the time to get to it? I think the desire is there on both sides. But I think it'll be a wait."
Calls for a movie version of a popular TV show aren't anything new for Harmon, who created another fan-favorite with the live-action sitcom Community. Fans of that show are still waiting for the final component of their call to arms: "Six seasons and a movie."
"I will now say, [about the Community movie], it's a matter of when." Harmon continued, "It may be between one and eight years from now, which is how the industry works, especially when you factor in pandemics and whatnot."
When pressed for further details, Harmon says, "How about this for a concrete thing? There is an outline for it. There was a product put together and pitched out in the world. That's how real it is."
Community ran from 2009 to 2015 and starred Donald Glover, Chevy Chase, Alison Brie, Joel McHale and Ken Jeong. The behind-the-scenes antics of the cast and creators often made headlines, too. Recently directors Joe and Anthony Russo (Avengers: Endgame) told GQ magazine a story about working on Community that involved an angry Harmon standing up and ripping his shirt off.
"I think the Russos directed that story to not include themselves as the part of the reason why that shirt got ripped off. It was partly in jest. They, and producer Russ Krasnoff, were watching me do these rewrites and giving me notes the entire time. I was wearing a shirt I'd been wearing for a week, so it had all these holes in it."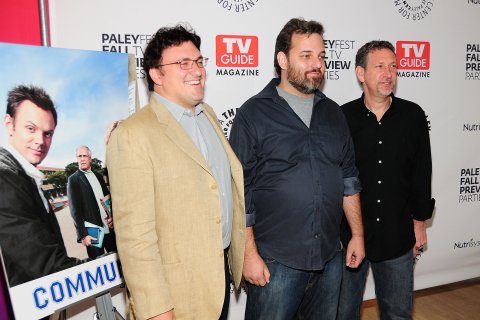 "We came around to this thing, by my perception, where they said 'What about this?' and it was basically what I had pitched to them an hour ago."He then recalls stretching his shirt off in Hulk Hogan fashion, tearing it apart. "They all looked at me and I said 'It's getting exhausting waiting for you guys to come up with my ideas.'"
When Community was being developed, the Russo brothers were the veterans and Harmon was the newcomer. With Rick and Morty, he's taken Roiland under his wing.
"In a lot of ways, my karmic debt for what I did to the Russos on Community is sort of like my partnership with Justin," Harmon said. "I was coming from Community and whatever my trauma was there, but Justin was the fresh genius who needed to be allowed to be as insane as he wanted. I was saying in my head, 'Don't eclipse, don't get close to him, don't trigger him. Protect him and serve him,' and all that stuff.
"All of that always made me realize, 'Jeez, I think this is what I put the Russos through.'" Harmon continues. "I think even if Justin had a suspicion in his head that I'm there to mitigate him, that's an organic suspicion to have when you're collaborating, and I had that suspicion about the Russos, and I shouldn't have expressed it the way I did. An adult keeps it to themself."
Marder chimes in, "We also buy Dan Under Armour so he can't physically tear his shirts off anymore."