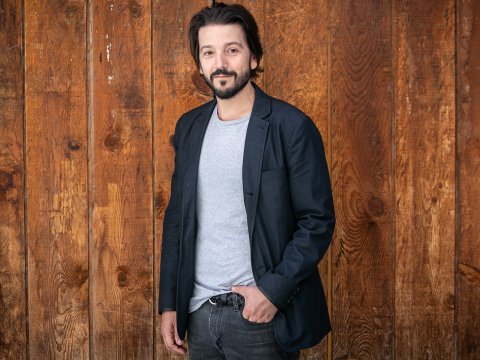 "To me, [Andor] is the story of a refugee."
For Diego Luna, the sheer idea of being in the Star Wars franchise was foreign. "I didn't even think about it. I was okay being a fan." Now he's starring in Andor (September 21, Disney+), reprising his character Cassian from the 2016 movie Rogue One. Set five years before the film, "way before [Cassian] understood he was capable of doing that. Way before he was committed to the cause, way before he believed in change." Part of what makes Luna's involvement in the series so unique is the very thing he once worried would be a hindrance: his Mexican accent. "For me to play [a character] like that, where I would feel comfortable and it would make sense, in terms of context, accent, everything. Back then I didn't think there was room for that in Star Wars." Ultimately, Luna believes that even though Andor "happens in a galaxy far, far away," the show's "diversity and complexity" is the perfect evolution of Star Wars storytelling and "reflects the world we live in" today. "We have the responsibility of being different, and that's what Andor is there for."
SUBSCRIBE TO THE PARTING SHOT WITH H. ALAN SCOTT
ON APPLE PODCASTS OR SPOTIFY
Did you ever think you'd be part of the Star Wars franchise?
No, never. I didn't even think about it. I was okay being a fan. I grew up doing theater in Mexico, then I started doing cinema and TV. It wasn't till I was 20 years old that I actually started to travel with my work. I was really happy working at the national theater company here [in Mexico] and doing stuff I loved and working with amazing people. I was okay with that. And then Y tu mamá también came and things started to change. I started traveling a lot. Someone like me, it felt special because there was a chance to participate in projects, not just in the States, but in Europe and Latin America. For me to play [Cassian Andor] like that, where I would feel comfortable and it would make complete sense, in terms of context, accent, everything. Back then I didn't think there was room for that in Star Wars. But I am not the kind of person that sits down wanting to be somewhere else or [on] the journey of someone else.
It is unique to see and hear someone like you in a Star Wars project, and I think it will do a lot of good for people. Did that stand out to you?
I think you can't say Star Wars as if it was one thing, because it's been evolving, transforming through the decades. Star Wars speaks to an audience the age of my father and my son, it's huge. Therefore, it's been transforming. And I think it's always a comment on its time. If you revisit those first films of the '70s and '80s, you can tell they're making a comment on that world. And now from afar, it looks very political, and social driven, even though it's always Star Wars. I believe the Star Wars that I joined is making a comment on the world we're living in, where things are changing, storytelling is changing. Even though it happens in a galaxy far, far away, in the end we ended up reflecting on the world we live in. It's full of diversity and complexity.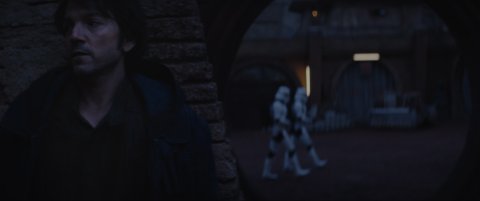 So where does Andor take place in the Star Wars landscape?
If you saw Rogue One, it has a beginning and an end. So now we are going five years before Rogue One. This first season—we're doing two seasons—the first season covers that first year. We're going to meet the man we saw in Rogue One way before he understood he was capable of doing that. Way before he was committed to the cause, way before he believed in change. And we're gonna see not just him, but his community. It's the most grounded Star Wars. I believe this one is about the people, it's about the awakening of a revolution. We're gonna go deep into the rebellions and we're gonna witness the reality of not just people in his community, but both sides. It's a moment where the Empire has complete control in the galaxy, so we're gonna go through and see people working for the Empire and see what their lives are like. We have to understand the context. For a revolution to arrive, we have to understand what oppression means. These are marginalized communities, where freedom is not there for everyone. And we're going to see why. Why this movement is needed.
I think that's one of the most compelling things, how Andor shows the impact of the Empire on so many different types of people, so many of them representing marginalized communities not just in Star Wars, but in the real world.
With Rogue One, we had the chance to be different. Today, I believe we have the responsibility of being different, and that's what Andor is there for. It's kind of a standalone in the universe of Star Wars' original series. This new format that Star Wars is exploring now, this is long format, and we are supposed to be different because we also have a beginning and an end. The end everyone knows. It's been announced that we are just doing these two seasons—we are already working on the second season. We can tell you a story from beginning to end, it's a story you can join. Even if you don't care about Star Wars or you don't know what Star Wars is—which I would be very skeptical to believe—but if you don't know what Star Wars is, this is the way to start. If you know Star Wars, if you've been a fan for years, you will have that energy that Rogue One had, that homage to the genesis of Star Wars in terms of the cinematic language. It's like we are not doing 12 episodes, we are doing four films.
The tone of Andor is serious, there's a darkness, but also tremendous hope. What is it about Andor that feels different from other things we've seen in the Star Wars franchise?
I would say that it was the freedom. The script I was offered in Rogue One, there was a chance to build something from scratch. That film is very much about an event. The backstory of the characters is something that was there for us to find, and now we're telling that story, which is amazing. It's interesting to see how an event happened and why these people got involved, who they are, and what gets you to the point where you're willing to sacrifice everything for a cause. So I think that the big difference between this character and any other characters that we know probably is that he has a really, really dark past. He says something in Rogue One that is important to remember, "I've been part of this fight since I was 6 years old." So you can imagine what that means, someone that had to give up his childhood in order to join a fight because he's pushed to. That tells you a lot about someone. About how many times he had to leave everything behind. To me, it is the story of a refugee, the story of someone that is forced to move. And that's when I find it echoes the world we live in. It's someone that is forced to move, and it's someone that understands belonging in a different way. And then the thing we were talking about, the accent is important, if you think of Rogue One, no one shares his accent. He's clearly coming from somewhere else and finding a family and a team that he can belong to. And I think that makes him a very complex character, full of contrast. It's difficult to approach this man from the moral standards of good and bad, right and wrong. He lives so much in the gray areas and it's just a man trying to be the best version of himself. When we find him, we find him in a very dark moment, in a very selfish moment. It'll be interesting to see what needs to happen, what triggers that in people where you suddenly realize you could be useful, you understand that you are capable of joining others and becoming part of something bigger.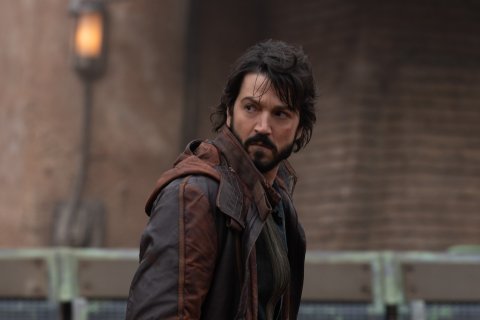 You're also a producer on Andor. In fact, you've directed and produced a number of projects. What is it about the behind-the-scenes process that you enjoy so much?
I think I started producing first and then directing. It all comes from my background. My father is a set designer. He works mostly in theater, but I grew up watching the whole process. I grew up being part of the process from scratch. From the moment things are just ideas and people-gathering and starting to build a team and then I learned to enjoy that part of the process and understand how much is decided there. How much that process matters and how much that process makes projects different. As an actor, you're always invited to a very important part of the process, but not many moments where you could actually have an input and be transformed by the project. Many times as an actor you don't even know what project you were part of until you watch. I started wanting to get involved. I realized I enjoyed a lot of the process. You get a lot of attention sometimes in this job, sometimes for the wrong reasons, and I just wanted to get that attention to be part of other people's projects and help others to tell their stories and learn from their process. And then when my son was born I decided to direct for the first time. That was 14 or 15 years ago. Since then it's been amazing, because I can [be] part of what I love, which is storytelling, but from different positions. Sometimes it's needed to step back, work with others, but not have to make the choices, either to just raise questions, which is what I did in this project, basically, as a producer. Better to raise the questions when they're needed and when there's time to actually react, because in Rogue One, I felt like I was thrown into a vehicle already moving. I just had put my seatbelt on. But now [on Andor] I had the time to protect things and to transform with the project, which is the best you can get.
How does it feel to be a toy? It must feel strange, to see yourself out there on merchandise?
Definitely. I try not to think too much about it. But I'll tell you, first of all, I do think it's crazy. It's not something you should get used to. If one day you get used to it, you're ruined, it's over. I mean, it's not normal. You should play with toys that are as far as possible from your father. But this morning, I left my son's room, my daughter was asleep but my son was awake and I was traveling for work. So I said, I'm leaving and he said, "What about the toy?" Because I promised the toy. I gave him the toy I was given, one of these ones that has the big head. I gave it to him. I left. I said goodbye. And when I was in the car I was like, "This is so wrong. I just gave him a toy to say like, daddy's here in a weird, weird form. Here is my toy so you can remember me. Well, I'm on my way." So weird. So ridiculous. Anyway, it's part of the journey. The good thing is my kids are old now and I think in great shape to take the scene as it is. They also know my work in Mexico, they went to see me in the theater recently, in Madrid in front of 250 people. So a very intimate moment of what my work is not necessarily at the toy store. It's like there's another side of it, they understand that. So I think they'll be fine. I worry more about me.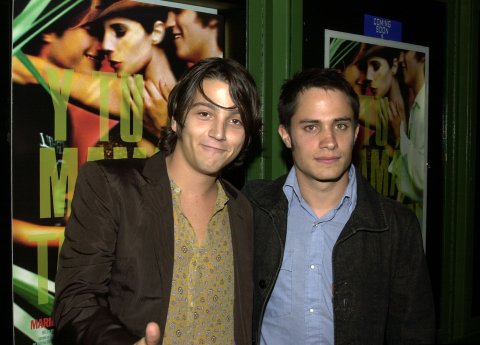 Y tu mamá también was huge. It was the first foreign film I ever saw. How do you look back on it?
It reminds me how things should be. It's when you're expecting to do that film that will be remembered forever that you do the worst piece of sh*t you can do. It's when your attention is there, you're wrong. It's when you're thinking about the story, when it hits you deeply and it makes sense for you, then someone else out there might connect. Our journey is the journey of many. So I think it's exactly because of that, because we were humble, because we were just trying to do our best. Even though we shot with a great director [Alfonso Cuarón], we still struggled in terms of the budget. We had to be creative and ambitious and solve things fast. And that keeps you in the right place creatively, I think. And it has to do a lot with the moment. There are so many amazing films that come out and no one sees because, I don't know, people weren't ready, aware, whatever that is, but I think there's some magic around projects like Y tu mamá también. It's not just the film we did, it's the moment it came out and what it meant for people and also the luck we had in the journey. We went to the Venice Film Festival and we won. It was great. It was an amazing experience. I remember we were really happy, really happy and excited. The film was getting great reviews and attention and awards and everything. Then we landed in Toronto and it was September 11. Suddenly film meant nothing. What we're doing here means nothing unless the people need the festival to get distracted from this and to find some relief, to be able to breathe. I'm just saying this because whatever film was supposed to premiere that year in Toronto didn't get the luck we got. So film is also about timing, and film is just film. In the end, life is what matters, the world out there that we are portraying and telling stories about, that actually matters. And sometimes the world is ready for a story. And sometimes it's not. Sometimes there's other stuff happening that matters more than film and we just have to move on and do another one and another one. I remember that profoundly because suddenly everything that happened to us wasn't important. We were stuck in Toronto, couldn't fly back home, watching the news and feeling part of a community that was taking care of themselves and trying to stick together and understand what was happening.
Listen to H. Alan Scott's full conversation with Diego Luna on Newsweek's Parting Shot. Available on Apple Podcasts, Spotify or wherever you listen to podcasts. Twitter: @HAlanScott