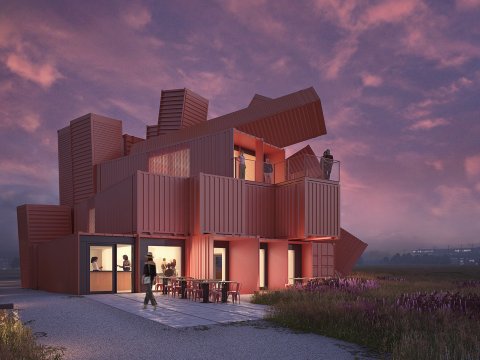 Shipping containers, currently in the midst of a major shortage, have a lifespan of 10 to 15 years when used to transport freight across oceans. So what happens to these massive and durable structures after that? Often they're recycled into low-cost storage—other times they simply sit on docks around the world. Now, architects are finding new and improved ways to unlock their low-cost and sustainable development potential. From upscale Airbnb-type rentals, to housing for the unhoused, wineries, ski lodges and sculptures, here are some ways former shipping containers are getting second lives.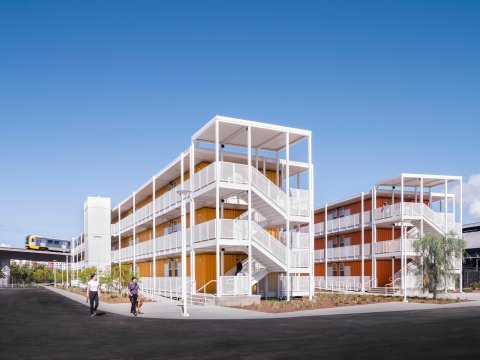 Sustainable Support System
Los Angeles
On land that was meant to become a men's jail, instead stands a 60,500 square-foot housing facility supporting unhoused people. The Hilda L. Solis Care First Village holds 232 units, as well as a common building with laundry facilities, dining areas, a dog park and spaces for counseling and case-management meetings.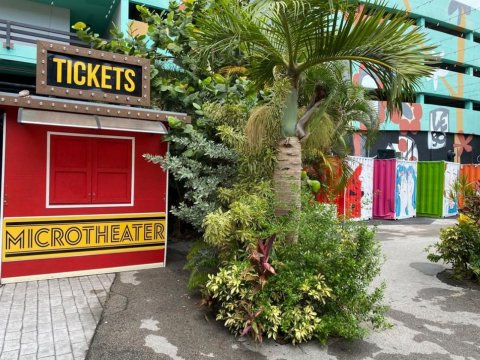 Performing Art Cart
Miami
The concept of the microtheater first began in Madrid, where audiences gathered to watch short performances in different rooms of an old brothel. In 2012, Microtheater Miami made its debut, hosting short plays in shipping containers. Step inside and watch one or all of the original 15-minute skits, presented in English and Spanish.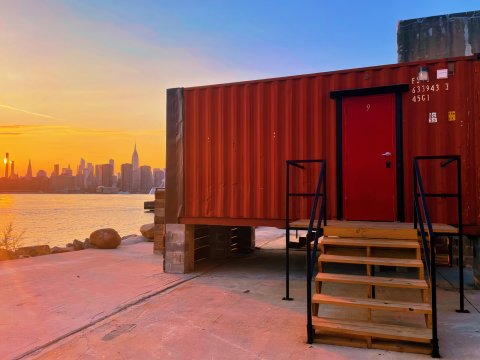 Urban Glamping
Brooklyn, New York
Maybe you can't camp in New York City—but now you can glamp! On the Brooklyn waterfront with views of Manhattan, industrial shipping containers have been converted into rooms outfitted with Wi-Fi and AC. Book a standard unit or a double (aka, two connected containers).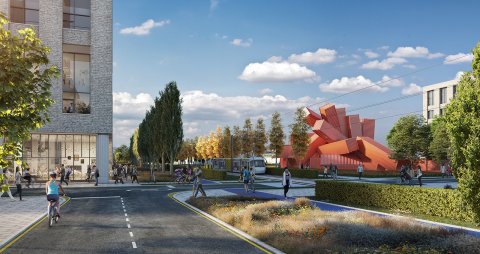 Mach 1
Edinburgh
"Every single thing you buy in the world has been transported in these things," artist David Mach says of his fascination with shipping containers. While still in the design stages, his sculptural installation will soon have a home in Edinburgh Park, with a coffee bar and exhibition space available to visitors inside.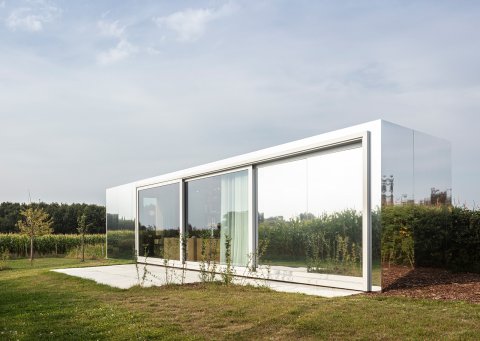 Custom Co-op
Belgium
TOOP architectuur uses shipping containers as mobile offices for its architectural staff. With their mirrored facades and floor-to-ceiling windows, their studios look more like trendy Joshua Tree Airbnbs than workplaces—and that's the point. The offices double as a showcase for prospective clients.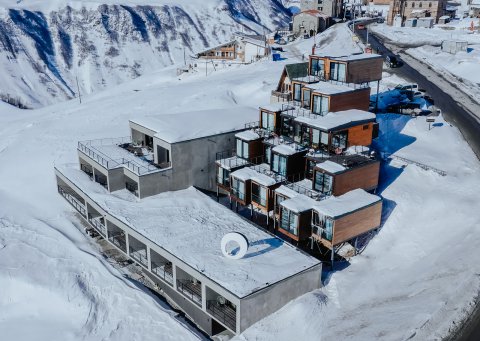 Renewable Resort
Gudauri, Georgia
One might not even recognize that shipping containers constitute the chic Quadrum Ski & Yoga Resort. All the stacked units, camouflaged with wood exteriors that serve as insulation, overlook the Caucasus Mountains. The resort's mission in construction was to preserve the integrity of the surrounding ecosystem while giving visitors a chance to experience Georgia's beauty.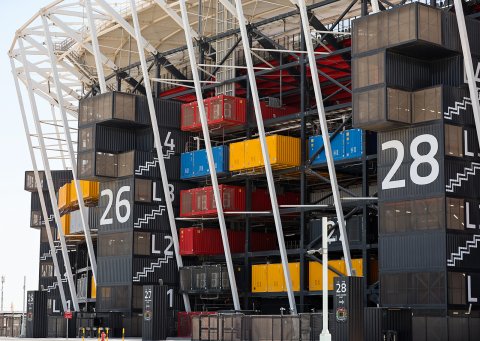 Green Arena
Doha, Qatar
Located on the Gulf shoreline, Stadium 974 is a 40,000-capacity arena created from 974 shipping containers. The first temporary stadium in World Cup history, it will host FIFA World Cup matches this year—and then be dismantled. After the tournament, the containers are slated to ship to countries in need around the world for repurposing.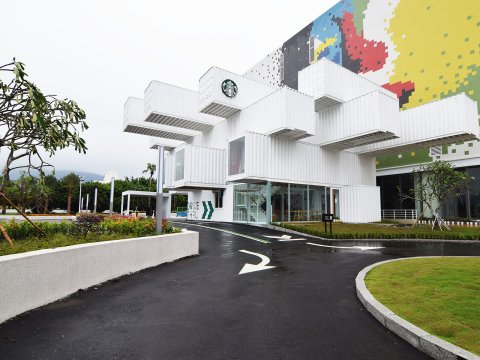 Caffeinated Conservation
Taiwan
This is not your typical Starbucks—although you can still hit the drive-thru. Its design, inspired by coffee trees, features 29 shipping containers stacked in a grid-like manner to resemble branches. While a shipping container doesn't typically scream "natural light," skylight windows are strategically placed throughout the structure.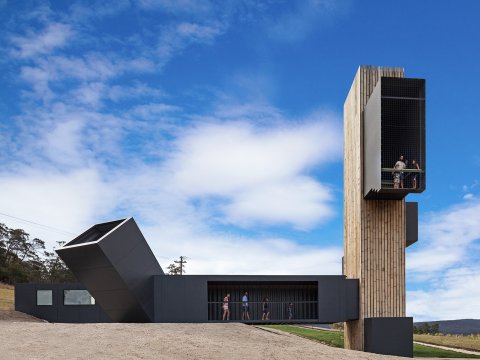 Eco-Friendly Winery
Tasmania, Australia
Nestled beside rows of grapevines and overlooking the sea and mountains sits Devil's Corner, a remote, timber-clad winery. At first glance, it looks like a sculpture, but stepping inside takes you to an upscale tasting room and a lookout tower for even better views.