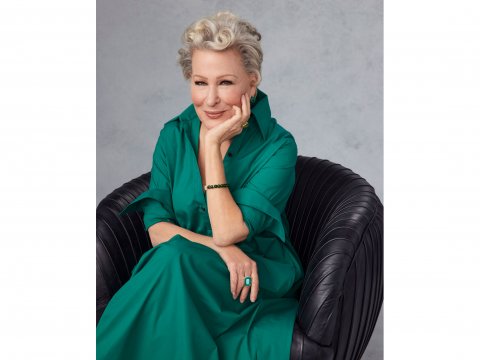 Movie studios don't make sequels to pictures that flop. Which is why Bette Midler thought she'd never return as Winifred Sanderson, the leader of a pack of witches from the 1993 Disney film Hocus Pocus.
Campy and over-the-top, the family-friendly comedy was tailor made for Bette Midler. The Sanderson sisters (Midler, Sarah Jessica Parker and Kathy Najimy) are awoken from a spell cast in the 17th century and proceed to try to steal the youth of the children of modern-day Salem, Massachusetts. Released in July 1993, though, Hocus Pocus was steamrolled by that summer's blockbusters, among them the first Jurassic Park, Tom Cruise in The Firm and Harrison Ford in The Fugitive. While some devoted Midler fans bought tickets—including this writer—the movie stiffed on its opening weekend and was promptly forgotten.
"I was disappointed because we had worked really hard on it," Midler says. "It was fun. So we had this great experience, and we expected it to be translated into the response. When it wasn't, I do have to say it was a big disappointment."
SUBSCRIBE TO THE PARTING SHOT WITH H. ALAN SCOTT
ON APPLE PODCASTS OR SPOTIFY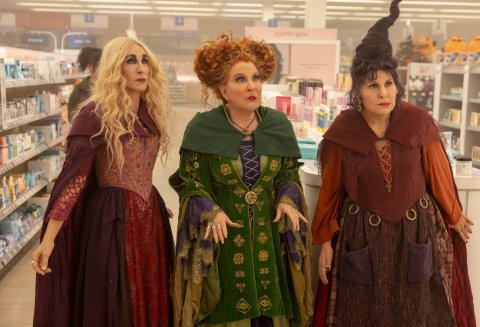 Over the next 20 year years, though, the movie gradually found a dedicated (and vocal) fan base online and via Halloween showings on television. On September 30, Hocus Pocus 2 premieres on Disney+. "I have to say a huge fat thank you and a huge shout out to all the fans that basically made it happen," Midler says. "If it hadn't been for them, we never would have been given the green light to do it."
"When I started seeing it online, I was absolutely dumbfounded. I couldn't believe it," she adds. "I tell you, my mouth fell open. I had no idea that this was going on. And the more you dug into the internet, the more you saw that there was this madness of those three characters.... We started seeing that something was happening. We couldn't quite figure out why. But it was, there's no denying that there was something going on. And as the years went by, it got crazier and crazier."
"I started lobbying for a sequel and, of course, I got nowhere," Midler says. In the last few years, though, the clamor from fans grew louder, especially after Midler arranged a 2020 reunion with Parker and Najimy (joined by Meryl Streep, Mariah Carey, Glenn Close and others) for In Search of the Sanderson Sisters: A Hocus Pocus Hulaween Takeover, a 2020 virtual fundraiser for the New York Restoration Project, Midler's nonprofit focused on environmentalism: "All of us really pitched in. Sarah did, Kathy did. We all felt like it deserved a second life."
"We're really gratified that we got the chance to take another crack at it. When the three witches appear on the screen in this new version, it is as if Elvis has entered the building. It is so nuts."
"We have three new witches [in Hocus Pocus 2], three gorgeous new witches. And when I say gorgeous, I mean gorgeous, very young, who don't know they're witches....We have Winnie and Sarah and Mary as children—I hope I'm not giving anything away. So you have your origin story, your backstory and you have the very contemporary story. It's a big mix." And because Hocus Pocus 2 was only possible because of the fans who supported it over the years, Midler says "[The producers] did take a lot of the information coming from the fans. I don't want to say they were led, but there was some influence there."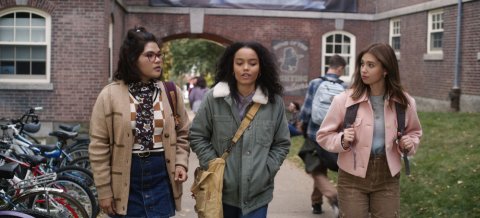 Of course, any project that serves as a love letter to a devoted fan base runs the risk of disappointing the people you're looking to please, but Midler says she is not worried too much about that. "During the pre-production process, you do have qualms, of course. You have doubts, every artist has doubts, but you kind of have to put them aside because you've signed and once you're committed, you have to take it to the end, you have to see it through to the end to the best of your ability. And that's one of the things that I like about my life and my work and my business. My motto has always been, 'Excelsior onward.'"
She continues, "Any work that you do that finds its audience, it's just a thrill. I know that everyone who works in this field, and everyone who works in any form of art at all, is always so grateful when someone says we understand what it is you were going for and we really appreciate your work. There is nothing more thrilling."
It's so thrilling, that Midler wishes the Hocus Pocus magic could apply to some of the other stuff she's done. "I would like for them to go back and see every other movie I've done and see if they can do the same thing."
It's here that one must ask the obvious question about the other film Midler fans want a sequel to: The First Wives Club, co-starring Goldie Hawn and Diane Keaton. The 1996 film was a hit, grossing more than $100 million and placing 10th among top grossing films that year. And big movies frequently get sequels, right?
But according to Midler, "Across the board, in the business, they said, 'Oh, it was a fluke.' If you said to them, we'd like to do a sequel. They said, 'Oh, you can't do a sequel, that was just a fluke that three women had a hit.'"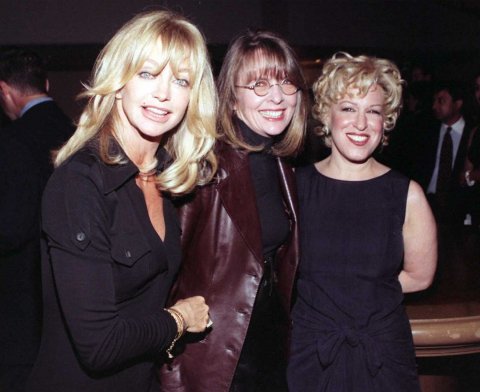 Other top grossing films of 1996 starring men—Independence Day, The Nutty Professor and Mission Impossible—all got sequels, if not multiple sequels. "We tried really hard, we all got together, we lobbied—as people do—but we didn't get anywhere. I think there was something at the studio....I don't know. We never really got to the bottom of it. So I don't think it's possible."
"Women have a much harder time than men with these franchises," Midler says, "There are no female franchises that I can think of, but there are tons and tons of male franchises."
Fortunately for Midler, she was a star before she ever made a movie. Like other multifaceted icons including Barbra Streisand, Cher and Jennifer Lopez, Midler says, the stage is "my happy place. That's really where I live. On the stage in front of 25,000 people....I love many of the movies I made. I really love many of the shows I did."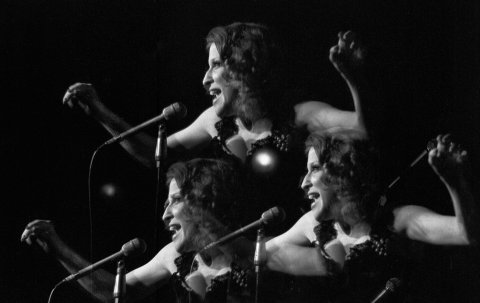 Midler's success has always come when Bette is allowed to be Bette. The two films she's been nominated for Academy Awards for, 1979's The Rose and 1991's For the Boys, are both about performers. Her Tony-award winning turn in the 2017 revival of Hello, Dolly! became a Broadway sensation because people had to see Bette's stage take on Dolly Levi. Even with Hocus Pocus, so much of the camp on screen comes directly from Midler's live shows, which have featured anything from mermaids in wheelchairs to showgirls prancing around the stage to bawdy humor that would make your mother blush (even if she's a fan). Midler's been doing this for the past 50 years, ever since her first album, The Divine Miss M, debuted in November 1972, earning her the first of three Grammys.
"I've so rarely made a wrong move and that's just instinct, and not just instinct, that's craft. I have a lot to be proud of in a 50-year-long career. I've had serious blips along the way, serious snags along the way, but that's a matter of picking yourself up and going on. I'm really proud of myself. I'm proud of everybody that worked with me. I'm proud of the fact that I was able to make so many people happy at once."
"I'm giving my own eulogy,'' she says laughing.
Listen to H. Alan Scott's full conversation with Bette Midler on Newsweek's Parting Shot. Available on Apple Podcasts, Spotify or wherever you listen to podcasts. Twitter: @HAlanScott