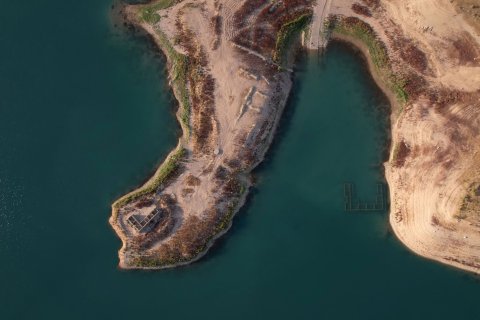 Extreme drought gripped the world this year, fueling wildfires, draining rivers, reducing harvests. Amid the climate hardships are artifacts of thousands of years of lost history once buried or flooded, now reappearing due to plummeting water levels. From a sunken WWII-era landing craft in Nevada to an abandoned village in Iraq to a medieval horse bridge in England and undersea prehistoric stone monuments in Spain, here are sites that silently witnessed and documented historic climate change.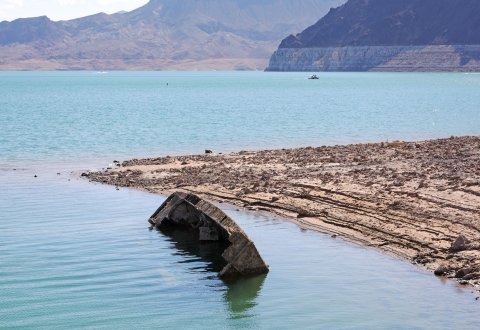 D-Day Debris
Lake Mead, Nevada
The fast-receding waters of Lake Mead exposed a sunken World War II-era vessel—a Higgins boat used for beach landings. The rusted craft once surveyed the Colorado River; after being sold to a marina decades ago, it got stuck in sediment nearly 200 feet underwater. Before the boat was uncovered, the megadrought resurfaced bodies of more recent homicide victims and left a white "bathtub ring" of mineral deposits around the lake.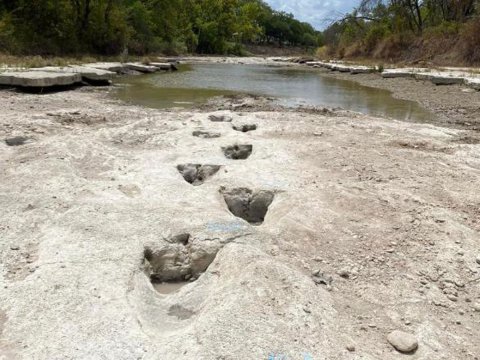 Footsteps of Carnivores
Glen Rose, Texas
Recently revealed footprints at Dinosaur Valley State Park, show 15-foot-tall carnivorous dinosaurs trod this spot in Texas 113 million years ago. Usually hidden underneath the Paluxy River and filled with sediment, these tracks appeared this summer when the river completely dried up. Eventually rain will likely bury them again. The prints belong to Acrocanthosaurus, bipedal dinosaurs with three toes and claws on each limb. The last time the prints were visible was in 2000.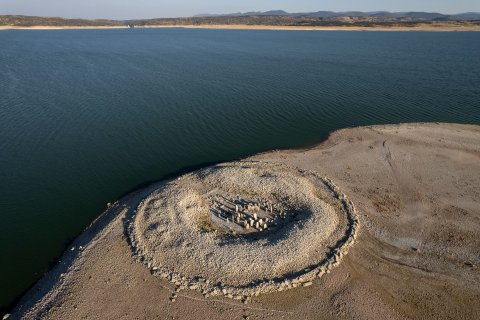 Spanish Stonehenge
Cáceres, Spain
The past reemerged when water levels plummeted to 28 percent at the Valdecañas reservoir in western Spain in August.The Dolmen of Guadalperal, known as the "Spanish Stonehenge," dates back to 5000 B.C. Who erected these 140 prehistoric boulders—or their exact use—remains a mystery. Archaeologists speculate that the dolmen could have been a collective burial site, a trading hub and the oldest realistic physical map in the world. It has become fully visible four times since the 1960s.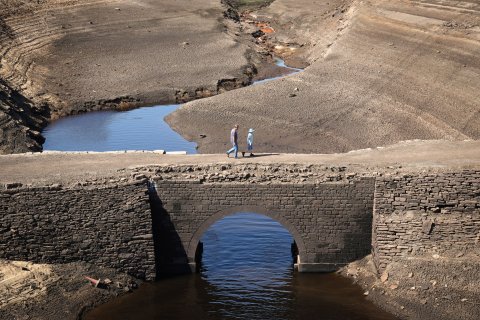 Bridge Across Time
Ripponden, United Kingdom
A prolonged drought during this scorching summer lowered water levels at Baitings Reservoir so much that remains of a sunken village appeared in northern U.K.—including an ancient packhorse bridge that linked Yorkshire and Lancashire. The reservoir, created to supply the nearby cities with water, flooded the village in the 1950s. With levels significantly lower than normal, Yorkshire Water has applied for permits to impose water-conservation measures.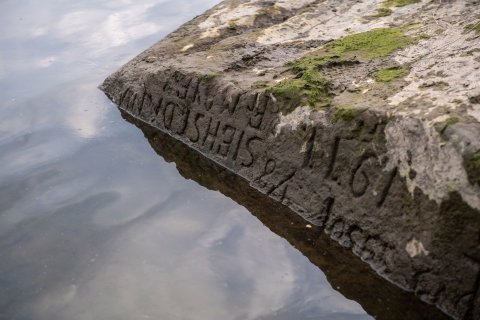 Hunger Stones
Decin, Czech Republic
"Wenn du mich siehst, dann weine" ("If you see me, weep"), reads the ominous inscription on a rock in the Elbe River that begins in Czech Republic and flows through Germany. Records of hardship, the hunger stones—with engraved words warning future generations of drought—were embedded into rivers during drought and famine years from the 15th to 19th centuries to mark water levels. Nearly 80 have resurfaced in recent years.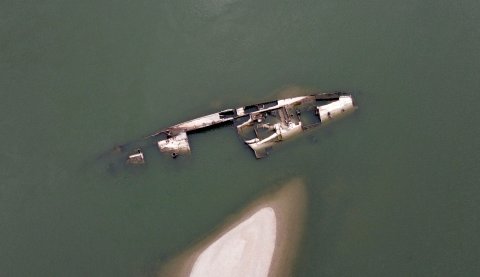 Rusty Explosives
Danube River, Serbia
A historic drought parched the Danube and unveiled a graveyard of more than 20 German warships. Part of Nazi Germany's Black Sea Fleet that sank in 1944 while fleeing Soviet forces, these giant, rusted vessels are believed to still carry 10,000 explosive devices, posing a threat to water quality and the local fishing industry.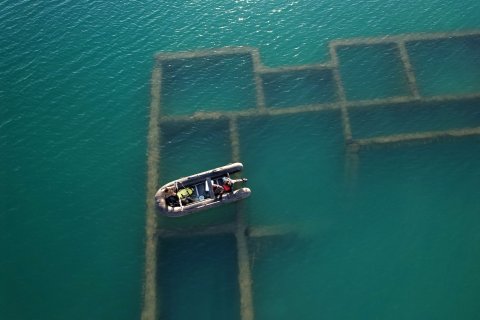 Village Ruins
Dohuk, Iraq
The village of Gary Qasruka, a Kurdish village in northern Iraq abandoned in 1985, once housed 50 families. They resettled as the Dohuk dam construction began, leaving the village engulfed by water and its stone walls eroded and painted by algae. The square city walls have resurfaced four times in the past three decades due to drought.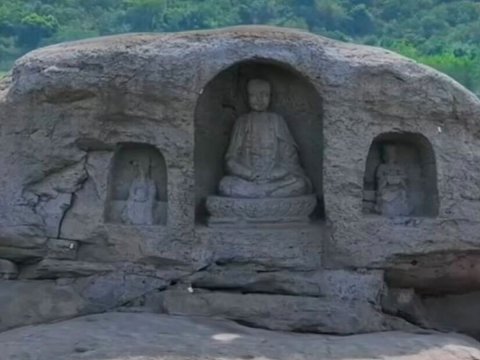 Emergent Buddha
Chongqing, China
It's almost like an ancient myth; when drought persists and water recedes, the Buddha emerges from the river, praying for rain. That is just what happened this summer in the longest river in Asia. Plunging water levels in the Yangtze River resurfaced a reef island, on top of which sits three Buddhist statues. Likely built during Ming and Qing dynasties, the statues are believed to be 600 years old.