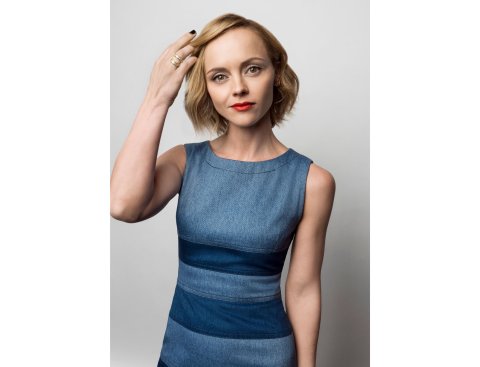 "There have been many iterations of her, because she's really a character that the fans have owned."
Rarely does a performance, let alone one by a child actor, become a cultural reset for an entire generation. That's exactly what happened when Christina Ricci first played Wednesday Addams in The Addams Family movie (1991). "There have been many iterations of her, because she's really a character that the fans have owned." Calling Wednesday "a figurehead in a way," Ricci points out that the love for her is so strong, "there are memes with lines she never said." Now Ricci is helping usher in a new era of the character with Netflix's series Wednesday (November 23), where she'll play a teacher in the school attended by Wednesday (Jenna Ortega). The path from child star to acclaimed adult actor appeared seamless for Ricci, although she says "it didn't feel that way, but I'm glad it looks that way," saying "I definitely got lucky." Soon she'll return to her Emmy-nominated role of Misty in Yellowjackets (Showtime). "I've been so happy that people responded to the show this way. It's wonderful to be a part of something that's new and different and really inspiring for people."
SUBSCRIBE TO THE PARTING SHOT WITH H. ALAN SCOTT
ON APPLE PODCASTS OR SPOTIFY
What do you think it is about Wednesday Addams that connects with people?
When the movies came out, I think what resonated with people was to see a little girl who feels no pressure to conform. We remember being little girls, and there was this whole "girls are meant to be pleasing and meant to be well behaved." I can remember so many times having to behave in ways that I didn't want to and acquiesce to the societal norms. To see a little girl who feels no pressure to do that, who doesn't conform and respects themself enough to set limits and boundaries, I think that's really what people responded to. And somebody who just doesn't even understand why anybody would be disingenuous to their own nature, I think it's an admirable character.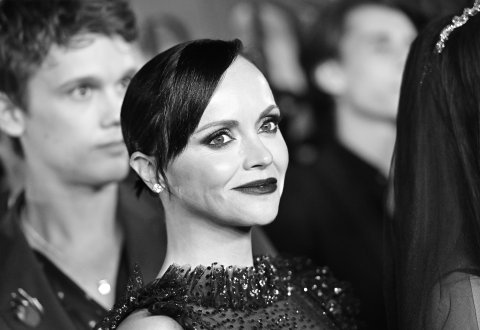 She really set the tone for a lot of female characters who followed her, like MTV's Daria, Aubrey Plaza on Parks and Recreation, etc. It's probably why memes from the films are so huge.
There are memes with lines she never said, so she's become a social media character that she was not in the movie. There have been many iterations of her, because she's really a character that the fans have owned and recreated and given her dialogue she never had and all these things, so she's very much been that kind of person. A figurehead in a way.
After you did the films, did you ever have any issues moving on from the character, considering how much people identify you with that character?
I never really felt that pressure, so it didn't really.
Where do we meet Wednesday in the new series?
The show follows Wednesday as a teenager, she goes to Nevermore Academy, which is a famous school for children who would be considered supernaturally other. It's where Morticia and Gomez [Addams] went to school. We get to see her at that school experimenting with her growing, developing powers. And there's a mystery element to the show. So we see Wednesday solve a mystery.
Are your kids aware of the impact of Wednesday Addams?
I don't know that they're aware of the impact. My son has seen the movies and the cartoons and all those things. But I don't think he could possibly sort of imagine what impact that actually had for me when I was a child.
Pivoting here, how do you feel about the excitement over Yellowjackets?
It's great. It's really amazing. I've been so happy that people have responded to the show in this way. It's wonderful to be a part of something that's new and different and really inspiring for people. It's been wonderful.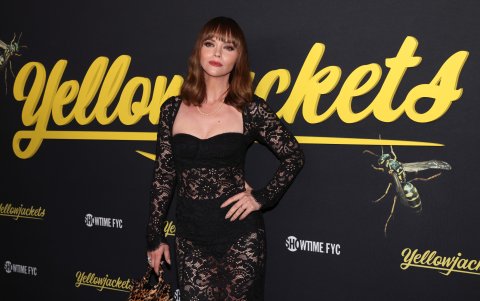 What surprised you about the reaction to Yellowjackets?
While we were making it, we were like, "Oh, this is good. I think this is going to be pretty good." I could never have expected that it was going to be so successful.
What is it about the show that you think people connect to?
I'm not entirely sure, to tell you the truth. I can't tell you. For me, what I love about the show is that it's a complete lack of condescension. It comes from a place of assuming that we've all gotten over this realization that women aren't complicated, varied, and good and bad. It starts from that, and so it handles all the women characters in a way that feels so respectful and normal and not precious or condescending.
And your character is so unlike anything you've played before. Like I really don't want to accidentally run into your character.
You just don't want to engage. She's one of those people. Like, don't make eye contact. Just don't engage. It's like how you deal with a narcissist. Basically, that's who she is. She's very different from me. I'm glad that you noticed that because people seem to say you love to play these kinds of characters, and I'm like, I feel like Misty is so different.
Oh yeah, and I've watched most of your films. Very different.
You're the first person who's mentioned that, which I find really funny. But yeah, she's very different because she's so upbeat and sunny that it's hostile. She is absolutely concerned with seeming normal, which no one I've ever played has been like. She also really weaponizes traits about her where I don't think I've ever played such a manipulative character before. This is a version of a person, and I think it's an underrepresented version of a person and a personality type. I think that passive aggression is a very valid form of dealing with your anger when you are a person who feels physically threatened or powerless in the world. So to discount it or not say it's a valid expression of anger for a character, I've always had problems with that. So I loved being able to play this super passive-aggressive person who functions in the world. Yes, it's an extreme, but it doesn't feel that foreign to me.
You're right, down to her even being a nurse. She does things that give her power, but also force people to respect her, love her.
She wants us someplace where she has any small amount of power and controls the person who feels so powerless in their life. She's not sexy. She's not funny. She's not cool. She's socially awkward. She's supposed to be someone who has scraped together her happiness, who has put together everything she needs to make herself happy, because nobody was ever going to do it for her.
Have you started working on the new season, and can you give us any hints what will happen?
I actually have, but I don't really know. I read the first two episodes and I was like, oh my god, it might actually be better than the first season.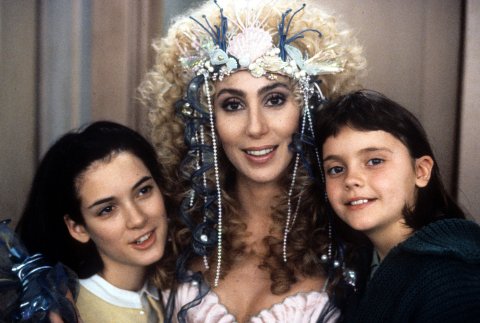 I love the film Mermaids so much! I like to imagine Cher is still a mother figure for you. Do you have any memories of working on that film?
Cher was amazing. I spent all my time with her in her trailer. She taught me lots of stuff. She used to let me hide from my tutor in her trailer. She would do sleepovers. She was so cool. She taught me so much. She was really everything you would hope Cher would be.
It does feel like you were able to transition from child star to successful adult actor pretty seamlessly.
it didn't feel that way, but I'm glad it looks that way.
What was so cool, being around the same age, you kind of were becoming the adult I wanted to be.
I mean, I definitely got lucky. I got to fulfill who I wanted to be as a teenager, for sure. Artistically.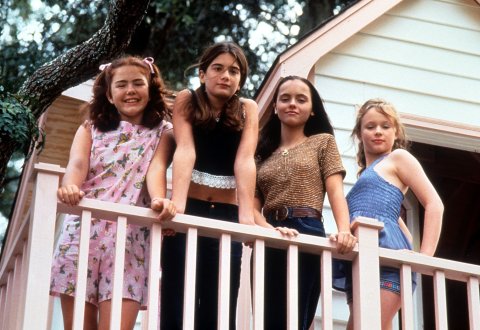 One of your teen films, Now and Then, is one of those films so many kids of my generation connect with, particularly your character. So many queer people see themselves in that character.
What's funny about Now and Then is that I only recently found out that they changed the ending, and Roberta is not a lesbian in it. Because when we made the film, she's a lesbian when she grows up. So being lesbian was in my mind the entire time. What you know of someone who doesn't quite know yet what that means and all that stuff. So then, just recently, I was having a conversation, and they were like, they changed the ending. I completely didn't realize because I haven't seen it since I think the premiere of the movie. So I've never been surprised, because I always thought that my character was a lesbian. It did make sense to me, so never surprising. But it's only now that I find out they did change the end. But it just made a lot of sense to me before.
Even if it wasn't apparent, that vibe of acceptance, but also of being "the other," is kind of part of all of your characters, which really helps outsiders relate to you.
I didn't do it on purpose, but it's really good to know. I can't take any kind of credit for anything, because it was unintentional, but I'm glad that my films have that spirit and my performances have that spirit and I'm glad that they were meaningful for people.
Are there any movies of yours that you're surprised people react to, to this day?
This movie I did when I was little called Gold Diggers. People tell me they love it and I find it very hard to believe. But okay, I'm thrilled.
Listen to H. Alan Scott on Newsweek's Parting Shot. Available on Apple Podcasts, Spotify or wherever you listen to podcasts. Twitter: @HAlanScott