The 2023 Bentley Bentayga Second-Row Seats Put First Class to Shame
Bentley unveiled the 2023 Bentley Bentayga Extended Wheelbase (EWB) SUV this week, an elongated version of the luxury vehicle that gives rear passengers about 7 more inches of room to stretch out.
With the new version the Bentayga, the luxury automaker has made a number of advancements with a focus on the wellness of its passengers.
One of the more notable innovations is the Airline Seat, a high tech development meant to not only heighten the comfort of second-row passengers, but to actively prevent fatigue on longer trips.
Through sensors that continuously monitor a passenger's body temperature and seat position, temperature adjustments are meant to keep that person at their preferred body temperature when pressed against a seat for hours.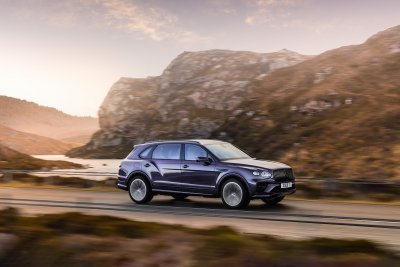 Steve James, head of interior at Bentley, told Newsweek that the company wanted to solve for the potential discomfort that any passenger can experience when sitting in a car for an extended period of time.
"Our approach to seat comfort is all encompassing, and while we can make seat designs as comfortable as possible at some point of sitting static for extended periods your body will always be exposed to the impact of fatigue and thermal discomfort, which will increase over time," he explained. "We wanted to target some innovation around longer term customer journeys, befitting the grand touring nature of the car."
Besides thermal comfort, Bentley also created a system to head off fatigue before a passenger experiences it.
Soft pneumatic activation zones adjust contact pressure at multiple points on the seat in a proactive manner. The automaker collaborated with a chiropractor that specializes in clients who experience fatigue on long car trips.
"The motion allows increased blood flow particularly in the lower back and lower limbs which will result in discomfort being held off for much longer periods and keep you more alert and focused," he said.
Every 25 milliseconds, sensors detect body temperature to an accuracy of 0.015 degrees Celsius.
It's not completely up to the system to determine a passenger's optimum temperature. There are seven different levels that a passenger can select from -3 to +3, which can be saved to their My Bentley profile.
According to the British automaker's development data, about 80 percent of customers will choose 0 or Neutral temperature, which is the setting for no pressure adjustments. It's the Bentayga's "optimal comfort target level."
The +2 setting, for example, is for people feeling back pain and wanting a warmer sensation.
James says that the system is proactive because the sensors can anticipate temperature changes beyond its control and make adjustments before a human can.
"The really clever part is that as a human we can only notice a change in surface temperature between about 1 and 2 degrees Celsius, but as our system is constantly monitoring actual temperature to a much more detailed level, we know what the occupant is going to need before they would know themselves," he explained.
Bentley isn't the first automaker to make strides in seat comfort technology, though many manufacturers tend to focus on the first row.
On Ford's F-150 pickup line, multicontour Max Recline Seats with Active Motion lets you recline 180 degrees on more premium trims.
In higher specs of the 2022 Cadillac Escalade, massage seats are available with pneumatic anti-fatigue functions.
The 2023 Bentley Bentayga EWB is expected to go on sale in Q4 2022.