2023 Raptor R Is the Pinnacle of Ford Performance
Forums asked and Ford listened. The new 2023 Ford F-150 Raptor R is a product of enthusiasm from the automaker's product team, egged on by vocal enthusiasts who wanted to see the supercharged 5.2-liter V8 Predator engine under the hood of a Ford Performance truck.
The most off-road capable Raptor to date isn't a shower. Its exterior is rather mundane as far as high-horsepower trucks go, especially compared to the brutish stylings of its closest rival, the Ram 1500 TRX.
The Raptor R truck's signature FORD grille, bumper and fender flares remain unchanged from F-150 Raptor. A unique, aggressive hood air extractor (20 millimeters taller than the Raptor's) and Code Orange accents are the first clue to the casual observer that this new truck isn't the typical Raptor.
Code Orange is a callback to the original orange accents on the first-generation Raptor.
Ford will sell the model in eight color options, including Avalance and Azure Grey Tri-Coat, which will be Raptor options for the first time.
An exterior graphics package features the number "8" in NASCAR-like styling, signifying the number of cylinders that the model has. Look closely near the rear tires and you'll see a lone "V" Easter egg mixed in with the 8s. The overall pattern is meant to look like dried desert terrain.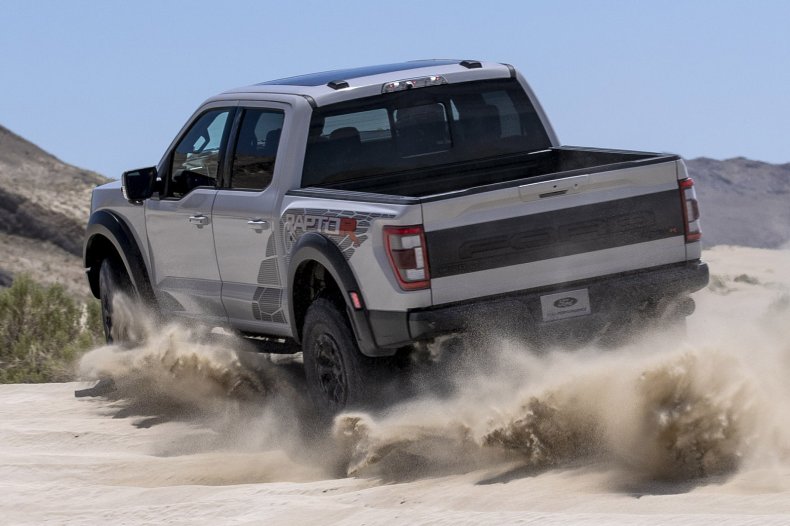 The truck can announce its presence to onlookers in other ways, including its sweetly tuned throaty exhaust note, which comes in four sound levels (Normal, Sport, Quiet and Baja) to appease neighborhood residents and drivers alike.
Ford has made some changes to the truck's engine on its way to being perfected for the model from its original form, which is used in the Ford Mustang Shelby GT500. Under the hood of the performance car it makes 760 horsepower and 625 pound-feet of torque.
In the F-150 Raptor R, the engine will have to sustain more strain than it does in the Mustang. Ford Performance recalibrated its supercharger and installed a new pulley to aid in off-road use, increasing torque delivery through the first few gears.
The engine's exhaust manifolds were changed out to new cast stainless steel versions while the oil cooler, filter, and oil pan got upgrades as well. A wider air intake increases volume by 66 percent.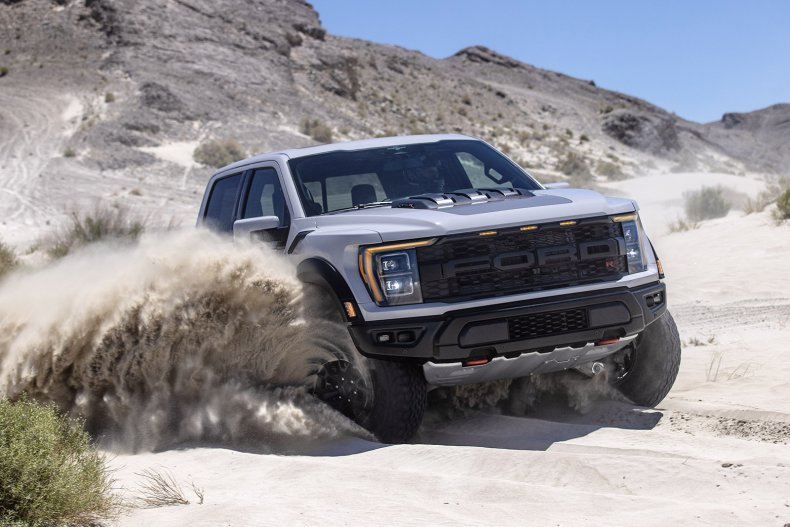 In the new truck, the power-dense V8 delivers 700 horsepower and 640 pound-feet (lb-ft) of torque, making it slightly less powerful than the Ram 1500 TRX. The V8 engine weighs just 83 pounds more than the V6 in the F-150 Raptor.
The 2022 Ford F-150 Raptor is powered by a twin-turbocharged 3.5-liter V6 that makes 450 horsepower and 510 lb-ft of torque.
Both truck engines are paired to a 10-speed automatic transmission. In the Mustang, Ford's Predator is mated to a seven-speed automatic.
The key to Raptor R's success is in the current-generation Raptor's chassis. Rather than mess with success, engineers enhanced the truck's capability with two big equipment musts in mind from the beginning - the engine and big tires.
The Raptor R comes standard with the 37-inch tires that are optional on the F-150 Raptor. Matched with a host of off-road ready parts, the truck is capable of 13- and 14.1-inches of front and rear travel, respectively.
Each BFGoodrich All-Terrain T/A KO2 tire is wrapped around a 17x18.5-inch forged aluminum Matte Black 10 painted beadlock-capable wheel with a Magnetic painted ring. It is available with a Code Orange ring.
F-150 Raptor R, like F-150 Raptor, comes complete with a full-size spare tire.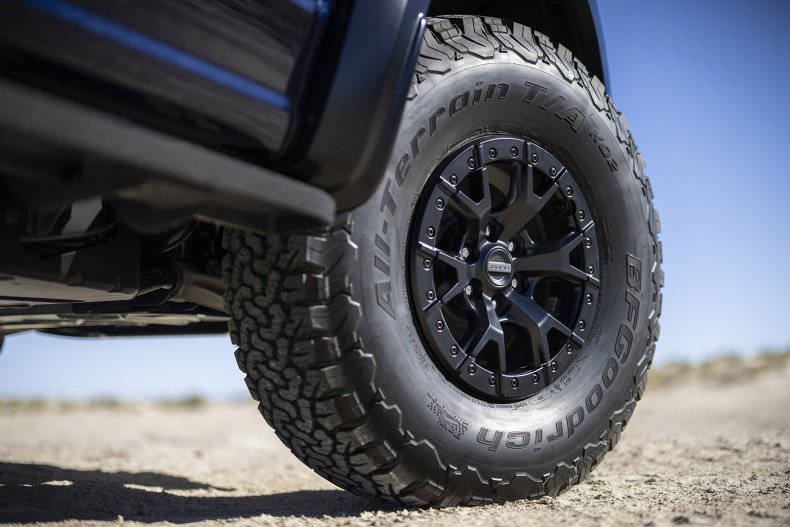 The truck's 13.1 inches of ground clearance is best in class. Its approach, departure and breakover angle all best the Raptor's measuring 33.1, 24.9 and 24.4 degrees, respectively.
As in Raptor, Raptor R has Ford's Terrain Management System, Trail Control, Trail 1 Pedal Drive and Trail Turn Assist technologies, which are designed to make off-roading easier for the driver.
Ford engineers have made it so that the truck doesn't lose any capability evolving from Raptor to Raptor R, including towing and hauling capacity, according to a Ford spokesperson.
Ford also has kept the cab and bed of the Raptor R the same as the Raptor, save for some stitching and emblems. Standard Recaro seats are covered in black leather and Alcantara suede. Tri-axle weave carbon fiber features on the doors, media bin and instrument panel.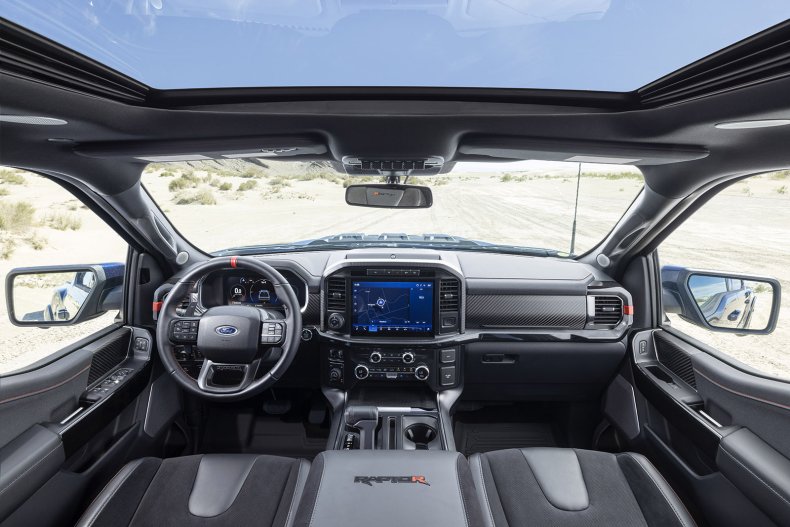 It has the same twin 12-inch infotainment and digital instrument cluster screens, a 4G LTE Wi-Fi hot spot, pre-wired overhead auxiliary switches, over-the-air update capability and FordPass Connect connectivity.
It's 360-degree camera view, Bang & Olufson sound system, rain sensing wipers and navigation system are also holdovers.
Raptor R does not have Ford's Pro Power Onboard system. A Ford spokesperson told Newsweek that this is down to the two-alternator setup that is required and that Raptor R was not able to accommodate that setup.
Ford has priced the 2023 F-150 Raptor R to start at $109,145, which includes a $1,750 destination and delivery fee. Options on the model include the addition of a sunroof and a no-cost graphics package delete.
That's a significantly higher starting price than the Ram 1500 TRX, which has a base price of $78,790 and a $1,795 destination fee attached. But, the Ford comes better equipped. Adding many of the features the Ford F-150 Raptor R has as standard brings the price of the Ram closer to $100,000.
Ordering for the F-150 Raptor R starts today with production slated to begin in late 2022 at Ford's Dearborn Trunk Plant.