2023 Toyota Crown Review: A Bewildering Blend of Decisions and Parts
With its storied heritage, the 2023 Toyota Crown sedan is a natural successor to the Toyota Avalon in the North American market. However, its body style, design aesthetic and drivability make it one to pass on.
Though there are a number of body styles of Crown offered globally, the U.S. gets the sedan, with a high hip point and high-riding-looking design. The Crown sedan is sold in three grades: XLE, Limited and Platinum.
Crown XLE and Limited come with a lower-power 2.5-liter four-cylinder hybrid engine setup that yields 236 horsepower (hp). Crown Platinum comes equipped with a turbocharged 2.4-liter four-cylinder hybrid engine that delivers 340 hp and 400 pound-feet of torque.
The batteries in the Crown are a nickel-metal hydride compound.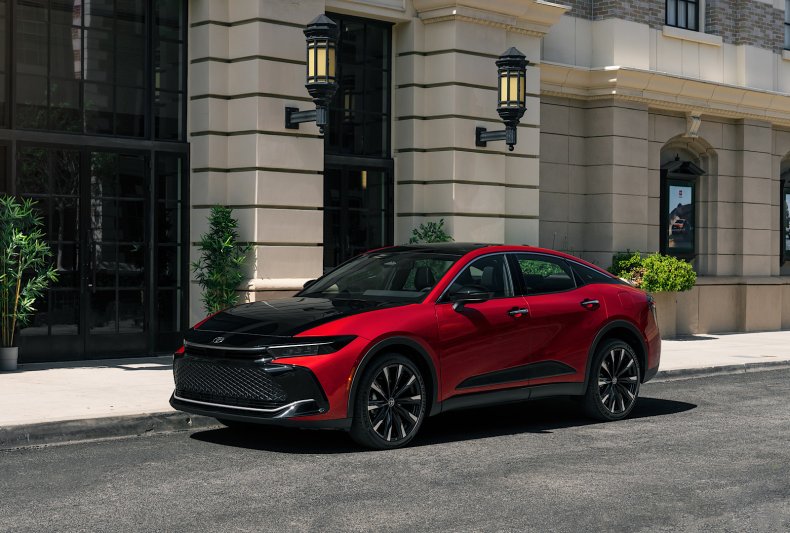 Crown's interior is a mix of Toyota parts bin buttons and knobs surrounded by copious amounts of plastic, and unpadded-feeling cloth or leather upholstery, depending on trim level. The dust-gathering appointments features on nearly every surface that would typically be covered by a soft upholstery, wood or laminate in premium or luxury cars.
Interior packaging checks many boxes. The Crown comes standard with eight-way power-adjustable and heated front seats. Moving up to Crown Limited or Platinum adds ventilation functionality and heated rear seats to the mix.
Dual-zone climate control, a 12.3-inch fully-digital driver's display, 12.3-inch infotainment touchscreen, panoramic moonroof, ambient lighting, wireless Android Auto and Apple CarPlay, USB Type-A and USB Type-C ports are also standard.
Buyers can get a bird's eye view camera display and digital key on the Crown Limited as part of a package or as standard equipment on the Crown Platinum. Those models both come standard with a JBL Premium Audio System.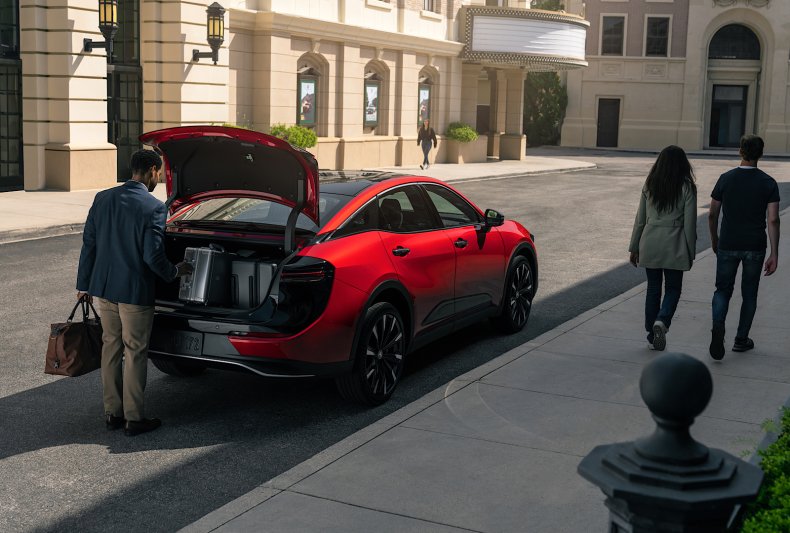 All Crowns sold in the U.S. come standard with Toyota Safety Sense 3.0, the latest offering of safety and driver assist technology from the automaker. The roster of technology on Crown includes a pre-collision system, adaptive cruise control, lane departure warning, lane tracing and road sign assist, automatic high beams and rear seat reminder.
The 2023 Toyota Crown starts at $39,950 and goes up to $52,350. There is a standard $1,095 destination charge on all Crowns.
2023 Toyota Crown Review
Simply put, the Toyota Crown is a mess. Its packaging, appointments, powertrain and styling are a product of a Toyota brand that has too long been relying on its reputation for long-lasting, simply satisfactory vehicles for repeat shoppers rather than creating something truly compelling.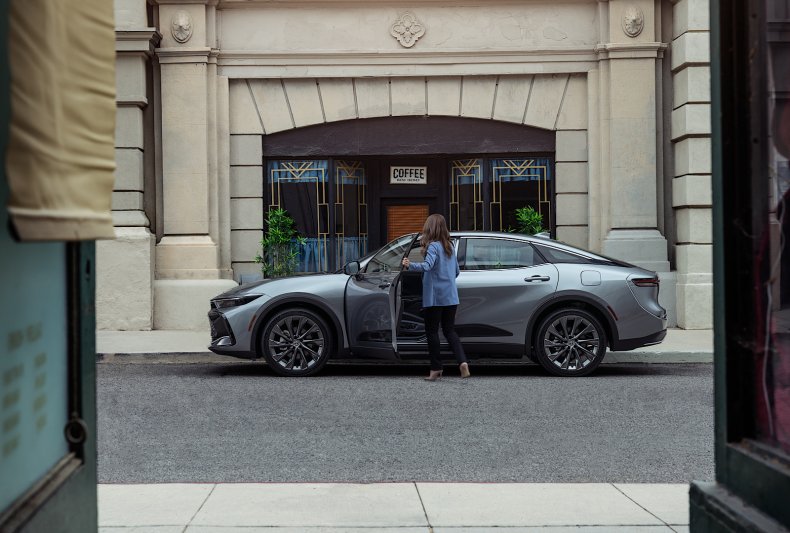 The exterior of the Crown is not wholly offensive to the eye, but in the two-tone red and black paint scheme presented as a fun option by the automaker, is visually offensive. The all-black trunk lid makes the Crown look like it was punched and requires a cold steak or a bag of frozen peas to heal. The giant grille is also a sore spot.
Driving the Crown is not the most joyful experience. Sure, it's steering is predictably numb and its continuously variable transmission (CVT) is whiney, but also its throttle mapping has gone horribly awry in the highest grade, Crown Platinum. There, the car is prone to take off with a shot upon acceleration, but not in the even and stable way that most large car buyers expect. Sure, it's power (better power than offered in the lower grade engine), but it's not refined.
Crown's interior is also unrefined and reeks of cost-cutting. Parts bin switches and knobs, and a center console that is oddly laid out to the detriment of the practical usage owner (USB ports in the cupholders) are the worst offenders.
Why give buyers the practical, easily repurposed space of a wireless charging tray when you can give them a single-purpose vertical charging cubby? Only Toyota knows.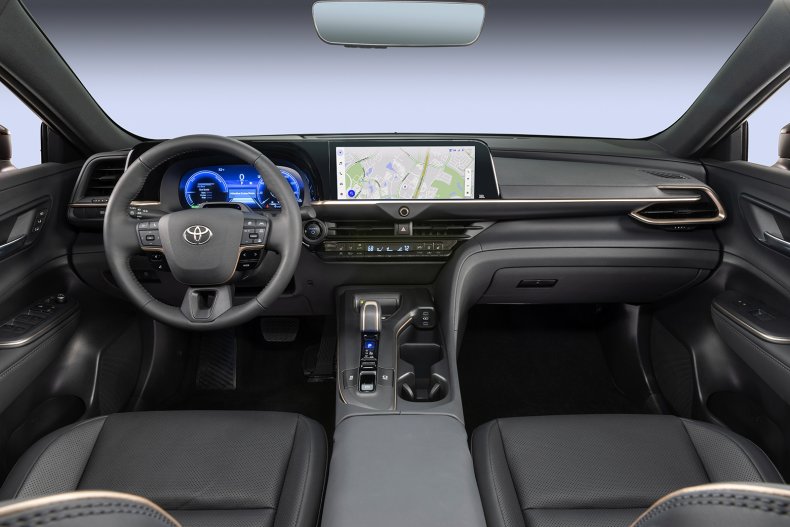 There's also, quite possibly, more plastic in this Crown than in any other car on the market. Not only does it attract dust and fingerprints, it attracts glare from the sun and gives the interior a cheapness traditionally reserved for something like the entry-level Corolla. Tap the dashboard, door interiors, and center center console with your fingernails and the result will leave you mightily unimpressed.
Passenger space isn't all its numbers crack it up to be. The average-sized buyer is likely to feel squished into the car, not from the sides, but instead because the roof is so low any hard breaking can easily make it touch a driver or passenger's head where the forward roofline dips into the windscreen.
The infotainment volume knob sits on the center of the dashboard like an outie belly button. Its saving grace is that it can be easily reached by both driver and passenger.
Toyota's steering wheel looks like it was designed by someone who values function over form, but without really good function at its core. Moreover, it looks dated, especially compared to similar product offerings.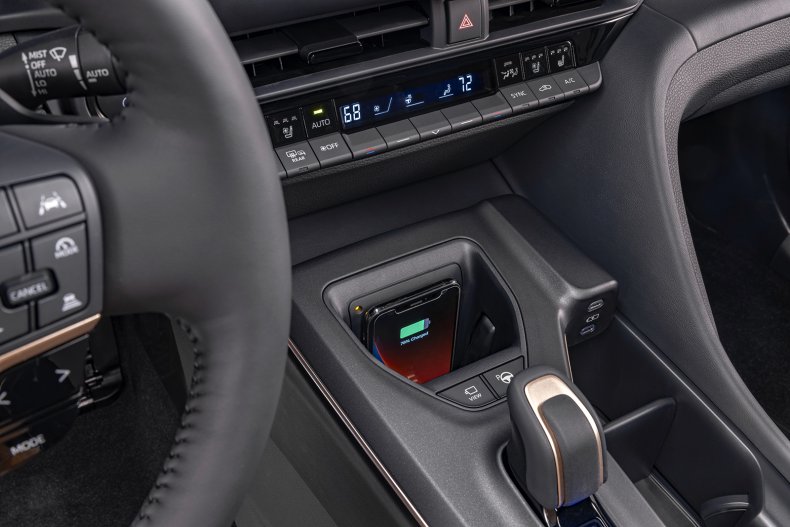 Crown's pricing is fine for its segment, but there's so much better to be had for around $50,000, including the Toyota Venza SUV, which delivers on premium looks, efficiency, and style.
The most offensive thing about the Crown is the fact that Toyota seems comfortable passing off this effort as a premium-ish sedan. It's appointed like a value-priced small car, with a powertrain that delivers the opposite type of acceleration large car buyers are generally looking for outside of a luxury brand. Nothing about the Crown makes it a "must buy". Rather, it's a "money better spent elsewhere".