For years U.S. automakers have been putting lots of money into developing digital technology, ranging from drivetrains and batteries for electric vehicles to a broad range of hardware and software connecting cars to the internet and to make them self-driving. Increasingly that money is being invested close to U.S. automaking's ancestral home. Ford Motor Company, General Motors (GM) and Stellantis, the multinational whose 14 brands include Chrysler and Jeep, have all funded mobility and software engineering projects in Michigan lately.
Silicon Valley has noticed. Christian D. Malesic, president/CEO of the Silicon Valley Central Chamber of Commerce, says "We're still number one in angel investors.... But I can also see the tech industry of Michigan expanding, especially as the car and computer start to blend even more."
Previously, a lot of Detroit money had gone to Silicon Valley and other traditional tech hubs. Ford's Palo Alto-based Greenfield Labs, for example, was established in 2016 to collaborate with local startups and help them bring their auto-related ideas closer to production. In 2017, Ford invested $1 billion in Pittsburgh-based autonomous driving company Argo AI, alongside investments from Volkswagen and ride share company Lyft. (Last year, Argo AI shut down, with Ford and VW absorbing its tech and employees).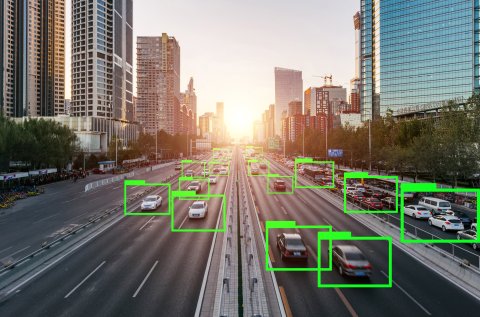 Recently Ford has turned its funding attention to Michigan with major investments in the downtown Detroit area, focusing on building a creative and technological base of operations near its home in Dearborn. The company spent $90 million buying the Michigan Central Station in the Corktown neighborhood of Detroit in 2018 with plans to turn it into a hub of mobility, automation and electrification. The development will also feature new public amenities for local residents like green spaces, walking and biking trails and public art. Last February, Google joined the project. So far, Ford has put $740 million into the Central Station restoration and last June it said it would spend another $2 billion in the state, creating more than 3,200 new jobs.
"Automaker and supplier investments have changed over time, reflecting changing business needs. Some of the projects in Michigan are coming to fruition after pandemic delays but were directionally determined years ago.... Initial investments into Silicon Valley software research and development were exploratory as automakers and suppliers were still learning what it was they even needed to know," Stephanie Brinley, principal analyst at S&P Global Mobility, tells Newsweek.
Fiat Chrysler Automobiles (FCA), now part of Stellantis, which was created when FCA merged with PSA Group in 2021, has made similar moves. Prior to the merger, FCA would rotate user experience and design groups through Silicon Valley. It still does, but in 2021 when the brands came together, Stellantis' "Software Experience" team was created in Michigan.
"The Detroit area is becoming a center of competence for user experience technology and many of the suppliers that exist in Silicon Valley now have representation in Michigan," Vince Gallante, VP of global user experience design at Stellantis tells Newsweek. "We're supporting all 14 of Stellantis' brands with hires from Apple, Disney and Microsoft."
Meanwhile, GM has invested $4 billion to convert its Orion Township assembly plant to the production of full-size EV pickups and up to $2.5 billion to build an Ultium battery cell plant in Lansing as part of a joint venture with South Korea's LG Energy Solution. To support the investments, the state-run Michigan Strategic Fund approved a $600 million grant for the creation of up to 4,000 jobs related to the two projects.
In addition to its Ultium partnership with GM, LG is also opening battery manufacturing facilities in Holland, Michigan. According to LG, the state was chosen over competing sites in the southeast U.S. and overseas. According to a recent CNBC report, Michigan, along with Georgia and Kentucky, are poised to dominate U.S. electric vehicle battery manufacturing by 2030.
Beyond Automaking
"I think there's a narrative that things left and came back, but this all didn't start when electric vehicles became popular last year, this has been going since 2015," Trevor Pawl, Michigan's former chief mobility officer tells Newsweek. "We originally were very focused on autonomous vehicles. But we've pivoted hard to EVs to become a leader. And now we're looking at hydrogen and the future of hydrogen."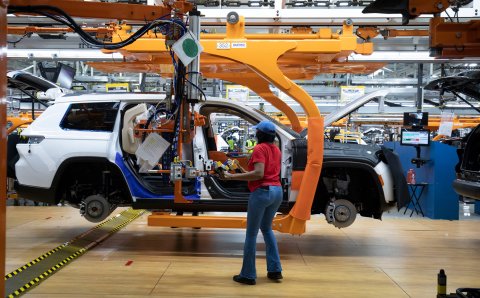 The investments in Michigan go beyond traditional automaking, with dozens of upcoming projects—including solar panels, electric vehicle chargers and a road that charges EVs as they drive on it—set to be funded with federal money from the Biden Administration's Inflation Reduction Act. The new law also includes a range of tax credits for buyers of EVs.
"Our governor and industry leaders fundamentally believe that you can build a stronger state economy through safer, more equitable and environmentally sound transportation for all residents. And that involves industry growth," Pawl says. "But that also involves community vitality. It also involves using the technologies being developed in your state, by your brightest people to solve real problems in our communities, not just in Detroit or Flint or Battle Creek, but in northern Michigan."
Last September, the Michigan Economic Development Corporation announced its new "MI Future Mobility Plan" at the Detroit Auto Show. The three pillars of the plan include transitioning and growing the state's mobility industry and workforce; providing safer, greener and more accessible transportation infrastructure and leading the world in mobility and electrification policy and innovation.
The investments aren't limited to Detroit's automakers. Toyota just celebrated 50 years in Michigan. It's a founding member of the American Center for Mobility (ACM), a joint industry- and government-backed R&D facility in Ypsilanti, where it uses ACM's Smart Mobility Test Center for autonomous vehicles, vehicle-to-infrastructure (V2X) communication testing and more. The Smart Mobility Test Center has several miles of road, including a five-lane, four-way interchange and expressway entrance and exit ramps. Toyota invested $5 million in ACM in 2017 and spent $6 million more in 2021 on facilities, testing resources and the construction of vehicle labs and new office space.
Meanwhile, a project born from a public-private partnership will connect the R&D hubs of Detroit and Ann Arbor using a smart highway for autonomous and connected vehicles. The corridor will link the University of Michigan, Detroit Metropolitan Airport and Michigan Central Station and be led by a company called Cavnue. With offices in Detroit and Palo Alto, Cavnue makes digital models of roadways, which it can test, analyze and optimize in real-time. It then shares the information with vehicles and drivers through V2X communication to improve traffic and safety.
In November, Michigan announced grants to more companies
for mobility projects across the state. A total of $145,000 was awarded to Evenergi and Workhorse Group Inc. Evenergi helps transition school buses to electric power. The Workhorse Group focuses on last-mile delivery, medium-duty commercial EVs, and electric, remotely piloted aircraft. In December, Governor Gretchen Whitmer announced a round of funding for several more projects including a Lear Corporation expansion in southeast and northern Michigan. Lear will manufacture battery disconnect units and other subsystems for advanced batteries for automakers. These components control power transfer from the battery to the vehicle, allowing faster charging and more range for SUVs and light-duty trucks.
"In the past several years automakers have embraced software and digital technology as a core competency for future vehicles. Prior to about 2020, software-defined vehicles were a research project in many ways," says S&P analyst Brinley. "Now the focus in Michigan is on commercial development and deployment more than theory, whether that's battery technology, digital services, software development or autonomous vehicle development. In this process, automakers are bringing the expertise closer to home, in a physical sense as well as an ownership sense."
Jake Lingemen is managing editor for Newsweek Autos. Twitter @JakeLingeman.