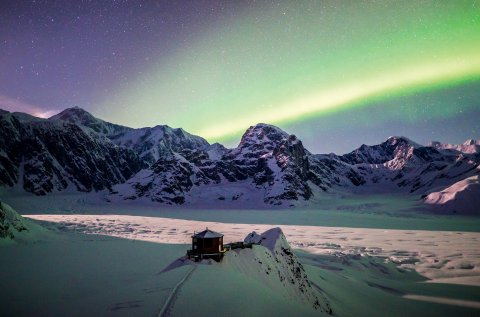 The best boutique hotels go above and beyond, combining a sensory experience with comfort and style in a distinctive atmosphere. They are new spaces created from old spaces, fresh takes on the typical stay experience and located in remote locations. Expert vision has crafted these hotels to shine brightly, with attention to detail that includes rooms, restaurants, architecture, history and activities all wrapped up in desirable eco-friendly packages.
The resorts on this list take sustainability seriously, going above and beyond traditional recycling and low-energy lightbulb installation efforts. They feed guests from local gardens, pair with organizations to extend the life of their well-worn linens and utilize natural products for in-room amenities. All of this is done with the guiding touch of luxury.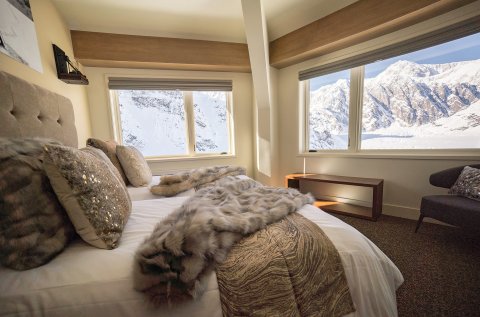 Above It All
Mt. Denali, Alaska
Sheldon Chalet
When it comes to unique, boutique luxury hotel experiences with a focus on nature, Sheldon Chalet sits darn near the top. The small hotel is perched on a nunatak in the Don Sheldon Amphitheater of Mt. Denali's Ruth Glacier, a mere 10 miles from the 20,310-foot summit. The inclusive five-bedroom experience is one of the best places to see the Northern Lights and only accessible by helicopter. There's no Wi-Fi, making it a true escape.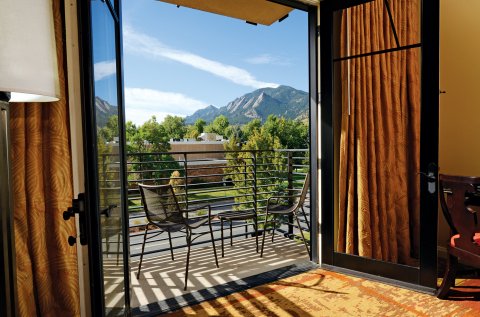 Room With a View
Boulder, Colorado
St Julien Hotel & Spa
The first-class, four-star, four-diamond hotel is an escape sitting in the city, with sweeping Flatiron mountains views. Its 201-room luxury accommodations are matched with a focus on sustainability. Food and beverage waste is composted, discarded soaps are donated to communities in need and bedding with remaining useful life is donated to local charities. Bicycle rentals are available.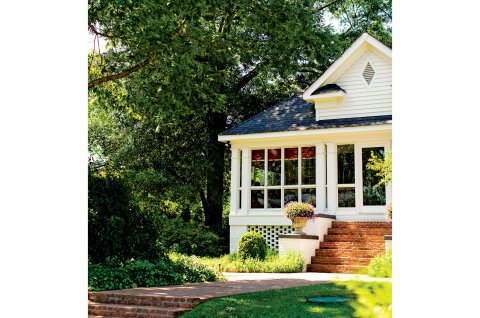 Indulgent Farm Life
Chattahoochee Hills, Georgia
The Inn at Serenbe
Tucked into Georgia's rolling landscape 30 minutes from the Atlanta airport, this inn seems worlds away from the hustle and bustle of Y'allywood. Situated on 1,000 acres of forestland and wildflower meadows, the getaway is connected to the surrounding Serenbe community—"a village of people living in a community of trees," according to the town's founder—by 15 miles of trails. Locally grown ingredients grace the plates at The Farmhouse Restaurant.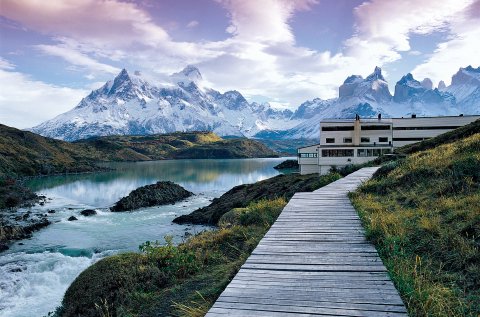 Adventure Awaits
Torres del Paine National Park, Chile
Explora Patagonia Hotel
Room after room give guests here a spectacular view of the surrounding landscape that stretches for miles with unrivaled beauty. The spa's open-air Jacuzzis look out on the Paine River, welcoming guests back after a day trekking or horseback riding among lakes, glaciers, forests and prairies and up to vista points within the park's six exploration zones.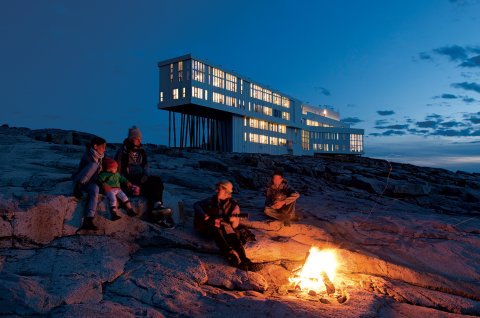 Nature Reserved
Fogo Island, Newfoundland and Labrador, Canada
Fogo Island Inn
Self-described as being "on an island, off an island, at one of the four corners of the Earth," the Fogo Island Inn isn't just a premium destination, it's wholly unique. The eco-conscious inn's 29 guestrooms feature floor-to-ceiling windows where guests can take in nature out of the elements, an aesthetic that carries over into the hotel restaurant. An on-site cinema, art gallery and library showcase all things Newfoundland, and almost everything from the inn's building materials to the food is sourced locally.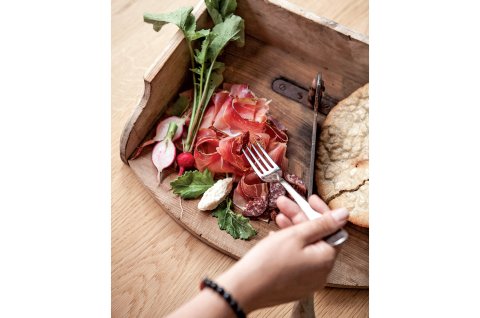 Dolomite Delight
Alto Adige, Italy
Naturhotel Leitlhof
With the Haunold mountain as a backdrop, Naturhotel Leitlhof makes nature a part of everything they do. The simple, luxurious getaway generates its own power and heat, making it one of the few self-sustained hotels in Europe. Its organic farm supplies vegetables, herbs and beef for on-site dining. Surrounding meadows, forests and rivers make a stay an unforgettable experience.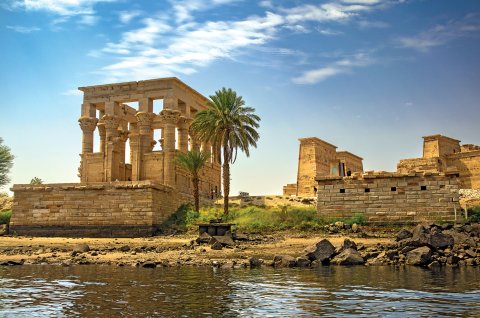 Serene Surroundings
Aswan, Egypt
Benben by Dhara Hotels
Perched cliffside on the island of Heissa, these luxury accommodations are designed to bring a traveler peace via serene landscapes and warm design aesthetics that play on the location's surrounds. The Nile River, Philae Temple and Aswan High Dam are all visible from the 24-unit bolt-hole. Enjoy a leisurely soak in a Jacuzzi on your terrace, then dine at the hotel's restaurant or arrange for a private dinner in your room.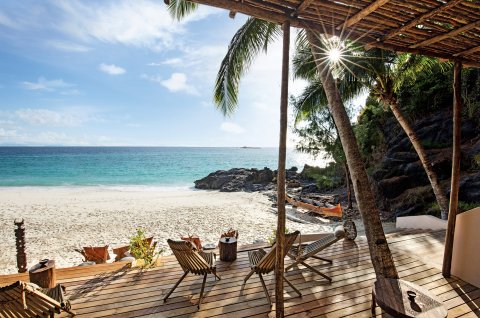 Beachside Simplicity
Tsarabanjina Island, Madagascar
Constance Tsarabanjina Madagascar
Billed as a "Robinson Crusoe-like experience," the minimalist Constance Hotels and Resorts property is nestled into a quiet islet off the northwest coast of Madagascar. Palm-thatched villas welcome a very limited number of guests. Beach days are an absolute must with snorkeling, fishing, scuba diving and catamaran sailing on offer. On-site dining—beachside and complete with a sand floor—features Malagasy specialties.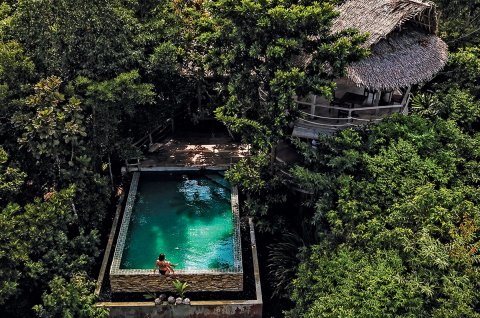 Simple Sustainability
Phang Nga, Thailand
The Hideout
Perched on a mountainside, this zero-waste, sustainable sanctuary welcomes guests who want to take a deep breath outside of the hustle and bustle of daily life. Visitors are immersed in the world of the green, tropical luxury of Koh Yao's pristine jungle environment. The open-air treehouse, which is slated to re-open in October, is electricity-free.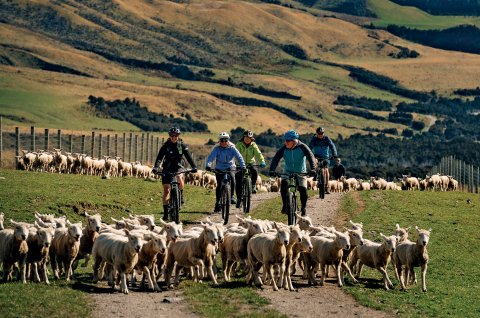 Farm Meets Luxury
Lake Wanaka, New Zealand
Minaret Station
Situated at the peak of a glacial valley, the alpine lodge is only accessible by helicopter. All the water for the lodge originates from the region's rain and snowmelt, and the lodge is operated primarily with hydroelectricity generated by the nearby waterfall. Outdoor enthusiasts who want to get away from it all can enjoy hiking, fly fishing and heli-skiing while being surrounded by the 10,000 deer, 7,000 sheep and 1,000 cattle that roam the working farm's grounds.