One year since the start of Russia's full-scale invasion, roughly half of Ukraine's pre-war population of 40 million people has been driven from their homes, creating the largest refugee crisis of the 21st century. The big, unanswerable question: When, if ever, will they be able to return home again? As the conflict continues to displace additional Ukrainians every day, the resulting uncertainly has the potential to reshape a continent scarred by its deadliest war in decades.
The experience of Yura Skobolev, a displaced father of five from Ukraine's southern Kherson region, reflects the dilemma that families face. Skobolev, his wife and children endured eight months of occupation after the war began but were finally, and ironically, forced to flee after Ukrainian forces took back the territory, when Russia began launching retributive artillery strikes from the opposite bank of the Dnipro River.
"When we call our neighbors back in the village, you can hear the cows and chickens in the background," Skobolev tells Newsweek. "The neighbors say, 'Oh, everything here is fine.' Then, five minutes later, they say, 'Give me a minute to get down into the cellar. They're shelling us again.'"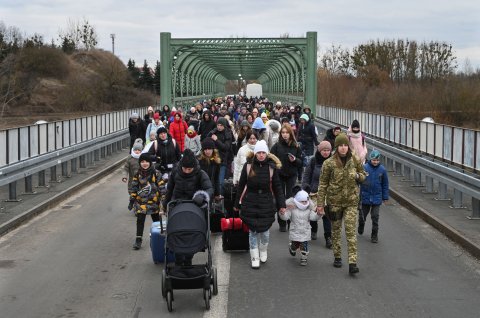 Skobolev and his family, unsure of where they will go next, are currently living in temporary housing in Odesa. They are among the millions of displaced Ukrainians who have faced a similar dilemma since the war began. Of those, 8 million are now located in other countries in Europe. Just under 6 million are still in Ukraine—renting apartments in the country's relatively quiet West, staying with relatives who can offer a spare sofa or finding a bed in dormitories set up by aid organizations both international and domestic. Nearly 3 million other Ukrainians, some voluntarily and some not, have migrated to locations within the
internationally recognized borders of the Russian Federation.
Less than a quarter of those who evacuated in the early days of the war, though, have been able to go home—despite many of the displaced expressing a desire to do so. To date, over 5 million refugees have returned to cities such as Kyiv, Lviv and Odesa, as well as former frontline regions like Mykolaiv and Kharkiv. And experts say the odds of those who remain displaced ever resuming the lives they knew before the start of Russia's full-scale invasion are long.
"If the Russia-Ukraine war is like other conflicts we've studied—and there's no reason to think it's not—then the vast majority of displaced Ukrainians are not going home," says Shelly Culbertson, a RAND Corporation senior policy researcher specializing in post-conflict stabilization.
Snapshots Of Life Interrupted
One other thing the experts who have studied refugees from other conflicts say: The experience of uprooting their lives under threat of Russian rockets, artillery, torture or rape will inevitably have long-term consequences for the millions of displaced Ukrainians. While their individual stories are unique, they collectively form a portrait of human suffering, combined with resilience, that will come to define the war as much as the bombings, destruction and casualties.
Yulia (who, like other displaced Ukrainians interviewed, asked to be identified by first name only), her husband and their teenage daughter boarded an overcrowded train-to-anywhere from Kharkiv in early March 2022 after spending several nights in hallways and basements hiding from Russian airstrikes. Although Ukrainian martial law already prevented all able-bodied military-age men from exiting the country, Yulia's husband suffers from diabetes, a condition that allowed the family to cross over into Poland together. They ultimately settled in Germany, where he receives medical treatment of a sort not readily available in Ukraine even during peacetime. As a result, even if Russian rockets were no longer striking Kharkiv, it is unlikely that the family would opt to return home.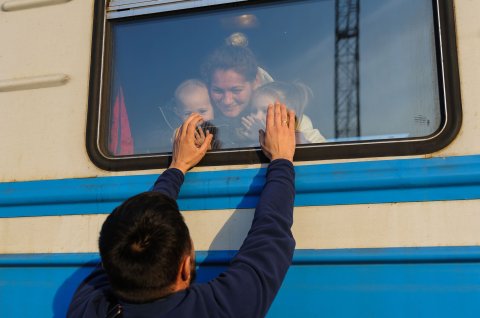 Vladimir, a taxi driver from a frotline town in Ukraine's eastern Donbas region that's been nearly completely destroyed by the war, suffered a stroke and broken hip when a Russian artillery blast blew him out of a second story window in April. For three months before he was evacuated to a volunteer-run rehabilitation center in central Ukraine, Vladimir used vodka as a painkiller. He is now applying for a disability pension that would pay him 2,000 hryvnia ($50 U.S.) per month. He hopes to stay in the rehab center indefinitely.
Alyona marched in the pro-Ukraine protests held in Russian-occupied Kherson during the early days of the full-scale war. As more and more local activists began disappearing for days at a time, however, Alyona, along with her daughter, made their escape, passing through a Russian filtration camp—where she was strip-searched for "pro-Ukrainian tattoos"—en route from Kherson, through Crimea and mainland Russia, into the Republic of Georgia. Her husband, a sailor who was on a commercial ship off the coast of China on February 24, 2022, ultimately joined them in Tbilisi. Even though the city of Kherson was liberated by Ukrainian troops on November 11 of last year, Russian artillery fired from the opposite bank of the Dnipro River has made it impossible for the family to return to their apartment.
Natalia, from a village in the Mykolaiv region, cut her three teenage daughters' hair in the hope of better protecting them from sexual predators, after the arrival of Chechen fighters in town. The Chechens had ordered the young women out of their basement hiding place and threatened them with sexual violence until a Russian officer intervened. After a few weeks living under occupation, Natalia secured her family's passage into Ukrainian-controlled territory through a "green" corridor lined with the carcasses of shot-up civilian cars. They would happily return from Moldova to their recently liberated village, but have no place to return to since their house was destroyed in the fighting.
An Indefinite Journey
The history of prior wars that have forced millions from their homes in the past three decades offer grim prospects for those, like Natalia, hoping to return to Ukraine.
"In specific cases, different factors lead to different outcomes, but when we look at conflicts in Bosnia and Herzegovina, Iraq, Afghanistan, Kosovo, Syria," Culbertson explains, "the proportion of refugees who have returned home 10 years after the start of the average protracted conflict is right around 30 percent."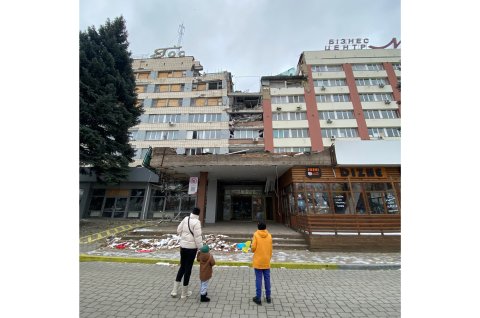 "Protracted" is the operative word. The number of Ukrainians who remain displaced indefinitely, whether in country or abroad, will depend on a variety of factors: the level of damage inflicted on civilian infrastructure over the course of the war; the capacity of the national government to rebuild when the fighting ultimately ceases; the prospect of returnees reestablishing a viable economic life in the communities they have fled and the intensity of ethnic and political tensions resulting from a war that has seen a notable uptick in Russian-speaking Ukrainians making the conscious choice to embrace the official state language, Ukrainian, both on the street and in their private conversations.
However, these factors depend largely on one critical, as-yet unknowable input: the ultimate length of this war.
"From what we've seen, if fighting continues for six years or longer, the percentage of refugees who return shrinks down to very small numbers, Culbertson says. "Given the level of destruction we've seen already in Eastern Ukraine, even if the war were to end tomorrow, in certain regions it would still require several more years to remove mine hazards, to restore electricity and water services, to rebuild housing and to bring back the local economy."
"For some Ukrainians, no matter what happens on the battlefield," she adds, "going home is not going to be an option for a long, long time."
Long-Term Accommodation
Culbertson recommends that refugees and host country governments alike should start preparing for a future in which "a large number of Ukrainians could be part of Europe forever, even if their stated preference would be to return home."
Such preparations appear to be underway.
Unlike in the case of the comparatively small number of Syrian refugees who arrived in Europe in the mid-2010s, the sudden influx of millions of Ukrainians has not led to any notable rise in pro-right nationalist parties among the host countries. While the assistance packages available to Ukrainians vary by state—a €451 monthly payment for "socially vulnerable" Ukrainian adults who register in Germany, for example, as opposed to a 300 zloty (€63) "one-time payment" to refugees arriving in Poland—those looking to establish a new life abroad still have ample opportunity to do so.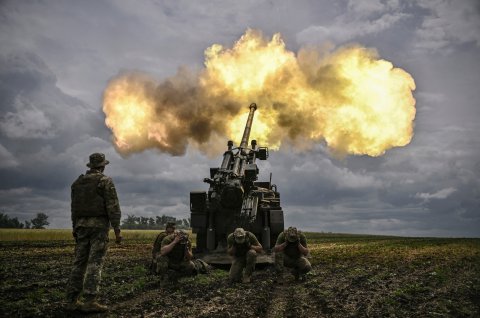 United for Ukraine CEO Dana Pavlychko, who settled in Germany after fleeing Kyiv with her two small children on February 24 of last year, helps fellow refugees navigate the options available to them.
"We assist displaced Ukrainians with psychological and legal support in more than 40 countries, and we also work to ensure that they have access to accurate information about where they can go, how they can get there and what they can expect to find when they arrive," Pavlychko tells Newsweek.
Poland has taken in the largest number of refugees (1,563,386), with Germany (1,055,323) and Czechia (486,133) rounding out the top-three destination countries. In most
European states, Ukrainians have been granted the right to work, put their children in public schools, receive medical care and extend their legal term of stay for up to three years. However, because Ukrainian martial law severely restricts able-bodied men between the ages of 18-65 from leaving the country, the overwhelming majority of the refugees consist of mothers, children and the elderly.
"Most Ukrainians say they want to return home," Pavlychko explains. "They left behind homes, careers and, in many cases, husbands. But if you have children, it's not possible to send them to school when there are air alert sirens all across the country almost every day. It's not possible to have them study online when there are constant power outages. It's not possible to take care of elderly relatives when the heat is turned off in the middle of winter. And so even if certain areas of Ukraine are quote-unquote 'safer' than others, returning home isn't the best option for most of those who are currently located abroad."
In a nation of 40 million stories, however, there are still myriad examples of Ukrainians abroad weighing their options and choosing the hardships of home over the security of life in a developed economy protected by NATO's Article 5 collective security guarantee.
Nastia and her two children fit into this category. When Nastia's husband, Andrei, woke up on the morning of February 24, 2022, the windows of their Mykolaiv apartment were shaking. After a few days of family discussions held in their building's basement, Nastia, Andrei and the kids decamped to his mother's house in a village a safer distance away from invading Russian forces. After news of the Bucha massacre started coming out in early April, Andrei—an able-bodied man of military age, and thus ineligible to leave the country with them—drove his wife and children through two days' worth of checkpoints to the Polish border, where they were met by Nastia's mother.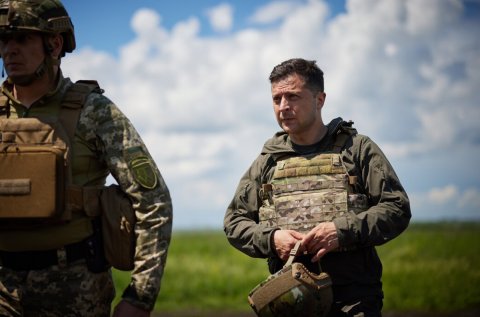 "I called Andrei from Poland every single day for four months, crying and saying, 'I want to come home. I want to come home,'" Nastia told Newsweek over tea in the kitchen of her Mykolaiv apartment. "Andrei would answer, 'You have stay there for the safety of the kids.'"
By August, however, the Russian offensive in Ukraine's eastern Donbas region had stalled, and HIMARS strikes were wreaking havoc on the occupiers' supply lines on all fronts of the war. Although Mykolaiv was still under fire, a Bucha-style massacre in Andrei's mother's village no longer seemed like a risk worth keeping the family apart over. And so Andrei again made the trip up to the Polish border, this time to bring his family back for good. After the Ukrainian liberation of Kherson in mid-November pushed Russian forces out of artillery range, they were even able to move back into their Mykolaiv apartment.
"Since New Year, you can see a lot more lights on in windows at night," Nastia notes. "If people really want to be in Ukraine, then they return to Ukraine. If they never had much luck here to begin with, or if they were already looking to emigrate, then they stay in Europe. We wanted to be in Ukraine, but not everyone is making the same choice."
Strangers In A Familiar Land
Of course, not all Ukrainians who want to be in Ukraine still have the option of returning to the home they knew on February 23, 2022. While many of the 8 million refugees currently in Europe enjoy at least the small luxury of being able to sit down over tea to conduct a kitchen table cost-benefit analysis before deciding whether or not to purchase a one-way ticket from Berlin or Brussels to "relatively safe" Kyiv or Chernivtsi, those from a depressingly long list of suddenly world-famous mid-sized cities all but unknown one year ago—Mariupol, Kherson, Severodonetsk, Bakhmut—have already had that choice made for them.
The approximately 6 million Ukrainians who remain internally displaced almost all fall into this latter category. Unlike their compatriots abroad, where comparatively rich European governments are still willing and able to offer a generous combination of housing subsidies, cash assistance, medical care and access to schools, Ukrainians inside Ukraine can count on their government to provide a 2000 hryvnia ($50) per month assistance payout, and not much else.
As a result, an integrated network of aid organizations—both international and domestic—have mobilized to meet the need. It is made up mainly of volunteers who evacuate at-risk civilians from active warzones, just as it is mainly volunteers who house them, clothe them, feed them and help them find opportunities to re-establish some form of independent life. For all of the much-deserved praise that Ukrainian President Volodymyr Zelensky has garnered as a result of his death-defying choice to request "ammunition, not a ride," it is not the still-too-often corrupt, still-too-often underfunded, still-too-often sclerotic Ukrainian state that is beating back an all-out, year-long military assault from a nuclear power three times its size. It is Ukrainians themselves.
"I could have gone to Europe and definitely built a more respectable material life for me and my son," Alexandra Naumenko, an accountant who devotes most of her ample energy to running the Dnipro Charm IDP shelter in central Ukraine, tells Newsweek. "But I feel like those of us living in comparatively more calm areas have a responsibility to do whatever we can to help those who are fleeing from areas where there is active fighting."
In the early days of the invasion, Dnipro became a transport hub for displaced Donbas residents, along with escapees from occupied Melitopol and Mariupol. Back then, World Central Kitchen volunteers cooked meals for the 50-some IDP shelters struggling to cope with a sudden influx of nearly half-a-million temporary new residents. Since June, however, when Russia's eastern offensive culminated following the seizures of Lysychansk and Severodonetsk, the flow of refugees coming from the east has slowed substantially. Even with new arrivals from places such as Bakhmut and Soledar showing up nearly every day, the population of Dnipro Charm has fallen from 200—double its actual capacity—to around 80.
"We have a few residents here who arrived in April, but mostly our task is to get people back on their feet so that they can find semi-permanent living situations, whether that be in Western Ukraine or in Europe," Naumenko explains. "Since the start of the war, 5,000 people have passed through our shelter, which means that almost everyone who arrived here was able to find a better place to move on to eventually."
On a Tuesday afternoon this February, just a couple of weeks shy of the war's one-year anniversary, several Dnipro Charm residents gather in a makeshift kitchen for tea and cookies and, after an hour or two of small talk, home-made chicken soup prepared by a matronly resident named Lyudmila. Several children live in the shelter, and, with local schools still working in online mode, Naumenko usually brings her son, Danil, to work with her rather than leaving him at home in an apartment located a less-than-comfortable distance from an industrial site that has been targeted by Russian rockets on multiple occasions. On this particular afternoon, a vivacious 12-year-old girl, Albina, dressed in a donation center t-shirt reading "Dreams Come True If You Don't F*** Up," had gotten hold of a toy microphone, which she was using to announce "Attention. Attention. Air Raid Alert." The children found it hilarious.
Dnipro Charm's adult residents were more sober minded. One of them, a grandmother from Lysychansk who has been at the shelter since last summer, asked how long it would be before she could go home. The consensus response—that even in the unlikely event that Ukrainian forces were to succeed in liberating her hometown tomorrow, the process of de-mining, rubble clearing and reconstruction could take years—was not the answer she was hoping to hear.
However, after a pause punctuated by a sip of tea, she accepted the situation, displaying the kind of resilience that, when multiplied by 40 million, has wielded enough power to fight off a Russian invasion. "At least we're warm here," she says. "We have soup. We can sleep in a place where there are no explosions. Compared to the boys on the front, we're living pretty."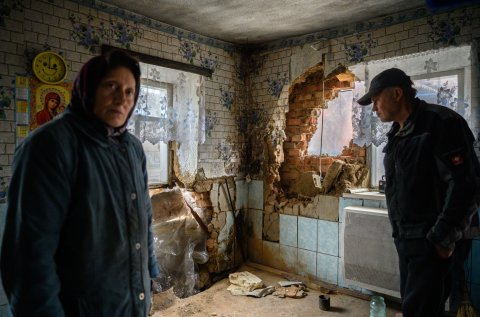 ▸ Michael Wasiura is a Newsweek contributor living in Odesa, Ukraine. You can follow him on Twitter @michael_wasiura.