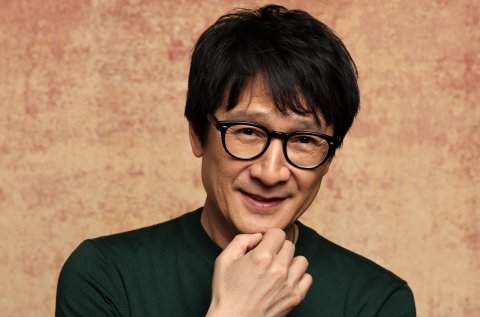 "When I was first approached with this character, it scared the sh** out of me."
Fresh off his Oscar win for Everything Everywhere All at Once, Ke Huy Quan isn't wasting time. He'll next be seen in American Born Chinese (May 24 on Disney+). Based on the graphic novel of the same name by Gene Luen Yang, the series follows teenager Jin Wang (Ben Wang) who is "trying to find his own identity" when he's introduced to Chinese mythological characters that overturn his life. "It's about family. It's about love. It's about kindness." Quan plays Freddy Wong, an actor from a popular '90s sitcom whose character was based on painful Asian stereotypes. "Back then, a lot of the roles that were available to Asian actors were stereotypical, and oftentimes the butt of the joke." But, Quan says so much has changed since then. "That's why it's important to have representation. The more you see, the more you understand, and the less you're afraid of it." And Quan's openness and vulnerability in sharing his story during the awards season shows how much has changed. "For some odd reason, and I couldn't even explain it, I just wanted to tell the world my story."
SUBSCRIBE TO THE PARTING SHOT WITH H. ALAN SCOTT
ON APPLE PODCASTS OR SPOTIFY
What first interested you about American Born Chinese?
A lot of people in the Asian community, especially the Chinese community, are very familiar with the Monkey King story. We all grew up watching it, and it's so well known. It's just like all the kids growing up in America, they all know who Superman is, who Batman is. So for us to be able to tell a version of the Monkey King story and introduce it to the American audience, that was really exciting for me. And, at the core it's just about this this regular kid who is trying to go through high school, trying to find himself, and that is something that everybody can relate to. It's the same thing with Everything Everywhere All at Once, everybody loves that movie because at its core, it's about family. It's about love. It's about kindness. And American Born Chinese is very similar. It's about this kid who is trying to grow up and find his own identity.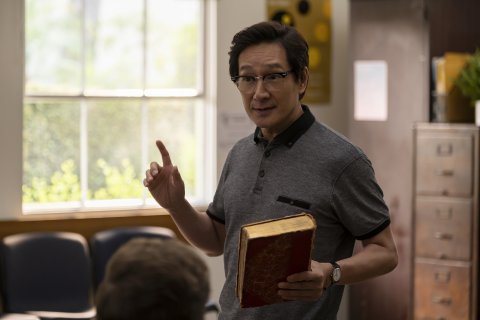 One thing that stood out for me is the similarities between you and your character. Did that stand out to you?
When I was first approached with this character, it scared the sh** out of me. In fact, I said "no" a couple of times. And then I met with Destin [Daniel Cretton], who is super talented, and I'm a huge fan of Kelvin [Yu], our showrunner and the author, Gene [Luen Yang]. When we all sat down and had this nice creative conversation, because I was only shown episode one, [I asked] who is this character that is based on the very first acting role that Kelvin got as an actor. Back then, in the late '80s and early '90s, a lot of the roles that were available to Asian actors were stereotypical, very marginalized and oftentimes the butt of the joke. I thought we've been through that and we didn't we didn't need to have that type of portrayal anymore in 2023. But they explained it to me and the importance of it. In later episodes of this series, we get to see not just this character but the actor playing him, and that opened up a lot, and this became a very interesting character. A lot of times I had to tell Kelvin [this was] way too similar guys, back off, don't go there, because yes, at times I felt like I was holding up a mirror to myself. But I think it's important, this character shows what happens when you have portrayals like this, what happens to someone like Jin Wang, who's just a regular kid and what it does to him when [he] only sees somebody that looks like him on screen is portrayed in that fashion. It's just very interesting. I'm very happy to be part of the show. I think it's a great show. It's highly entertaining. We have some amazing costumes and really wild characters that the American audience are not too familiar with.
The portrayal of the stereotypes we used to accept in characters I think is going to be eye-opening for many viewers. Do you think that's something that will stand out, that people will see the way we used to do it was wrong?
Well, first of all, a lot has changed in the last 10, or 20 years. And audiences, as they have proven, they're much more open to watch something that is different. Something like Parasite, who could have thought that it would win Best Picture? So they're a lot more open to it. Differences used to scare people, and now, if you tell me this show is very different, than immediately it becomes very interesting. I'm very grateful to everything that has happened, and I don't think we need to put blame on what happened in the past. Back then we were looking through different lenses, we're very different now and we've evolved. There's a lot of progress that has been made and we are so much better because of it. I think audiences are much more sophisticated now than they have been for a long, long time. I think we can be brave, we can be bold, and tell different stories. And I think as long as we tell a very entertaining [and] very good story with a good cast, the audience will be there, and I think the audience will show up for this, too.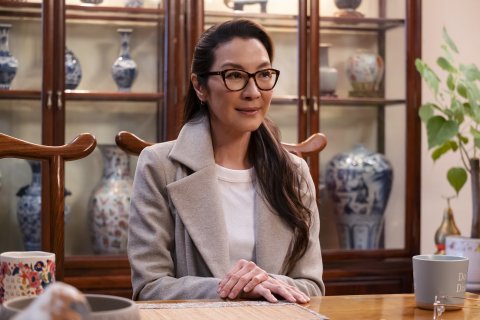 American Born Chinese is also a reunion with your Everything Everywhere All at Once family Michelle Yeoh and Stephanie Hsu. How was that?
What the audience is gonna find very interesting when they see this, they're going to see a lot of familiar faces, but in a different way. When we started shooting this, it was right before Everything Everywhere came out. And all of us just wanted to be a part of this very special project. It was fun, it was so creative and we thought that it's a show that introduces the audience to the Monkey Kingdom mythology. So, to be put into a television show, that's what interested all of us, and to be able to work with everybody again, that was a real treat.
What I love about this story is what it does for representation, especially for audiences who don't know about the Monkey King. Recently, a friend told me, as a kid, she was embarrassed to bring her Korean food for lunch at school, and that was just something I never even considered.
Your friend bringing Korean food to school and the kids are going, what is that? I know that feeling. I've been there, I've experienced that. And one of the reasons for that is because other kids are not familiar with our culture. And that's why representation matters, because it introduces and educates people a lot of times when something is unfair, not familiar to us or scares us. Because we are taught in our society to be good is to be similar, it's good to conform, and when something is wildly different or unfamiliar, then we're [like], no. That's why Hollywood is so important, because it has such a huge influence on how people are perceived. And it's through movies and television they have the power to choose how stories are being told. And that's why it's important to have representation. The more you see, the more you understand, and the less you're afraid of it.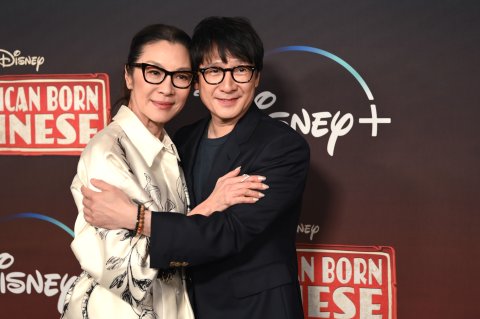 During this past awards season, your story about not working for nearly 30 years to come out and win an Oscar, it inspired so many people. You were so raw and honest. How have you reacted to people's reactions to your story?
One of the most beautiful things during this entire journey is having all different kinds of people from all walks of life, not just actors in our industry, but people in other industries have come up to me and said, "your story [is] inspiring me. I also thought I peaked at a really early age. Or I was struggling for a long time. Never felt seen, never felt like anybody understood me. But your story motivates me to keep going and to work harder, and to not give up." That is the most beautiful thing. Every time somebody comes up to me, I love it. The action gets me emotional every time because I never thought I would be in a position to influence anyone. The only thing I wanted to do [was] act again for so long. I was so eager. I've never been this honest with myself. In fact, I grew up in a family where we don't share our feelings. And for some odd reason, and I couldn't even explain it, I just wanted to tell the world my story. I just wanted people to know, because for so long, people asked me this one question, "Ke, where have you been? We miss you." And my honesty was a way to tell them what happened. And then all of a sudden they go, "Oh, I'm feeling the same thing too. I'm going through the same struggles as you went through." So that's what made this entire journey so worthwhile.
And it very much speaks to the spirit of this show, that we need to be vulnerable and open to sharing our experiences, that it can lead to more understanding and empathy.
It's hard to be honest. It really is. Every time I see myself do an interview, and I get emotional and I cry, I go, "Oh, Ke, why did I get so emotional?" Even my wife said, "Come on, I think we need to dial back a little bit." [laughs] That's how we're taught in our system, not show too much emotion. Otherwise, it'll make us seem weak, seem vulnerable. And that's a bad thing. But in fact, it could be a good thing. It can be a healthy thing.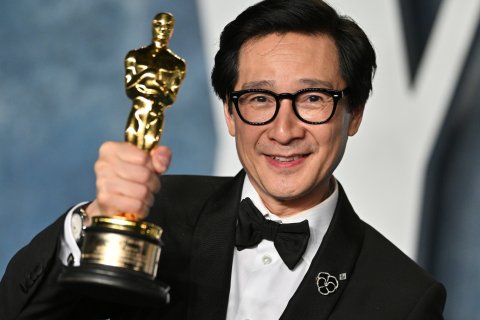 I also need to know, where do you keep your Oscar?
First of all, I fantasized about that little golden statue for a long time. I couldn't believe that I was able to bring it home. It's in my home office because I have so much respect for what it stands for, so it's really high up on my shelf. I wanted to treat it with the utmost respect. And sometimes I look at it because I cannot believe it has my name on it.
I asked Octavia Spencer the same question, and she said she keeps it in her living room that she doesn't go in often and sometimes she just peeks over and is reminded that Oscar is a constant companion.
Mine is so high up that you would have to really look up to see it. But it's incredible. It's my new best friend.
I have a pitch for you. I feel strongly that if anybody ever takes over the "role" of Indiana Jones, or carries on the legacy of Indiana, it needs to be your character Short Round all grown up.
You know, that is a great idea. First of all, nobody can be Indiana Jones but Harrison Ford, of course. I shouldn't even try to be Indiana Jones because there's only one Indiana Jones. But if there was a story to tell about what happened to Short Round. Did he follow in the footsteps of Indiana Jones? That would be very interesting to me. Because it's such a great character. I love that character. And honestly, that character will always have a special place in my heart because it was my first job. To this day, I'm very proud of it. I'm very proud of that movie. So many people have come up to me and told me that, when I was a kid, I wanted to be Short Round. How great is that? If I'm lucky enough to be able to revisit that character, I'd be very open to it. But before any of that happens, Indy 5 is coming out! That is so exciting. I can't wait. The trailer looks amazing. Harrison looks amazing. I got the pleasure of reuniting with a lot of my Indiana Jones family, Stephen [Spielberg], Harrison, Kathy Kennedy...I feel so fortunate and lucky and proud to play a little part in that franchise. And I'll tell you, I'll be the first in line to watch that movie.
Listen to H. Alan Scott on Newsweek's Parting Shot. Available on Apple Podcasts, Spotify or wherever you listen to podcasts. Twitter: @HAlanScott