On the morning of February 24, 2022, when Russian tanks crossed the Ukrainian border and headed for Kyiv, Ukrainian pop star Jerry Heil, then 26, was best known for songs that were funny and self-aware. "Okhrana Otmena," for instance–which translates roughly as "You're Canceled"—is about a boy who calls a girl the wrong name in bed. Other songs were about things like shopping and being a vegan.
"Now though, even when people ask me to perform my prewar stuff at concerts, I personally can't bring myself to do it," Heil told Newsweek in late March before a concert in the western Ukrainian city of Ivano-Frankivsk. "It's a different time and culture has to reflect that difference. I have to reflect that difference, because I'm different now, too. I grew up a lot in the past year, right along with Ukraine itself."
"I remember waking up about a minute before the first explosion and not understanding why I was so nervous," she said. "Then I heard the first bomb go off and was like, 'Is that fireworks?' I came to my window and literally saw the beginning of the war. The sky was on fire."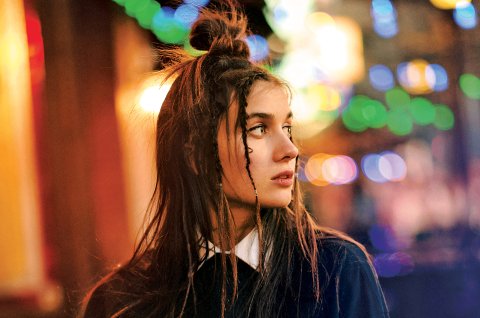 Heil was living in a rented house in a small town just north of Kyiv, not far from Bucha and Irpin, towns whose names later became bywords for Russian barbarity. She and her brother decamped to their childhood home and after failing to convince their parents to evacuate, set off for the country's Western border. As a male of military age, Heil's brother could not leave the country, but she did, carrying her music gear into Romania on foot.
"The first song I wrote after the start of the war was called 'Putin, Go Home,'" she said, based on a Ukrainan football chant whose words translate as "Putin is a d***," Heil said. "I wanted to translate it to be a little more polite so that I could sing it on stage in Europe. The verses were in English, too, because I understood that it was important to attract the world's attention to what Russia was doing in my homeland."
Since then, Heil has given more concerts than she can count, donating the proceeds to the war effort back home while fighting to ensure that Western listeners do not lose interest in the Ukrainian cause.
Her story is not unique. On February 27, 2022, the day Russian forces first occupied Bucha, Andriy Khlyvnyuk, vocalist in the rock band BoomBox and a Territorial Defense Forces volunteer, was in Kyiv, wearing a New York Yankees baseball cap and carrying a rifle. Standing in front of the capital's 11th-century Saint Sophia Cathedral, he delivered an a cappella performance of the independence anthem "Oh, the Red Viburnum in the Meadow."
Filmmaker and Crimea native Oleg Sentsov, who had spent five years in Russian captivity for his opposition to the 2014 annexation of his home, was not far away. After helping to defend Kyiv in the early weeks of the full war, Sentsov's service sent him to the embattled city of Bakhmut.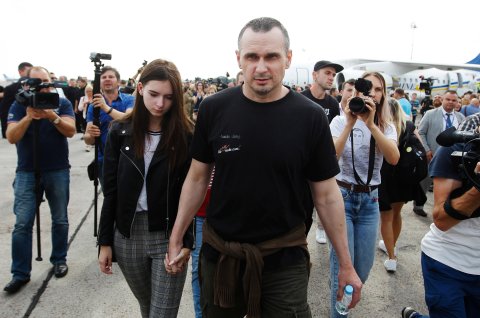 Television presenter Serhiy Prytula put his skills to work organizing a public fundraising campaign that has provided Ukrainian forces with tens of millions of dollars' worth of gear, including Turkish-made Bayraktar drones and British armored personnel carriers.
Before the war, Ukrainian culture was marked by loud, political arguments on nearly any topic; since then, not a single prominent cultural figure or politician has come out against resistance to Russian aggression.
With Few Protests, Russian Public Supports War
It is a far cry from the situation in Russia. Despite a Kremlin-controlled propaganda apparatus that has largely hidden the war's gruesome reality from most citizens, many members of the cultural elite have publicly criticized their government.
Rappers Morgenshtern, Noize MC and Oxxxymiron; singer Zemfira and television presenter Maxim Galkin are among those who have officially been designated as "foreign agents" by the authorities. Countless more have fled the country.
At a recent Moscow concert, lead singer Alexander Ivanov of the group Naiv encouraged his audience to learn about the case of 13-year-old Masha Moskaleva. After she drew a picture at school showing Russian rockets flying toward a Ukrainian mother and daughter, her father was sentenced to two years in prison for "discrediting the army." In response to Ivanov's comments, the crowd at the Naiv concert chanted "f*** the war."
Still, polling from the independent Levada Center routinely finds that more than 70 percent of respondents "personally support the actions of the Russian armed forces in Ukraine."
Authorities have found ways to mute even those willing to speak out. Last September, 74-year-old singer and Soviet-era icon Alla Pugacheva publicly asked to join her husband, Galkin, on the "foreign agents" registry. Rather than risk alienating Pugacheva's large, pension-aged and nostalgia-minded audience, the Kremlin turned her down. Moscow has managed to turn a so-far disastrous war of conquest into an effective tool of repression at home.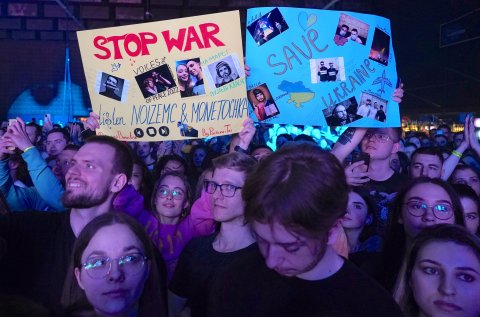 'Europe Is Such a Strange Place'
Widespread support for the war among Russians has led many Ukrainians to cut ties with friends and relatives across the border, and that bitterness has spread to Ukrainian popular culture.
"There are a lot more dead Russians in my jokes now," comedian Anton Tymoshenko tells Newsweek. "We've all gone a lot darker."
Comedian Hanna Kochegura offered an example. Since the start of the war, Ukrainian performers have traveled abroad to raise money for the military. When Kochegura was in Poland, she was taken aback by the presence of Russians out in public.
"It was really triggering," she says. "I hadn't heard Russian accents in real life in months, and my first psychological response was: 'The enemy's here; they're going to kill me.' That's how my brain responds now; that they're all potential murderers."
"Europe is such a strange place," she says now in her act. "There are Russians just walking around, going about their business, and nobody is killing them. In Ukraine, that simply doesn't happen. In Ukraine, you can kill Russians—legally—because Ukraine is the greatest country in the world."
The End of Ambivalence
"When you launch a genocidal war against your neighbor, it tends to spark these kinds of feelings," Frederick Kagan of the American Enterprise Institute and an affiliate of the Institute for the Study of War tells Newsweek. "Putin has done more for Ukrainian nationalism and a sense of Ukrainian identity than centuries of Ukrainians were able to do, and now we're watching the emergence of a Ukrainian identity that regards itself as fully independent from Russian identity."
It wasn't all that long ago that the two countries' overlapping histories served as a uniting factor. Even after Ukraine became an independent state in 1991, Ukrainians continued to flock to Russia for economic opportunities. Artists a generation older than Jerry Heil often lived, worked and earned most of their money north of the border. President Volodymyr Zelensky himself made his name in the late 1990s in a Russian comedy sketch competition where troupes vied to advance to a championship in Moscow.
"Before 2014, there was a lot of ambivalence in Ukraine about Russia," Kagan says. "Even before 2022, there were prospects for friendly relations between the two states if the Russians had been prepared to approach it in a non-imperialistic fashion. Now I think we're generations removed from the prospect of having any sort of friendly relations between the states or the people."
By the time Jerry Heil was developing a career in the late 2010s, there was enough of a domestic market that she could produce songs in her native Ukrainian and prosper, but that didn't require a total rejection of all things Russian.
When Heil was a student at the Kyiv Conservatory, she started a YouTube channel that featured a series of chorally arranged a cappella covers of other artists' songs. One of those artists was Monetochka, a Russian pop singer who in January 2023 was placed on the Kremlin's list of "foreign agents" due to her opposition to the "special military operation" in Ukraine. Before the war, she and Heil might have been collaborators, possibly even friends, but that is impossible now.
"Russian culture is based on lies, and I don't want to be connected to it in any way," Heil said. "We learn it in our literature classes, in our history classes, how for centuries Russia was trying to kill our history, to kill our best people, to kill our traditions."
In the lyrics of one song released last year, she sings, "They can bomb happiness, they can shoot dreams, but we won't let them break our spirit/Everyone will eat what they have sown/Everyone will eat what they have sown/Everyone will eat what they have sown."
Update - May 18 @ 3:35 p.m. ET; Frederick Kagan's professional affiliations have been updated.