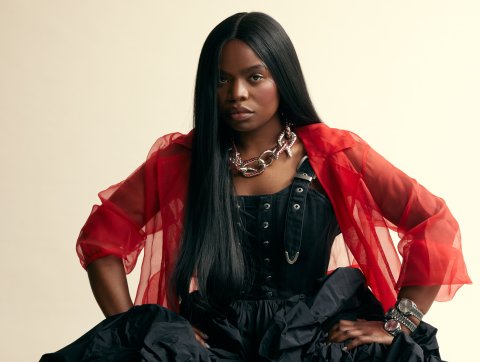 Sorry I Haven't Called, the new album by the indie multi-instrumentalist and producer Laetitia Tamko, who goes by the moniker of Vagabon, is a confident and joyous work; its sleek and upbeat sound could naturally fit in with the R&B/electronic/dance-pop music made by contemporaries like Beyoncé. Ironically, though, Vagabon's latest record was born of grief, particularly over the 2021 death of collaborator Eric Littman, to whom it is dedicated.
"Eric was a dear friend of mine and we made "Water Me Down" [a track from her 2019 self-titled album] together," Tamko says. "Losing someone so integral to my musical life was a shock to the system."
Due out September 15 on Nonesuch Records, Sorry I Haven't Called represents Vagabon's musical progression from the introspective guitar-dominated rock/bedroom pop of her 2017 debut album Infinite Worlds. Her first new record in four years, Sorry I Haven't Called is danceable and electronic driven while its lyrics are conversational ("Lexicon," "You Know How," "Made Out With Your Best Friend"), although there are some reflective moments, too ("Passing Me By," "Autobahn").
Tamko says, "I wanted to build on some themes that I flirted with, like my house music-inspired production on "Water Me Down" [from the album Vagabon] and go a bit deeper into dance—and not fully because narrative is still really important to me. I love writing. I love words. I love painting a world that way, too. So it was about combining these worlds—this euphoria that you feel in a dark club and combining that with really conversational storytelling."
Part of the change direction comes from her move to the German countryside, where she started writing after Littman's death. "It's helpful for me to be in quiet spaces to work," she says, "but to also be inspired to feel the vastness of the world that way. I set up a home recording studio and I made music almost as a distraction. Because there were no other distractions, I was processing my grief and doing so in a way that felt healthy enough for me."
The album's opening track and debut single, the delightful and romantic "Can I Talk My Sh**," sets the record's tone, with the narrator singing: "Honestly I'm ready to go, when you talk like that." Tamko laughs when she says, "That was the intention. It's my thesis, if you will. It's almost kind of giving the listener, 'Hey guys, this is what we're doing. It's going to be playful. We're going to have fun, So unwind, like unbutton your pants, undo your tie. It's fine. This is not a big deal.'"
Tamko dissects her songs almost scientifically (she studied engineering before making music her calling). Take for instance "Carpenter," a song with a little bit of an Afro-Latin feel. "Rhythm is one of my favorite parts of music," she says. "It's an element of my vocal songwriting as well. Rhythm is at its core. And so I was flirting with the idea of how to bridge a gap between the last two records [Infinite Worlds and Vagabon] and this next record I was beginning to work on. "Carpenter" felt like that juxtaposition between the melodies I used to gravitate towards with this rhythm that I haven't showcased yet in my work."
"Do Your Worst," incorporates jungle sounds while the narrator confronts an acquaintance ("You turn me into someone I don't like when you sing my praises then you try to slide"). "The sound design is what I nerd out on," Tamko says. "If I could specialize in it, it's what I would do all of the time in building that world. That includes having the center of the world be the storytelling because I think that's what beats and production make us feel, but the words make us come back over and over and over again. It's one of the songs I'm most proud of."
The album closes with "Anti-F***," whose folk-rock sound recalls her first album. "It's the one song that came extremely quickly," Tamko says. "I had gone on a walk in the forest in Germany where I was living at the time, and I came back and it was a dark day. And I came back and that song just happened." Laughing she adds, "I almost was like, 'Ugh, not a folk song.'"
Tamko co-produced the album with Rostam Batmanglij, a former member of Vampire Weekend and a producer/musician whose credits include Haim, Carly Rae Jepsen and Clairo. Having recorded and performed music mostly on her own, she saw working with Batmanglij as a way for her to honor Littman.
"I made a version of this record back in Germany, and I came home with my record, ready to present it," she says. "I can be quite insular, so I don't send demos. I kind of want the space to flesh the ideas out. And a year later, Rostam wrote me on Instagram, and I went over to his studio and I played him a couple of things. I basically came to him with the record, and he was like, 'I can help you finish this.' One of the first things he said to me was, 'I know I'm a producer and I know you're a producer, but productions are kind of whatever—the songs are what matters. You've done the hard part.' So it became our job to make a cohesive record. It's beautiful to see how expanded my world has been by inviting people in honor of Eric's legacy and impact on my life."
Born in Cameroon, Tamko's early relationship with music was at church. When she was a teenager, she and her family immigrated to New York City. "I found myself in this underground scene in New York almost by accident," she recalls. "I didn't know any musicians. I was in engineering school, and I didn't have musicians in my life at all. I didn't know people who made music. I lived in the best city in the world. So all you had to do was look around: 'Okay, I'm going to go to Brooklyn. I think that's where the artists are.'"
"I stumbled upon this community. I was like, 'I play music.' They're like, 'Oh, you do? We play music. Do you want to play a show?' I'm like, 'Yeah.' 'Well, in our kitchen on Friday.' We were all these kids learning how to make music in our bedrooms. I almost call [those musicians] my high school friends because I moved around so much, that it was the first time I was like, 'Oh, we're going to be long-term friends.' People like Mitski, who got me my first-ever show. All these people that pop up in my life—it was almost a way to make friends."
Vagabon released Infinite Worlds in 2017, followed two years later by her self-titled album. Since then, Vagabon has received press attention from Pitchfork, Rolling Stone, The New York Times and The New Yorker. She has performed at the Pitchfork Festival, the Newport Folk Festival, Primavera Sound and South by Southwest, and shared stages with Angel Olsen, Weyes Blood and Courtney Barnett.
"I think it hasn't hit me yet," Tamko says about her good fortune. "It hasn't trickled down to me yet. I feel like I've been away from it for a long time. I feel like I've been in a bit of a cave. So I'm hoping to feel it soon. That would be really nice."
Tamko will tour behind Sorry I Haven't Called starting in September with European and North American dates. As for her next musical direction, Tamko says she'll probably stick with the sound of her new record for now. "I think I've found my thing finally," she says. "It's been confusing to me as well as it is for everyone for me to completely change myself every album.
"I didn't have the luxury of sorting out my musical identity before it became public."
"Infinite Worlds [contains] the first songs I ever wrote in my life.... So with Sorry I Haven't Called, I feel like I'm settled in here. I feel really good about how this makes me feel good. I think I'll stay here for a while."
David Chiu is a freelance writer focusing on music. Follow him on X @newbeats
FURTHER LISTENING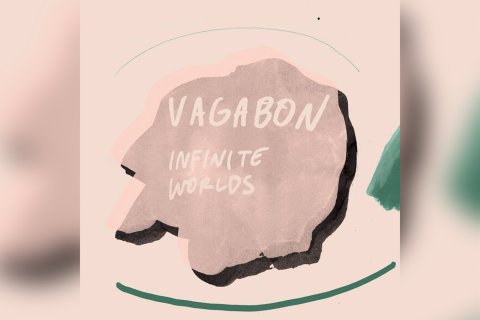 Infinite Worlds, Father/Daughter Records, 2017
Laetitia Tamko began recording as Vagabon in 2014. Three years later, she unveiled Infinite Worlds, which put her on the map and garnered critical recognition. Highlighted by such tracks as "The Embers," "Minneapolis," "Fear & Force" and "100 Years," Infinite Worlds is minimalist guitar-led rock/bedroom pop music that recalls the sounds of her contemporaries like Mitski, Angel Olsen, Japanese Breakfast and Soccer Mommy.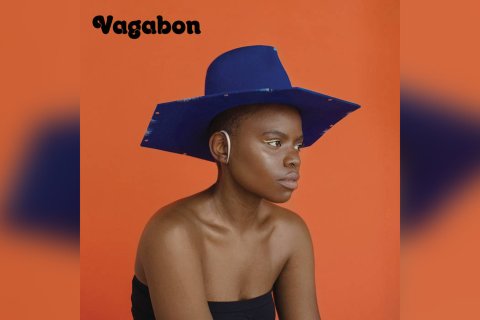 Vagabon, Nonesuch, 2019
Vagabon's self-titled second album downplayed the guitar focus of her debut and focused more on electronic textures. Tamko wrote the material primarily on her computer while she was on the road. Vagabon yielded such notable tracks as "Flood," "Water Me Down" and "Every Woman," the latter described by Tamko as a feminist anthem for herself and marginalized people in society.