2024 Presidential Election Could Be Between Andrew Cuomo and Mitt Romney
A new poll indicates that voters would favor a 2024 presidential election between Democratic New York Governor Andrew Cuomo and Republic Senator Mitt Romney.
The poll released Thursday by Canadian polling firm Leger surveyed over 1,000 registered U.S. voters who listed the candidates as their top choices for GOP and Democratic nominations. Neither of the current candidates, President Donald Trump and former Vice President Joe Biden, were listed as choices.
Cuomo was the top 2024 choice for Democrats, gaining the support of 21 percent, with Biden's 2020 running mate Senator Kamala Harris being the runner up at 19 percent. The governor had 20 percent support among the general population, with runners up being Pete Buttigieg and Andrew Yang, who each garnered 14 percent, while Harris had 13 percent.
Romney was the clear choice of the general population with 30 percent support, compared to Vice President Mike Pence's 18 percent. However, Romney's advantage disappeared when only Republicans were surveyed. Pence was the top choice for Republicans, with 31 percent, while Romney had only 9 percent support, losing out to figures such as Donald Trump Jr., the runner up with 17 percent.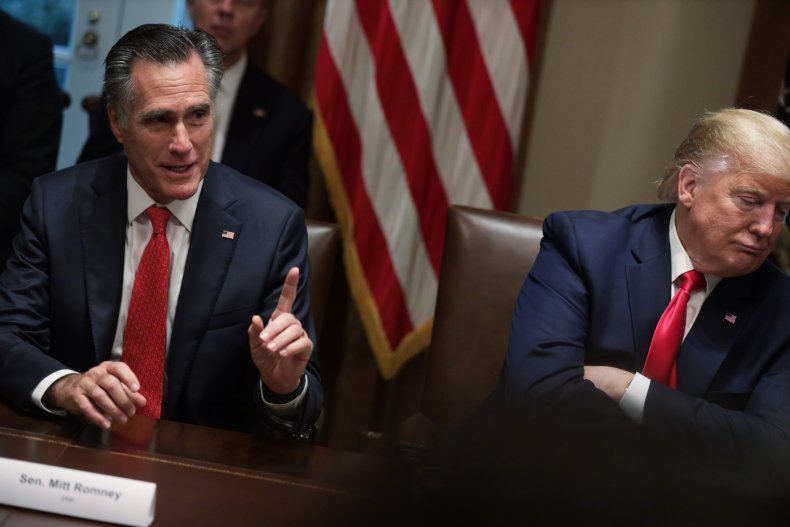 A scenario where Cuomo becomes the 2024 nominee is less likely if Trump is defeated in November's election, since former Vice President Joe Biden would then be an incumbent potentially seeking reelection. Since the 1800s, no incumbent president has sought his party's nomination for a second term and lost.
A poll released earlier this week by Rasmussen Reports found that 59 percent of voters believe Biden will not finish his first term if he is elected in November, which would see Harris as the incumbent president in 2024. If Biden finished his term but did not seek reelection, Harris would be a likely frontrunner, since former vice presidents also have a distinct advantage in winning party nominations.
Romney has given no indication that he intends to run for president again, although some have speculated that he might. The 2012 nominee considered but ultimately decided against running in 2016. Since then, he has seen his popularity among Republicans nosedive in the wake of repeated negative comments from Trump, who would be eligible to run for a non-consecutive second term if his loses this year.
Newsweek reached out to the offices of Romney and Cuomo for comment.
The Leger poll also included a question about the 2020 election, with Biden beating Trump, 47 percent to 39 percent. Voters were asked about a five-person race that included Kanye West, Libertarian candidate Jo Jorgensen and Green Party candidate Howie Hawkins, all of whom registered in the low single digits. A further 6 percent said they were not sure of their choice, while 2 percent said they would not vote.
The poll surveyed 1,041 registered U.S. voters online between August 4 and August 7. It has a margin of error of 2.8 percent.