20K Christians Petition Catholic Group to Cancel Award for William Barr Over His 'Corrupt Authoritarianism'
More than 20,000 Christians have signed a petition urging the National Catholic Prayer Breakfast to cancel a planned award for Attorney General William Barr over what they see as his "record of unjust, corrupt authoritarianism."
The petition by Faithful America, which describes itself as the largest online community of Christians acting for social justice, had garnered 20,357 signatures as of Tuesday morning. The annual National Catholic Prayer Breakfast will be held on Wednesday and will be streamed online at 11 a.m. ET. Barr, a Catholic, is slated to receive the Christifideles Laici award.
"Each year, the National Catholic Prayer Breakfast gives its Christifideles Laici award 'In Honor and Gratitude for Fidelity to the Church, Exemplary Selfless and Steadfast Service in the Lord's Vineyard.' Attorney General William Barr's work—which includes teargassing peaceful protesters in front of the White House, defending the president's lawless corruption and attacks on American elections, and reinstating federal executions—has nothing to do with service to the Lord, and cannot be described as fidelity to the Church," the Faithful America petition says.
"As fellow Catholics and other Christians, we call on the NCPB to cancel this award for Barr immediately, and avoid any further appearance of endorsing Donald Trump or his Cabinet members so close to an election," it adds.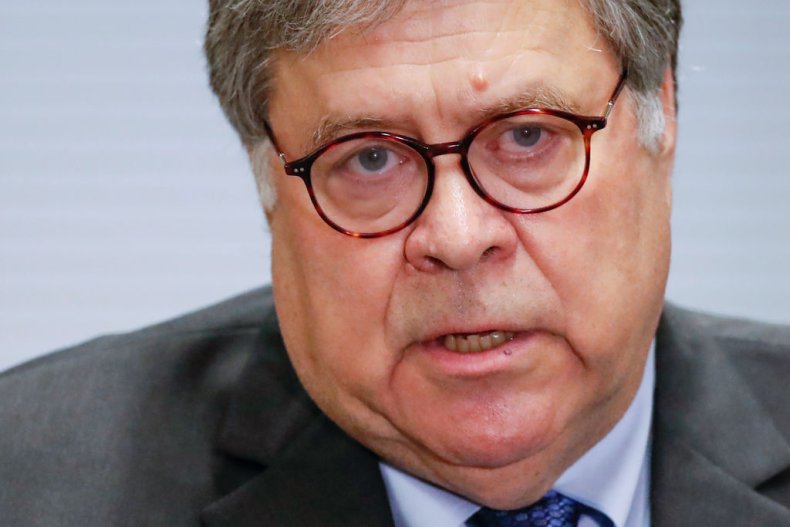 Reverend Nathan Empsall, Faithful America's campaigns director, said in an email to Newsweek that the conservative Catholic organization's decision to give the award to Barr "is a political maneuver simply intended to further hijack religion for Donald Trump's reelection."
"Faithful America's members, like millions of other Christians around the country, are sick of seeing their faith distorted by the right wing this way," Empsall said.
Newsweek reached out to the National Catholic Prayer Breakfast for comment, but it did not respond by the time of publication.
Polling by Pew Research Center shows that American Catholics are about evenly split between identifying with the two major political parties. While some 48 percent lean Republican, 47 percent lean Democrat. During the 2016 presidential election, just over half (or 52 percent) of Catholic voters backed Trump. Democratic presidential candidate Joe Biden is a Catholic, but many Catholics are critical of the former vice president due to his support for abortion rights.
June survey data from Pew Research showed that just under half (49 percent) of Christians—including Catholics—approved of Trump, while 49 percent also disapproved. Among Catholics, only 41 percent approved of the president and 57 percent disapproved. But the president's support among white evangelical Christians remained high—with 72 percent saying they approved. However, that marked a decline from January, when 77 percent approved of Trump.
Barr has received criticism from other Catholic groups, specifically over his reinstatement of the federal death penalty.
"We consider Mr. Barr's recent decisions and actions to be abhorrent in the context of Catholic faith. We consider especially scandalous his decision to begin again federal executions after 17 years of moratorium," the Association of U.S. Catholic Priests said in a recent statement. "Executions are clearly not pro-life."