On the 20th Anniversary of 9/11, We Are All Wounded Healers | Opinion
I was 20 years old on Sept. 11, 2001, 20 years ago this week. A senior in college, I began the day getting a cast set on a sprained ankle at urgent care in a small western Pennsylvania town, and returning on crutches to the freshman dorm I oversaw as a resident director. My first-year residents had only just begun their college careers when they were sideswiped by a national crisis. During a week that would otherwise have been filled with the ecstasy of their first college parties and classes, these students were forced to confront the frightening images, confusion and anti-Islamic sentiment after Al-Qaeda's missions. Many of these students had only just left the comforts of home.
Sept. 11 and the COVID-19 pandemic, though fueled by disparate sources, challenge us similarly: How do we shepherd one another through a land we ourselves have never visited? How do we sit with one another in fresh grief when we are overcome by feelings we cannot yet identify? My experience as a young person leading young people through uncharted territory was wobbly at best.
I remember hobbling on crutches up four flights of stairs in the elevator-less dorm to check in on students from New Jersey and New York, to ask about students from Washington, D.C. and to put a finger on the pulse of the residents in general. We were all mostly removed from the immediate trauma of the Twin Towers and Pentagon, but several students grew up not far from Shanksville, Pa. where United Flight 93 had crashed. The beauty of a residential college campus is that it fosters myriad opportunities to discuss and process events, either recent or from ancient history. Together, we had a forum, but we had very little context for why and when and how this had all come to unfold.
With two decades' hindsight and significant professional experience in and out of the classroom, I have come to believe that a lack of context is not always a weakness. In fact, it is in our weakness that we are often emboldened to lead best with sensitivity. The late theologian Henri Nouwen called this leadership capacity that of the "wounded healer." Nouwen wrote, "The main question is not 'How can we hide our wounds?' so we don't have to be embarrassed, but 'How can we put our woundedness in the service of others?'" In his 1979 book The Wounded Healer, Nouwen wrote what we may deem a liability could be our greatest asset: "When our wounds cease to be a source of shame, and become a source of healing, we have become wounded healers."
Whether we suffered primary trauma from Sept. 11 or whether our trauma is secondary as one who simply bore witness to the sadness, anger, grief and confusion of the attacks, we will do well to bear witness to this woundedness, and not to deny it to the present generation.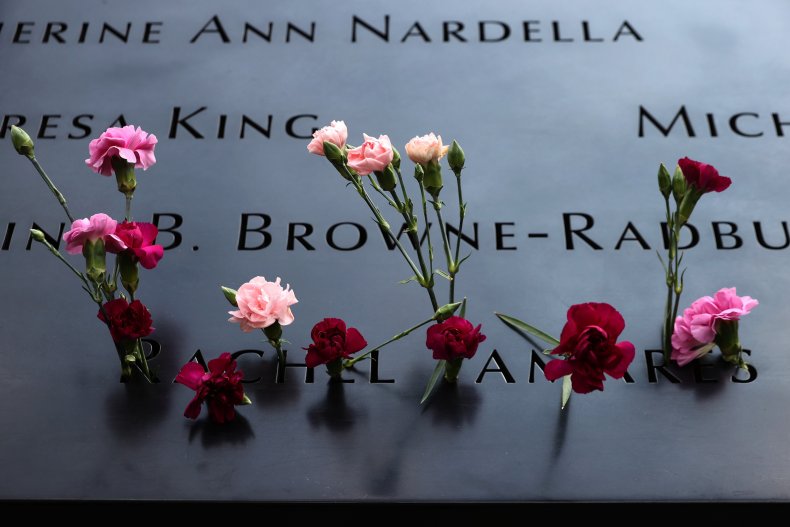 As a high school English teacher, I will enter a classroom this week with students who were born after this seminal event that splits my own life in half. Our current high school and college students, born largely between the years 1999-2006, have known plenty of turmoil in their young lives: frequent school shootings, incidents of police brutality and unprecedented climate change catastrophes to name a few. I wonder what my responsibility is as an educator, to share my experience of Sept. 11 in a way that will not overburden an already emotionally overloaded youth—many of whom have just returned to an in-person classroom after a full year online?
In her 2020 book Trauma Doesn't Stop at the School Door, educator Karen Gross questioned whether schools pause to reflect on how to deal with anniversaries of major events, such as hurricanes, tornadoes, repeated sexual abuse and school shootings. Gross posited that schools do not—but should. "We need to start reflecting on how anniversaries of traumas could become important and curative, not disruptive and disquieting," wrote Gross. Yet, the fear of causing more disruption in the life of a student in 2021 dominates conversations, from social media to incendiary school board meetings. Gross' guidance to schools is to consider their role as places that have experienced trauma and to use trauma anniversary responses as opportunities to create structure, stability and safety—three aspects of life that trauma takes away.
Structure, stability and safety are also three aspects that the pandemic has threatened or dismantled as pillars of our lives. Few people we encounter, regardless of age, race, or economic status has been left unscathed.
The wisdom of the wounded healer reminds us that our collective woundedness can unite us and compel us toward healing. Nouwen wrote, "Who can save a child from a burning house without taking the risk of being hurt by the flames? ... In short: 'Who can take away suffering without entering it?'" I will enter the classroom with care, sharing how Sept. 11 has shaped my life, awakening me to a world of endless pain, staggering prejudice, economic interdependency and tremendous uncertainty. I will not be embarrassed by the scars. To be wounded is to be seeking to heal alongside others in a similar predicament. To be wounded is to be human.
Kendra Stanton Lee is a high school English teacher in Boston. More of her writing can be found at www.kendrastantonlee.com.
The views expressed in this article are the writer's own.