20th Service Member Killed in Afghanistan Was a Green Beret on Third Deployment To Country
For the 20th time this year, the Pentagon identified another American service member killed in Afghanistan. The news comes just two days before Christmas and follows the release of The Washington Post's Afghanistan papers, a multipart series underscoring the gross mismanagement of America's longest war.
U.S. Army Sergeant First Class Michael James Goble, 33, a Special Forces weapons sergeant with Company C, 1st Battalion, 7th Special Forces Group (Airborne), died of wounds he sustained while on an operation in the Northern province of Kunduz. It was his third deployment to Afghanistan.
Zabiullah Mojahid, a Taliban spokesman said American and Afghan forces were targeted with improvised explosive devices during the raid. A Defense Department official who spoke to Newsweek under condition of anonymity confirmed the cause of death.
More than 2,400 U.S. service members have died in Afghanistan since the United States invaded the country in 2001 to oust the Taliban and dismantle al-Qaeda following the 9/11 attacks, according to the website icasualties.org. America's longest war has cost billions of dollars and left tens of thousands of both American and Afghan families permanently shattered.
As news broke late Sunday night of another U.S. service member being killed in the 18-year-old war, pictures of the attack were posted to Twitter. Newsweek reviewed a series of photographs that seemed to show Goble's military identification card along with his blood-soaked Army uniform which had been torn to shreds.
U.S. Army Captain Rick Dickson, a public affairs officer for 3rd Special Forces Group said on social media that Twitter would remove photographs of the government-issued identification cards if reported. While Twitter did remove some of the images for violating the company's rules, some of the pictures could still be found online as of Monday.
Out of respect for the privacy of the family, Newsweek is not publishing or linking to the photographs posted.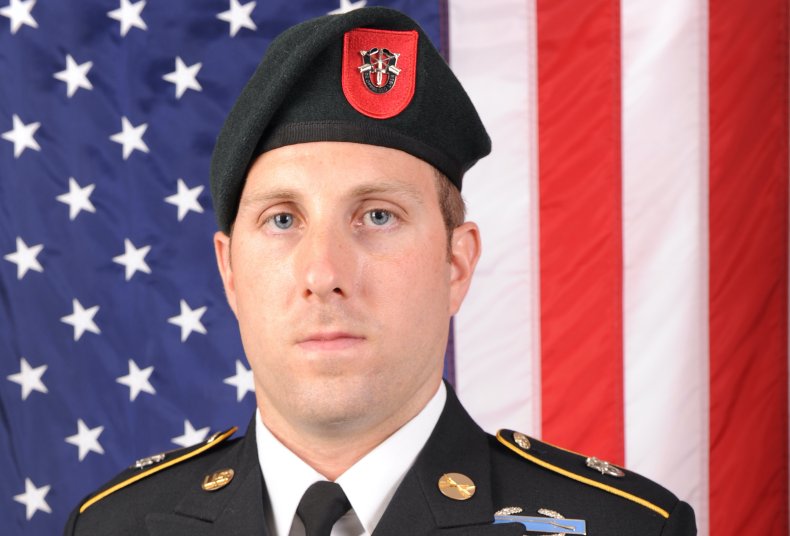 Westwood is one of eight municipalities in New Jersey and is known as "The Hub of the Pascack Valley" and the birthplace of multiple professional athletes and the late, great character actor James Gandolfini. On Monday, the borough lost another great son.
Born on January 13, 1986, Goble was raised in Westwood and enlisted into the U.S. Army on July 7, 2004 as a Special Forces candidate in Washington Township, New Jersey, according to a U.S. Army press release.
After basic and infantry training, Goble earned his jump wings from the Basic Airborne Course at the Army base at Fort Benning in Georgia. From there, he attended and successfully navigated the Special Forces Qualification Course, in February 2007.
As a member of Company C, 1st Battalion, 7th Special Forces Group (Airborne), Goble deployed a total of three times to Afghanistan, in addition to serving in Argentina, Guatemala and Colombia.
He served as a sniper instructor and later deployed as a senior intelligence sergeant to the Republic of Korea and to Colombia once more, according to the U.S. Army.
"Sgt. 1st Class Goble was more than just a member of the 7th Special Forces Group, he was a brother to us, and a beloved family member to the Northwest Florida community," said Army Colonel John W. Sannes, the commander of 7th Special Forces Group (Airborne).
He added: "We will honor our brother's sacrifice and provide the best possible care to his family. We ask that you keep his family and teammates in your thoughts and prayers."
In addition to graduating from multiple Special Forces courses and military schools, multiple combat and campaign medals adorn his chest, among them, three Bronze Star medals.
On Monday, a Go Fund Me was started to honor Goble's service and support his partner and daughter, who he leaves behind. The campaign is seeking to raise $15,000. As of publication, more than $11,000 had been given.