21 Demonstrators Arrested Protesting California Police Shootings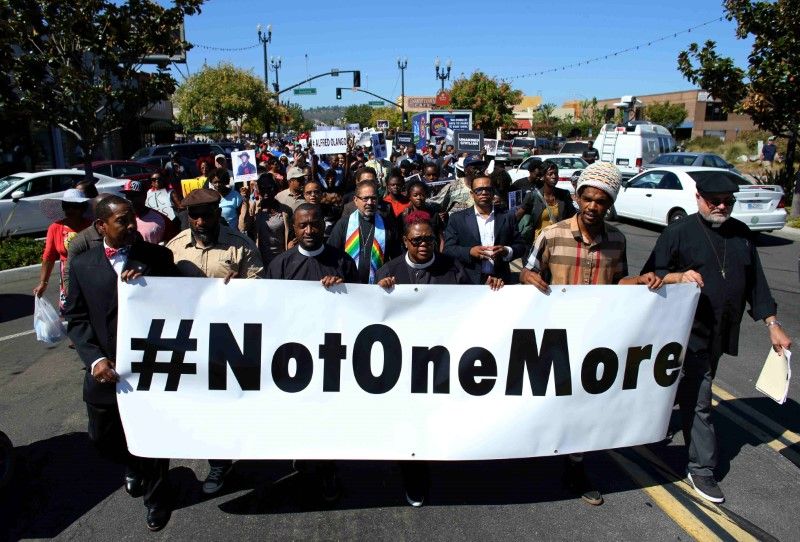 Twenty-one people were arrested over the weekend in protests in Los Angeles and El Cajon, California over fatal shootings of two black men by police that stoked concerns about racial bias in U.S. policing.
Seventeen people were taken into custody in El Cajon on Saturday night and early on Sunday, most of them for failing to obey orders to disperse after an "unlawful assembly" order was declared, said Lieutenant Rob Ransweiler of the El Cajon Police Department.
Protesters have taken to the streets of El Cajon nearly every night since former Ugandan refugee Alfred Olango was shot by officers on Tuesday in the parking lot of the Los Ponchos taco stand in the San Diego suburb.
Earlier on Saturday, police largely stood back while some 200 people marched through the city's downtown behind a banner that read "#NotOneMore" and a photo of Olango, 38, with angel wings.
Authorities on Friday released two videos of the shooting but the grainy footage, much of it without sound, did little to calm community outrage over Olango's death.
The videos, one taken from a camera mounted at the drive-through window of the taco stand and the other from a bystander's cell phone, show two officers confronting Olango before opening fire, one with a gun and the other with a Taser.
In the bystander video, which lasts only about 17 seconds, a woman can be heard shouting: "Officer don't shoot him!" before at least four shots ring out and she screams.
Olango's actions in the moments before he is shot are difficult to make out in the videos, but police have said he ignored repeated commands to take his hand out of his pocket, then withdrew an object later determined to be a vaping device and aimed it at one of the officers in a "shooting stance."
In Los Angeles, four people were arrested on Sunday night during protests over the shooting one day earlier of 18-year-old Carnell Snell Jr. following a car and foot chase that began when officers suspected the vehicle he was riding in was stolen.
The Los Angeles Police Department has said that a handgun was recovered from the scene.