21 Dead After Bus in China Plunges Into Reservoir
Twenty-one people died and 16 were injured in southern China after a bus taking some students to a national college entrance exam drove across five lanes of traffic and sank into a reservoir on Tuesday morning.
A video from state media channel CCTV showed the bus driving slowly down the inside lane of a six-lane road in Anshun, Guizhou province before making a sharp turn into opposing traffic lanes, smashing through the guardrail and plunging into the water. The cause of the incident has not yet been identified.
Newsweek reached out to CCTV for comment but did not hear back in time for publication.
Among the 38 passengers on the bus, four have been identified as students, according to the China Global Television Network. The high school students were reported to have been returning from the morning session of the exam, commonly known as "gaokao."
The exam resumed Tuesday after being postponed for a month due to the new coronavirus pandemic. Nearly 11 million students across the country are expected to write the two-day exams, according to state media.
In Beijing, exam centers set up safety measures, including temperature checks and face mask requirements, in response to the global health crisis. The city has been trying to contain a second-wave outbreak after a spike in infections were traced to the Xinfadi Wholesale Market. The capital city reported zero cases of new coronavirus on Tuesday.
The Guizhou fire department said 141 firefighters, including 19 divers, were sent to the scene in a post to their social media account. A rescue official told Beijing News that at its deepest point the reservoir is 15 meters. The lake was about 10 meters deep at the location where the bus crashed.
The vehicle has since been dragged out of the Hongshan reservoir.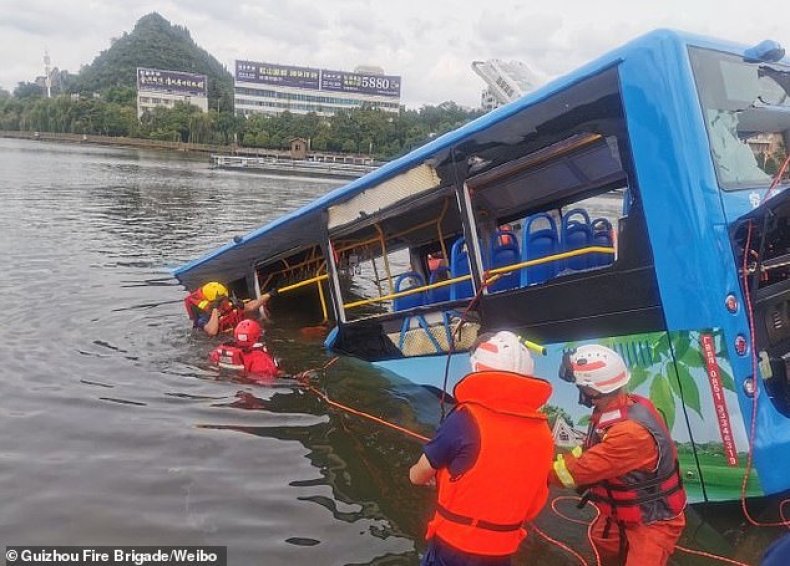 The province of Guizhou has seen weeks of torrential downpours which have resulted in widespread flooding.
Weather officials had warned parents to carefully prepare for commutes to school during the heavy rain. According to local government, exams in some parts of Anhui province had been delayed due to the worst flooding the region has witnessed in 50 years.
The China Metrological Administration forecasted 250 to 280 millimeters of rain across the provinces of Guizhou, Anhui, Hunan and Hubei on Tuesday.
As of Friday, 119 people have died or gone missing across the country due to the rainstorms.
A similar bus accident occurred in southwestern China back in 2018 when a bus drove off a bridge in the city of Chongqing and plunged over 160 feet into the Yangtze River. Thirteen died after a passenger attacked the bus driver, causing the driver to lose control of the vehicle.