21 Outstanding Products To Get Your House Organized In 2022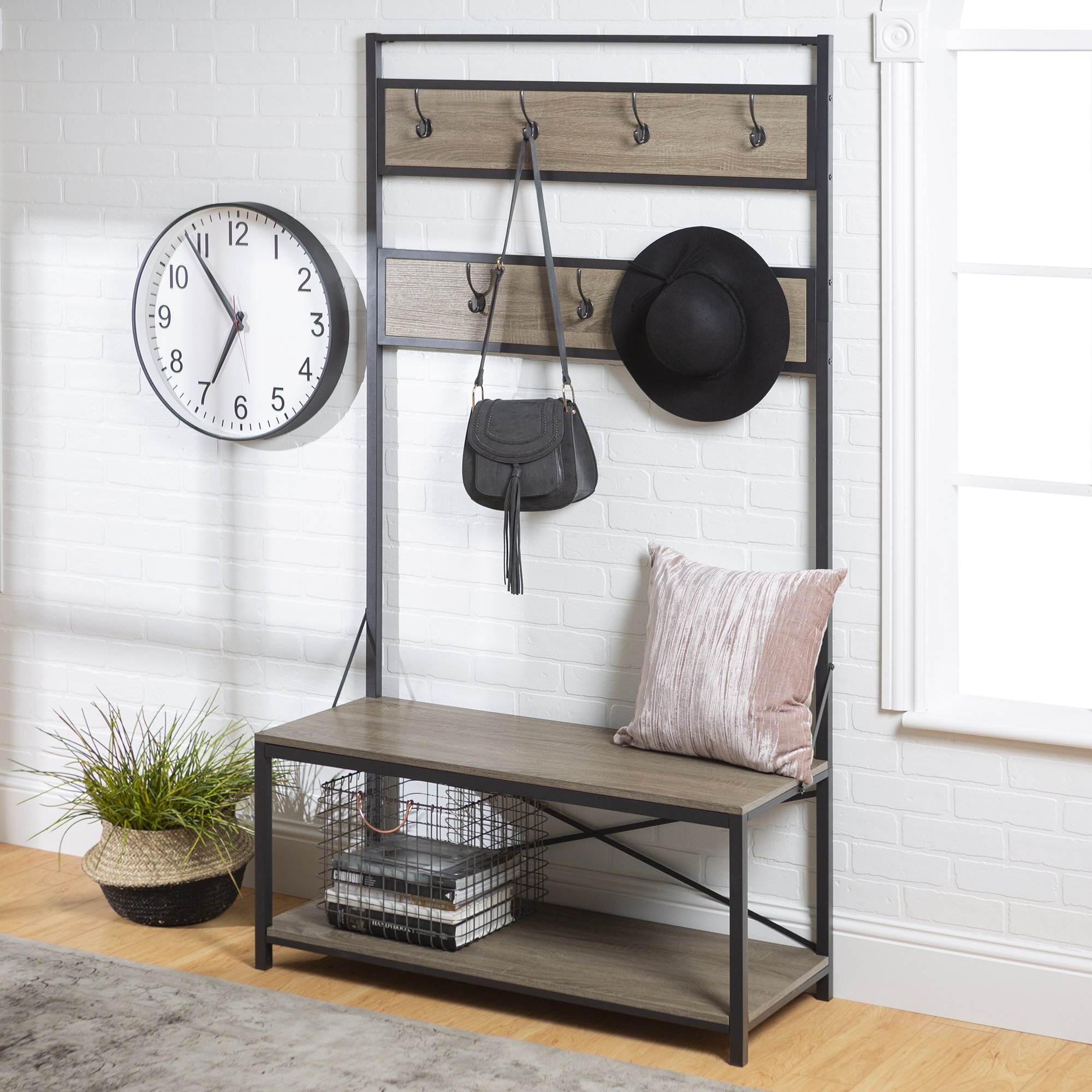 Something about the end of the holidays and the beginning of a new year puts many of us in the mood to organize. Whether we want to put our kitchens in order, maximize our linen storage or otherwise arrange our lives, now is the time.
The problem many of us have is that we don't know how to start. For others, the task seems so overwhelming that we don't ever start. One idea is to go one room or task (think work schedule) at a time. Whatever your style, the idea is to begin. As always, the prices listed may fluctuate over time.
21 Products to Help Organize Your 2022 Life
Before you start organizing, it's a great idea to make sure you have the products that will help you succeed. Whether you want to organize linens or jewelry or even your work contacts, there is a highly rated product that makes arranging items easier. Here are 21 of the best we found. Take a few minutes and find the ones that work for you. As always, the prices listed may fluctuate over time.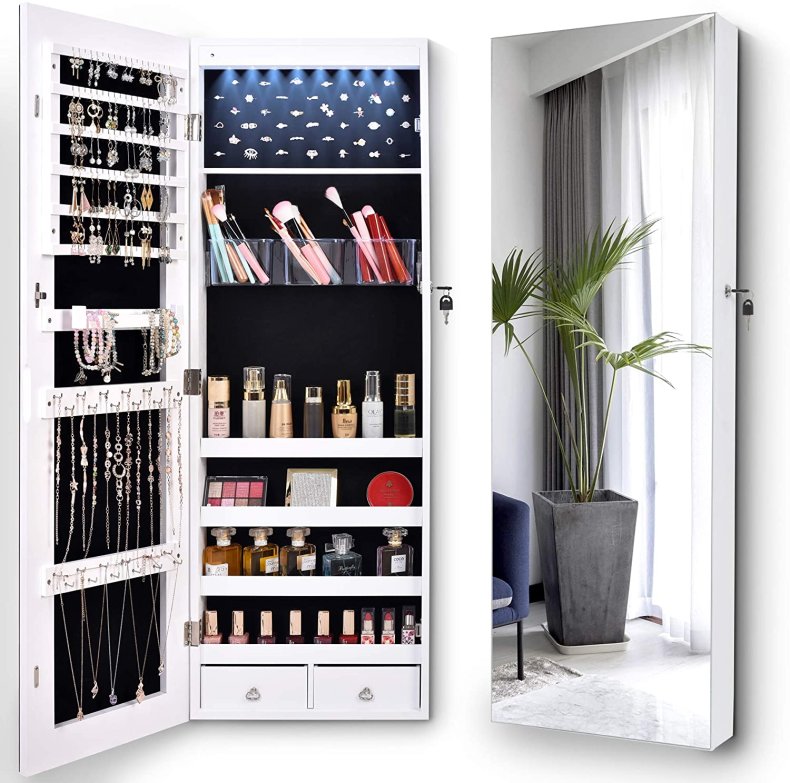 Forget tiny jewelry boxes and small hooks that translate into jumbles of jewelry. After all, arranging jewelry keeps it unblemished and allows you to find it easier. The Lvsomt Full-Length Mirror Jewelry Cabinet solves the problem of disorganized gems, earrings, bracelets and more. It measures 14.5 inches by 42.5 inches by 3.8 inches and boasts 24 necklace hooks, 78 ring slots, 36 earring slots, 108 stud earring holes and more. The white wood cabinet has LED lights that turn on automatically when the door opens, so no more struggling to find the jewelry you want. It's built for quick assembly and can be mounted on the wall with screws or hung over the door with hooks.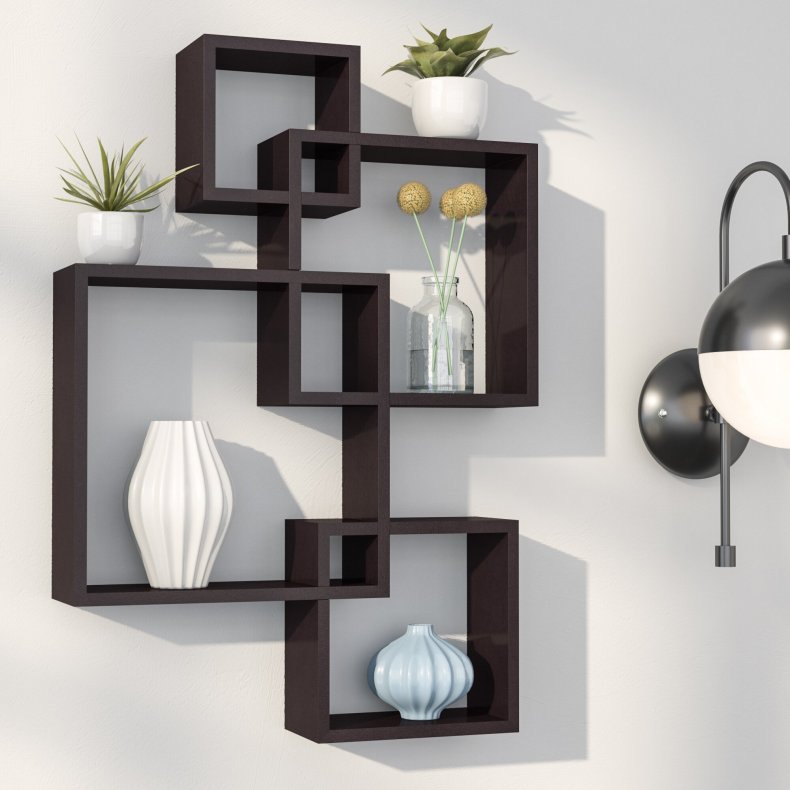 We all have those snapshots, sculptures and other small decor items. Hang the Ebern Designs Coyan Square Accent Shelf on a wall to display your items. Choose either 5 inches by 5 inches by 4 inches or 10.75 inches by 10.75 inches by 4 inches. Both are crafted from manufactured wood and have four intersecting cubes. Choose white, black, espresso or weathered oak.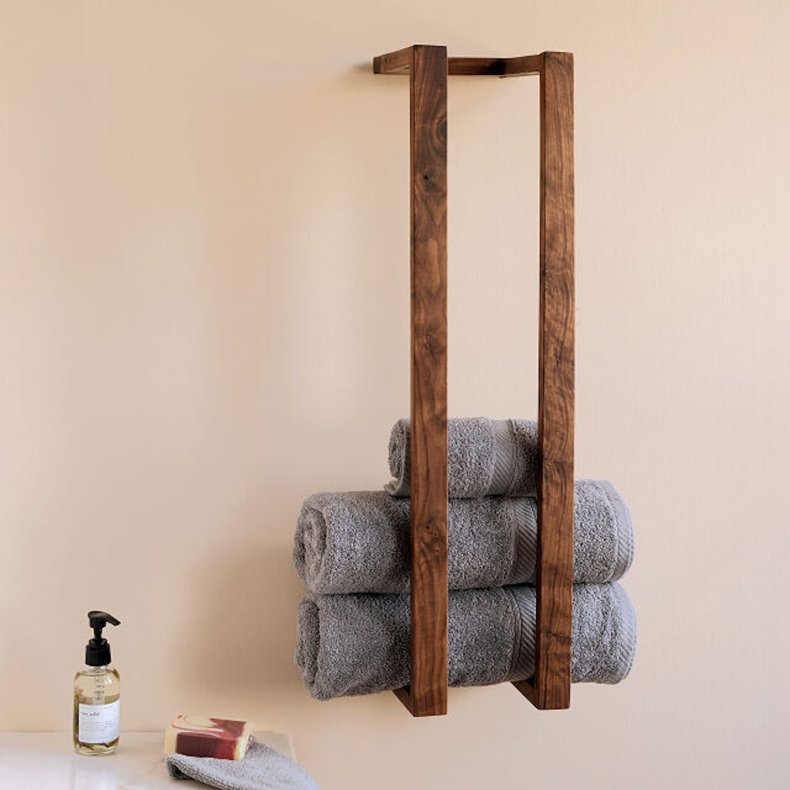 I don't have a linen closet, and it's a major challenge to store extra towels. The Philip Stone Minimalist Towel Storage and Display unit takes care of that inconvenience and looks good, too. It measures 7 inches by 7 inches by 28 inches and is crafted from American walnut and hand-finished with natural oils and wax. It's a minimalist look that has a solid function.
Buy at Uncommon Goods for $120.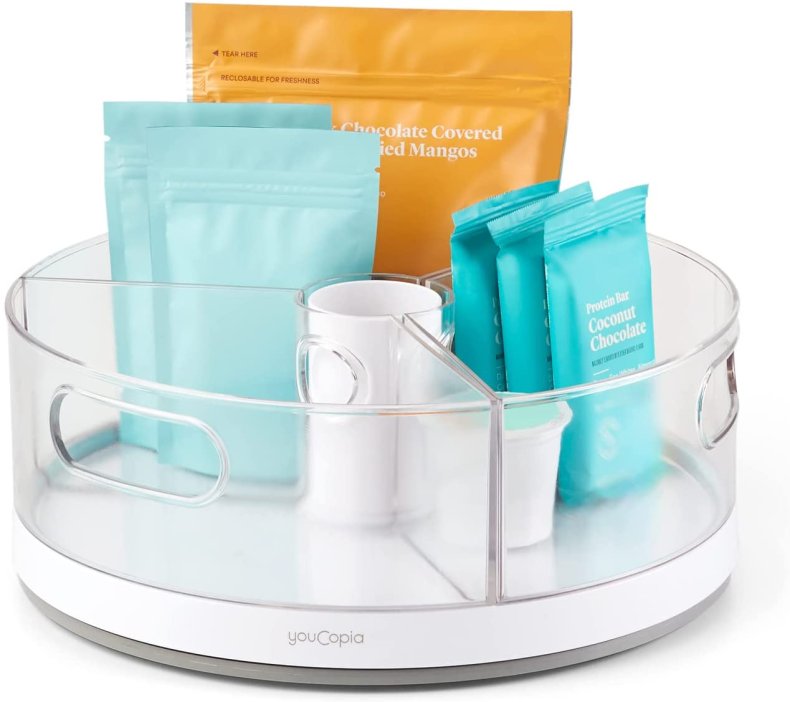 It's the little things that drive you crazy when you want to arrange your house. Whether you want to organize bottles, bags, snack packs or something else, the YouCopia Crazy Susan Kitchen Cabinet Turntable will get the job done. The Crazy Susan with three removable bins measures 10.4 inches by 10.4 inches by 4.1 inches and has a smooth 360-degree rotation on stainless steel ball bearings. It boasts removable bins with handles so you can easily grab the items in it. Choose the size that works for you.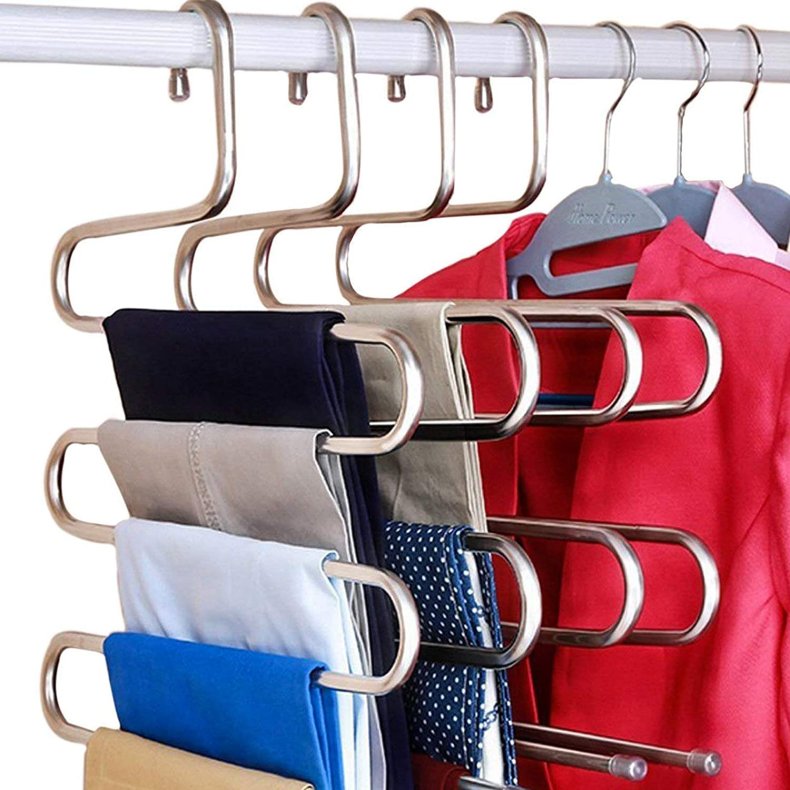 One trouble spot in many homes is the closet, whether it's in the main bedroom, the guest room or hallway. You don't need to spend a lot of money on a fancy system to tame the mess. Try Doiown S-Type Stainless Steel Clothes Hangers. They let you hang multiple skirts or pants on one hanger. You can also use it for scarfs, ties, and other clothing items, too. The hangers are made of stainless steel and have anti-slip caps on the ends, so your clothes stay in place. Organize that closet now and save space, too.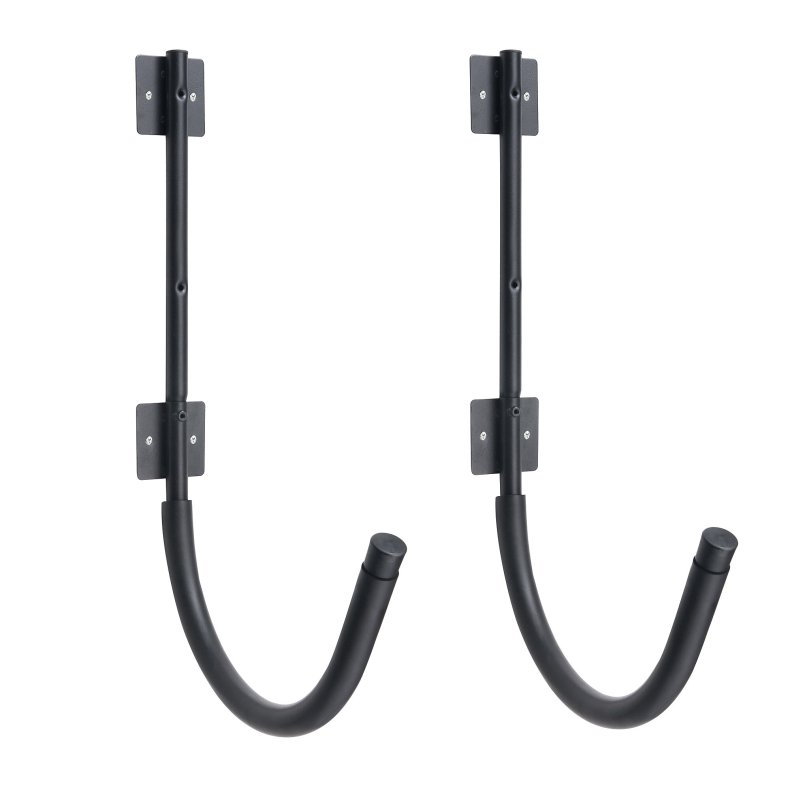 Get that kayak or canoe off the ground and out of the way with the WFX Utility 200-Pound Wall Mounted Kayak Rack. The hooks have a rubber coating to protect them from scratches and are easy to install and use. The smooth pulleys and latches allow you to lift the kayak or canoe easily. A locking mechanism prevents release. Free up that garage floor without busting your budget.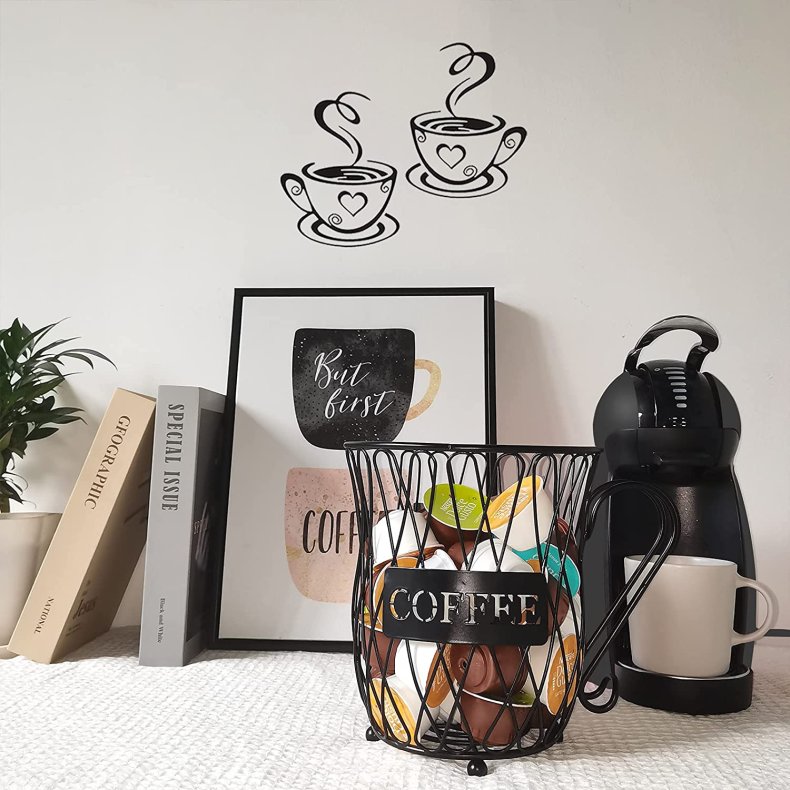 Yes, there are all kinds of fancy pod holders on the market. The problem with many of them is that they only fit under or next to certain size coffee makers. And, let's face it, many also hog a lot of counter space. The Stegodon Coffee Pot Holder and Organizer has a small footprint (7 inches in diameter by 9 inches high) but a large capacity. It holds up to 20 pods! Plus, it adds a touch of whimsy to your decor. It's made of sturdy steel, so it'll last. Use it in your kitchen, RV, guest house or make it a housewarming gift.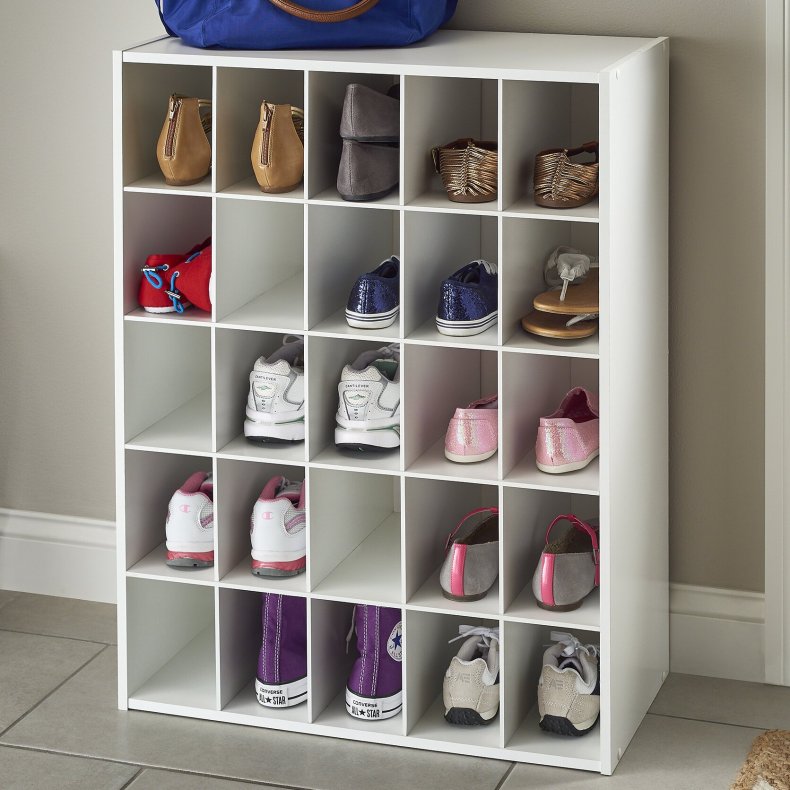 Sandals, sneakers, dress shoes seem like they're here, there and everywhere. Not only is that messy, but it makes it tough to find the shoes you need quickly. The ClosetMaid Stackable Organizers 25 Pair Shoe Rack is crafted from manufactured wood and has 25 cubbies for your shoes. The closed-back and stackable design allow you to stack the units.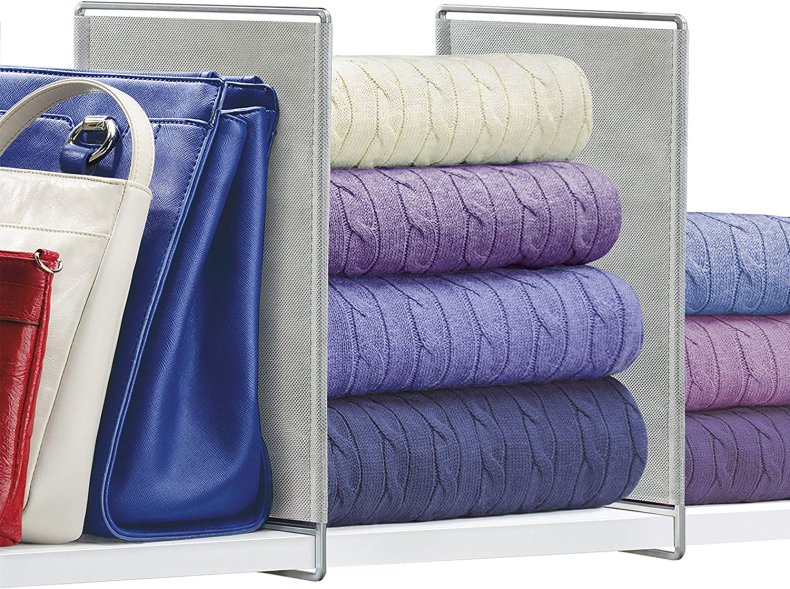 Closet shelves aren't designed for multiple items unless they are somehow grouped together. That's where Lynk Vela Shelf Dividers come in handy. Slide these 7/8 inch thick, 12-inch high, heavy-duty shelf dividers over shelf lips, and they're secure. Then group single items between the dividers. Use these to organize your small items on their shelves.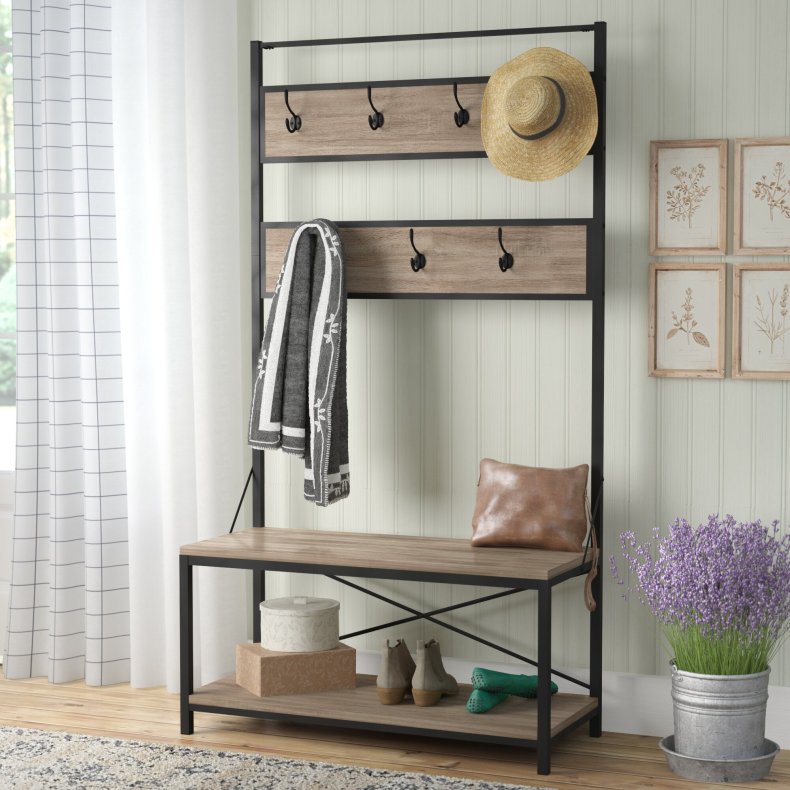 There is something about coats flung over chairs, on the back of a sofa and elsewhere that makes a house look incredibly messy. The Gracie Oaks Everheart Hall Tree with Bench and Shoe Storageeliminates that problem. The 60-inch by 40-inch by 17-inch unit has seven hooks for hats and coats plus space for shoes, scarves, gloves and more. There's even space for blankets and pillows. You can choose from six colors.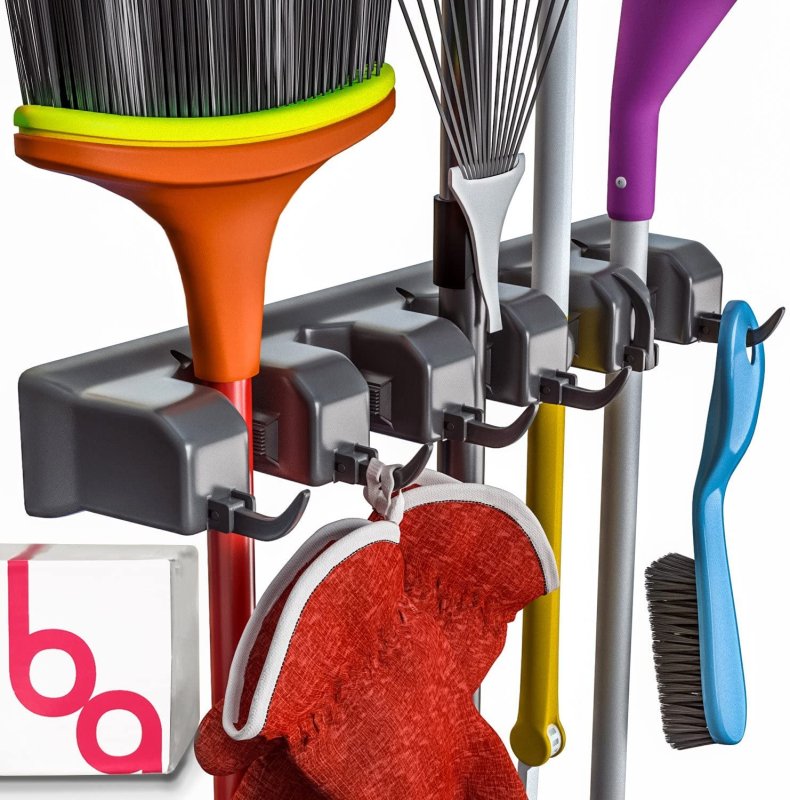 Brooms, mops, rakes, tools and stick vacuums seem to bunch up in corners where they slip and sometimes break or even become tripping hazards. The Berry Ave Broom and Garden Tool Organizer hold all that and more up to 35 pounds. It's weatherproof, too, so you can hang it in your shed, fence or wherever else is handy. The spring-loaded, rubber gripped slots firmly hold whatever you choose.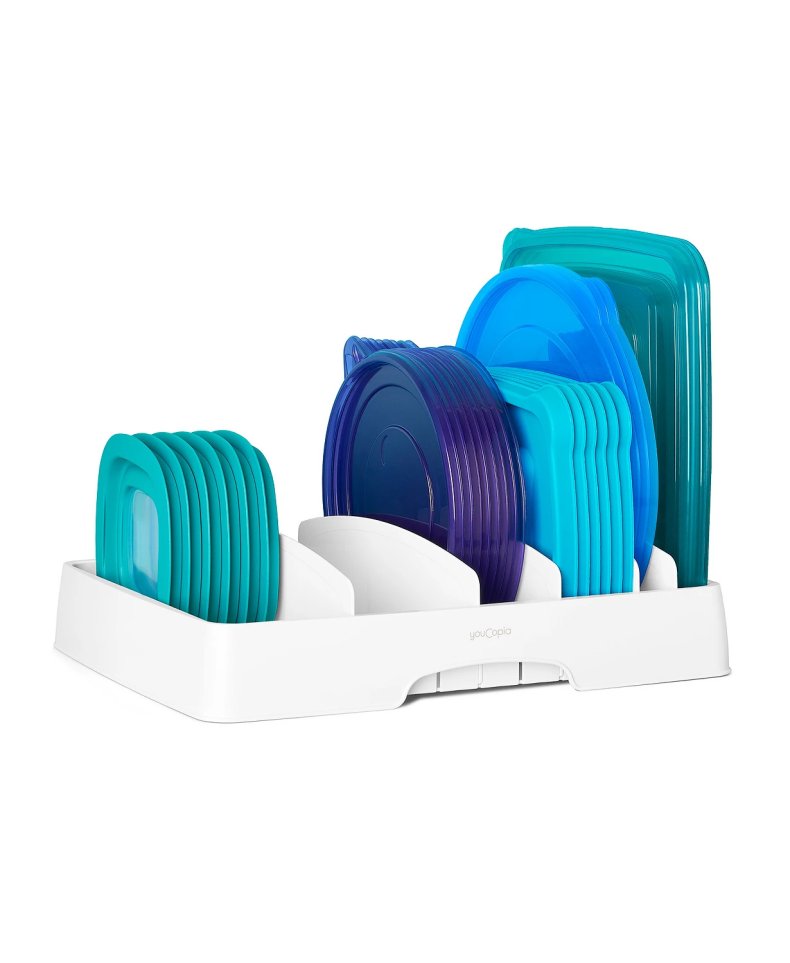 Stop hunting for lids to go on your plastic storage containers. The YouCopia StoraLid Container Lid Organizer has adjustable dividers to create different spaces for both your round and square lids. It measures 10.5 inches by 13.2 inches by 3.3 inches, so it fits in cabinets and drawers. They are made of easy-to-clean BPA-free plastic.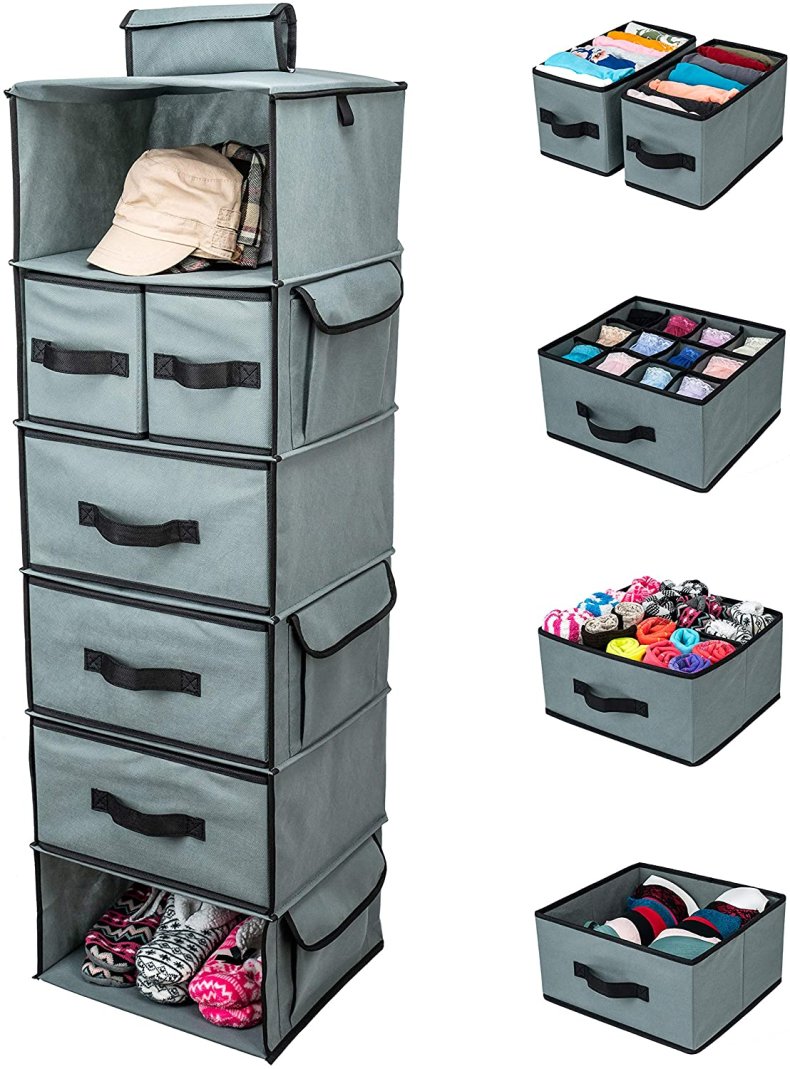 Smirly Hanging Closet Organizer Shelves are the answer to those messy closet shelves. The six shelves are each reinforced with 2-millimeter thick paperboard that holds up to 15 pounds, drawers for small and large items, pockets and more up to 30 pounds. The organizer measures 13.6 inches by 12.2 inches by 42.5 inches and hangs from a thick rail attachment with hook and loop fabric fasteners and extra rivets to ensure it doesn't fray or tear. It's made from non-woven fabric that is tear-proof.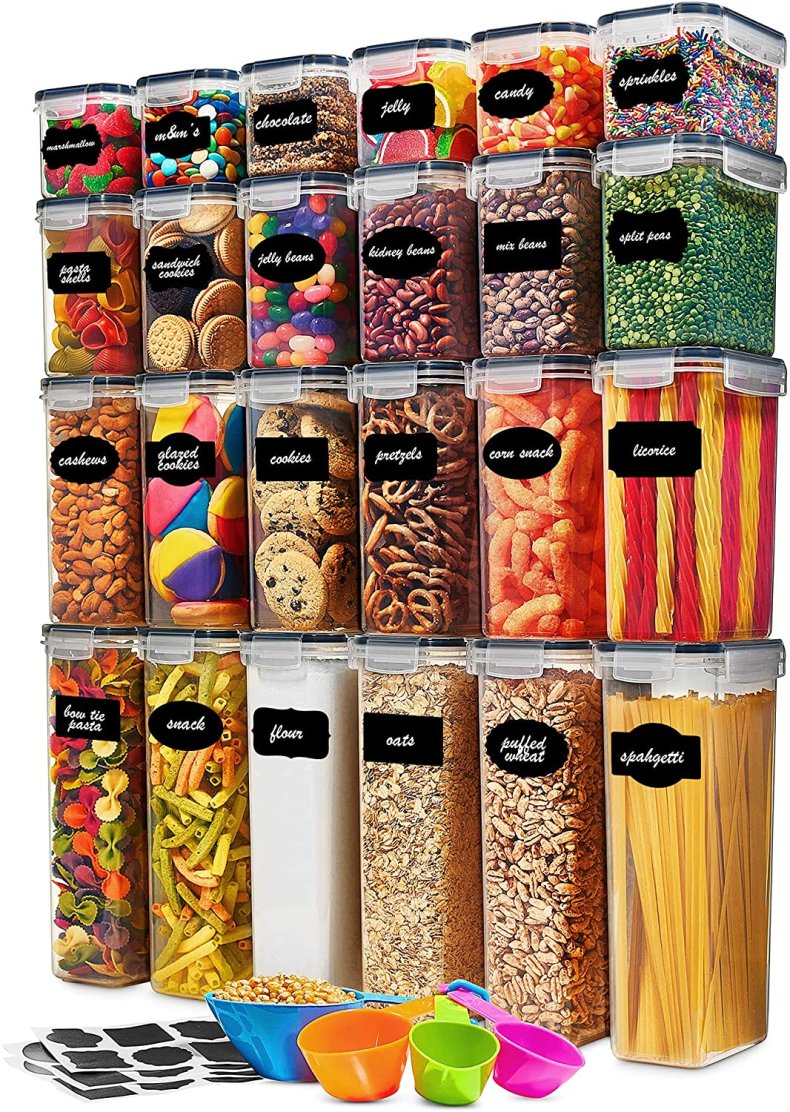 Boxes of pasta, bags of beans, sacks of flour and other dry goods hog valuable cupboard space and spill at the least convenient moment. The Seseno 24 Pack Airtight Food Storage Set has a container for every dry good. The set includes six Tall Containers (11.83 cups/2.8 liters), six Large Containers (8.45 cups/2.0 liters), six Medium Containers (5.92 cups/1.4 liters) and six Small Containers (3.38 cups / 0.8 liters). It even comes with free bonus labels with a chalk marker and measuring spoon set. The containers are made of high-quality, food-grade plastic, which is BPA-Free and non-toxic. The containers are airtight, watertight, leakproof, stackable and have non-slip lids.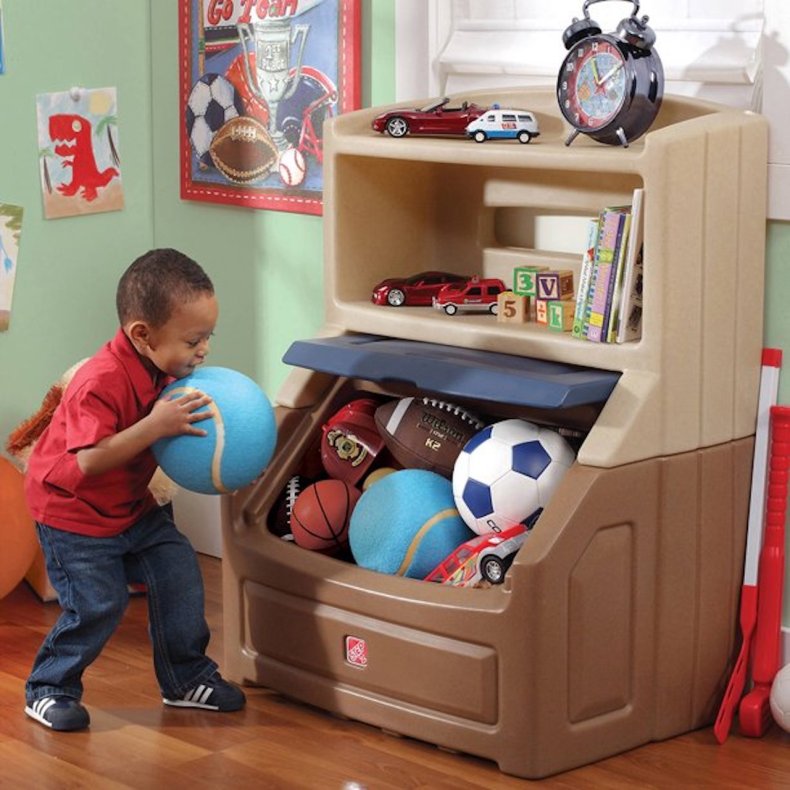 Keep kids' toys out of the way and safe by putting them in the Step2 Lift and Hide Storage Bin and Toy Organizer. It measures 21 inches by 28.5 inches by 38 inches, so it has plenty of space for toys, books and more. The sliding lid on this durable poly construction is permanently attached, so fingers aren't pinched. Choose blue, pink or red.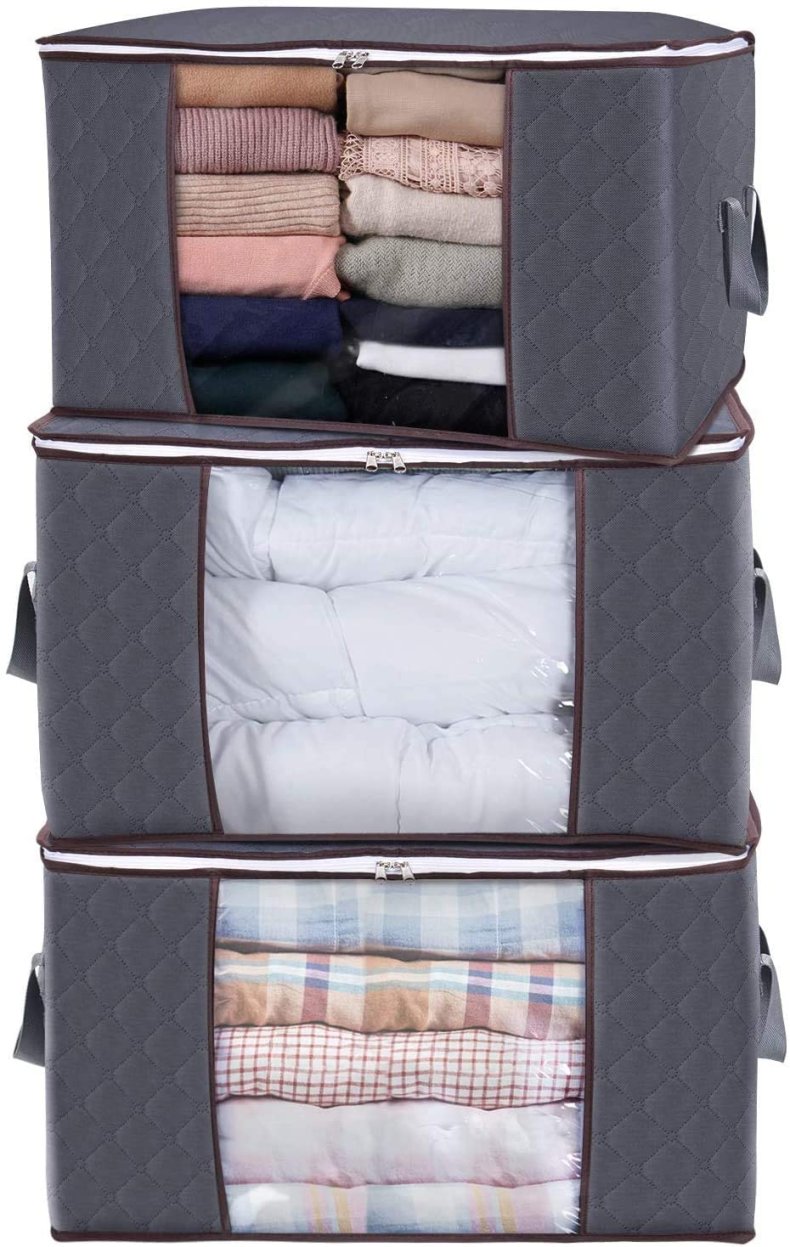 Don't you hate to have stacks of off-season clothes and linens cluttering up your closets and drawers? Pack your linens, seasonal clothes, pillows, plush toys and more in the Lifewit Large Capacity Clothes Storage Bag Organizer. Each bag in the three-pack set is crafted from two layers of fabric, has reinforced seams and measures 23.6 inches by 16.9 inches by 13.7 inches. Fill each bag to the brim and close it with durable, two-way stainless steel zippers. Clean out your closet and drawers and pack dry goods safely away.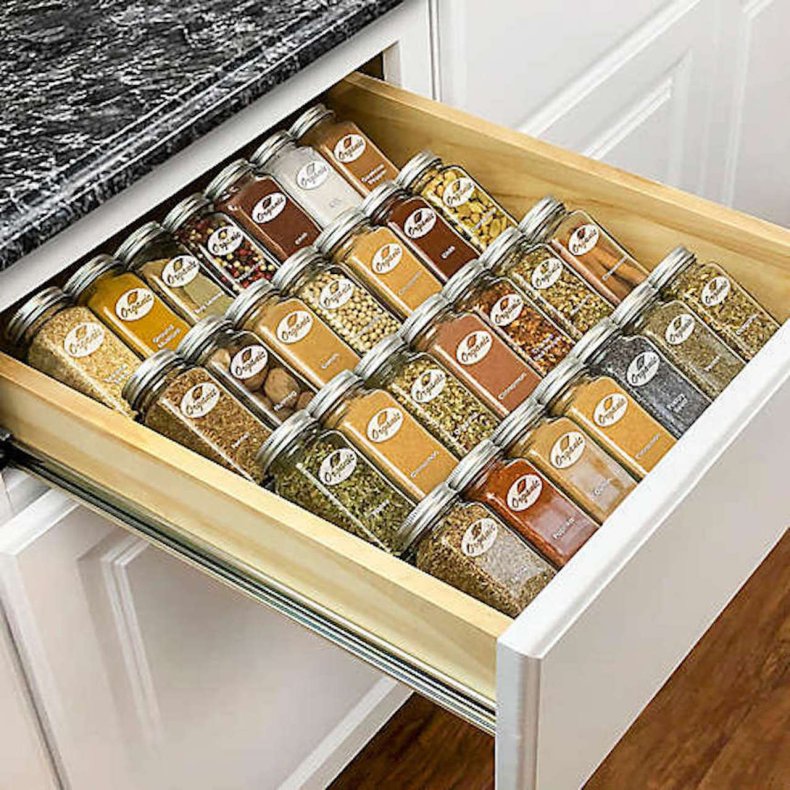 Even amateur cooks love having spices right on hand. After all, who wants to stop mid-cooking and hunt for ingredients. An organizer is key. You might not have a built-in space drawer, but you can make a dedicated one. The Lynk Professional Large Spice Rack Tray Drawer Insert measures 16.5 inches by 13.25 inches by 1.5 inches and fits 13.5 inches or larger drawers. Buy several and use the four tiers for spices, essential oils, nail polish, medicine and more. It's made with heavy gauge steel with a durable silver metallic epoxy finish, so it lasts.
Buy at Bed, Bath & Beyond for $24.99.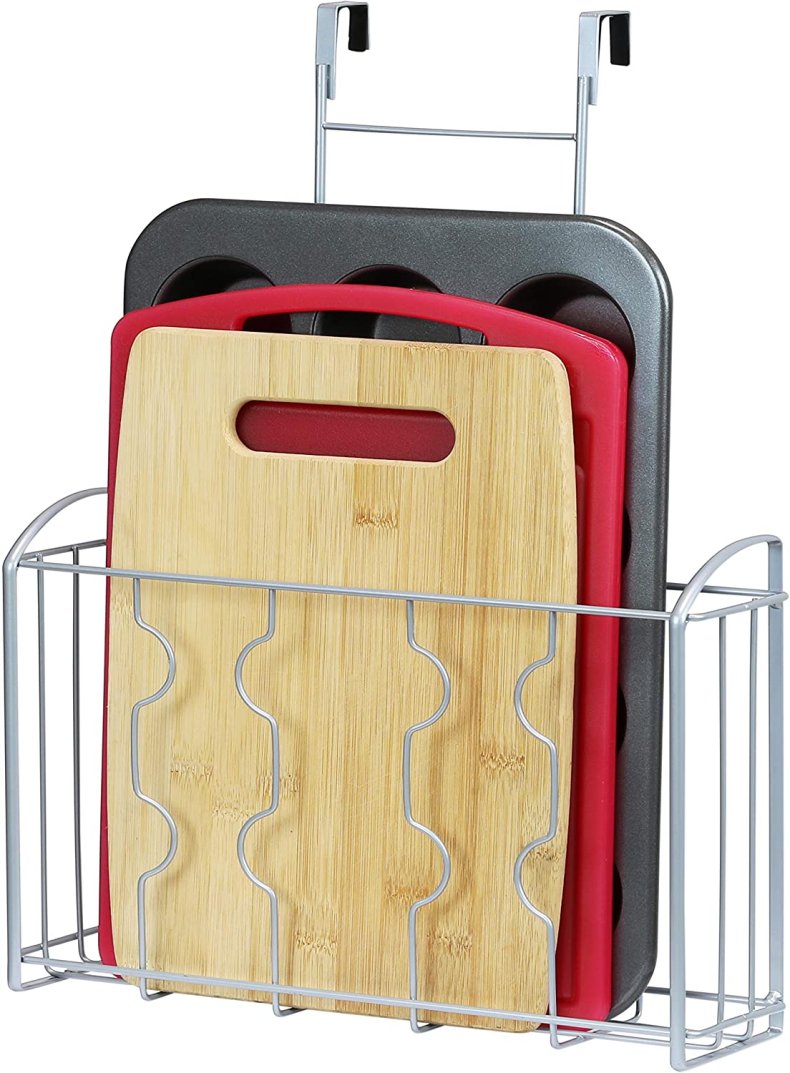 It's vital to use every inch of space to keep your home organized. Some of that space is hidden, though. The backs of your cabinet doors are a great place to organize cutting boards, bakeware, cookie sheet, oven mitts and other extras. You can do that with SimpleHouseware Over the Cabinet Door Organizer. Each steel cabinet door organizer measures 13.5 inches by 9.5 inches by 3.62 inches. Hang it over the door with the ultra-thin hook and use the EVA foam to prevent scratches.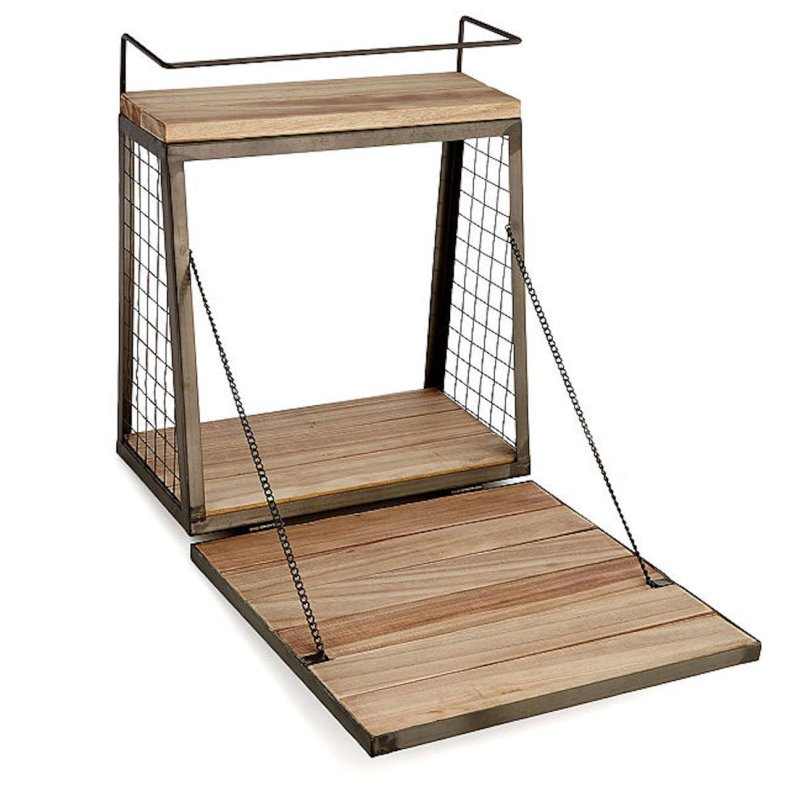 We don't all have room for a traditional cocktail bar, but that doesn't mean we have to miss out. Uncommon Goods Hanging Cocktail Bar is crafted from Paulownia wood and raw metals. You can also use the shelf for appetizers, bitters, and more. It measures 15.5 inches by 8.5 inches by 17.5 inches (22.5 inches when the door is open) and can keep it clean by regularly wiping it with a damp cloth.
Buy at Uncommon Good for $130.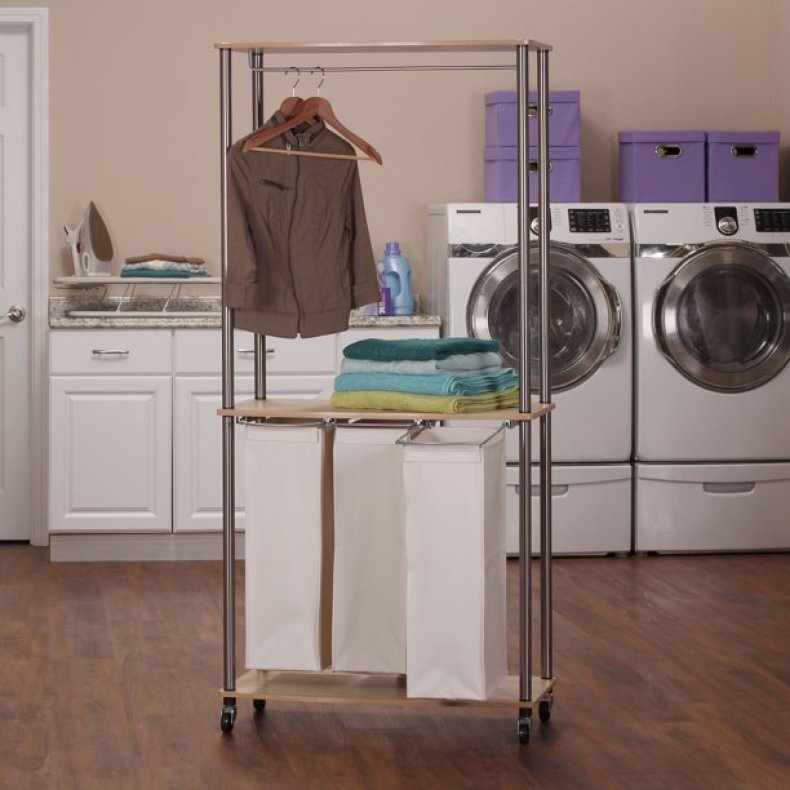 Laundry day is a lot less tedious when you have a Household Essentials Washable Laundry Sorter with Hanging Rod. After all, who wants to run here, there and everywhere to find a place to put folded laundry. Divvy up the laundry in the bags that wrap around metal frames with hook and loop closures. Use the laminate panels above and below the bags to sort and fold laundry. There's also a hanging rod on the uppermost panel. The Sorter measures 67.32 inches by 31.5 inches by 17.32 inches deep.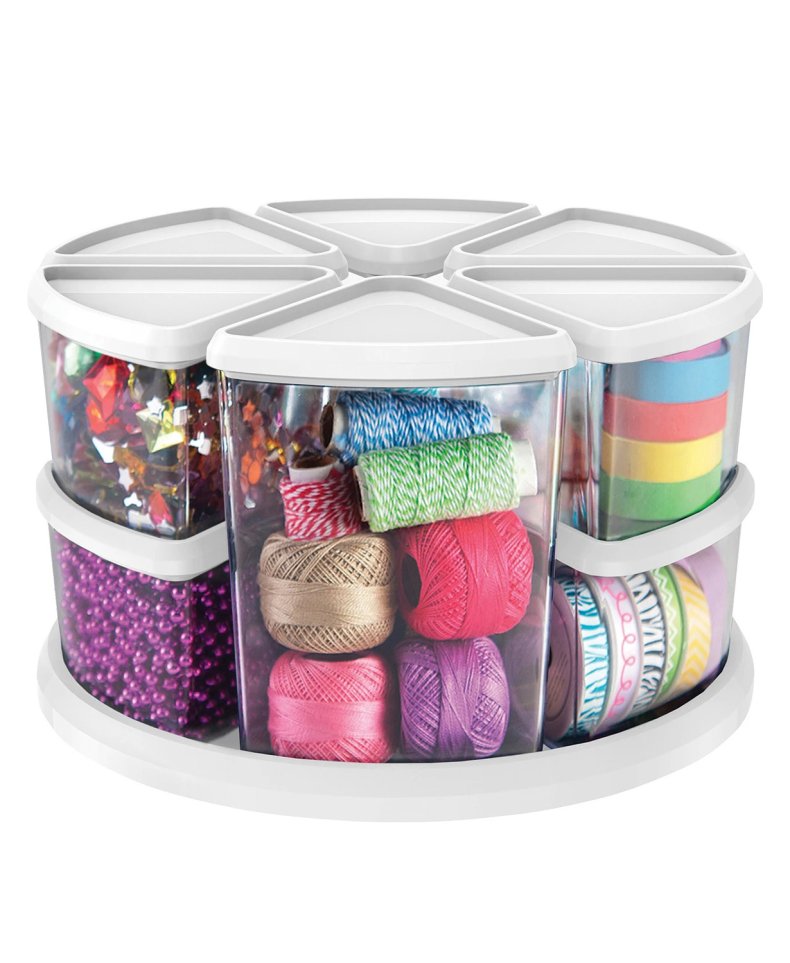 If there's one thing I hate, it's knowing I have string, clips or some other small item but can't find it. Stop hunting for small items from chocolate morsels to craft supplies by storing them in the Deflecto Rotating Carousel Organizing. It has three large canisters and six small canisters on a lazy-susan style base that rotates. Wipe it clean with a damp cloth.
Newsweek may earn a commission from links on this page, but we only recommend products we back. We participate in various affiliate marketing programs, which means we may get paid commissions on editorially chosen products purchased through our links to retailer sites.