21 Places Offering Free Food for Election Day and Other Deals
Election Day is almost here, and what better way to celebrate than by stress-eating and taking advantage of over a dozen discounts? Restaurants, rideshare services and even Planet Fitness are offering free food and services at a reduced price on Tuesday and beyond.
Here are all the places you can get free food and sweet deals on Election Day, because, let's face it: by doing your civic duty in the middle of a pandemic, you deserve it!
Baked By Melissa will give voters 10% off their purchase through Election Day at all store locations.
Boston Market is offering customers a free slider after 9 p.m. on Election Day.
Via Grubhub, Burger King customers can get $3 off of any purchase starting at $18.
Mediterranean chain CAVA and ZoesKitchen will provide free meals to poll workers.
At Chili's, customers can get a $5 Presidente cocktail through Election Day. These special cocktails are made with Sauza tequila, Patron Citrónge and E&J Brandy.
Salad chain Chopt will give its customers who show proof of working the polls free meals for in-store pickup.
DoorDash delivery service is offering free delivery with orders at a minimum of $15 if you provide promo code VOTE at checkout. For those who are already have DoorPass (which gives members free delivery on orders starting at $12), they can use promo code DPVOTE at checkout to get 10% off their orders.
Dos Toros is giving away free meals valued at $15 each to poll workers, provided they prove they spent time at the polls.
Krispy Kreme will give each customer an Original Glazed doughnut. The doughnut chain will also be handing out "I VOTED" stickers to those who didn't already get the adult equivalent of a participation award.
Rideshare app Lyft is offering 50% off one ride up to $10 for anyone heading to a polling location or ballot dropbox with the code 2020VOTE. Same applies to bikes and scooters.
McDonalds is giving away an apple fritter, a blueberry muffin or a cinnamon roll with any purchase of a hot or iced coffee through the McDonald's app. This offer lasts from November 3 to 9—you're welcome!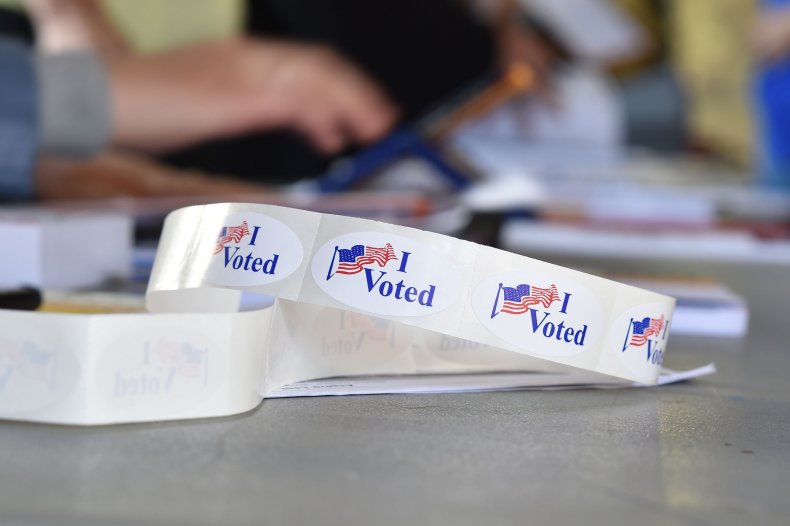 New customers to P.F. Chang's get $10 off their order via Grubhub.
Gym buffs, this one's for you. Planet Fitness is offering folks who vote a free workout and hydromassage through Sunday.
Pret A Manger is also offering a discount through Grubhub. Customers can get $5 off orders starting at $15.
Red Lobster customers will get free delivery on any order over $25 through Grubhub on Election Day.
Shake Shack is giving poll workers a free "in-shack" sandwich (options include Shackburger and the Chick'n Shack) from Sunday through Election Day with purchase of badge.
Tim Hortons rewards members can get a free Dark Roast coffee through Sunday.
Folks using Uber to get to the polls will get 50% off their ride. Bikers and scooter users will also be able to use said discount.
Wendy's is giving customers a free Classic Chicken Sandwich with any purchase through Sunday.
On Election Day, White Castle is offering $4 off purchases of $20 or more through Grubhub, Uber Eats and Postmates. Just make sure you head there after 11 a.m.—the burger chain is closed from 7 to 11 a.m. to make sure its employees can get to the polls.
Additionally, Grubhub and Seamless are offering dozens of discounts in the Perks tab on the app for various brands, including 7-Eleven, Burger King and California Pizza Kitchen.