21 Savage Reportedly Facing Felony Warrant For Alleged Theft After ICE Release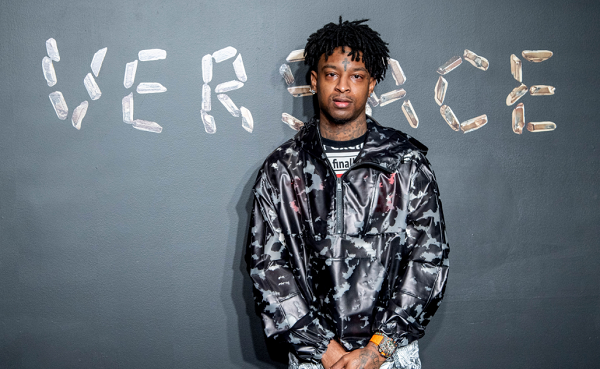 21 Savage may be facing more legal trouble. Just days after the rapper was released from Immigration and Customs Enforcement, Savage was hit with a felony warrant, according to a TMZ report on Friday. The warrant stems from an alleged theft that occurred in 2016.
Savage, whose real name is Shéyaa Bin Abraham-Joseph, was allegedly paid a $9,500 advance to perform at a Georgia nightclub and was given an additional $7,500 when he arrived at the venue, however, he never appeared on stage, TMZ reported. The "Bank Account" rapper was accused of taking off with the money despite failing to give the promised performance.
The club promoter filed a police report for theft by deception against Savage in October 2016, resulting in a felony warrant. Although the papers were reportedly filed and processed, authorities failed to move forward with the warrant until now.
Lawyer Abby Taylor, who is a member of Savage's legal team, said the rapper was innocent in a statement to TMZ on Friday. "Mr. Joseph has committed no criminal offense. We look forward to an amicable resolution between the parties in the near future with no criminal implications whatsoever," Taylor said.
The warrant comes following Savage's recent detainment by ICE, who accused the 26-year-old of living in the U.S. with an expired warrant. Savage was born in Britain, in the London borough of Newham in 1992, but relocated to Atlanta, the city he claims, when he was 7 years old. Although he returned to the U.K. in 2005 to visit family members, he returned to the U.S. where he has remained since.
He was arrested by ICE agents on Super Bowl Sunday in Atlanta on February 3.
Savage was released from ICE custody on Tuesday. He appeared in his first interview since being released on Friday. Speaking to ABC New's Linsey Davis, Savage said he was "definitely targeted" by ICE officials. "I don't even know, I was just driving and I just seen guns and blue lights. And then I was in the back of a car and I was gone," Savage said of his arrest, noting that authorities didn't even explain why he was being taken.
"They didn't say nothing. They just said, 'We got Savage,'" he continued.
Savage is currently awaiting approval for a U-Visa, which he filed for back in 2017. His lawyer, Dina LaPolt, who also appeared in the interview, said, "We are in the middle of securing his immigration status, so where he's a citizen, but it's very, very complicated, and there's a lot of steps that we have to go through."