21 Smuggled Vehicles Destroyed in a Public Display in the Philippines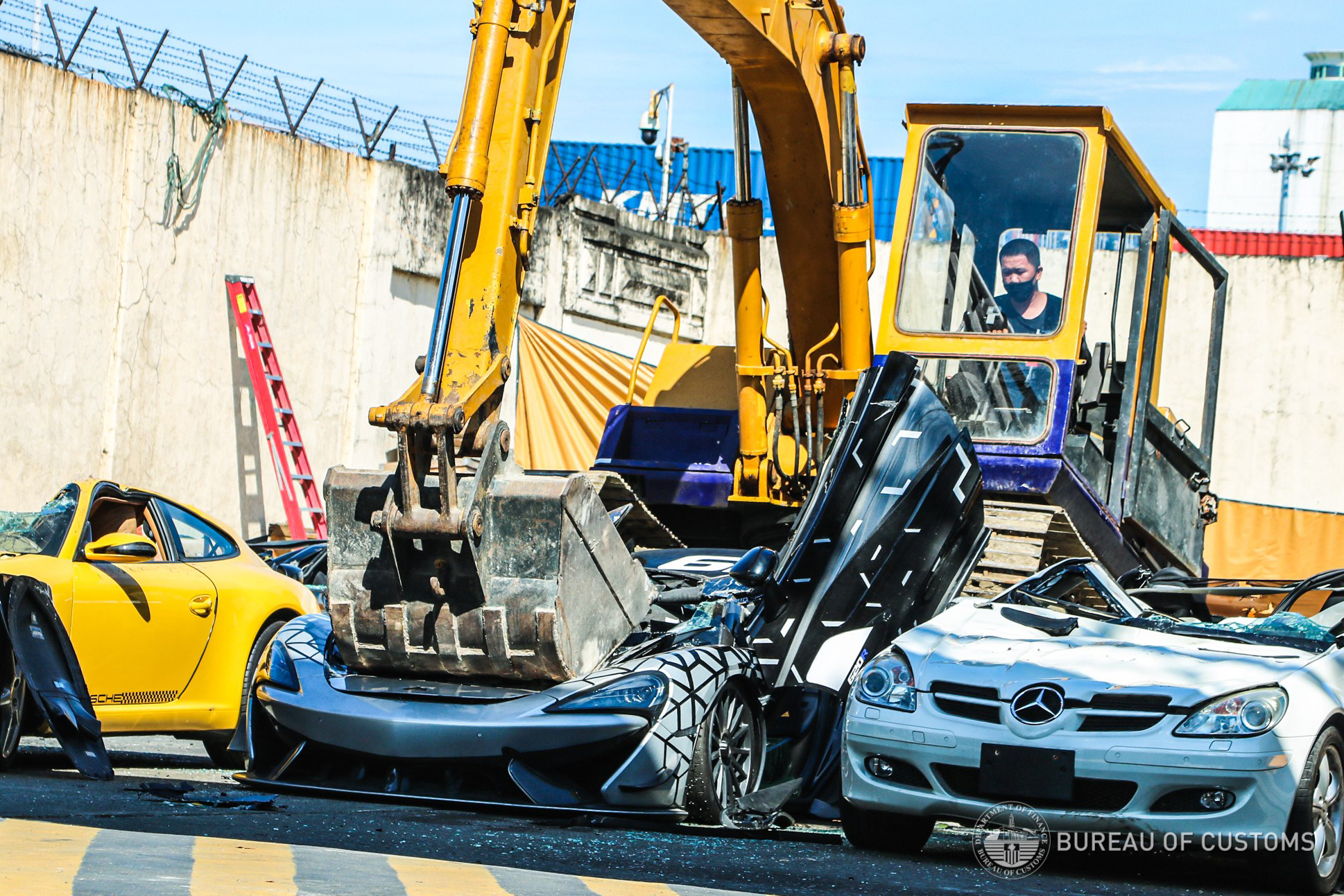 The Philippines Bureau of Customs destroyed 21 smuggled motor vehicles worth $1.2 million in grand fashion this week, crushing them with a backhoe. In two separate, simultaneous events in Manila and Cagayan de Oro, 14 Mitsubishi Jeeps and seven cars of varying makes were obliterated.
All of the vehicles, destined for different consignees, were seized after arriving in the country illegally between 2018 and 2020.
The roster of vehicles crushed is enough to make any car enthusiast cringe. It includes a new McLaren 620R with the R Pack from McLaren Special Operations, which includes a gloss finish visual carbon fiber roof scoop, gloss finish visual carbon fiber front fender louvres and a carbon fiber interior pack. It also has an MSO Defined Titanium SuperSports Exhaust, which increases the loudness of the burble by up to five decibels. Just 225 examples of the model were produced with a price tag of around $335,000 without any additional customization.
Additional models caught up in the crush include a Hyundai Genesis, a Lotus Exige S240, Mercedes-Benz SLK, Bentley Flying Spur, Porsche 911 C2S and a Toyota Solara.
Pulverizing seized vehicles is nothing new for the Philippines government. In 2017, President Rodrigo Roa Duterte ordered that smuggled vehicles be destroyed in order to send a "strong message that the government is serious in its efforts against smuggling" the Bureau wrote in a Facebook post.
This is the second vehicle crush event in the country this year. In February, the Bureau destroyed 17 automobiles including a Ford F-150 Raptor, 2015 Toyota Land Cruiser, 2007 Bentley Continental GT, Hyundai Starex, 2019 Land Rover Evoque and Porsche 911.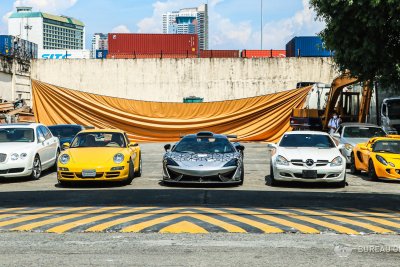 The government agency frequently showcases the vehicles it seizes on social media ahead of their public destruction. Earlier this month, a Ferrari F430 Scuderia, Mercedes Benz SLK 55 AMG and Mercedes Benz E220 were found stowed away inside a ship from Japan purporting to be transporting used truck parts to the Philippines. A Porsche Boxster, Mercedes-Benz SLK, Toyota Land Cruiser, 2016 Nissan GTR, 2020 Chevrolet Camaro ZL1 and two Toyota MR2s have been found by officials in the last month.