21 U.S. States Are Now in the 'Red Zone' For Coronavirus
A federal report assessing states' latest COVID-19 data placed more than 40 percent of the U.S. in "red zone" territory due to increasing virus diagnoses per capita.
The report, obtained and published by the New York Times, evaluated outbreak curves across the country using COVID-19 figures released throughout last week. It showed 21 states confirmed more than 100 new cases of the novel coronavirus per 100,000 people during the week preceding July 24, which qualified them for "red zone" designations under federal criteria. The Trump administration's Coronavirus Task Force distributed the report to state leaders with individual recommendations for health protocols to manage the virus' ongoing spread.
States now considered in the federal "red zone" are: Alabama, Arizona, Arkansas, California, Florida, Georgia, Idaho, Iowa, Kansas, Louisiana, Mississippi, Missouri, Nevada, North Carolina, North Dakota, Oklahoma, South Carolina, Tennessee, Texas, Utah and Wisconsin. A previous report, released two weeks earlier, assigned "red zone" designations to 18 states. Cases subsequently confirmed in Missouri, North Dakota and Wisconsin warranted high-alert statuses in those states as well by the end of July.
The White House had no comment when Newsweek reached out for additional information about the task force's most recent report.
The infographic below, published by Statista, illustrates the spread of "red zone" states across the U.S. Health departments across southern, midwestern and western states are reporting the sharpest increases in COVID-19 cases. Many of them began to reopen businesses earlier than northeastern states, which initially had the nation's most severe virus outbreaks during the first few months of the pandemic.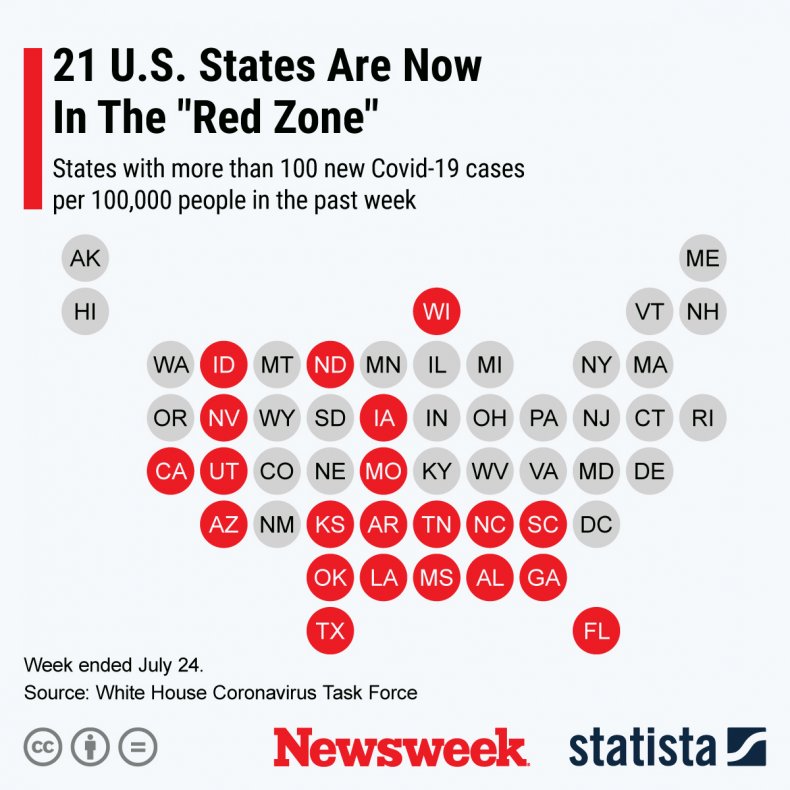 Dr. Anthony Fauci, director of the National Institute of Allergy and Infectious Diseases (NIAID) and a leading member of the White House Coronavirus Task Force, discussed outbreak "surges" seen in southern states during an interview with ABC's Good Morning America on Tuesday.
"Obviously, some states are not doing that," Fauci said. "We would hope that they all now rethink at what happens when you don't adhere to that. We've seen it in plain sight in the Southern states that surge. So we've got to get back to a very prudent advance from one stage to another."
The immunologist also noted his concerns about upticks in states like Indiana, Kentucky, Ohio and Tennessee. The task force's recommendations for those states included mandatory face mask requirements, social distancing protocols and some business closures in its recent report.
He urged state leaders to consider federal guidance, which calls for an observable downturn in COVID-19 cases reported over two weeks before transitioning into the next reopening phase, in implementing their economic recovery plans.
Fauci has pointed to a relationship between early or hasty reopening procedures and consequent spikes in virus cases numerous times since case counts across the U.S. began to rise at the beginning of June. As of Wednesday, July 29, more than 4.3 million people have tested positive for COVID-19 since the onset of the nation's virus outbreak, according to Johns Hopkins University. Of those diagnosed with the respiratory illness, nearly 150,000 people have died.