22 Million Americans Need COVID Vaccines to Reach Joe Biden's July 4 Goal of 70%
To reach President Joe Biden's goal of at least 70% of adults vaccinated with at least one dose of a coronavirus vaccine by July 4, 22 million more Americans need to be vaccinated.
According to Dr/ Anthony Fauci, the director of the National Institute of Allergy and Infectious Diseases, he thinks the target goal will be met with the current vaccination rate, the Washington Post reported.
The Centers for Disease Control and Prevention's COVID data tracker shows that currently 60.5 percent of adults have received at least one vaccination.
Currently, around half a million Americans would need to receive the first dose of the vaccine each day over the next 44 days in order to reach Biden's goal. Around 160 million Americans have already received at least one dose of the vaccine.
While the number of vaccines administered daily has fallen, Fauci says the rate is still high enough for Biden's benchmark to be met.
Fauci says the more of the population that receives a vaccination, the lower the likelihood of another surge of COVID-19. He also said he wasn't worried about another wave of the novel virus, if a "substantial" amount of people received the vaccine.
"The chances of there being a surge are extraordinarily low, I mean quite, quite low," Fauci said.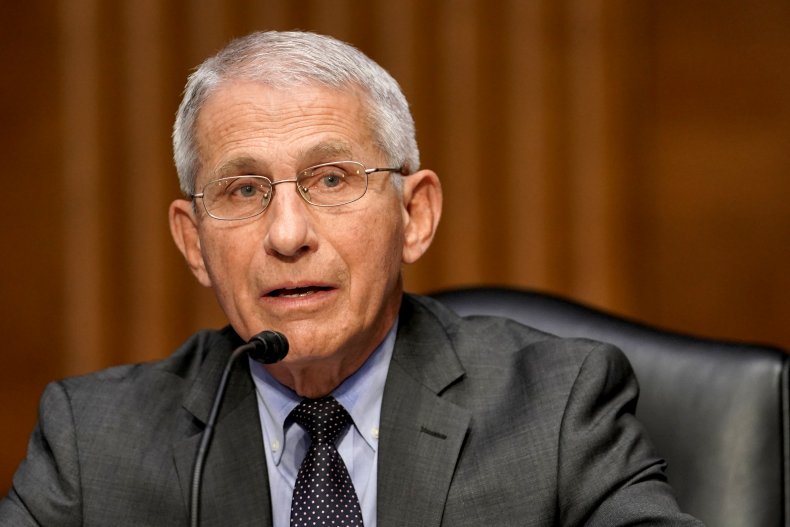 Andy Slavitt, White House senior advisor for the coronavirus task force also offered encouragement on Twitter of dropping death rates as a reason to receive the vaccination.
The CDC has recently lifted mask mandates for people who are fully vaccinated, hoping to offer an incentive to receive the vaccine. The move has been praised by some and criticized by others, but Fauci stresses they were meant only for people who were fully vaccinated.
While some retail chains such as Kroger and Target lifted the requirement for people indoors to wear masks, Fauci said it was likely places such as restaurants would still require masks indoors as well as proof of vaccination.
"What we're going to be seeing also — and I think this is very clear because we're already seeing examples of it — there are going to be certain organizations, certain institutions that no matter what are going to require proof of vaccination before you can enter into whatever establishment it is," Fauci said.
Mandates remain in different states, and vary depending on vaccination status.
Additional incentives have been offered by states to receive the vaccine, including possible lottery rewards in states like New York and Ohio. The incentives hope to increase turnout and meet Biden's July goal.