22 Million Jobs Lost in Pandemic Likely Won't Come Back Till 2023
Initial jobless claims increased to 965,000 last week amid a sharp increase in the number of new COVID-19 cases and a record number of daily deaths, statistics released Thursday by the U.S. Department of Labor showed.
Johns Hopkins University reported 23,093,493 coronavirus infections in the U.S. and 385,178 deaths.
Economists surveyed by Dow Jones expected 800,000 new claims to be filed for the week ended Jan. 9, about the average for the last few months. A total of 784,000 initial claims were filed the previous week.
The number of workers receiving continuing benefits, or unemployment for one week or more, rose 199,000 to 5.27 million. It's the first time the number has increased since late November. The figure runs a week behind the weekly claims number due to time needed to complete the tally.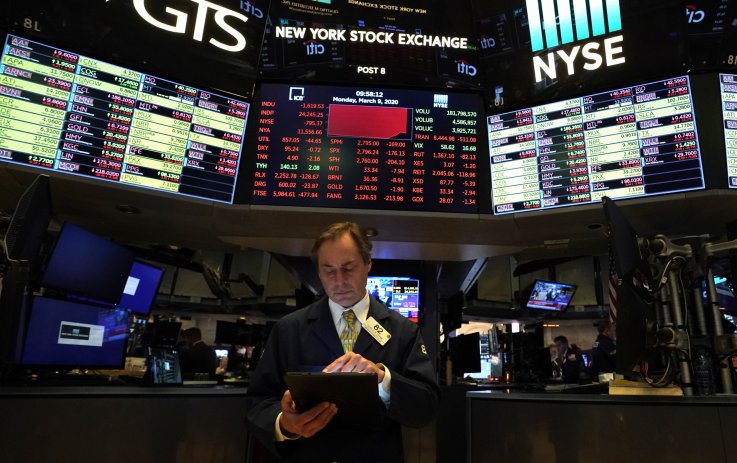 Traders work on the floor during the opening bell on the New York Stock Exchange on March 9, 2020 in New York. GETTY IMAGES
Analysts look for the unemployment numbers to begin to improve once the COVID-19 vaccine is widely distributed.
"We expect this jobs market slowdown to be temporary—once the vaccination rollout is farther along and economic restrictions re-loosen, job growth will reaccelerate," S&P Global said in a research report.
But the recovery won't be quick—they're counting it in years, not months.
"With 9.8 million jobs fewer jobs than prior to the pandemic," the report said, "it won't be before 2023 that the 22 million jobs lost (in March and April 2020) are regained."
Employers have filled about 56% of the jobs lost in March and April of last year. At the current pace of hiring, three years from now, we will still not be at full employment accounting for population growth, the analysts said.
California saw claims rise by 20,587 (0.1% of the workforce). In New York new claims numbered 15,559 (0.16% of workforce), while they increased by 51,280 in Illinois (0.78% of workforce).
Florida, with the nation's third-largest workforce, reported 50,747 new claims (0.5% of workforce, with far less stringent restrictions on business activity than California, New York and Illinois. Texas reported 14,282 new claims, statistically identical to the rise in California (0.1% of workforce), despite having few restrictions on businesses.
S&P expects the U.S. Federal Reserve, the nation's central bank, to hold interest rates at the current 0%–0.25% until at least mid-2024. The Federal Reserve slashed interest rates to the current level in March 2020 to encourage corporate investment, real estate purchases and consumer spending.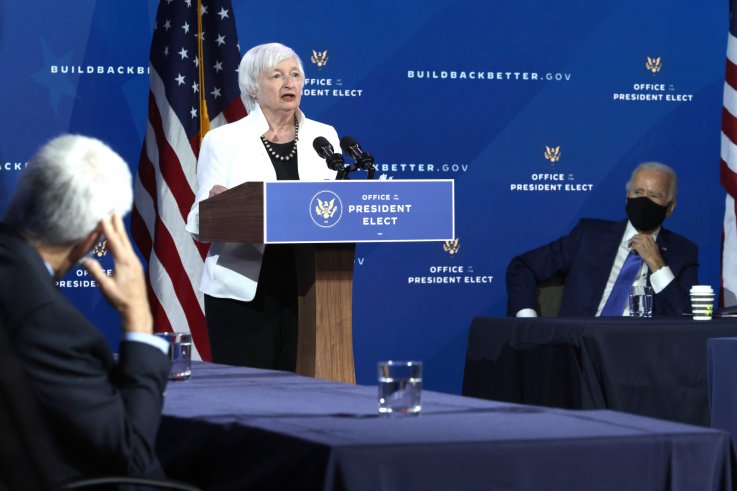 U.S. Secretary of the Treasury nominee Janet Yellen speaks during an event to name President-elect Joe Biden's economic team at the Queen Theater on December 1, 2020 in Wilmington, Delaware.
ALEX WONG / Staff/Getty Images
Mortgage rates are low, and home sales have remained strong. But the economy underscores the growing divide between those who can work remotely from home and those in service jobs that require their presence on-site.
The Personal Consumption Index, known as "core" PCE, is a measure of inflation. Goldman Sachs said inflation has exceeded 2% in only 13 months in the last 10 years, or 10.8% of the time. This is likely to boost consumer confidence. Consumer spending represents about two-thirds of the U.S. economy.
The shutdown has pounded a range of industries, including travel, hotel, restaurant and entertainment. The number of new claims, a proxy for layoffs, last week hit the highest level since August 22. Before the pandemic, weekly applications typically numbered around 225,000.
However, the current number of initial jobless claims is far below the peak of about seven million filed in late March 2020, when many states shut down non-essential businesses as part of the effort to curb spread of the coronavirus.
The four-week moving average, intended to smooth out statistical peaks and valleys in the data, was 834,250 initial jobless claims, an increase of 18,250 from the previous week's revised average, government statistics showed.
The graphic below, provided by Statista, illustrates the latest unemployment figures.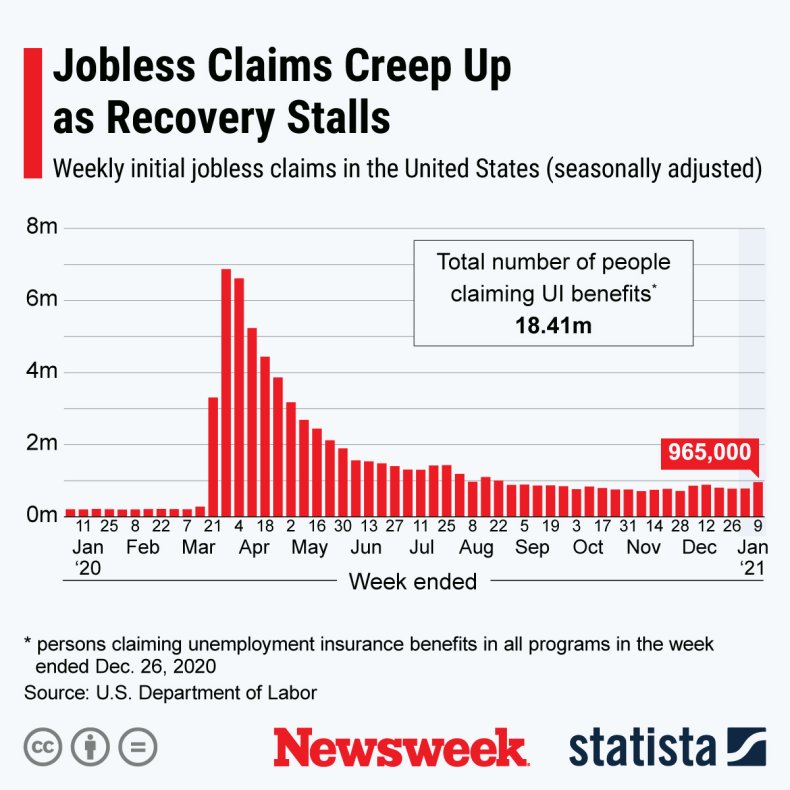 Despite the downbeat jobs report, the Dow Jones Industrial Average, Nasdaq Composite and S&P 500 rose in mid-day trading Thursday.
West Texas Intermediate Crude Oil futures were up slightly in mid-day trading. Copper futures rose. The price of oil is a proxy for future economic activity and copper is a proxy for future manufacturing.
Economists said the growing number of vaccinations and the possibility of another round of stimulus payments from Washington boosted prospects. President-elect Joe Biden is expected to announce another stimulus package totaling about $1 trillion.
Economists surveyed by Dow Jones expect the U.S. economy to grow 4.3% in 2021, an increase from the 3.7% growth forecast last month.
The economy rebounded at an annualized rate of 33.1% the third quarter, but economists expect the nation's gross domestic product, the value of all goods and services produced in a year, to decline overall by 2.2% in 2020.
Update 15/1/21: This article was updated to include an infographic.