22 Women Suing Deshaun Watson For Sexual Assault Have Identified Themselves
Nearly a week after a Texas judge ruled that the names of "Jane Doe" accusers of Houston Texans quarterback Deshaun Watson must be revealed, the lawsuits were amended to include their names. And while one case dropped, another lawsuit was added, keeping the total amount of accusers at 22.
The women claim that Watson set up massages through private messages and later sexually assaulted them, exposed himself or inappropriately touched them—according to the Houston Chronicle.
Watson has denied any sexual misconduct from the beginning, and his high-powered attorney, Rusty Hardin, has stated all along that any sexual contact between Watson and the women was consensual.
Last week, two Harris County judges ruled that it was impossible for Watson to defend himself if he and his legal team didn't know the names of his accusers. The names previously listed were "Jane Doe." Then, 21 of the 22 the lawsuits were amended to include each accuser's name. One lawsuit was dropped after the judge's ruling, but another lawsuit was filed Wednesday to keep the total number of accusations at 22.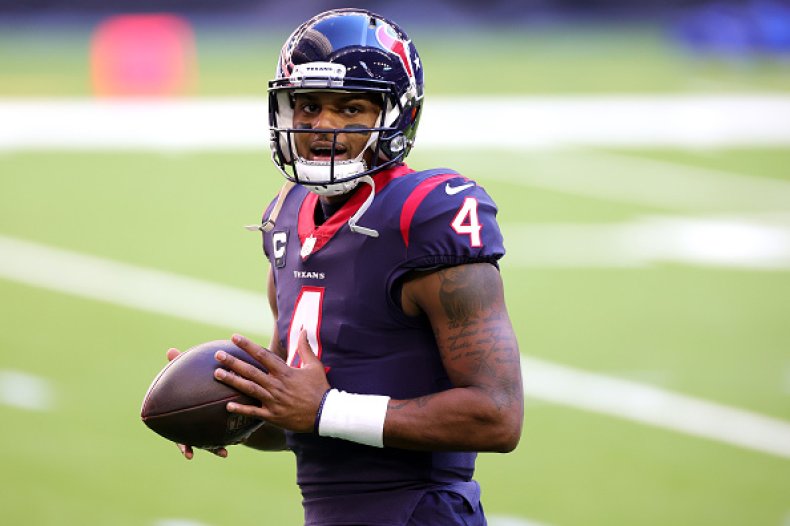 The allegations began nearly a month ago. The public spat on social media started when the attorney who represents all the accusers, Tony Buzbee, posted to his Instagram that he would be filing a civil lawsuit against Watson. The Houston quarterback responded on Twitter that same evening, saying he only treated women with respect and that Buzbee's team was seeking money and notoriety.
"I am extremely proud to represent those who have no perceived power against those who have PERCEIVED power. Things are changing in this country, in this great state, and in this great city. And I feel like it's better for all of us!" Buzbee wrote. "Today, we filed suit against Deshaun Watson. Too many times women have put up with behavior that we all know no one should put up with.
"Should we make excuses for the famous? Or those who hold special positions, or quarterbacks on a local professional football team? I don't think so!" Buzbee continued.
Watson then responded.
"I have never treated any woman with anything other than the utmost respect," Watson wrote, adding "this isn't about money for me - it's about clearing my name."
Within a week of the initial accusation, there had been an additional 11 lawsuits to bring the count to a dozen, and Buzbee hinted that there would likely be 10 or 12 more. Buzbee held a press conference on March 23 to address the issue and even asked for more women to come forward.
Watson has publicly made it known that he wants to be traded from the Texans after the team's front office made questionable personnel decisions, which included trading the team's best receiver (Deandre Hopkins) last year, and then this offseason releasing defensive star J.J. Watt. Both of those players are now with the Arizona Cardinals.
Buzbee first began filing lawsuits as the NFL's new season was set to begin on March 17.