A 22-year-old man was arrested Tuesday for the shooting death of a 6-month-old baby riding in a vehicle the day before, according to Atlanta police.
Dequasie Little was arrested in Decatur, Atlanta Police Chief Rodney Bryant said during a news conference. He is facing charges of felony murder and aggravated assault, according to the Atlanta Police Department website.
"I will not cheerlead that we were able to apprehend this person in a short period of time," Bryant said in the news conference. "I am mad as hell that the incident occurred in the first place."
Bryant did not provide details regarding Little's arrest, but said: "his actions are not a surprise." He said the police are confident they have the shooter.
"We have the first person in this one and we will continue to go after others that we believe were involved in this incident," he said.
Police responded to a call about a shot around Anderson Ave. at roughly 2:36 p.m. Monday, Bryant said. Police arrived on the scene and found the child shot. He was transported to the hospital and pronounced dead, Bryant said. The child's name is Grayson Fleming-Gray, according to The Associated Press.
"Everything happened so fast. I'm not sure if it went around us, if it went to the left of us. All I know is I was trying to pull into this parking lot," Kerri Gray, Grayson's mother said, according to WSB-TV. "I went to check on him after hearing a certain noise and he was slumped over, and the bullet had gone right through him."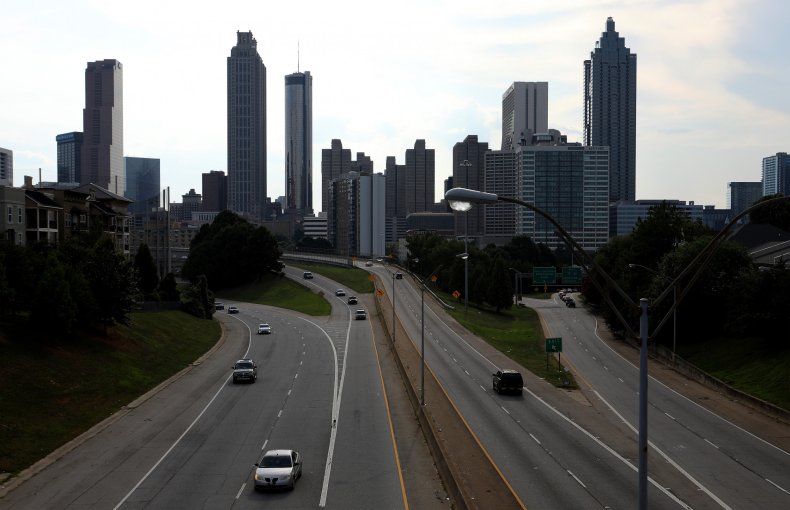 "It is such a tragedy when we lose any citizen of this city but when it's a child, it pulls even more at the heartstrings, not just of the men and women of the Atlanta Police Department, but throughout the community, as I've received numerous calls and text messages and prayers for not just the men and women working this case, but for the family, as well," Bryant said.
Police did a preliminary investigation that discovered it was a "drive-by incident," as the child was not the intended target, according to the police department website. Bryant did not provide details regarding what led to the shooting.
Mayor Andre Dickens said Monday that this was the third shooting involving a child younger than 6, with two of whom have died, according to CNN.
"My son's blood is on your hands," Gray said was her message to Grayson's killers, WSB-TV reported. "He was the collateral damage of a drive-by."