22-Year-Old Gymnast With Bizarre Disorder Could Be Killed by Own Tears and Hair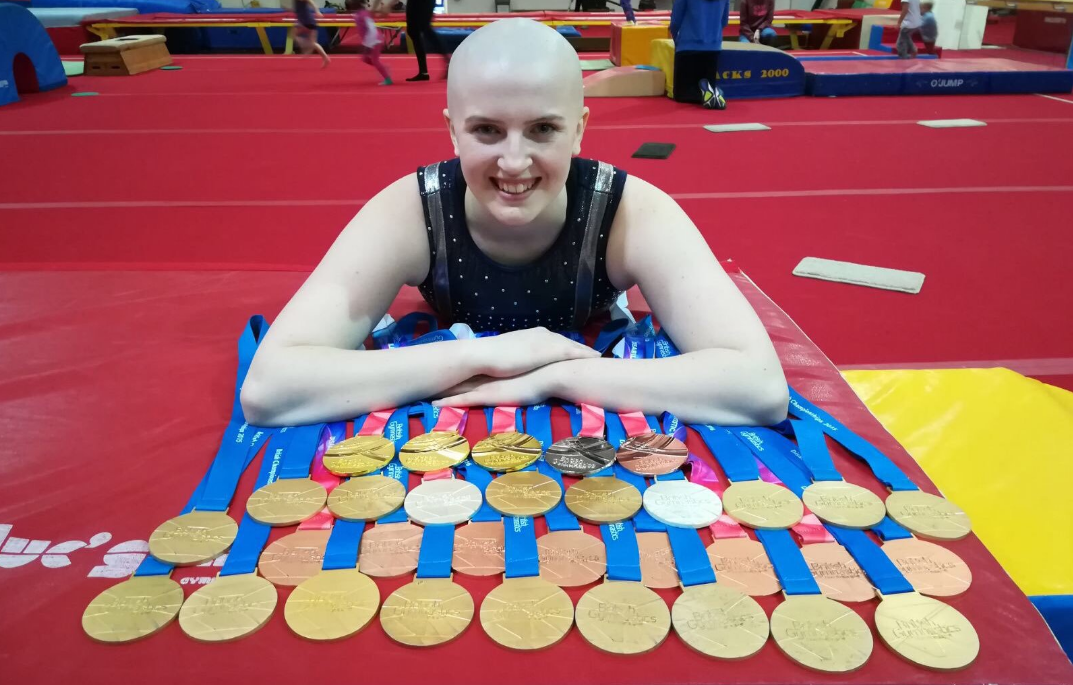 In 2012, British gymnast Natasha Coates felt a little tingle on her lips after eating an apple. Tomatoes and strawberries soon followed. Months later, a severe anaphylactic reaction left her unconscious. Eventually she was diagnosed with a condition that was recognized only a few years ago. Growing hair causes her pain and she has an allergic-like reaction to her own tears.
Coates relays her harrowing journey in a video on the U.K.-Based Barcroft TV. The now 22-year-old has been diagnosed with a rare and disturbing condition known as mast cell activation syndrome.
Mast cells are immune cells that play a critical role in inflammatory and allergic diseases. In this immune disorder, the body's mast cells release too many of certain compounds, such as histamines. Although the condition is considered extremely rare, Dr. Tania Dempsey, a specialist in this and other autoimmune disorders based in New York, says the condition's low incidence reflects its recent discovery, not its prevalence.
"It's really only since 2010 that we've sort of identified this as a problem," she told Newsweek. "While we say that it's fairly rare it probably really isn't."
Dempsey explains that our mast cells contain more than 200 types of chemicals that the immune system uses to fight foreign invaders. This response backfires in people who have mast cell activation syndrome: the release of a histamine can cause everything to swell. The condition looks similar to an allergy but it is not, says Dempsey.
Some people diagnosed with this disorder have such mild reactions they might not know anything is wrong, while patients like Coates have to be hospitalized.
In the video, the gymnast explains that her body releases too many chemicals even without a trigger, so she often experiences spontaneous reactions. For her, symptoms can range from just feeling sick and itchy to severe swelling in her throat and tongue.
"It's really hard to manage the condition because I never know how I'm going to feel hour to hour, let alone day by day," Coates told Newsweek. "Eating is a bit like Russian roulette so most days I just eat and do what I feel I am able to and hope for the best."
As Coates reminisces over old photos in the video, she says that having a full head of hair is now a foreign concept. "I'm allergic to my hair growing so when it does start to grow, it blisters and it burns," she said. "It's absolute agony. I just have to make the bald girl look work, really. I don't have much choice."
Multiple media reports have written that Coates's hair or tears could kill the young woman. Dempsey, who is not familiar with Coates's case, confirms the possibility that long hair could be dangerous for the athlete. "Anything that perpetuates the release of chemicals in her body could lead to a path that's deadly," she said.
Because mast cell activation syndrome was identified recently, there's scant knowledge about the condition or its causes. The theories so far touch on genetic and environmental causes. "While there is no research in this area yet, I would go so far as to say there's something in our environment that some patients are reacting to more severely," she said. "And that's where genetics probably plays a role."
Treatment options are complicated, too, because patients can have negative reactions to the medications used to manage the condition. "It's a trial and error process," said Dempsey. "Some patients do well with antihistamines. Some even require chemotherapy."
Coates has used more than 200 EpiPens, a self-injection medication that treats allergic reactions, and has found a way to continue with her passion, gymnastics. Dust and chalk used in traditional gymnasiums have made it impossible for her to pursue the sport, which she began at eight years old, in a conventional way. She now participates in disability gymnastics and shares her training and competitions on Facebook.
"It's my therapy," Coates told Newsweek. "It gives me something positive to focus on when it feels like my world is falling apart. It also keeps my body fitter, which helps it cope with the stress of the reactions."