239 Groups Urge Biden to Use Executive Power to Cancel Student Debt on First Day in Office
President-elect Joe Biden isn't even in office yet but he's already facing pressure to tackle the student debt crisis on his first day in the Oval Office.
On Wednesday, more than 230 organizations, including the NAACP, the American Federation of Teachers and the National Education Association, sent a letter to Biden, as well as Vice President-elect Kamala Harris, urging them to use executive power to cancel federal student debt on day one of their administration.
More than 44 million people collectively hold an estimated $1.6 trillion in student debt, a burden the organizations said was likely magnified by the economic fallout of the coronavirus pandemic.
The pandemic has disproportionately affected people of color and women, and the 239 organizations said canceling student debt was the "bold and immediate action" needed to "minimize the harm to the next generation and help narrow the racial and gender wealth gaps."
Newsweek reached out to the Biden campaign for comment but did not receive a response in time for publication.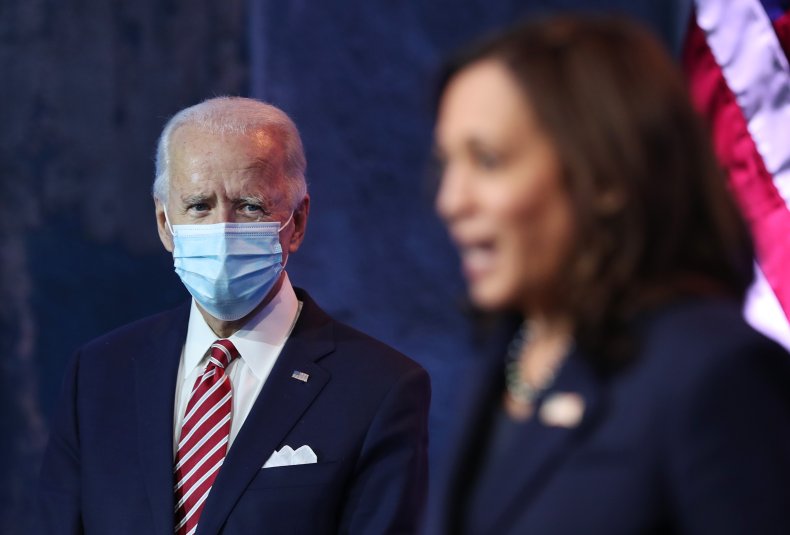 As a presidential candidate, Biden endorsed a plan put forth by Democratic senators that would cancel $10,000 of student debt as part of a coronavirus relief package. He reiterated that move at an event on Monday, saying that it should be "done immediately" because borrowers are having to choose between paying student loans and rent.
During the pandemic, the organizations wrote to Biden to say that canceling student debt would be an economic stimulus. At a time when many small businesses are closing their doors, the organizations said that without student debt, people would be able to form small businesses, boost the gross domestic product and create jobs.
William Foster, a vice president at Moody's, told NPR in 2019 that total loan forgiveness could boost GDP by up to $108 billion. He added that student loans contribute to "what's perceived as lower economic prospects for younger Americans."
However, the Urban Institute doesn't see a $10,000 forgiveness program having a significant impact on the economy. Over the next 10 years, the forgiveness would give borrowers with $30,000 of debt about $100 a month more to spend, meaning the "immediate benefits" would only be modest, the institute said.
Biden's plan for student loan debt also includes forgiveness for people who have "responsibly made payments" for 20 years and people in public service. As part of the program, borrowers would have $10,000 of debt forgiven for every year of national or community service, for up to five years.
The organizations didn't specify a loans amount they want to see Biden forgive, but they cited a plan put forth by Democratic senators. In September, Senate Minority Leader Chuck Schumer and Senator Elizabeth Warren introduced a resolution for the next president to cancel up to $50,000 in federal student loan debt per borrower. The resolution asserts that the president has the power to cancel up to $50,000 under Section 432(a) of the Higher Education Act.
In concluding their letter, the organizations called on the president-elect to "deliver on the promise" of an economic equity plan by canceling federal student debt the day he takes office.