Two dozen attorneys general signed a letter sent to lawmakers Monday urging the Senate to reauthorize the Violence Against Women Act, which expired over a year ago.
"As the COVID-19 pandemic keeps people at home with their abusers, I urge the Senate to reauthorize these important protections for women in danger of domestic violence," Washington state Attorney General Bob Ferguson said in a news release. Ferguson is leading the coalition, a group that includes the attorneys general in California, Colorado, Connecticut, Delaware, Hawaii, Illinois, Iowa, Maine, Massachusetts, Michigan, Minnesota, Nevada, New Jersey, New Mexico, New York, North Carolina, Oregon, Pennsylvania, Rhode Island, Vermont, Virginia, Wisconsin and Washington, D.C.
The Violence Against Women Act was first signed into law in 1994 to provide funds for investigating and prosecuting violence perpetrated against women. Reauthorizations of the act in 2000 and 2005 provided additional resources for victims, and a reauthorization in 2013 expanded access of those resources to communities not covered in the original text. The act expired in February 2019 after a brief extension covered in a short-term spending bill.
Though the House of Representatives passed a version of the act's reauthorization last April, it has not yet been approved by the Senate. A push for a vote on the act led by Senator Dianne Feinstein in November was ultimately unsuccessful.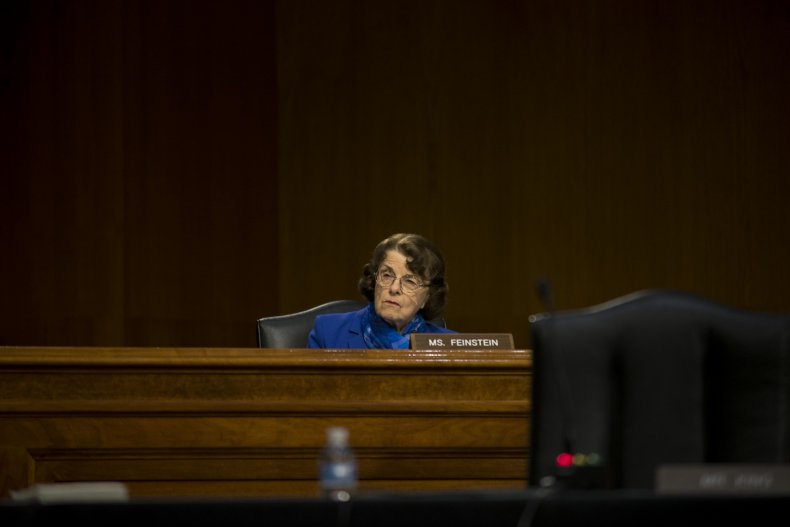 In the letter, Ferguson said reauthorizing the act would be an "important step" to confronting gender-based violence, adding that the pandemic introduced the need for quick action to protect victims and potential victims of domestic violence. "Women in our states are counting on it," the letter read.
Senate Majority Leader Mitch McConnell, who joined Feinstein as one of four lawmakers addressed in Ferguson's letter, did not respond to Newsweek's request for comment in time for publication.
According to research by The Marshall Project, data that appears to show domestic violence numbers declining in some cities may be unreliable. With people encouraged to stay home and avoid non-essential travel, options are more limited now for those who might otherwise try to escape a potentially dangerous environment.
"During times of crisis, and especially now as people are staying home, rates of domestic violence go up and survivors are particularly vulnerable," Massachusetts Attorney General Maura Healey said in a news release about her support for the act's reauthorization. "We need to do everything we can to support and protect survivors, victims of crime and people in abusive relationships during this pandemic."
Several other attorneys general who signed Ferguson's letter made similar statements Monday, urging the Senate to act quickly. "Reauthorization of the Violence Against Women Act is long overdue," California Attorney General Xavier Becerra said. "Alongside partners across the country, we urge Congress to get this done."
The Senate reconvened Monday for the first time since March after the pandemic forced lawmakers to work outside the capital and away from their colleagues for weeks. While there has been some bipartisan support for the senators' return to Capitol Hill, dozens of civil rights groups have already spoken out against the GOP-led Senate's drive to approve controversial judicial nominations, arguing senators' time would be better spent focusing on legislation that could aid Americans struggling due to the pandemic.