24-Hour Coronavirus Vigil Sees Volunteers Read Out Thousands of Victims' Names
A 24-hour online vigil honoring the victims of the coronavirus pandemic has seen volunteers read out the names of thousands of people who lost their lives to the deadly virus.
Launched at 2 p.m. on Wednesday, the "Naming the Lost" vigil has seen dozens of volunteers from across the country, including Americans who have lost loved ones themselves to coronavirus, read out the names of people who have died over a 24-hour period.
As of of early Thursday morning, Anthony Torres, one of the co-founder's of the initiative told Newsweek, as many as 7,000 names had been read out, with thousands more still to be read.
Most of the names were found through public resources, including government records, online postings from faith institutions, unions, community organizations, news outlets and through people who sent the names of their loved ones in to be read.
Torres, a 25-year-old community organizer based in Brooklyn, New York, stayed up overnight himself to help read out the names of those who have died.
"It's incredibly important for us to recognize and grieve those lives lost due to COVID-19," said Torres, who has seen a number of people in his life lose their loved ones to the virus.
"Just a couple of weeks ago there were days and nights when there were dozens of ambulances passing by my window every single day. Some days, every moment, there was an ambulance outdoors having to treat and take away neighbors."
With the known death toll in the U.S. reaching 93,439 as of early Thursday morning, Torres said: "We know that Americans are in mourning for nearly 100,000 of our loved ones: our neighbors, our sisters, brothers, our parents, our children, nurses, grocery store clerks, first responders, teachers.
"Every single one of their names deserves to be read," he said.
Among those names will be four loved ones of Alexa Aviles, the Brooklyn-based program director of The Scherman Foundation, who will be one of the last readers in the 24-hour vigil.
Aviles told Newsweek that she wanted to participate in the vigil to honor her family members, as well as the thousands of other people across the country who have died in the pandemic.
Early on in the outbreak, Aviles lost her uncle, who had been living in a nursing home, to the coronavirus. Her family had not even been made aware that he had fallen ill, she said. When they found out about his death, it came as a shock.
Then, three of her aunt-in-laws and an uncle-in-law also contracted the disease. Only of the three sisters survived.
"I have so many emotions," Aviles said. At times she feels "angry as hell," she said. "It's a combination of sadness, grief and anger. I feel sadness, but, also, thousands of people are going through the very same thing."
That is why Aviles wanted to volunteer her time to honor those who have lost their lives in the coronavirus pandemic, including her own loved ones.
"This is a good first step in that collective mourning process," she said.
Rafael Shimunov, an artist and activist who has volunteered his time to help with the logistics of the 24-hour vigil, told Newsweek in a message that in the first 18 hours of the event, nearly half a million people on Facebook and Twitter joined to watch part of the video vigil.
Many, he said, shared the names of loved ones they had lost in the pandemic, he said, "which we made sure we included."
"People have been chatting us that they're playing it in the background for hours," Shimunov said. Some shared their stories, with a number of people describing how painful it was to not be able to see their loved ones before they died due to hospital restrictions or to not be able to hold a funeral yet.
"So, there was a lot of appreciation for being able to come together and do this this way," he said.
"One person shared with me that this was the first time their anger paused to mourn, and that it was liberating," he said. "I asked them if their anger was gone, they said no, but now it's closer to being under control and ready to change the unfair world around us so this never happens again."
"There was also a lot of chatter about how people appreciated how even though the deaths, who is dying, who is left behind, is very political, we mourned in a way that allowed us just to mourn first, without ignoring or white washing the battles we must have after this, but also without skipping the step required to be strong. Mourning. And stronger. Mourning together," Shimunov said.
Torres echoed that sentiment, saying that before the U.S. and countries around the world can begin to look forward, communities affected by the pandemic must be given a chance to grieve. Further, he said, countries cannot rush to move forward without taking a hard look at what the full impact of the pandemic has been and what might have been done to mitigate it.
"Before we make the future, we have to reckon with and honor and acknowledge those who have died as a result of this pandemic and to really ground ourselves in what is at stake, who is suffering and what the consequences have been of decisions made by our country's leaders that put so many lives at risk," he said.
"It didn't have to be this way," Torres said, asserting that U.S. leadership have responded faster to the coronavirus outbreak.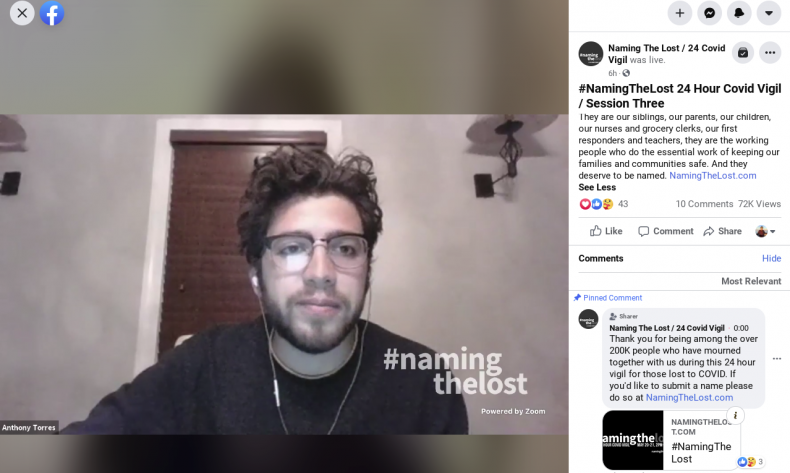 The "Naming the Lost" organizer said he was also disappointed that the U.S. government had not yet held a "national mourning" for the lives lost in the pandemic.
"I think the fact that we've had no national mourning really centered or put forth by our country's leaders had allowed the national conversation around this crisis and the impact to be reduced to statistics or swept aside in favor of returning process to Wall Street or the stock market or just going back to business as usual," Torres said.
"But business as usual is what caused this crisis and the scale of death. It is a real abdication of leadership and responsibility by those in office and those who are responsible for the health and wellbeing of all Americans to have not led us in national mourning," Torres said.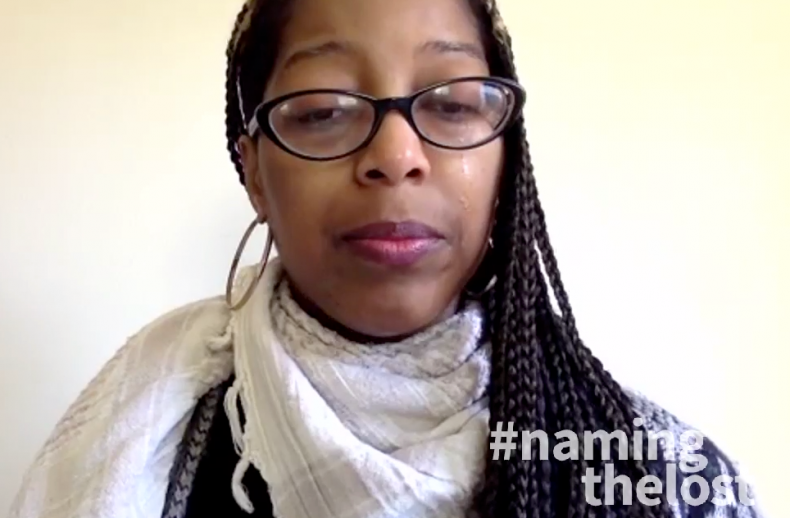 Aviles said she still cannot wrap her mind around why there have not been stronger efforts to mourn those who have lost their lives in the pandemic.
"There's no recognition of all the people who have died," she said. "All you see is the number... 80,000... 90,000."
As of Thursday, 93,606 people had died of coronavirus in the U.S. according to an online tracker maintained by the Johns Hopkins University.
Instead of seeing those nearly 100,000 people as numbers, Aviles said their individual lives should be honored.
With communities of color and low income areas being disproportionately affected by the virus, Aviles, who is Puerto Rican, said she also felt that their stories were being made "invisible."
The U.S., she said, should be doing far more to honor their lives and to address the issues that have led to marginalized communities being among the hardest hit by the pandemic.
Earlier this week, people across the country participated in a "National Day of Mourning" protest condemning the Trump administration's handling of the coronavirus pandemic.
The demonstrations were also held to honor those who have died in the absence of a day of mourning organized by U.S. officials.
"A country that doesn't mourn for its dead is a country that doesn't care for its people," Torres asserted. "So naming the lost is part of that process, to give the care that every single one of us needs."
This article has been updated with comments from Alexa Aviles.