24 Memorable Kobe Bryant Quotes and Mamba's Unforgettable Basketball Accomplishments
Retired NBA star Kobe Bryant tragically died in a helicopter crash northwest of Los Angeles on Sunday morning. He was one of nine members on board. Among them was his 13-year-old daughter, Gianna.
Bryant was 41.
Tributes from around the world poured out Sunday, from fellow competitors on the hardwood to those who never played against him to athletes from other sports.
Bryant was a transcendent player in the NBA, as he entered the league during the final years of the Michael Jordan era, and he was arguably the league's top player while LeBron James entered the NBA.
Here are some quick numbers and facts that will forever be part of Bryant's legacy:
33,643 — Career total points, which is now fourth all-time. He was third going into Saturday before James surpassed him
20 — Seasons in the NBA, all with the Los Angeles Lakers
5 — NBA Titles
2 — NBA Finals MVP awards
1 — NBA MVP honor for regular season (2008)
18 — Times he was an NBA All-Star
15 — Times named to All-NBA Team
12 — Times named to NBA's All-Defensive Team
2 — Olympic gold medals for Team USA
81 — Points scored on January 22, 2006 against the Toronto Raptors. It's the second-most points in a single game by an NBA player in history (Wilt Chamberlain scored 100 in 1962)
60 — Points Bryant scored on the final night of his career
2 — Numbers retired by the Lakers (No. 8 and No. 24)
Bryant is the only NBA player in history to have two separate numbers retired by one team, as he wore both numbers with the Los Angeles Lakers.
On Sunday, NBA teams dribbled out the 24-second shot clock in memory of Bryant. In New Orleans, the Pelicans and Boston Celtics held a 24-second moment of silence. In a dark arena, the shot clock counted down from 24. When it hit eight seconds, the clock went dark for the next eight until the buzzer sounded.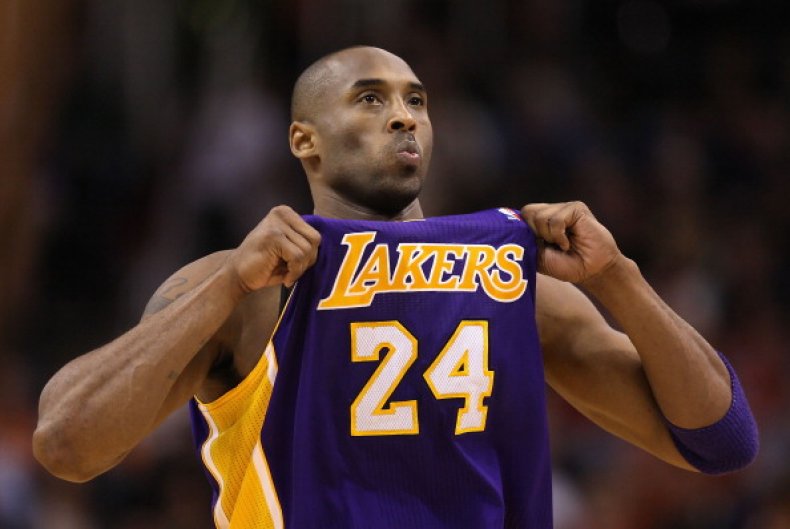 Here are 24 memorable quotes from Kobe Bryant:
1. "Everything negative – pressure, challenges – is all an opportunity for me to rise."
2. "When I have the chance to guard Michael Jordan, I want to guard him. I want him. It's the ultimate challenge."
3. "If you're afraid to fail, then you're probably going to fail."
4. "As I sit here now, when I take off my shoe and I look down at my scar, I see beauty in it. I see all the hard work, all the sacrifices. I see the journey that it took to get back to this point of being healthy. And I see beauty in that struggle. That's what makes it beautiful."
5. "I don't want to be the next Michael Jordan, I only want to be Kobe Bryant."
6. "June 2010, after winning his fifth title: "I just got one more than Shaq. So you can take that to the bank."
7. "The most important thing is to try and inspire people so that they can be great in whatever they want to do."
8. "Not even in my dreams. That was something that just happened. It's tough to explain. It's just one of those things." — when he scored 81 points in a game
9. "I've shot too much from the time I was 8 years old. But 'too much' is a matter of perspective. Some people thought Mozart had too many notes in his compositions. Let me put it this way: I entertain people who say I shoot too much. I find it very interesting. Going back to Mozart, he responded to critics by saying there were neither too many notes or too few. There were as many as necessary."
10. "Winning takes precedence over all. There's no gray area. No almosts."
11. "When I have the chance to guard Michael Jordan, I want to guard him. I want him. It's the ultimate challenge."
12. "My parents are my backbone. Still are. They're the only group that will support you if you score zero or you score 40."
13. "I can't relate to lazy people. We don't speak the same language. I don't understand you. I don't want to understand you."
14. "There's a choice that we have to make as people, as individuals. If you want to be great at something, there's a choice you have to make. We all can be masters at our craft, but you have to make a choice. What I mean by that is, there are inherent sacrifices that come along with that. Family time, hanging out with friends, being a great friend, being a great son, nephew, whatever the case may be. There are sacrifices that come along with making that decision."
15. "If you're afraid to fail, then you're probably going to fail."
16. "I'll do whatever it takes to win games, whether it's sitting on a bench waving a towel, handing a cup of water to a teammate, or hitting the game-winning shot."
17. "My brain... it cannot process failure. It will not process failure. Because if I sit there and have to face myself and tell myself, 'You're a failure'... I think that's almost worse than death"
18. "People just don't understand how obsessed I am with winning."
19. "Despite fear, finish the job."
20. "People just don't understand how obsessed I am with winning."
21. "The last time I was intimidated was when I was 6 years old in karate class. I was an orange belt and the instructor ordered me to fight a black belt who was a couple years older and a lot bigger. I was scared s—less. I mean, I was terrified and he kicked my ass. But then I realized he didn't kick my ass as bad as I thought he was going to and that there was nothing really to be afraid of. That was around the time I realized that intimidation didn't really exist if you're in the right frame of mind."
22. "If you do not believe in yourself no one will do it for you."
23. "Boos don't block dunks."
24. "Once you know what failure feels like, determination chases success."