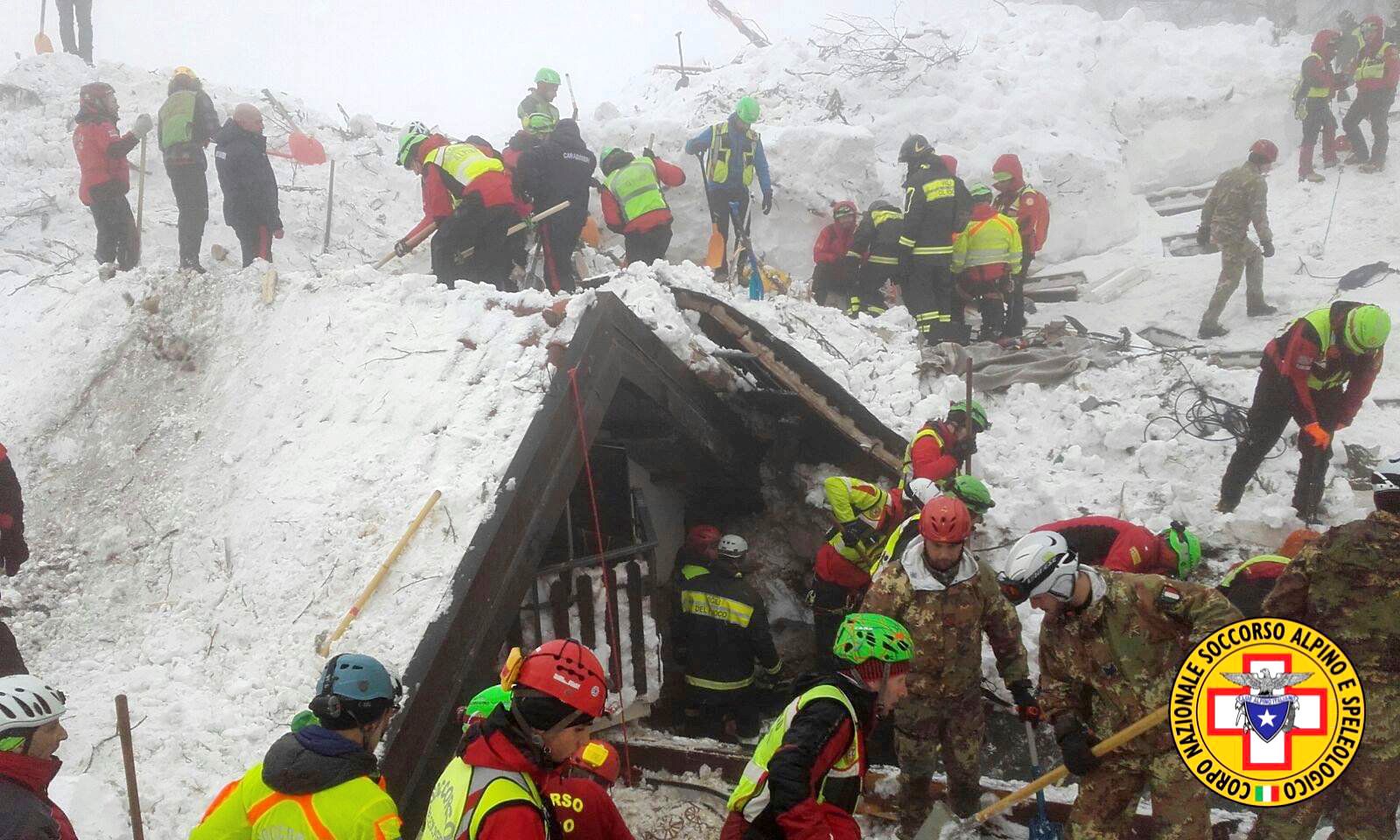 Twenty-four people are missing from the wreckage of a hotel in central Italy that was flattened by a deadly avalanche, with difficult research and rescue operations still ongoing, authorities said on Sunday.
A statement from the national fire service said the number of people missing rose by one after a rescued person said that a hotel employee, of Senegalese origin, was inside the building at the moment of the avalanche.
So far five people have been confirmed dead, and nine, including four children, were pulled alive from tons of rubble and snow on Saturday.
"Operations continue, both inside and outside the hotel, there is no change in the numbers (of saved and dead people)," spokesman Luca Cari said in the statement.
The luxury Hotel Rigopiano, located at the foot of a mountain chain in the central Italian region of Abruzzo, was obliterated on Wednesday after an avalanche caused by an earthquake smashed into its spa and demolished the four-story building.
"The situation unfortunately is the same as the last few days, we keep working nonstop, under extremely difficult weather conditions... but we will carry on working as quickly as we possibly can," said Major Marco Amoriello.
He added that weather conditions were not helping operations and that the forecast for the next few days did not look good.
"But we certainly won't be stopping because of that," Amoriello said.
Some rescue workers said they did not rule out finding more survivors, more than three days after the disaster.
Around 120,000 tons of frozen snow covered much of what was left of the hotel, a colonel from a fire brigade team working on-site told television Sky TG24.
Nine of the eleven survivors are still hospitalized in the nearby city of Pescara, with some of them leaving hospital as soon as Monday.
"Thank you for being close, and for the real help you are bringing," said Pope Francis on Sunday at his weekly Angelus audience, referring to those involved in rescue and relief operations and asking to pray for them and the families of the victims.
Prosecutors in the central Italian city of Pescara have opened a probe over alleged unintentional multiple manslaughter and negligence causing a large-scale disaster.