At Least 24 Tornadoes Have Struck Southeastern United States Since Beginning of Week
At least two dozen tornadoes have struck the southeastern U.S. since the beginning of the week, an outbreak of severe weather that has caused a number of deaths.
The tornadoes destroyed homes and buildings, felled trees and caused power outages, as well as injuring several people.
According to the National Weather Service, at least 10 tornadoes hit Mississippi while another 10 occurred in Alabama.
"We had a storm front that went... from the southwest corner of the state to almost central— some 60 to 80 miles," Mississippi Gov. Phil Bryant told The Associated Press.
The remainder of the tornadoes were recorded in Louisiana and Georgia.
The strongest of the tornadoes ranked as EF-3 on the Enhanced Fujita scale, with winds of up to 160 miles per hour. It made landfall in Louisiana, leaving a trail of damage around 62 miles long between the cities of DeRidder and Alexandria.
One person in Vernon Parish reportedly died as a result of the tornado. The victim, 59-year-old Betty Patin, was killed inside her mobile home, which was destroyed by the storm, WBRZ reported.
"The mobile home in which Patin resided was destroyed by the storm," Vernon Parish Sheriff's Office said Monday.
In Alabama, one tornado killed a married couple when it struck their mobile home in the north of the state. Their bodies were found more than 200 yards from their property. This tornado was rated as a strong EF-2 with winds up to 134 miles per hour.
The storm touched down at 5:08 p.m. on Monday around two miles south of Town Creek, and traveled for nearly 8 miles, al.com reported. At its peak, the tornado measured around 370 yards wide.
The worst of the damage occurred near County Road 265 where the couple were killed. Two other EF-2 twisters were confirmed in other parts of the state, according to the National Weather Service.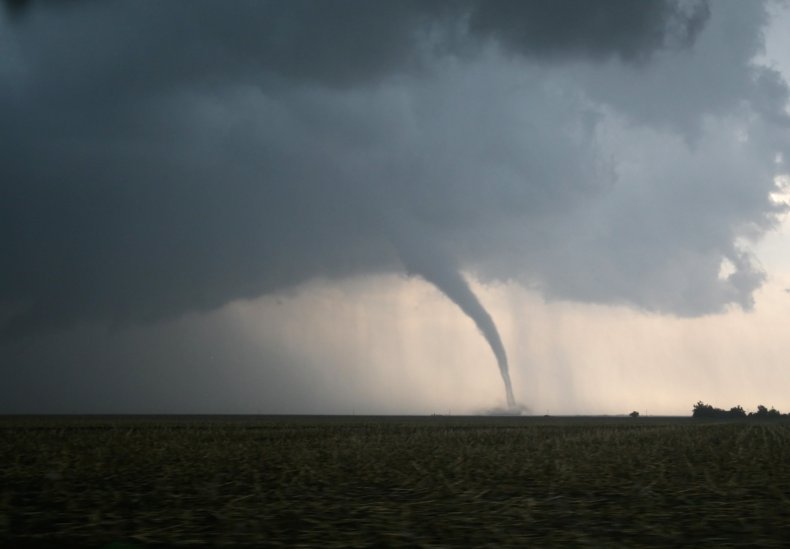 One person also lost their life amid heavy flooding in Greenup County, Kentucky after heavy overnight rains. State Police Trooper Bobby King told AP that water rescue crews had tried to aid two people caught in the floods, but one of the individuals died.
Tornadoes are formed—usually in thunderstorms—when warm, moist air, which rises, meets cooler air, creating atmospheric instability. Changes in wind direction and speed—known as wind shear—in combination with this instability creates the distinctive rotating column.
Currently, the link between climate change and tornadoes is unclear, due to inconsistent data on the phenomenon.