Dozens of UNC Staff Write Letter Saying Racism Prevented Nikole Hannah-Jones From Joining
Dozens of staff members from the University of North Carolina signed an online statement Tuesday following journalist Nikole Hannah-Jones' announcement that she had declined an offer to serve as the chair of the journalism department at UNC and would instead be going to work at Howard University.
The letter, which had been signed by more than 30 members as of press time, said the staff supported her decision and cited racism as the reason for the recent controversy she experienced at their school.
The statement from members of UNC's Hussman School of Journalism and Media read, "The appalling treatment of one of our nation's most-decorated journalists by her own alma mater was humiliating, inappropriate, and unjust."
"We will be frank: It was racist," the announcement added.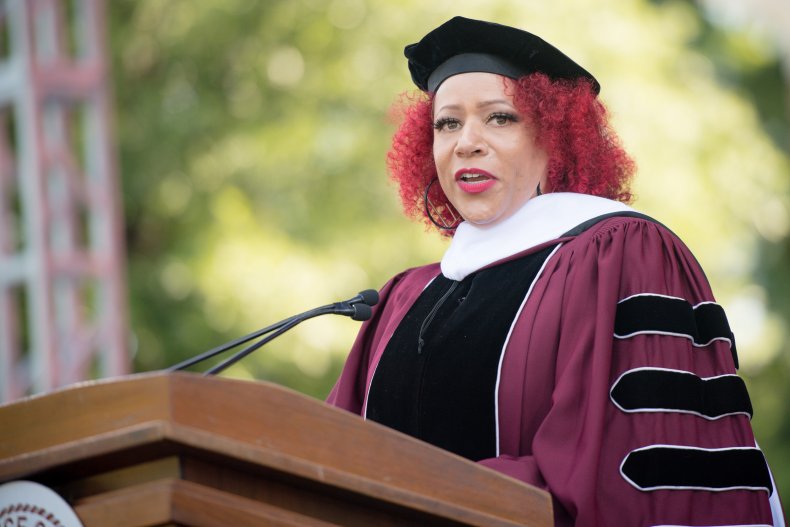 Earlier in the year, Hannah-Jones accepted a teaching position at UNC, but the school soon faced backlash after not offering tenure to the decorated journalist. Some historians and conservative groups find Hannah-Jones' work divisive, particularly her role in creating The New York Times' The 1619 Project, an ongoing initiative documenting the role of slavery during the development of the United States.
In 2020, Hannah-Jones won the Pulitzer Prize for commentary for her work on The 1619 Project, which led many people to call for UNC—her alma mater—to give her tenure.
The debate became a talking point on social media, and protestors voiced their displeasure about the school not offering her tenure during a UNC-Chapel Hill Board of Trustees meeting in May. Hussman faculty also released a statement during that time, saying they were "stunned" the school didn't award Hannah-Jones with tenure.
UNC trustees eventually voted to approve tenure for Hannah-Jones last week, but she announced on Tuesday she would instead be taking a similar teaching position at Howard University instead. Hannah-Jones told Gayle King on CBS This Morning, "It's a very difficult decision, not one I wanted to make."
The Hussman faculty's statement said they regretted "that the top echelons of leadership" didn't "conduct themselves professionally and transparently, and created a crisis that shamed our institution."
The letter also stated, "It is understandable why Ms. Hannah-Jones would take her brilliance elsewhere."
Susan King, dean of the UNC-Chapel Hill journalism school, said in a statement on Tuesday that she was disappointed Hannah-Jones would not be joining the university. "We wish her nothing but deep success and the hope that UNC can learn from this long tenure drama about how we must change as a community of scholars in order to grow as a campus that lives by its stated values of being a diverse and welcoming place for all," King wrote.
Update 07/06/21 10:05 a.m. EDT: This story has been updated to include comments from Susan King's statement and more background information.