24 Women Now Accuse QB Deshaun Watson of Assault, Houston Attorney Claims
Houston attorney Tony Buzbee said Monday that he has filed 14 lawsuits on behalf of his clients against Houston Texans quarterback Deshaun Watson, and that a total of 24 women have come forward with similar sexual and civil assault allegations.
The newest allegations late Monday night were first reported by Fox 26 in Houston.
There were six lawsuits filed against Watson on Monday to bring the total to 14. The list of accusers who hired Buzbee had previously grown to 12 by just last Friday, and the attorney said at the time there were 10 more women with whom he'd conversed to discuss similar allegations. Buzbee also sent a message for others to come forward if they also had similar allegations.
Buzbee said it wasn't about fame or money for him, but rather seeking justice for the accusers.
"This case isn't about money. It's certainly not about seeking publicity or fame. I personally don't need it. These women don't want it. This case is about female empowerment, taking the power back," Buzbee said.
Buzbee held a press conference Friday afternoon to discuss not only the case, but alleged direct messages between Watson and some of the accusers.
This is when the attorney asked more people to come forward.
"Women who are watching (the press conference), I want to hear your story," Buzbee said.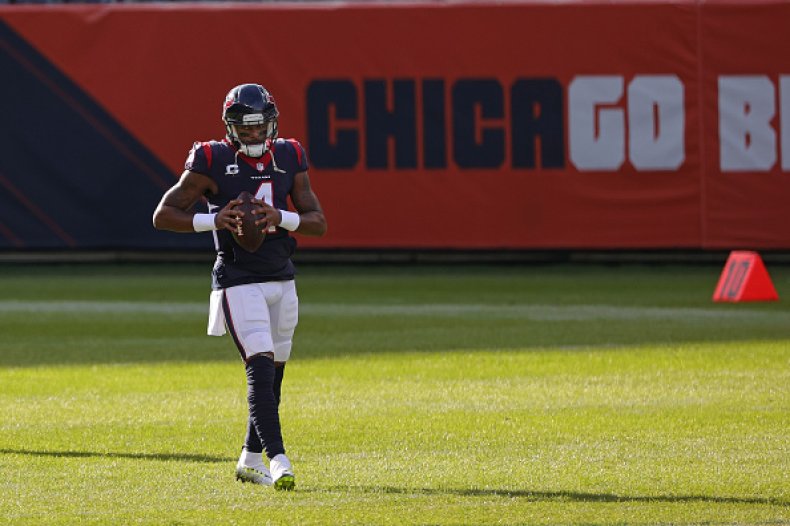 The Watson story first hit news waves last week when Buzbee said he was filing a lawsuit on behalf of one client who claimed the Houston quarterback sexually assaulted her.
Watson responded on Twitter early Wednesday morning, shrugging off the allegations as a fame-seeking lawyer and a woman looking for a six-figure settlement, which he refused.
"I have never treated any woman with anything other than the utmost respect," Watson tweeted, adding "this isn't about money for me - it's about clearing my name."
According to one lawsuit, Watson had inappropriate contact with a massage therapist, allegedly touching her with his private parts.
Another lawsuit states that Watson sent the plaintiff a direct message to meet him at a local office building. The therapist reportedly left the room and then later returned to find the quarterback on the table, lying on his stomach with a small towel covering his rear. Midway through the massage, he allegedly rolled over and "got more aggressive, forcefully telling her to move her hand down to his pubic area."
The therapist said she felt "intimidated and threatened" and "was afraid of what someone like Watson could do if she did not submit to his demands."
After allegedly telling the masseuse that he could "help or hurt" her career, the therapist said Watson tried to force her to perform oral sex for him, to which "she did not consent."
Watson has publicly made it known that he wants to be traded from the Texans after the team's front office made questionable personnel decisions, which included trading the team's best receiver (Deandre Hopkins) last year, and then this offseason releasing defensive star J.J. Watt. Both of those players are now with the Arizona Cardinals.