24-Year-Old Given Option of Double Lung Transplant or Death After Severe COVID Diagnosis
After a fierce battle and a double lung transplant, 24-year-old Blake Bargatze is encouraging people to get vaccinated.
In March, Bargatze attended a concert in his home state of Florida, he told the Baltimore, Maryland-based news station WBAL-TV. He was unvaccinated, and although he wore a mask, he didn't anticipate the large crowds.
"There were way too many [people] and I got really hot, so I took [my mask] off, which probably wasn't the wisest decision on my part," Bargatze said.
Two days later, Bargatze fell ill and was diagnosed with COVID-19.
" I had a really bad headache and body aches and after that, I started having a really high fever—went from 102 to 103 and up to 104 [degrees]," he said.
He was admitted to the hospital on April 10, where he was intubated. His mother, Cheryl Nuclo, then had him flown to a hospital in Atlanta, where she lived. Doctors told him his prognosis wasn't good.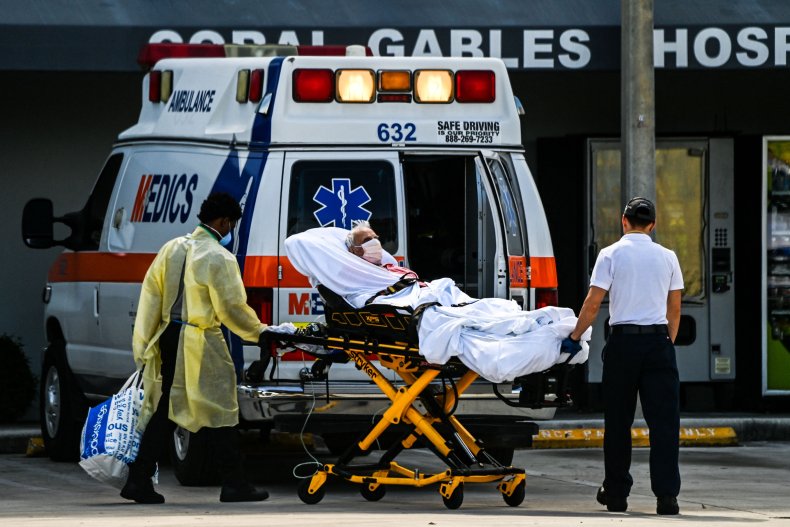 "They gave the choice saying, 'We could either get a double lung transplant, which is the only way you have to survive or we're going to make you comfortable enough so you can pass,'" Bargatze said.
Bargatze wanted to fight, so he chose the double lung transplant.
He chose to receive his transplant at the University of Maryland Medical Center, after learning that the center had already successfully performed two double lung transplants on COVID-19 patients.
"He was young, determined, willing to move to Baltimore," Dr. Robert Reed, medical director for lung transplantation at University of Maryland School of Medicine, said.
"His lungs looked awful. They looked like little chunks of liver. They didn't look like lungs at all, they were red, they were foggy. There was no saving those lungs," Reed explained.
"COVID just destroyed them. They chewed them up," he added.
Bargatze received his transplant in June and is now living with his mother in Ellicott City, Maryland as he recovers. He is taking 50 pills a day.
In March, when Bargatze was diagnosed, 8.4 percent of Floridians in his age group were vaccinated.
Florida Governor Ron DeSantis has been adamantly opposed to vaccine mandates in the state, even threatening fines for local governments and businesses. Earlier this year, he signed legislation prohibiting proof of vaccination in order to get services in the state.
When President Joe Biden instituted vaccine requirements for the country, the Republican governor criticized the Biden administration for "not following science."
According to the Florida Department of Health, as of September 9, over 11 million people in the state are fully vaccinated.
Bartgatze said those who don't want to be vaccinated should think of others: "I would strongly encourage getting the vaccine to protect yourself and your family, and if you're against the vaccine, at least be courteous of others. Wear a mask wherever you go. It's not always about yourselves, it's about the people around us."