240,000 Oil-Related Jobs Could Be Lost in the U.S. This Year, Estimates Show
As the coronavirus pandemic continues to take a severe economic toll and millions of Americans file for unemployment, the oil industry is not immune, with estimates suggesting that hundreds of thousands of jobs related to the commodity could be lost in the U.S. this year.
Reuters reported on Wednesday that as many as 240,000 oil-related jobs could be lost nationwide in 2020, citing an analysis by Rystad Energy. The price of oil has plummeted while demand has dropped dramatically, with thousands of flights canceled and billions of people worldwide living under stay-at-home orders.
"As soon as the virus hit and oil prices dropped, they sent everybody [the workers] home," Joel Rodriguez, chief administrator of La Salle County, home of Texas's second most productive oilfield, told Reuters.
The problem has worsened in the U.S. as the result of an oil price war between Russia and Saudi Arabia that began in early March. Riyadh had urged Moscow to make significant cuts to its oil production, along with other OPEC members, but Russia refused. This led both nations to flood the market, hitting U.S. producers particularly hard.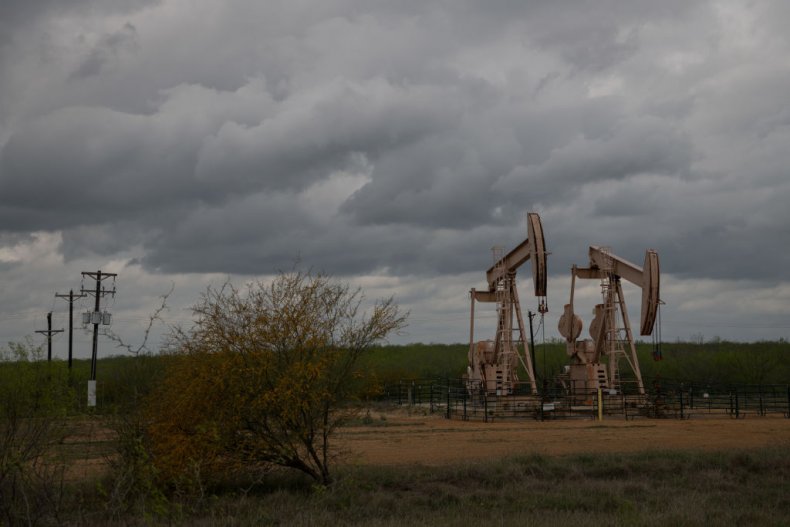 Crude oil is now trading at under $20 per barrel, less than most producers require to cover the costs of production. The decline is dramatic, as barrels traded for around $60 in January. And analysts believe the U.S. shale industry, which has allowed the U.S. to become the world's leading oil producer in recent years, is under threat of collapse.
But President Donald Trump has worked to broker an oil production–cutting pact with Saudi Arabia, Russia, Mexico and other top producers. This past Sunday, OPEC+, which includes non-OPEC members such as Russia, agreed to a substantial cut of 9.7 million barrels a day beginning in May.
"A lot of this deal is making a virtue out of a necessity. Storage was filling up. There weren't buyers for this production," energy consultant David Goldwyn explained during a virtual panel discussion hosted by the Atlantic Council this week.
Meanwhile, oil industry workers are just some of the many Americans who face an unsure future as the economic fallout from the pandemic continues. Nearly 17 million workers had applied for unemployment insurance as of the week ending April 4. That number grew dramatically in just three weeks, breaking all previous records.
Leading economists have projected that unemployment could rise to historic levels. James Bullard, president and CEO of the Federal Reserve Bank of St. Louis, told Bloomberg News at the end of March that he expected unemployment to surge as high as 30 percent in the second quarter of 2020.
To put that in perspective, unemployment peaked at just below 10 percent in 2009 during the Great Recession and at around 25 percent in 1933 during the Great Depression.